When smoking steaks, we often sear them AFTER they are finished cooking and if you're not familiar with this, it's called "reverse searing".
In this recipe, we'll be searing steaks over an inexpensive charcoal chimney instead of using a grill, grill grates or any other common method.
This method is perfect if you don't have a grill or if you are cooking steaks in the house, in the smoker or some other lower heat method and just want to put a quick sear on them without a fuss.
Helpful Information
Prep Time: 5 minutes
Dry Brine Time: 2 hours (overnight or up to 24 hours is best)
Cook Time: 45-60 minutes
Sear Time: About 2 minutes per steak
Smoker Temp: 225°F (107°C)
Meat Finish Temp: 128 °F (53°C)
Recommended Wood: Oak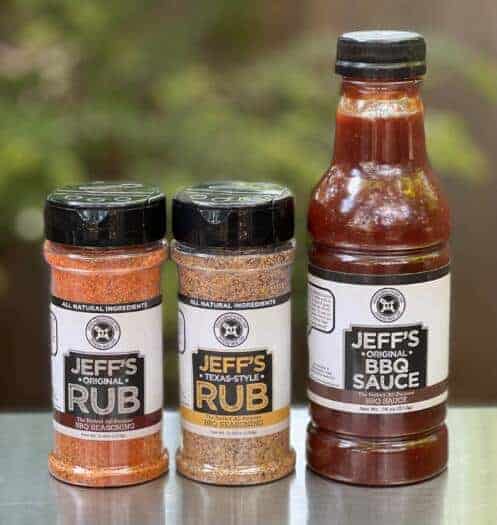 Please note that my rubs and barbecue sauce are now available in 2 formats– you can
purchase the formulas
and make them yourself OR you can
buy them already made
, in a bottle, ready to use.
About the Steaks
I got these 6 ounce, top sirloin steaks from goodranchers.com to review and I pulled them out of the freezer 24 hours before I needed them so they'd have time to thaw out.
These are about ¾ inch thick.
You can use any kind of steak for this but your time will vary depending on the thickness of the steak and how done you like them.
Step 1: Dry Brine – The Salt
Lay the steaks out on a pan with a rack for dry brining.
The rule is ½ teaspoon per pound of coarse kosher salt however, I rarely measure. I sprinkle the salt on the steaks so that it ends up looking like a sugared gumdrop.. that gives me the correct amount of coverage so that the steak is flavorful but not over salted.
If you want to measure out the salt based on the weight of your steaks, you can do that but I prefer to "eyeball" it. It is important to note that I probably end up using more than what the "rule" calls for but my steaks are NEVER over salted. There's a lot of leeway in this and in my opinion, the rule is VERY conservative.
I only apply the salt to the top side of the steaks.
Here's my steaks showing the coverage that I typically use: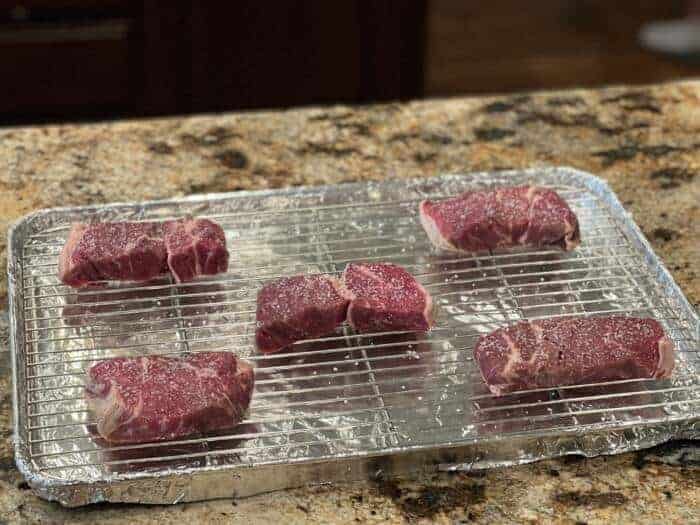 A closeup: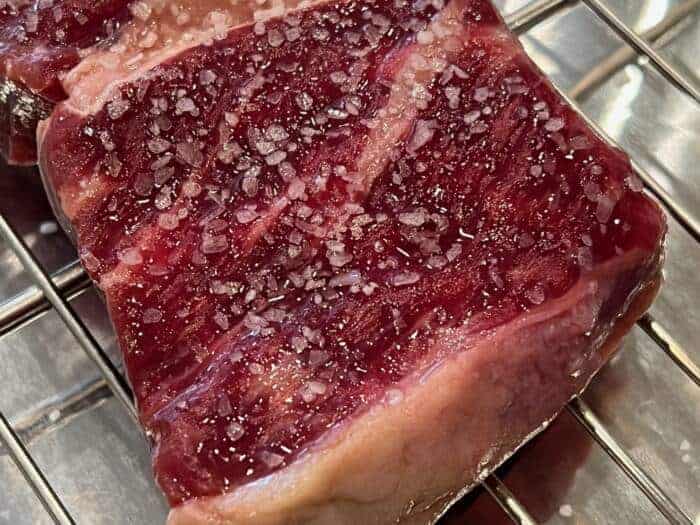 The salt will immediately begin to pull moisture to the surface of the meat and after about 15-20 minutes, the meat juices will be puddling on top of the steak.
That's when it's time to apply the rub.
Step 2: Dry Brine – The Seasoning
I use my Jeff's Texas style rub (Purchase formula here | Purchase bottled rub) as it is one of the most complete and flavorful rubs you can use for steaks, burgers, brisket, etc. It is low on salt, big on flavor and you won't find anything better.
Now that the salt has a brought all of that moisture to the surface, apply a good sprinkling of the Texas style rub to the top side of the steaks.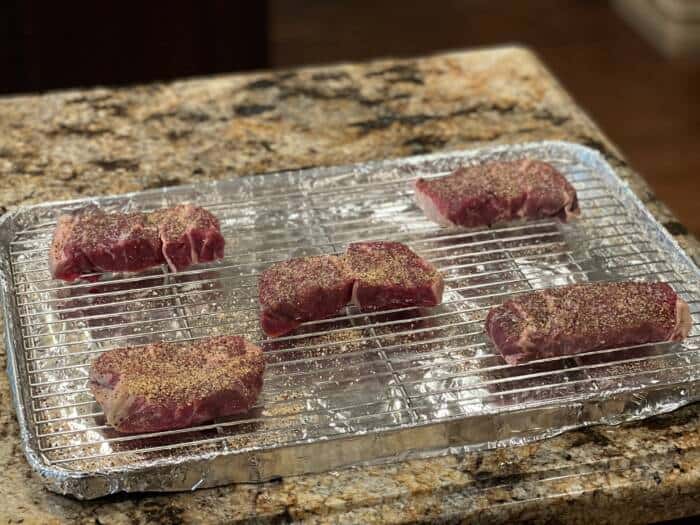 Place the salted/seasoned steaks into the fridge, pan and all, for at least 2 hours, Longer is better and overnight is perfect.
Step 3: Smoke
About 30 minutes before you are ready to smoke the steaks, get your smoker going.
Set up the smoker for cooking at 225°F (107°C) using indirect heat. If your smoker uses a water pan, fill it up.
I like to use oak wood or pellets for smoke but you can use what you have or what you prefer.
Once the smoker is ready, place the steaks into the smoker on the smoker grate or if you have a pan with a rack, you can just sit the entire pan of steaks in the smoker.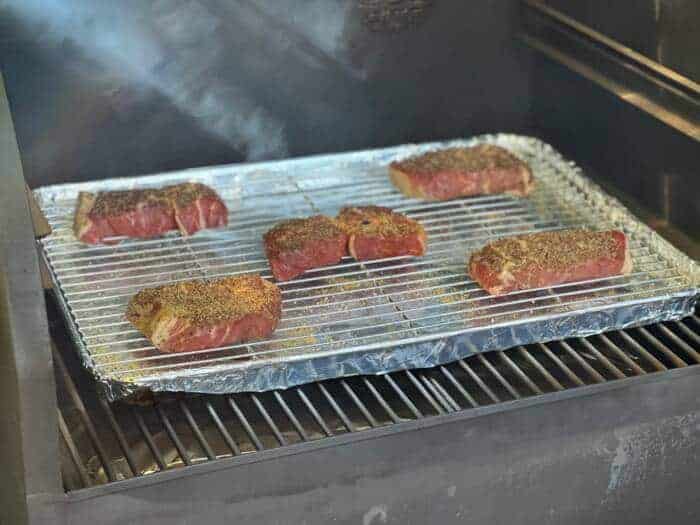 For a medium rare finish, we are looking to cook them to about 110°F (43°C) before reverse searing them to 128°F (53°C)
If you like them more or less done, you can adjust your finish temperature to remove them about 15-20 degrees before they reach that done temperature.
Step 4: Reverse Sear
When the steaks are about 20 minutes from being done or reaching their "remove" temperature, it's time to get the charcoal chimney ready for searing steaks.
Here's my instructions for lighting a charcoal chimney if you are new to this.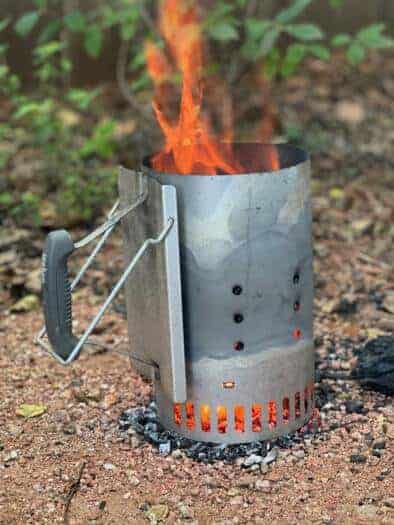 Use a small smoker grate, a small piece of expanded metal, etc. to set on top of the charcoal chimney to serve as your grate for the steaks.
Place the steaks one at a time on top of the charcoal chimney and get busy searing steaks on all sides. Watch them carefully and when they reach the color and sear that you prefer on one side, flip them over.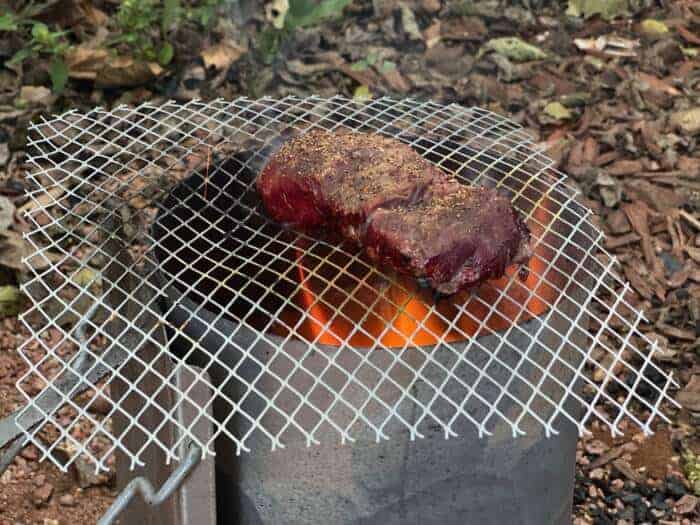 Once you flip them over, use an instant read meat thermometer to make sure they have reached your desired level of done.
I use the new ThermoWorks Thermapen One which reads in only 1 second!
Have a pan ready with foil on top top so you can keep the steaks hot until you are done searing steaks.
Step 5: Rest and Serve
When you are done searing steaks, bring them into the house and serve them up immediately.
Note: By leaving them in the pan while you are searing all of the other steaks, they are getting a rest time by default under foil and this will make them ready to serve when you bring them into the house.
These were so good I ate almost an entire steak at the counter before serving the others!
Perfectly salted and seasoned and the color was magnificent!
Order Jeff's Rubs and Barbecue Sauce TODAY!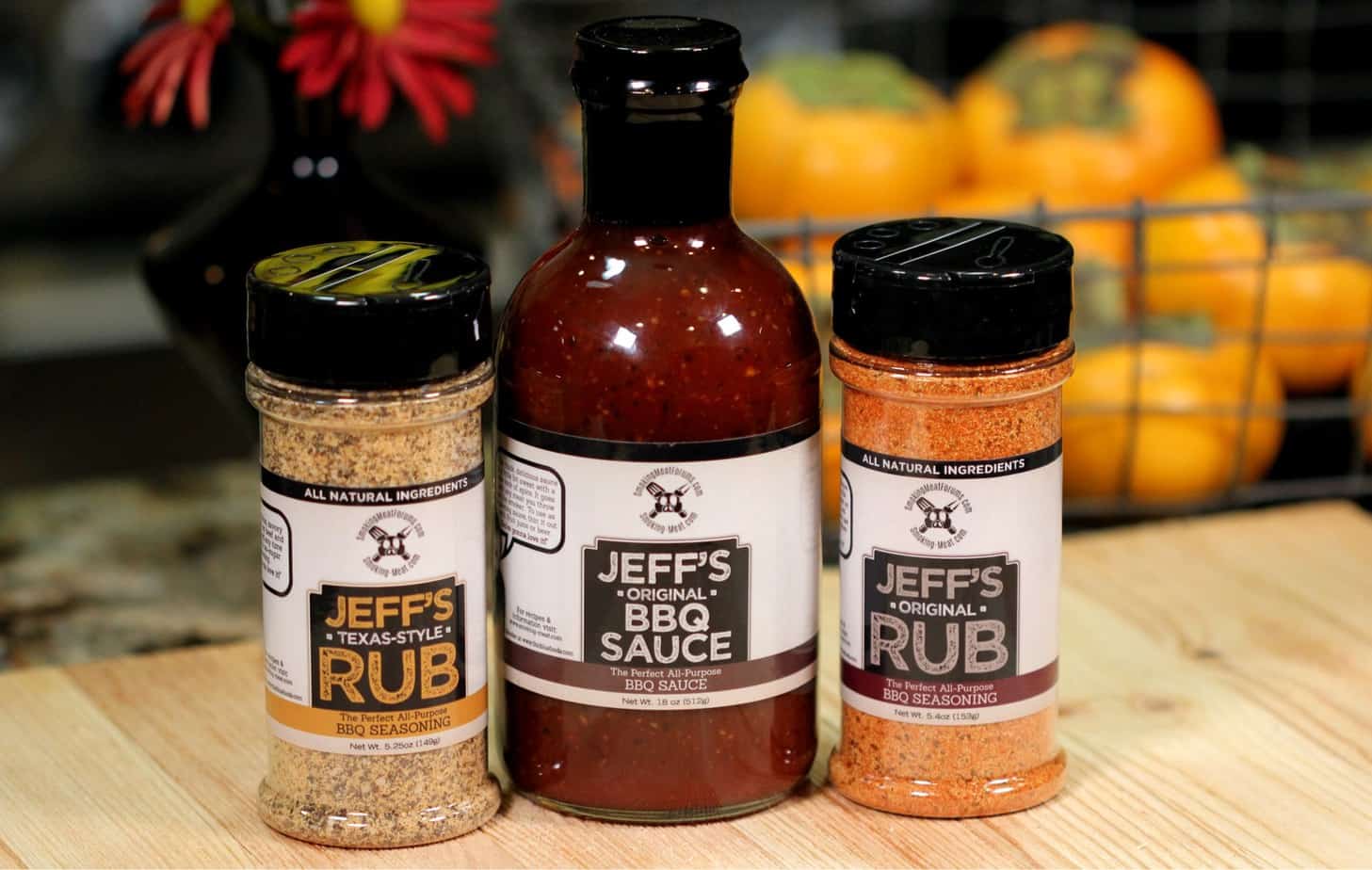 ✅ If you haven't ordered my rubs or sauce yet you can do that HERE. They are the best thing you've ever tasted and it's a great way to support what we do!
We ship blazingly fast and orders over $50 ship free!
You can also order the formulas for my rubs and sauce and make these yourself at home. Grab those HERE and download immediately.
Jeff's Smoking Meat Books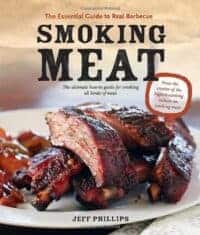 Smoking Meat: The Essential Guide to Real Barbecue – The book is full of recipes and contains tons of helpful information as well. Some have even said that "no smoker should be without this book"!
With more than 1000 reviews on Amazon.com and a rating of 4.7 out of 5 stars, it comes highly recommended and is a Bestseller in Barbecuing & Grilling books on Amazon.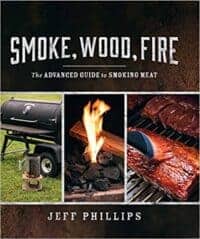 Smoke, Wood, Fire: The Advanced Guide to Smoking Meat – Unlike the first book, this book does not focus on recipes but rather uses every square inch of every page teaching you how to smoke meat. What my first book touched on, this second book takes it into much greater detail with lots of pictures.
It also includes a complete, step-by-step tutorial for making your own smoked "streaky" bacon using a 100 year old brine recipe.
Get Almost Anything at Amazon
If you enjoy the newsletter and would like to do something helpful, then..
The next time you decide to order something at Amazon.com, use THIS LINK to get there and we'll get a small commission off of what you purchase.
Thank you in advance for using our special link: http://www.smoking-meat.com/amazon
---
Printable Recipe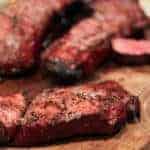 Print Recipe
Searing Steaks on a Charcoal Chimney
When smoking steaks, we often sear them AFTER they are finished cooking (reverse searing). In this video, I'll show you how I reverse sear them over a charcoal chimney instead of using a grill.
Ingredients
5

Steaks

1.5

teaspoons

Coarse kosher salt

2

TBS

Jeff's Texas style rub
Instructions
Apply coarse kosher salt to top side of steaks at ½ - ¾ teaspoons per lb.

Place steaks in fridge for at least 2 hours. Overnight is better.

Set up smoker for cooking at 225°F (107°C) using indirect heat. Fill water pan with water if required. Oak wood is recommended for smoke.

Let the steaks cook for approximately 45-60 minutes or until they reach about 110°F (43°C).

Fill charcoal chimney about ¾ full with lump charcoal and light about 15 minutes before steaks reach 110°F (43°C).

Place small piece of expanded metal or small grill grate on top of charcoal chimney and sear steaks one at a time until desired doneness and color is achieved. I recommend 128°F (53°C) for medium rare.

Place steaks into a foil pan covered with foil as they finish cooking to keep them hot.

When the steaks are done, serve them up immediately.