These beef country style ribs are not only extremely flavorful and easy to cook but they are fairly inexpensive as well and in my book, that's always a plus.
Much like their pork counterparts, they are cut from another larger piece of meat and repackaged. Usually the beef variety are cut from the chuck roast which has just enough fat marbling to make it do very well in the smoker. Why am I telling you this? Well, if you can't find the beef country style ribs in your local supermarket or wherever you purchase meat, simply purchase a chuck roast and cut it lengthwise into pieces about 1.5 inches thick and you will have successfully made your own.
The cool thing about cooking these instead of the whole chuck roast is that it gets done a lot faster, it's already cut up into portions that are ready to serve, each piece has it's own smoke ring all the way around, and it allows you to get the rub and/or sauce onto all sides of the portions instead of just the top and the bottom.
Get the Recipes for Jeff's Rub and Sauce
---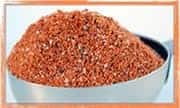 These beef country style ribs are thick, beefy and they can handle a lot of flavor.. in fact, they demand a lot of flavor in my opinion. I used my rub and sauce generously on these and they were bursting with flavor!
I promise you'll love my dry rub/seasoning recipe and my barbecue sauce recipe or you don't pay!
Reasons to buy: Support the newsletter and the website | Own "the recipes" | Get the email newsletter 100% AD FREE from now on | Includes the Texas style rub recipe

---
Purchasing the Ribs
These usually come in a package with 4-5 pieces. They are typically boneless and are cut from the chuck roast in most cases. If you can't find them, you can purchase a chuck roast and cut it into 1.5 – 2 inch strips lengthwise or ask your butcher to cut it for you.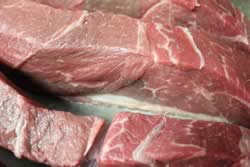 Preparing these Ribs for Smoking
These hunks of meat require very little preparation. Treat them sort of like brisket and just coat them real good with my rub recipe either the night before or right before you cook them. To help my rub to stick, I usually use yellow mustard but today I experimented with just using some butter flavored spray oil and it worked wonderful.
After spraying the ribs real good with the spray oil, coat them on all sides with my rub making sure to use it generously. Once all the ribs are coated, leave them laying while you go and get the smoker going.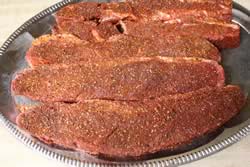 Getting Ready to Smoke
This process will vary somewhat depending on what type of smoker you are using. Be sure to use the water pan if you have one available for your smoker and feel free to substitute some of the water for some other liquid such as beer, juice or even broth. I do not have any proof that it adds to the flavor, but it certainly seems to and it's something that I think everyone should try and see if you like it.
Build your fire, light the burner or plug it in and turn it on.. do what is required to preheat your smoker to 225 degrees. Once the smoker is ready, the ribs can go on.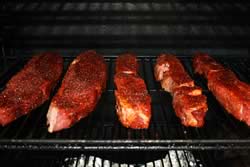 Smoking the Beef Country Style Ribs
Place the beef ribs directly on the grate making sure to leave about 1 inch between the pieces if possible to allow the smoke ample room to flow properly.
I recommend holding the smoker to 225 or even slightly lower as much as possible to keep the rub from burning and to give you the best possible end result.
As has been the case for the last several months, I had to use my gas smoker due to the burn ban that we are under in the majority of Oklahoma counties. The grass and trees around here are very dry and the smallest spark can start a grass fire that just won't quit. I have to be very careful even with the gas smoker.
The gas smoker does a very nice job in my opinion and makes it really easy to maintain a set temperature.
I smoked the ribs with a combination of dry hickory chunks and dry hickory chips and kept the smoke going for about 4 hours.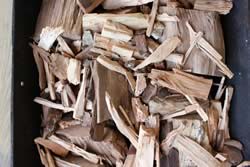 The ribs took right at 5 hours to reach 180 degrees internal temperature.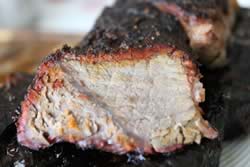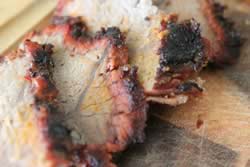 Brush a thin layer of my barbecue sauce recipe onto the ribs about 30 minutes before they are finished cooking if you like.. it gives them an extra layer of flavor and it makes them shine.
Notes:
To get the ribs even more juicy and tender, you can wrap them in foil once they reach about 140-160 degrees. One caveat of this method is that it will soften the bark on the outside.
It was very gusty while I was cooking these which tends to lengthen the cooking times somewhat. You may find that you can get them done more quickly than I did on a typical day.
Use a robust wood like mesquite, hickory, pecan or oak for the most pronounced smoke flavor.
***Note: you get the Texas style rub recipe free with your order!
If I could give these recipes away, I would do that. I really want you to have them! But, then, this is how I support the newsletter, the website and all of the other stuff that we do here to promote the art of smoking meat.
Read these recent testimonies:
"Love the sauce and rub recipes. So far I have used them on beef ribs, pork ribs, and different chicken parts. Can't wait to do a beef brisket. Texas rub is great as well!" ~Peter S.
"I tried the rub on a beef brisket and some beef ribs the other day and our entire family enjoyed it tremendously. I also made a batch of the barbeque sauce that we used on the brisket as well as some chicken. We all agreed it was the best sauce we have had in a while." ~Darwyn B.
"Love the original rib rub and sauce! We have an annual rib fest competition at the lake every 4th of July. I will say we have won a great percent of the time over the past 15 years so we are not novices by any means. However, we didn't win last year and had to step up our game! We used Jeff's rub and sauce (sauce on the side) and it was a landslide win for us this year! Thanks Jeff for the great recipes. I'm looking forward to trying the Texas style rub in the near future!" ~Michelle M.
You see the raving testimonies and you wonder, "Can the recipes really be that good?"
No worries! Make up a batch and if it's not as good as you've heard.. simply ask for a refund. Now that's a bargain and you know it. Let's review:
You decide you don't like the recipes.. you don't pay!
The recipes are absolutely amazing!
Once you order, there'll be no more recipe ads in the email version of the newsletter
Well.. what are you waiting for.. click on the big orange button below to order the recipes now.

I really, really appreciate the support from my newsletter friends and be sure to let me know if you have any questions about this.
Frequently Asked Questions
Q: When I am smoking meat, it almost always gets done faster than the times that you recommend.. why is this?
A: Smoking is an indirect method of cooking and ,in general, 225 degrees in one smoker should be 225 degrees in another smoker with no regard to the heat source. This same measure of heat should get somewhat equal pieces of meat done in about the same amount of time. Unless of course, it's not completely indirect.
To better explain this, I have noticed that the meat just above my water pan in my gas smoker get done a lot slower than the meat that is closer to the edge/sides of the smoker. This is because the water pan is the baffle for the heat. The heat comes up along the sides and even though it still measures the same, the radiating effect of that heat on the sides vs the completely indirect heat above the water pan will cook the meat quite a bit faster.
I have learned to keep most of the meat away from the sides to help it cook evenly.
If your smoker at 225 cooks meat faster than my smoker at 225 then something is different and the only thing I can think of is that there is some radiating heat coming from somewhere that is doing a more efficient job of cooking the meat. This assumes that you have checked and proven that your thermometer is accurate.
Q: How long should I keep the smoke going when smoking various types of meat.. you don't always say how long?
A: Most importantly, I will try to start giving a recommendation for how long to apply smoke for those of you with charcoal, electric and gas smokers.
I also have a method for calculating my minimum requirements for smoke application:
1/2 x Total Estimated Cook Time
Chicken = 4 hours Cook Time/2 hours minimum smoke application
Spare Ribs = 6 hours cook time/3 hours minimum smoke application
10 lb Brisket = 15 hours cook time/7.5 hours minimum smoke application
Please note that it is perfectly ok to apply smoke for the entire time the meat is cooking. After all, in a wood fired smoker, the heat and smoke are inseparable without wrapping the meat in foil and in many cases, this is why meat from all wood smoker are considered to be some of the best and most flavorful you can eat.
Jeff's Smoking Meat Book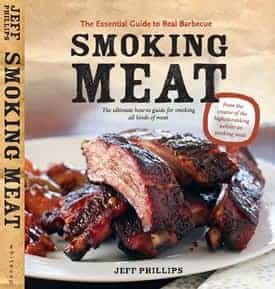 The book is full of recipes and contains tons of helpful information as well. Some have even said that "no smoker should be without this book"!
With more than 800 reviews on Amazon.com and a rating of 4.7 out of 5 stars, it comes highly recommended.
It is a Bestseller in Barbecueing & Grilling books on Amazon.
Amazon | Barnes & Noble | German Edition
Digital versions available via Nook | iTunes | Kindle
Get Almost Anything at Amazon
If you enjoy the newsletter and would like to do something helpful, then..
The next time you decide to order something at Amazon.com, use THIS LINK to get there and we'll get a small commission off of what you purchase.
Thank you in advance for using our special link: http://www.smoking-meat.com/amazon