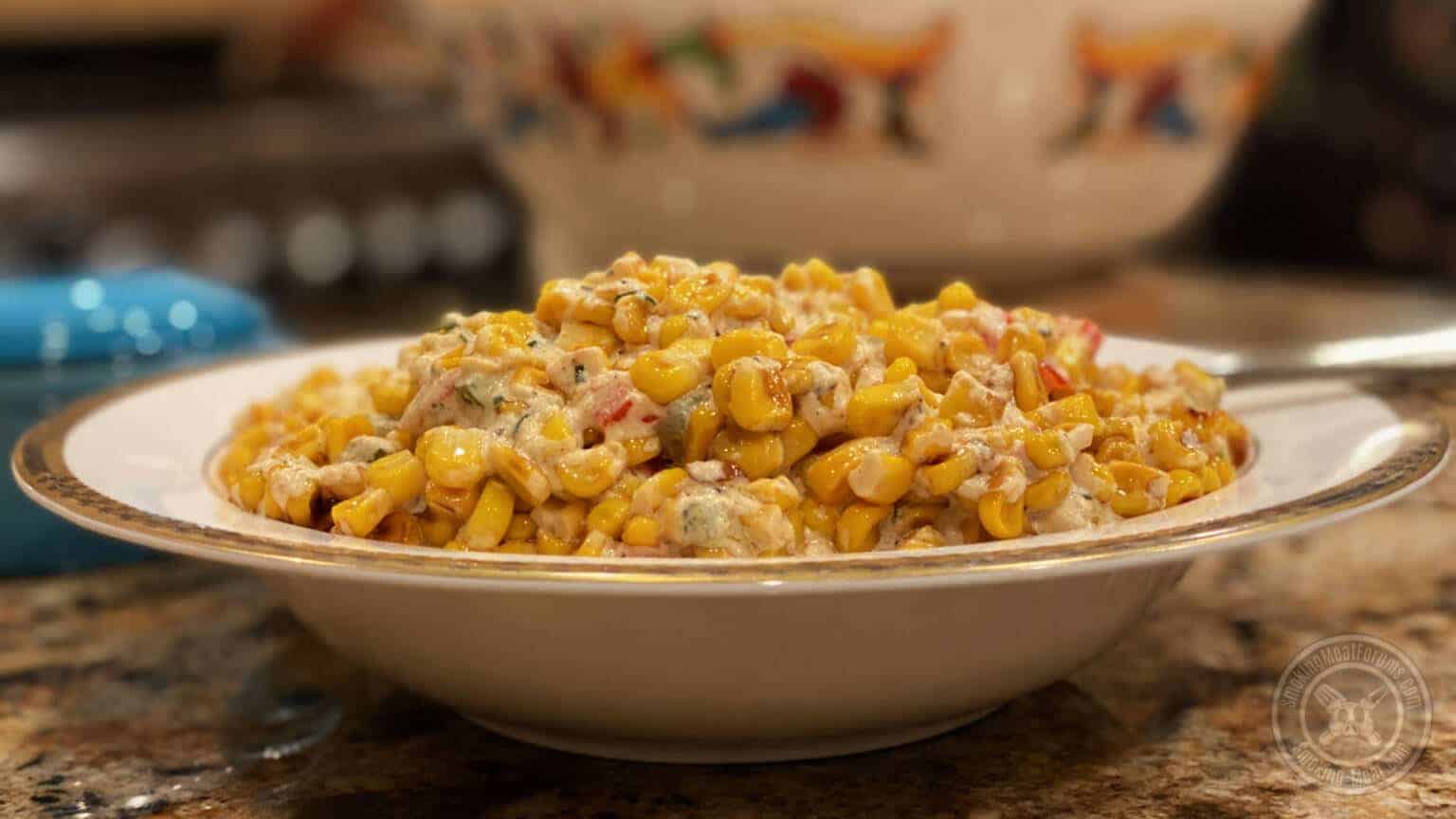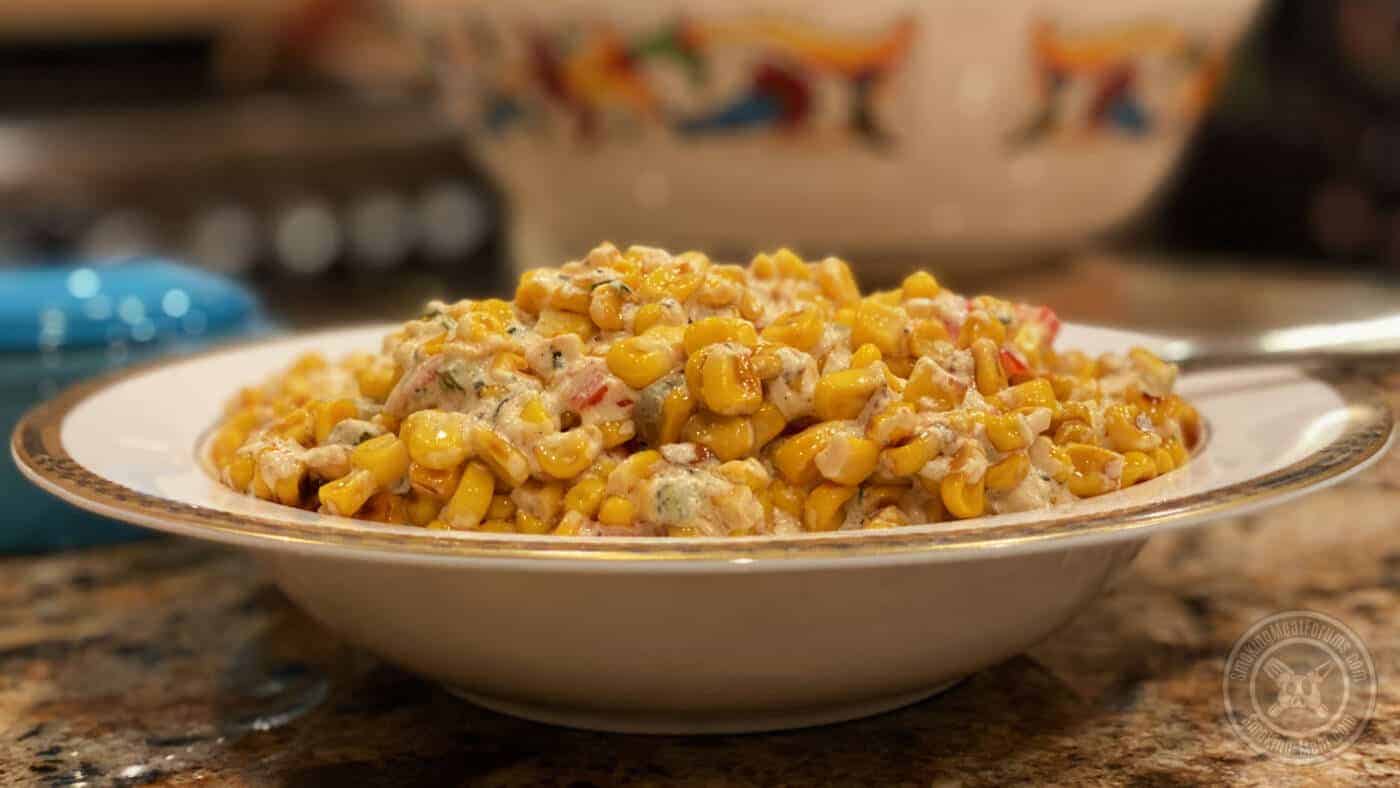 Smoking-Meat.com is supported by its readers. We may earn an affiliate commission at no extra cost to you if you buy through a link on this page.
Read this article without ads
How do you make corn better? Well, of course, you add cream cheese and shredded cheddar and then smoke it nice and slow to make smoked cheesy corn!
I took the liberty to also add diced jalapeño, diced red pepper, crushed red peppers and chives and I even roasted the corn a little first. It's good, you'll love it, enough said!
If you already have the smoker going anyway, this is a great addition!
Helpful Information
Prep Time: 25 minutes
Cook Time: 3 hours
Smoker Temp: 180-200°F
Meat Finish Temp: N/A
Recommended Wood: Apple, pecan, or cherry
Servings: 6
What You'll Need
48 ounces corn, fresh or frozen (canned will work if drained and dried really well)
3 TBS olive oil
8 ounces cream cheese, softened
8 ounces shredded cheese, cheddar, pepper jack, etc. (use your favorite)
2 medium jalapeños, cleaned and diced
½ red bell pepper, diced
2-3 TBS of chopped chives
2 TBS Jeff's Texas style rub
1 TBS crushed red pepper
1 cup heavy whipping cream
1 stick butter (¼ lb)
½ cup heavy whipping cream (for adding at the end if needed to make it more creamy)
Step 1: Prepare Ingredients
Clean the jalapeños and remove seeds. Dice and set aside.
Clean the red pepper then slice and dice half of it. The other half makes great snacks to eat while you're waiting ;-)
Leave the cream cheese sitting out for an hour or more to soften before ready to use.
Shred the hard cheese, you'll need about 1 cup but feel free to shred extra. Abi helped with this one and went a little crazy with it!
Chop enough chives to make about ¼ cup but not too finely. It's for flavor and color so you want them to be very visible.
Drain/dry the corn – if the corn is anything other than fresh, it will need to be drained and dried in order for it to roast properly. I used frozen corn in the most recent batch to ensure it would work well. I placed a few paper towels in the bottom of a bowl and poured the corn into that to soak up any extra moisture.
I don't recommend canned corn but if that's all you have, just drain and dry the best you can and go from there.
Fire roasting the corn is not necessary but it does add a flavor profile to the corn that is unique and delicious so I recommend it.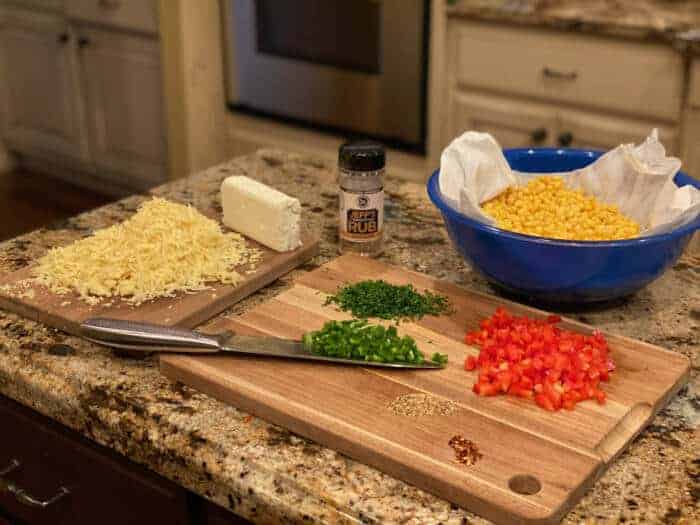 Step 2: Fire the Corn
Pour 2-3 TBS of olive oil or vegetable oil into a large iron skillet and turn the heat on high.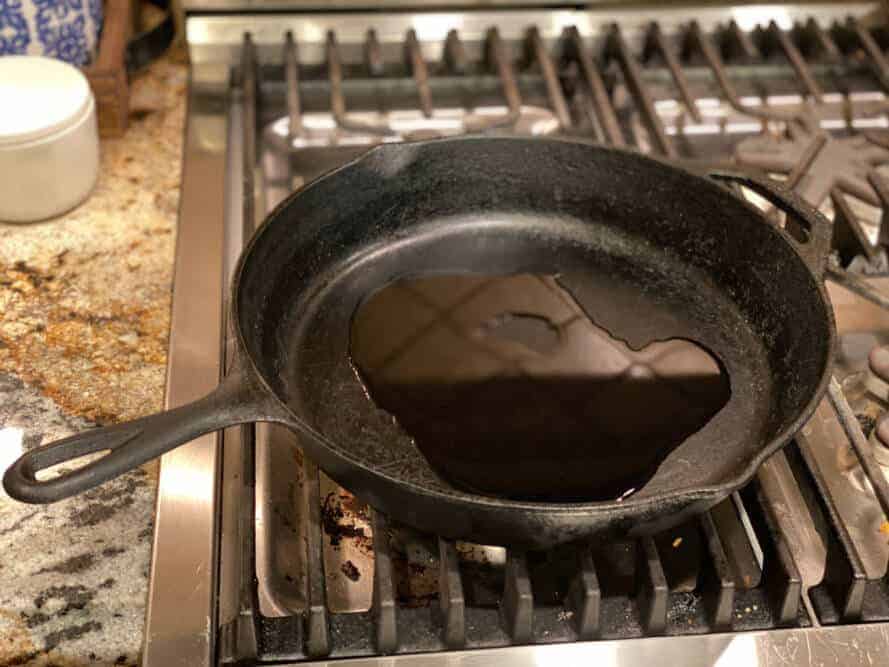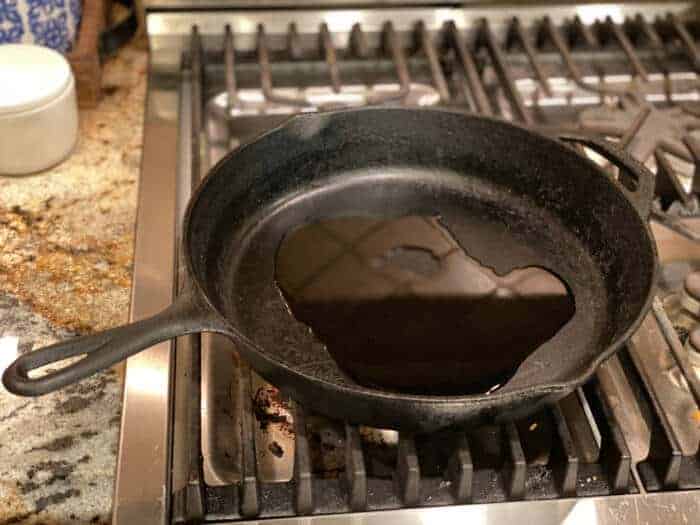 When the pan get good and hot, pour the corn into the pan and be ready to stir as it will start popping!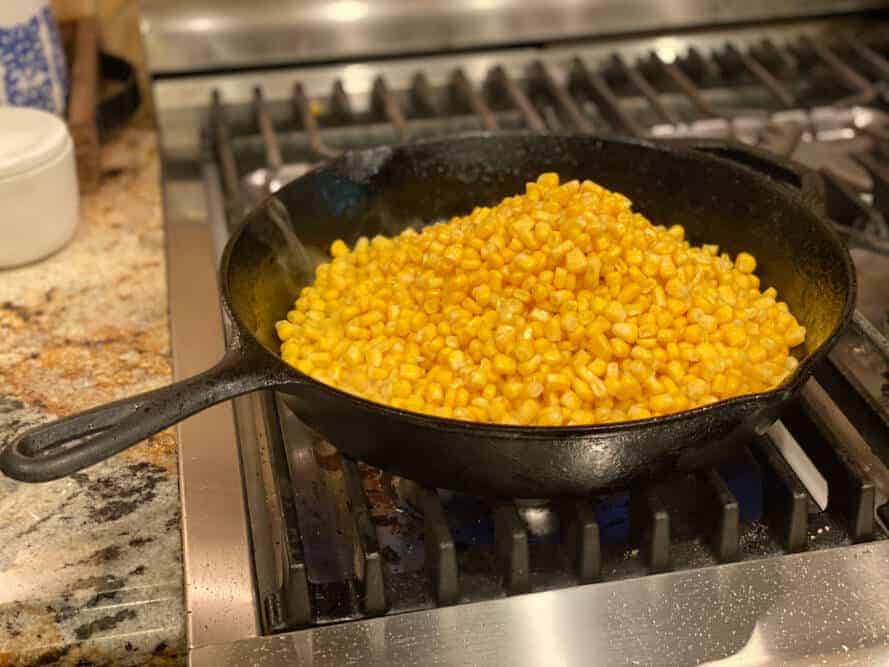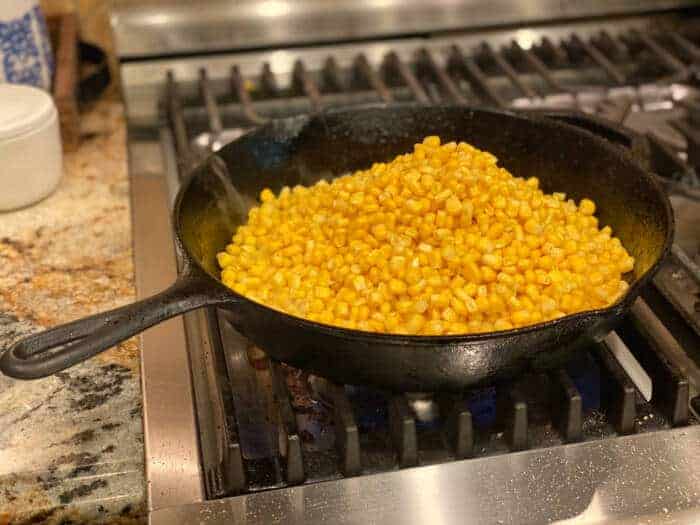 Once the corn settles down, let it sit and brown for 5-7 minutes. Once it starts browning, stir it around. Keep stirring every few minutes until it gets as brown as you like it.
This takes about 12-15 minutes so if you can have a helper dicing and shredding while you make the fire corn, it ends up being about right. Otherwise, you can do all the prep ahead of time.
Step 3: Combine Ingredients Into Pan
Pour the fired corn into a half-size foil pan.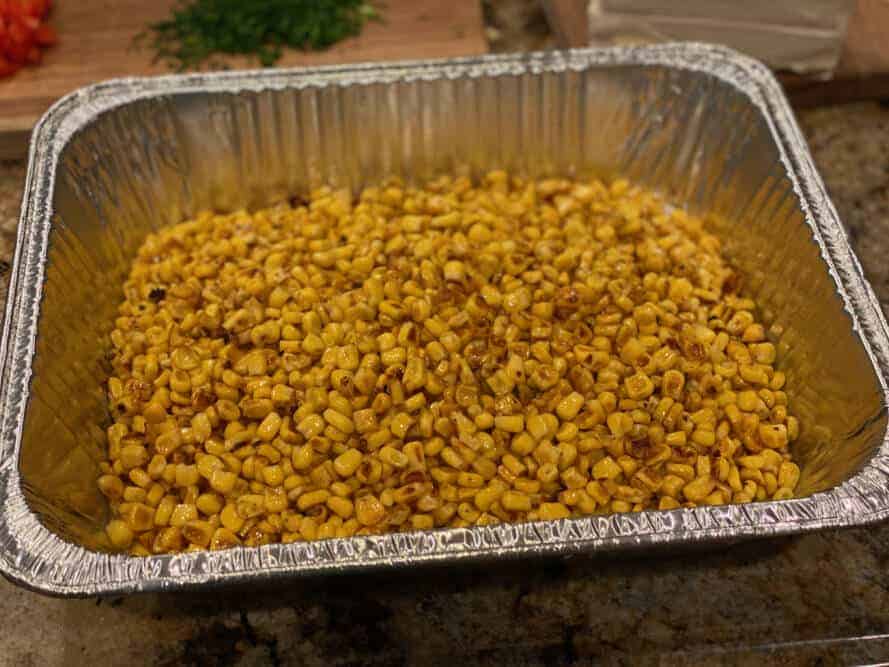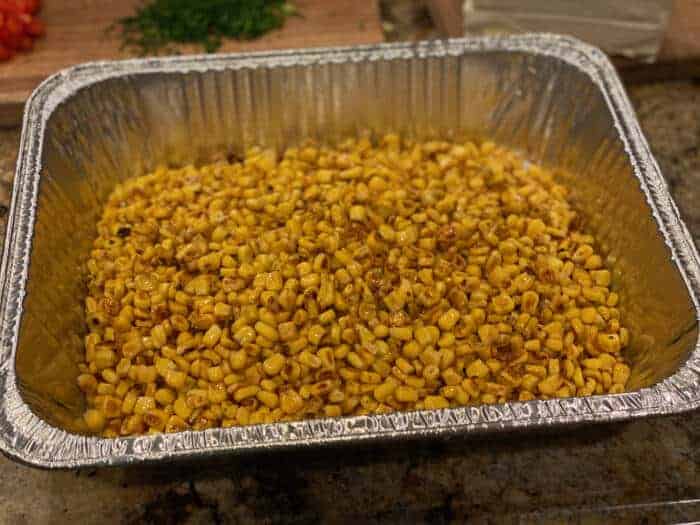 Add the cheeses, peppers, 1 cup of heavy whipping cream, butter, chives and seasoning to the pan.
Note: you do not need to stir everything together yet. I usually wait until it's been in the smoker for a while so the cheeses and butter can get melty.
I forgot to add the butter in the image below.. I added it later after it was in the smoker.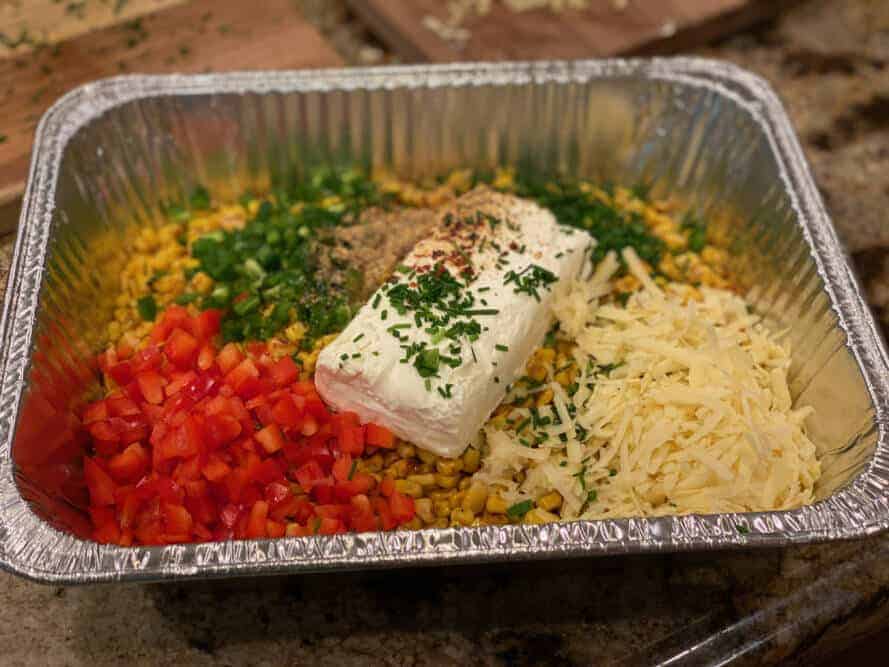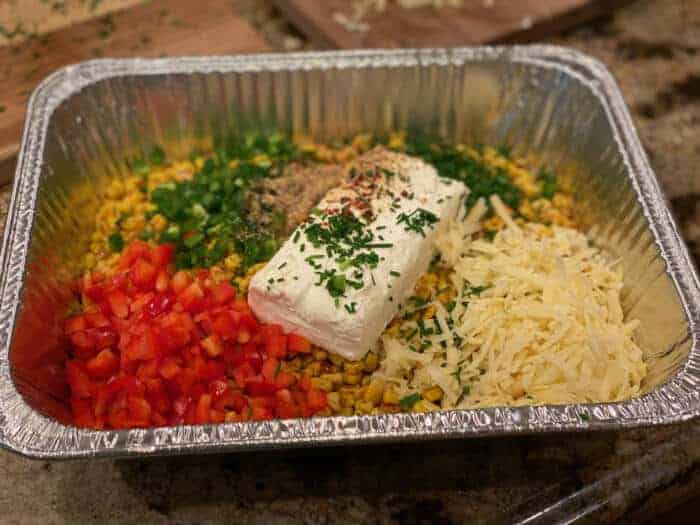 Step 4: Get the Smoker Going
Set up the smoker for indirect heat at about 180-200°F if possible. 225°F is ok but you will want to decrease the cook time by about 1 hour.
If your smoker uses a water pan, fill it up.
Once the smoke is ready, place the pan of corn and friends on to the grate and let it smoke for about an hour.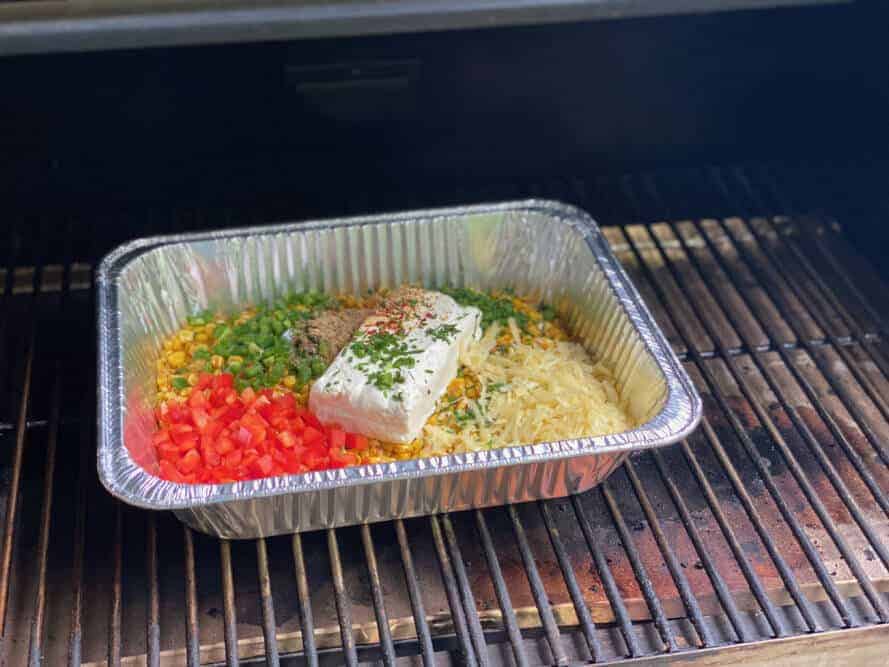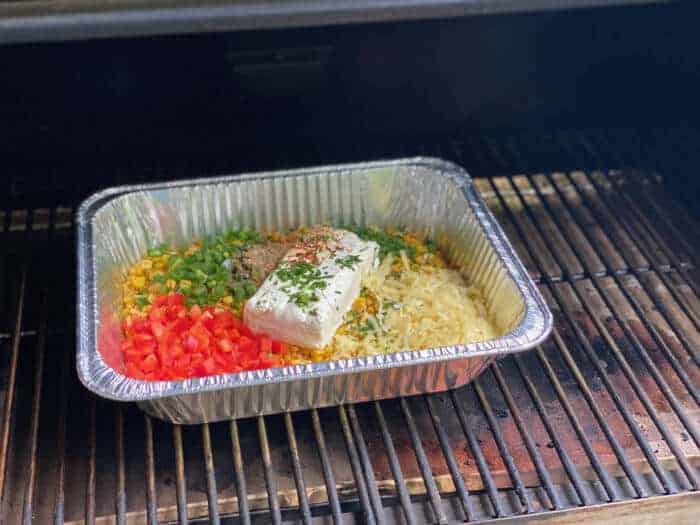 After 30 minutes or so, the butter and cheese should be melty enough to stir around.
Remember that butter I forgot to add earlier? Here's where I finally remembered to add it. No problem at all!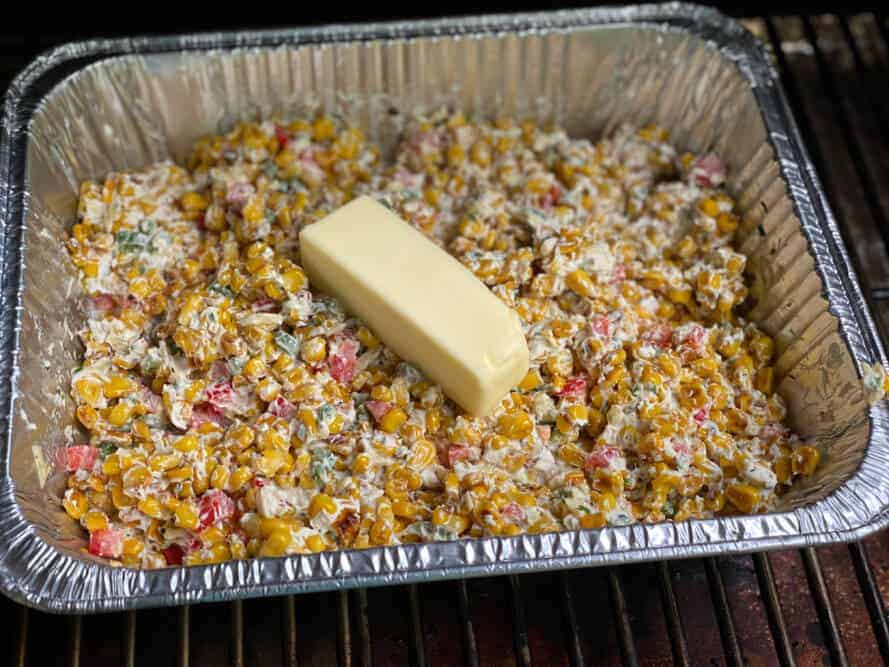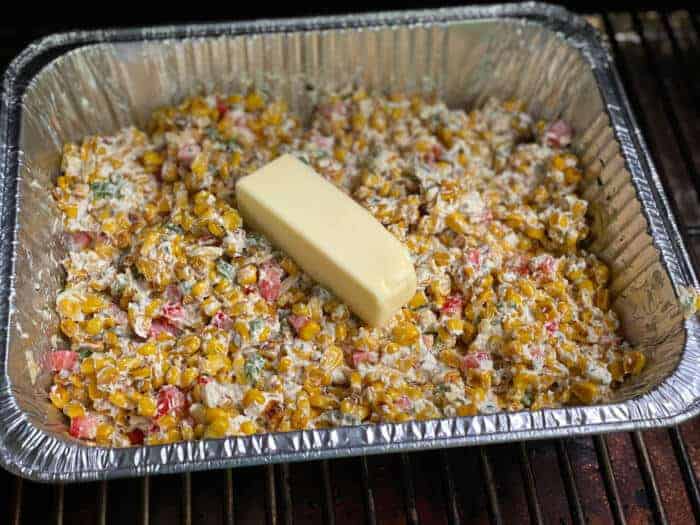 From this point, stir the corn about every 15-20 minutes.
Add ~½ cup of heavy whipping cream if it needs to be more creamy.
Step 5: Finish
After the smoked cheesy corn has been in the smoker for about 3 hours (or you just can't wait no longer), it should have plenty of smoke flavor and be ready to eat.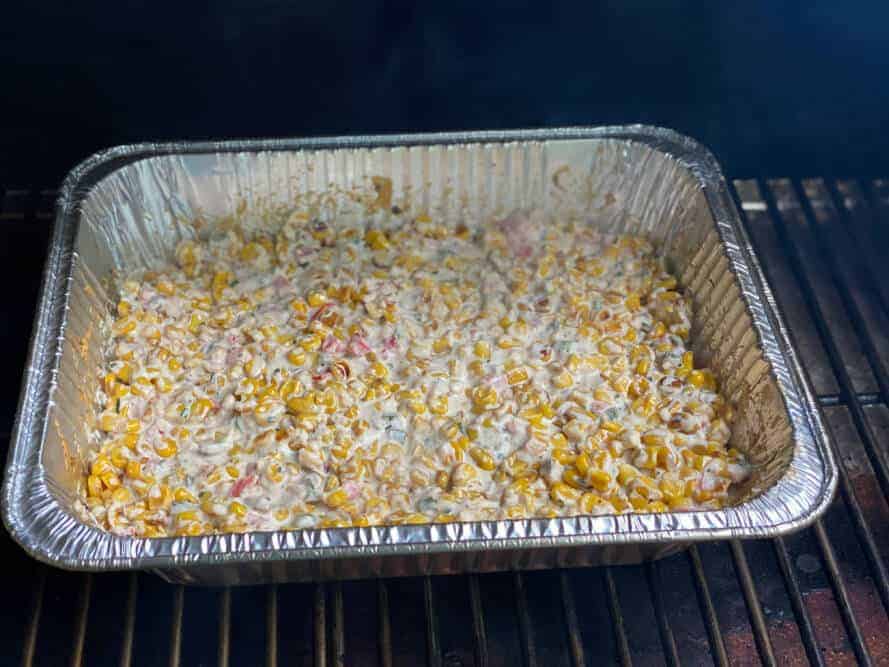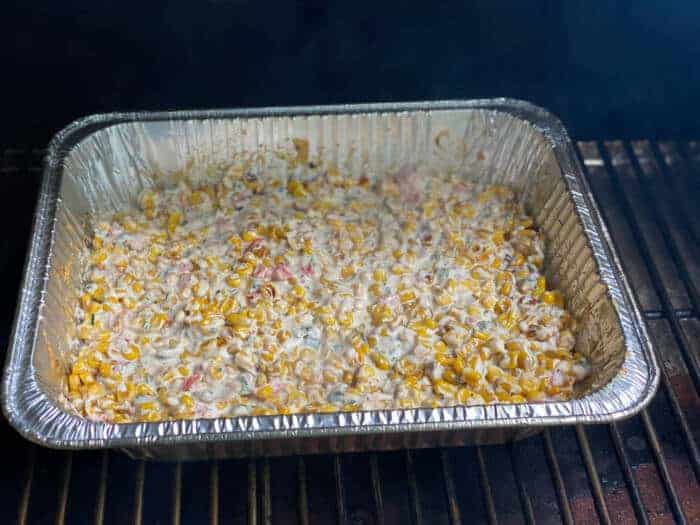 Please note: you can certainly cook it for less time but smoke flavor will be less.
Serve immediately!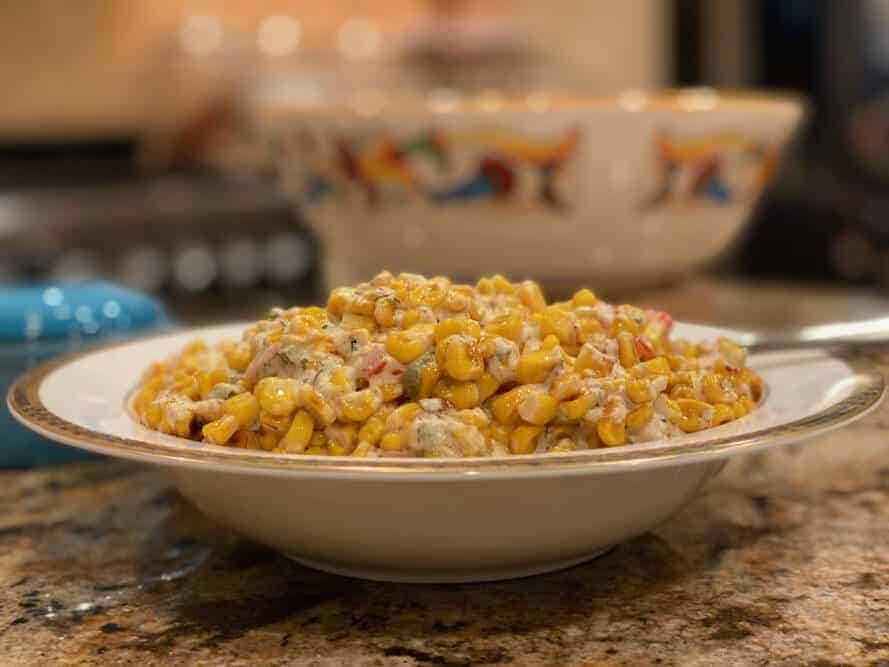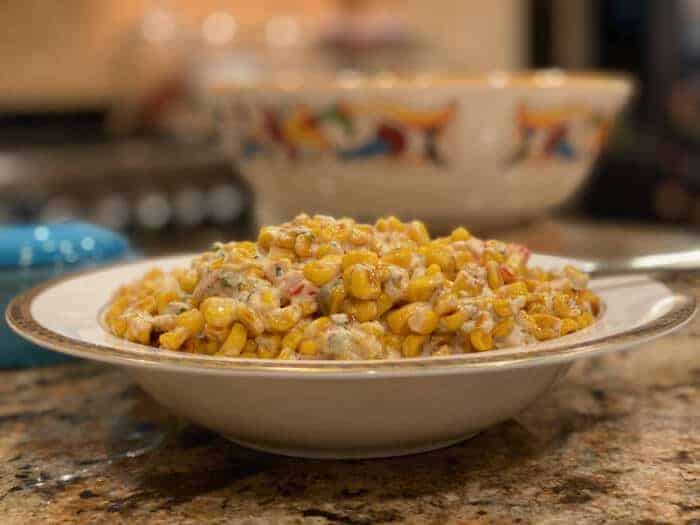 Questions/Comments
There is an insane amount of modification that can be done to this recipe to make it personal. To name a few:
Add more cheese,
Use a different cheese
Use more milk to thin it out
Use serrano peppers or even habaneros to make it more spicy
Add bacon
etc.
Smoke for more or less time to adjust the smoke flavor
Use a different kind of wood
What if I am adding this to the smoker when something else is cooking and the temperature is 225-240°F? No problem, just cook it for only 2 hours. It may get a little thicker due to the higher heat and need to be thinned with milk along the way.
Smoked Cheesy Corn
How do you make corn better? Well, of course, you add cream cheese and shredded cheddar and then smoke it nice and slow!
Ingredients
48

ounces

Corn

(Fresh or frozen (canned will work if drained and dried really well)

3

TBS

Olive oil

(or vegetable oil)

8

ounces

Cream cheese

(softened)

8

ounces

Cheddar

(shredded (pepper jack, havarti, etc.) Use what you like))

2

each Jalapenos

(medium (cleaned and diced)

½

each Bell pepper

(diced)

3

TBS

Chives

(chopped)

2

TBS

Jeff's Texas style rub

(from https://thinbluefoods.com)

1

TBS

Crushed red pepper

(red pepper flakes)

1

cup

Heavy whipping cream

1

stick butter

(1/4 lb)

½

cup

Heavy whipping cream

(For adding extra creaminess at the END of the cook.)
Instructions
Prep Clean, deseed and dice jalapenos, dice half of the red pepper, shred the hard cheese and chop the chives.

Drain and/or dry the corn if frozen or canned. After draining, pour it into a bowl with paper towels in the bottom, Toss corn around to allow the paper towel to absorb the extra moisture.

Roast Add oil to an iron skillet over high heat and once it's hot, add the corn. When bottom begins to brown, stir and continue to stir until all of the corn is browned. Pour fire roasted corn into foil pan.

Combine Add cheeses, peppers, butter, 1 cup of heavy whippping cream, chives and seasoning into the pan with the corn.

Setup Set up smoker for cooking at about 180 degrees using indirect heat and your favorite wood.

Smoke Place pan of corn mixture onto smoker grate. Once the butter, cream cheese and shredded cheese begin to melt, begin stiring about every 20 minutes for maximum smoke flavor.

Finish After 3 hours, the corn should have enough smoke flavor and be ready to eat. If you need more creaminess, add about 1/2 cup of heavy whipping cream about 15-20 minutes before removing from the smoker.

Serve Serve immediately!
Notes
Feel free to personalize this recipe using a different type of hard cheese, different hot peppers, etc. You can also add pieces of cooked bacon if you like.
Get Jeff's Products!