Smoked Skirt Steak Tacos – Carne Asada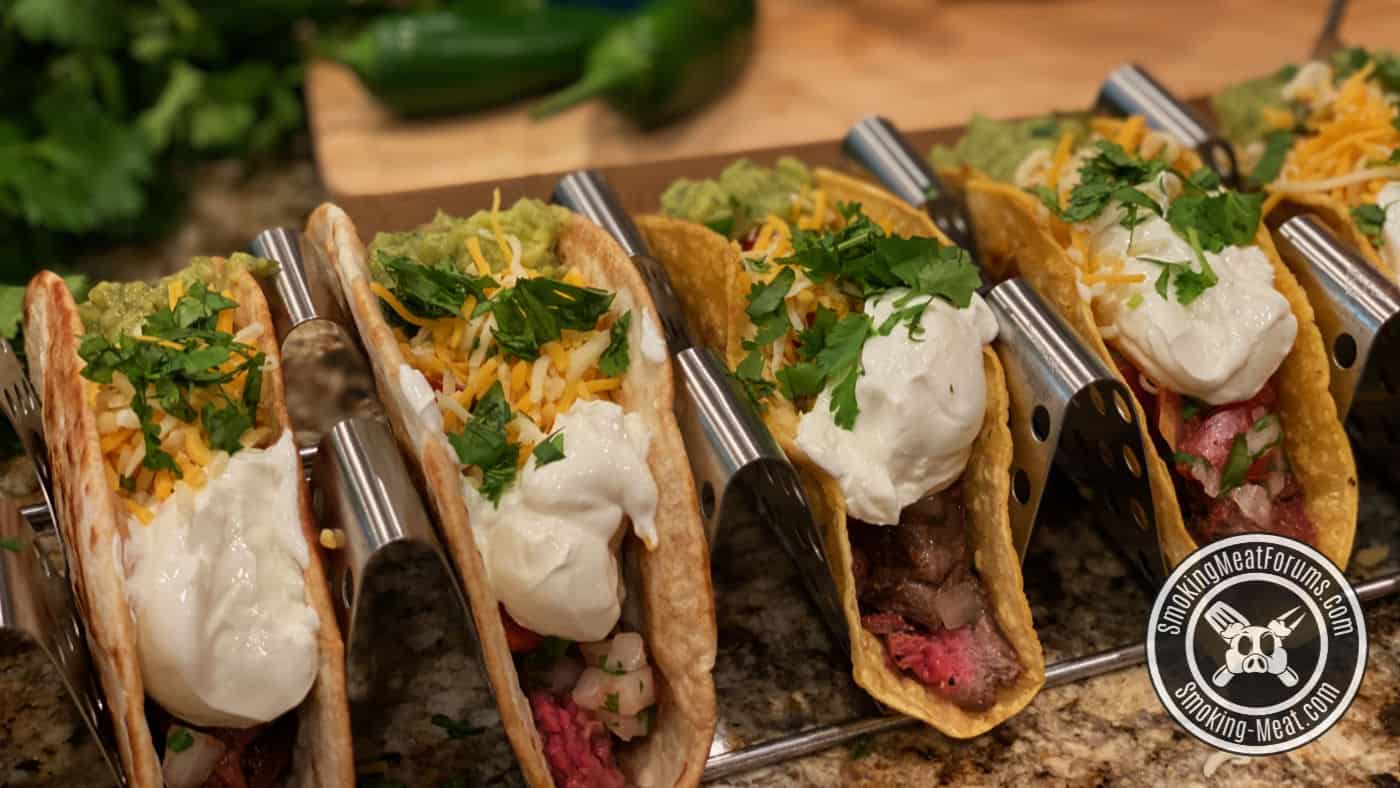 Smoking-Meat.com is supported by its readers. We may earn an affiliate commission at no extra cost to you if you buy through a link on this page.
Read this article without ads
Smoked skirt steak tacos are beefy, robust, full of flavor and most important, they are tender if you cook the meat right and cut it right. In this recipe, I'll show you how to get some smoke flavor on this beefy goodness and then finish it off over some high heat for that lightly charred finish you crave so you can build the tacos you love.
Be sure to try my citrus steak marinade below as it does a great job of tenderizing the steak while adding a ton of flavor.
Helpful Information
Prep Time: 30 minutes
Cook Time: 1 hour
Smoker Temp: 180/500°F*
Meat Finish Temp: 130°F (54°C)
Recommended Wood: Oak
*We'll start out at about 180°F (82°C) with some smoke then throw it on a screaming hot grill for that sizzle!
What You'll Need
2 lbs skirt steak
1 tsp coarse kosher salt
¼ cup Texas style rub
Flour and/or corn tortillas
Pico de Gallo*
Sour cream*
Guacamole*
cilantro*
Onions*
etc.*
*optional taco topping suggestions
[cp_popup display="inline" style_id="55533″ step_id = "1"][/cp_popup]
Steak Marinade
3 oranges, squeezed by hand (~½ cup)
3 lemons, squeezed by hand (~⅓ cup)
3 limes, squeezed by hand (~⅓ cup)
¼ cup olive oil
¼ cup Worcestershire sauce
2 tsp red pepper flakes
1 tsp cumin
4-6 garlic cloves
1 jalapeno, minced
*makes about 2 cups of marinade depending on size of citrus fruits
About Skirt Steak
Skirt steak is a rather tough piece of meat but by dry brining it, marinating it and then cutting it properly, it can end up absolutely delectable. It is one of my favorites for tacos, fajitas and well, just eating by itself.
Skirt steak has a rich, robust flavor that is beefier than almost any other part of the cow.
Start the day before by dry brining it as early in the day as possible then right before bed, make your marinade and marinate the skirt steak overnight. The next morning, it is ready for the smoker and is as tender as it can be at this point.
Step 1: Trim the Fat
One side of the skirt steak usually contains a lot of fat, silver skin, etc. and most of this can be trimmed off to make it a better bite.
Before: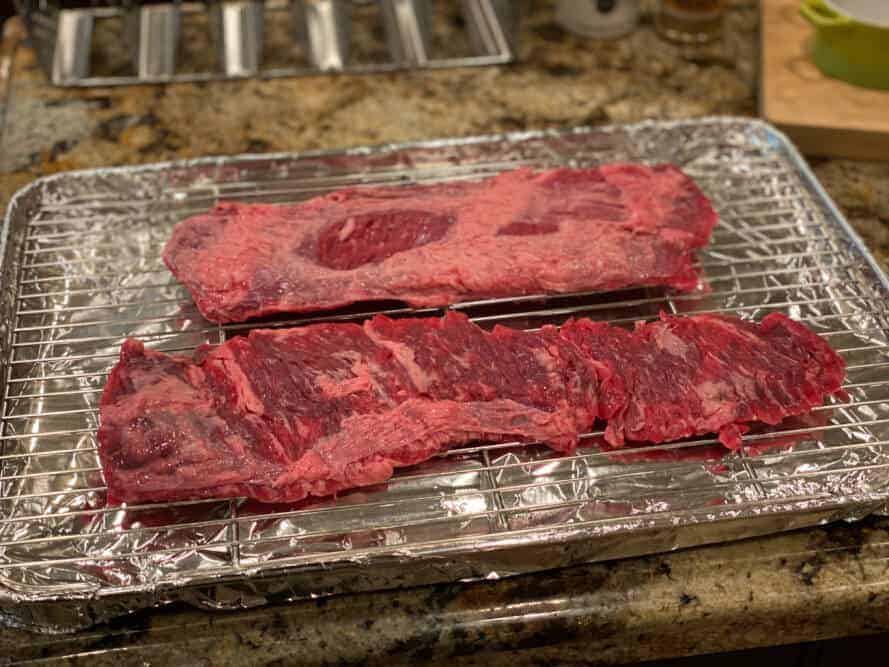 After: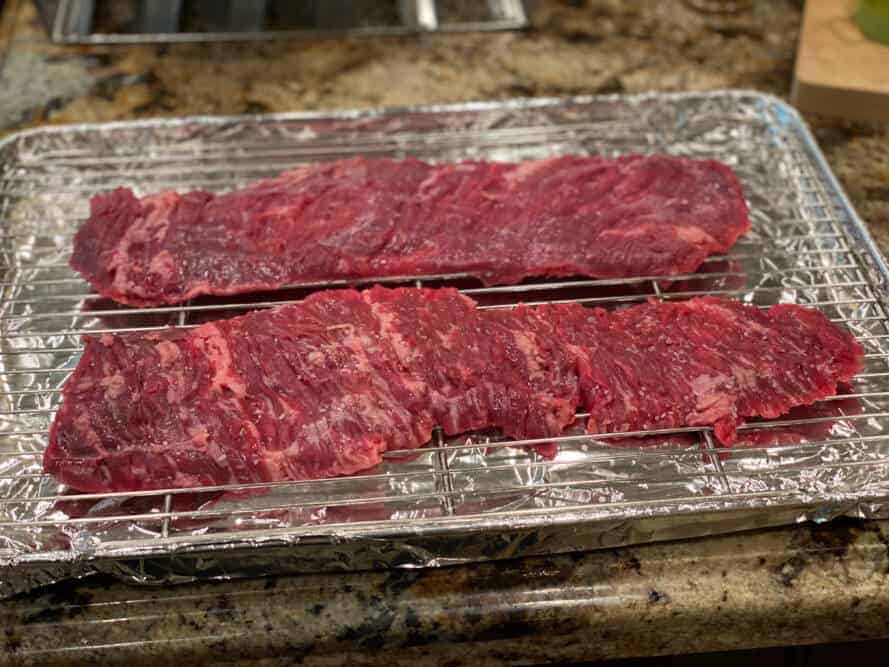 Step 2: Dry Brine
With the meat all cleaned up, let's dry brine it. This will add some salt to the inside of the meat and through some science magic, will cause some of the meat juices to get trapped in between the protein strands leaving you with a piece of meat that is juicier than it would have been otherwise.
Never a bad thing in my opinion.
If you want to read more about this process, see my article on brining.
With the meat on a cookie sheet, shallow pan or pan and rack, sprinkle about ½ teaspoon of coarse kosher salt evenly onto the entire length of each skirt steak.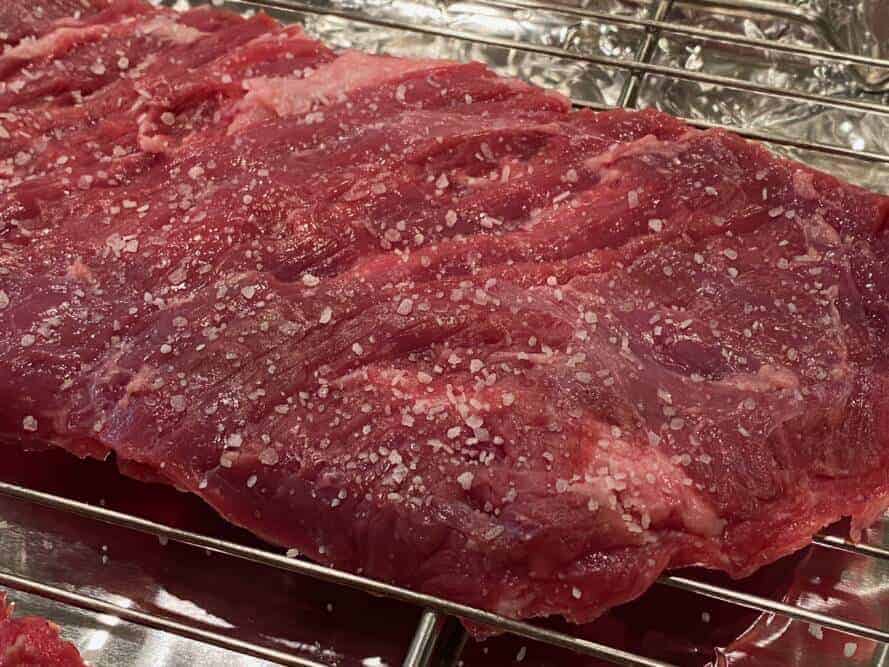 Place the pan with the meat into the fridge for 3-4 hours if possible.
Step 3: Make the Marinade
While the meat is dry brining and right before you're ready to marinate is a great time to make the marinade.
Cut your citrus fruits in half and squeeze them into a small bowl. Add your other marinade ingredients and stir well.
I recommend using my Texas style rub as that introduces just the right amount of salt and pepper as well as other spices to the marinade.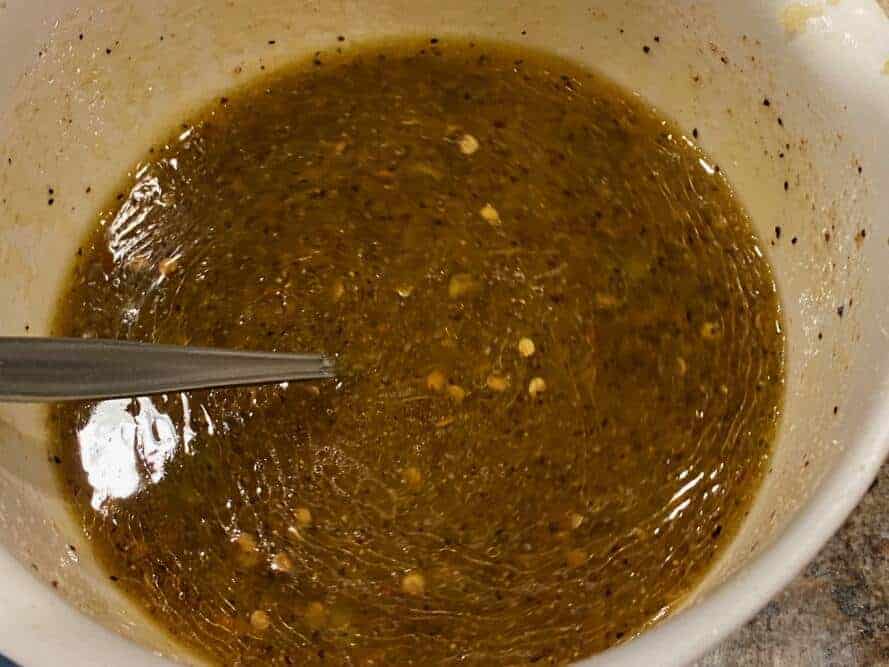 Step 4: Marinate the Meat
Place the meat into a zip top bag or a glass container with a lid.
Stir the marinade really good and immediately pour it over the meat to cover.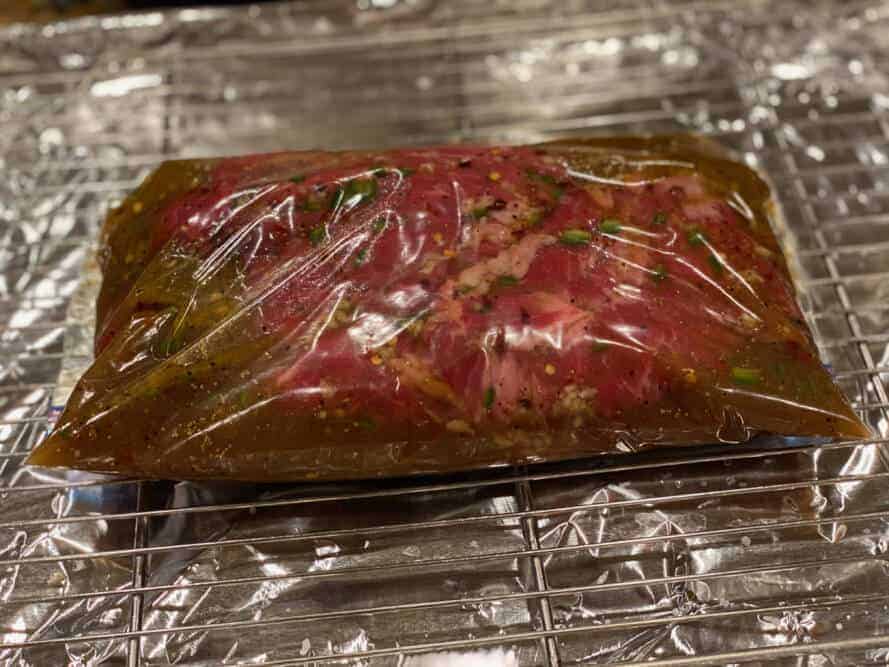 Place in the fridge overnight for best results. Any marinating time is better than nothing but overnight really gives the acids time to work on the meat fibers and allows the flavors to get acquainted with the meat.
When the marinating process is finished, discard the marinade and pat the meat as dry as you can with a paper towel. Do not rinse.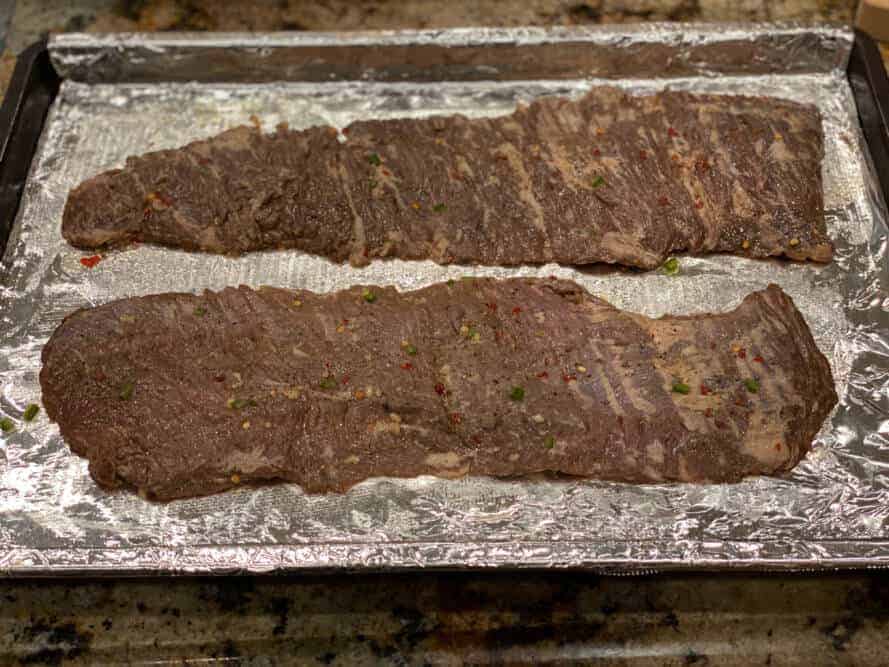 The idea is to get the meat dry without removing any pepper flakes, garlic, jalapeño that's still hanging out on the meat.
Wet meat will steam and this is not what we are after. As with any steak, to get a good sear after the smoke, the meat will need to be dry.
Step 5: More Texas Rub
We used my Texas rub in the marinade but because it's low on salt and big on taste, it works great when you want to create layers of flavor.
Let's add another layer of flavor on the meat by adding another sprinkling of the Texas style rub right before it goes on the smoker.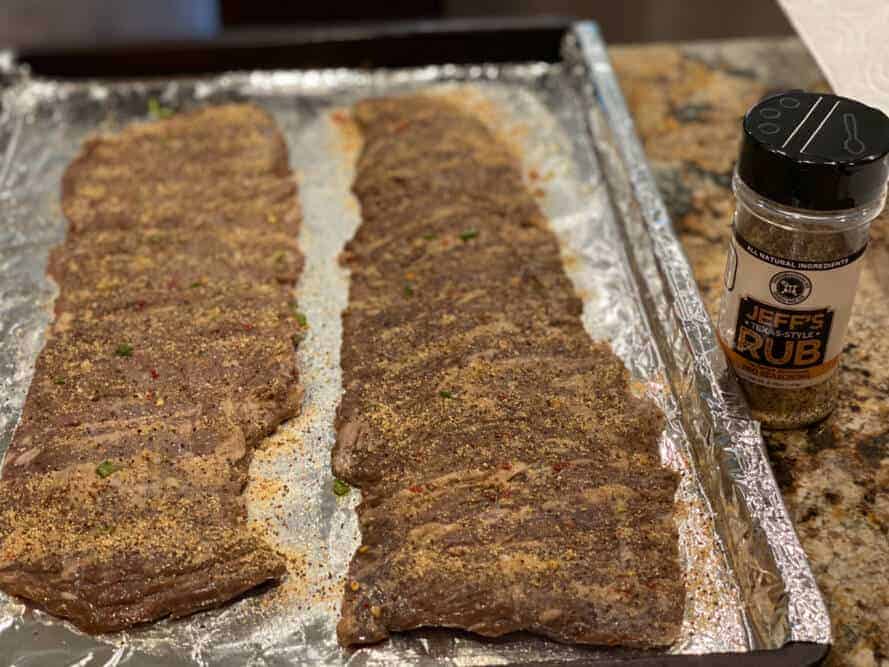 Step 6: Smoke the Skirt Steak
Set up your smoker for cooking low and slow between 200 and 225°F. Cooking lower than that is not a bad thing so if you are using a pellet smoker and want to use the special "smoke" setting, that's a good thing. That will usually run at about 180°F.
Make sure the heat is indirect and if your smoker uses a water pan, fill it up.
I used oak wood for smoke but you can use your favorite wood or whatever you have available.
When the smoker is ready, place the meat directly on the grates or if you are using a pan with a rack like I did, you can place the whole pan on the grate.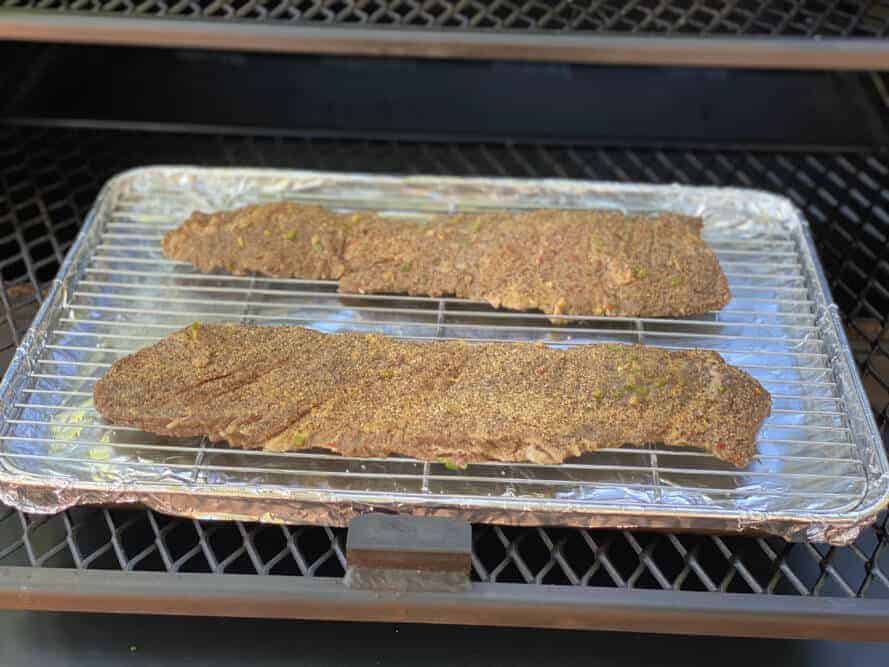 Skirt steak has a tendency to be thin on one end and more thick on the other so there can be some inconsistency with how long it takes to cook. Mine only took about 45 minutes to reach 110°F (43°C) in the thickest part.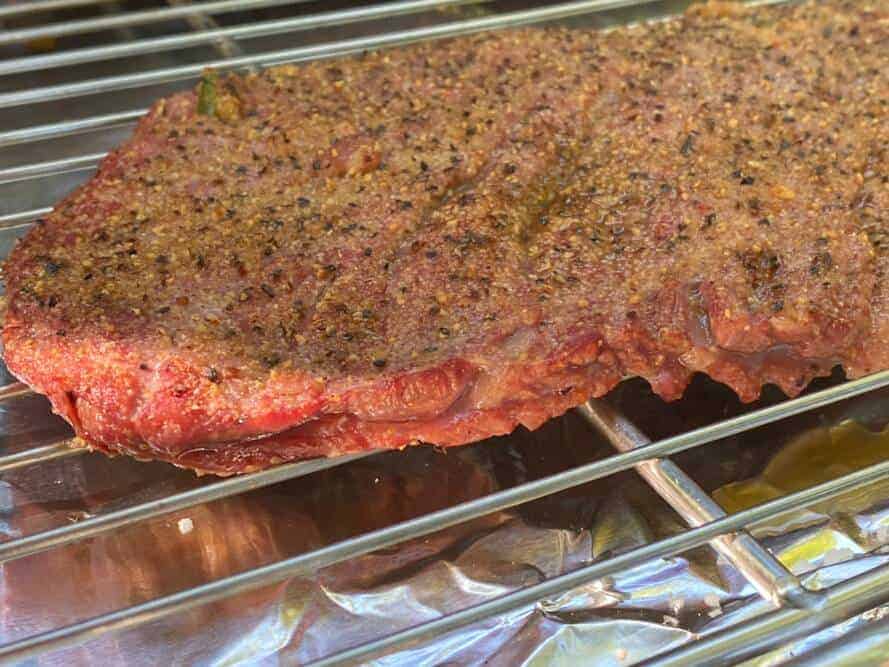 Step 7: High Heat Finish
Somewhere between 100 and 110°F is a great meat temperature to stop smoking the meat and start searing it.
I used the Lone Star Grillz (LSG) 20×36 which has a thick metal plate right over the firebox so you can do some searing once the smoking is finished.
Place a little oil on the griddle plate, open the intake vent for max heat and then throw the meat on. Listen to that sizzle!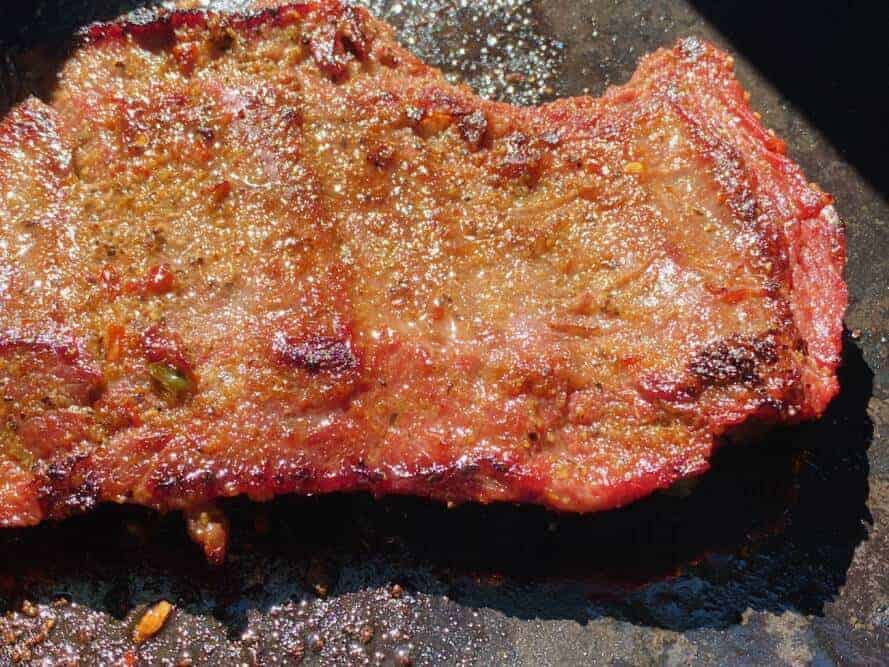 If you have a pellet smoker, you can remove the meat from the smoker and keep it hot under foil while you preheat the grill to as hot as it will go. Once it's up to 500°F (260°C) or even hotter, place the meat back on the grate and let it cook at this high temperature until it reaches 130°F (54°C) (medium rare) or your desired doneness.
If you're fortunate enough to have the Camp Chef Woodwind with the Sidekick, you can smoke it on the grate then use the griddle on the side to sear it to perfection just like I did on the LSG.
Of course, you can also smoke it on any smoker then sear it in a hot iron skillet in the house or under the broiler once it reaches 100-110°F.
If you are using a charcoal grill, just cook it indirect during the smoking part of this process then place it right over the coals when it's time to sear. Easy peasy!
You have many options that will work equally well.
In essence, smoke to about 100-110°F, then sear it on up to about 130°F for a good medium rare.
Step 8: Rest and Slice the Meat
I usually let the meat rest for about 10-15 minutes under foil while I'm warming the tortillas.
If you look at the skirt steak, you'll notice that the grains run from side to side, not end to end.
For this reason, cut the long pieces of skirt steak into pieces that are about 3 inches long, then turn those pieces 90 degrees to cut them across the grain.
I recommend going about 1/8 to 3/16 thick on the slices.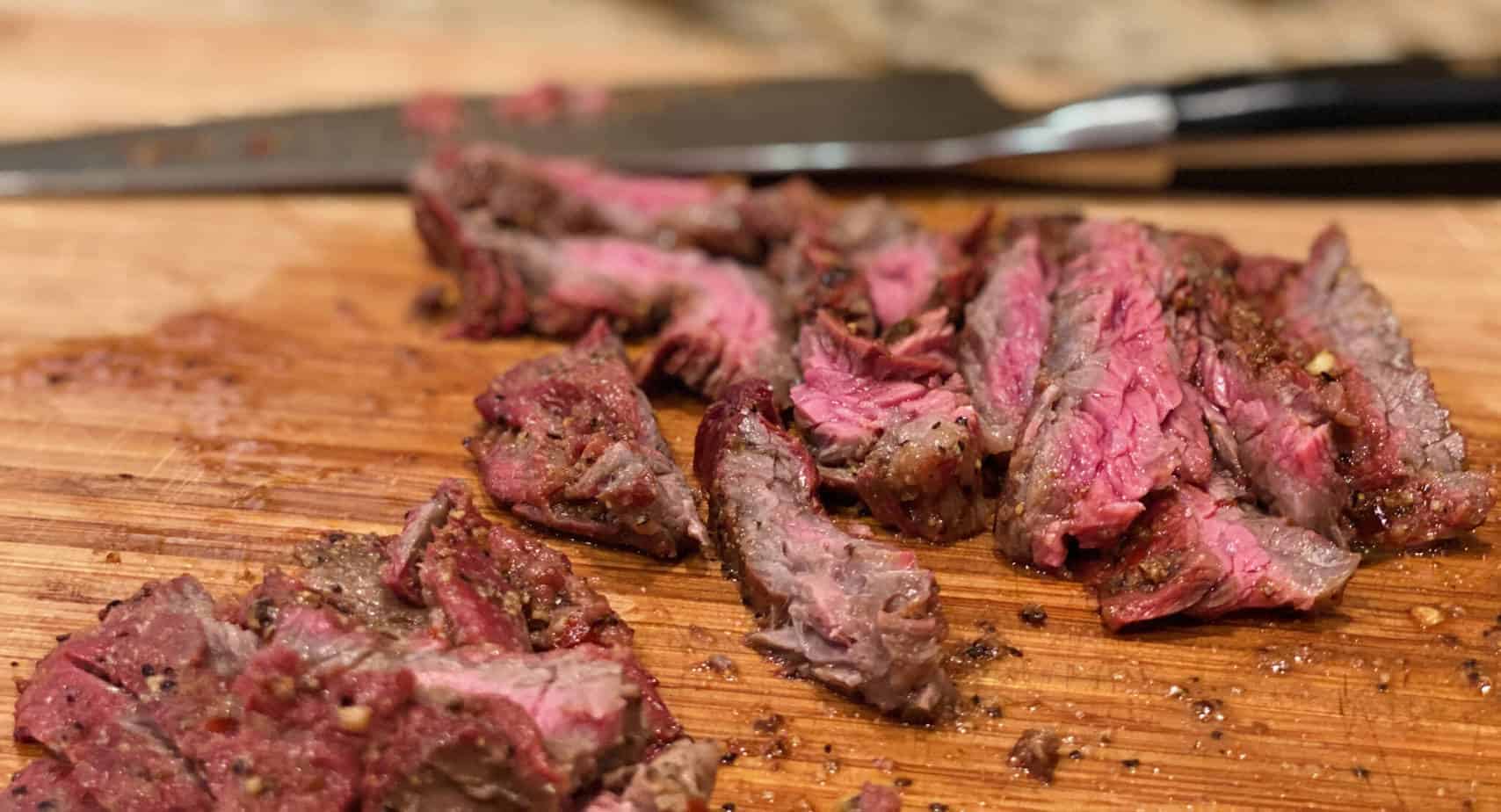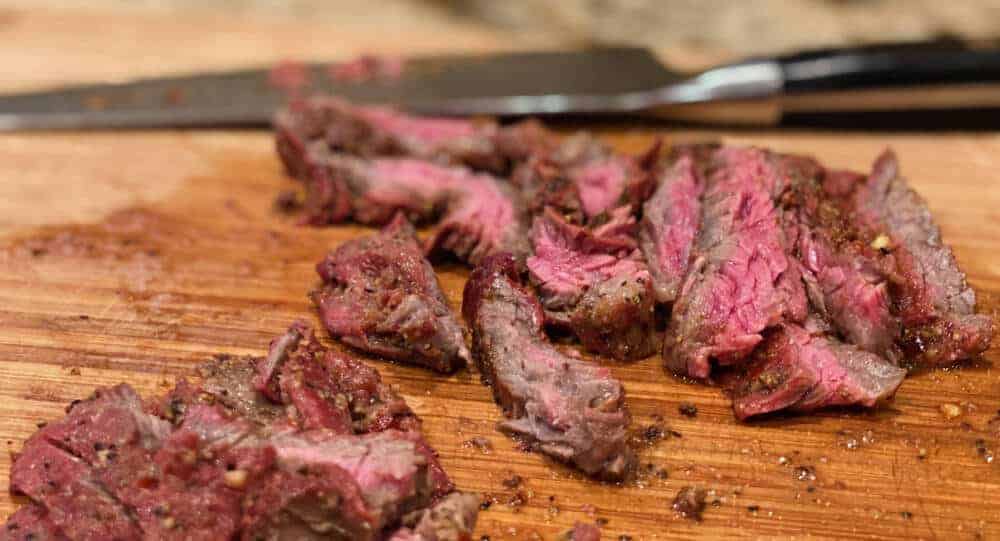 For an even nicer cut, lean your knife about 45 degrees and cut them at an angle or what chefs call (on the bias).
Step 9: Let's Make Some Smoked Skirt Steak Tacos
You can use corn or flour tortillas for these. I like flour and my wife likes the corn, so we do both.
Heat the tortillas over medium high heat in a lightly oiled cast iron pan then load them up with meat, pico, onions, sour cream, guacamole, shredded cheese, etc. whatever you like on a taco and whether you want these to be Tex Mex or more authentic Mexican, it's up to you.
Here's how we loaded 'em up this time: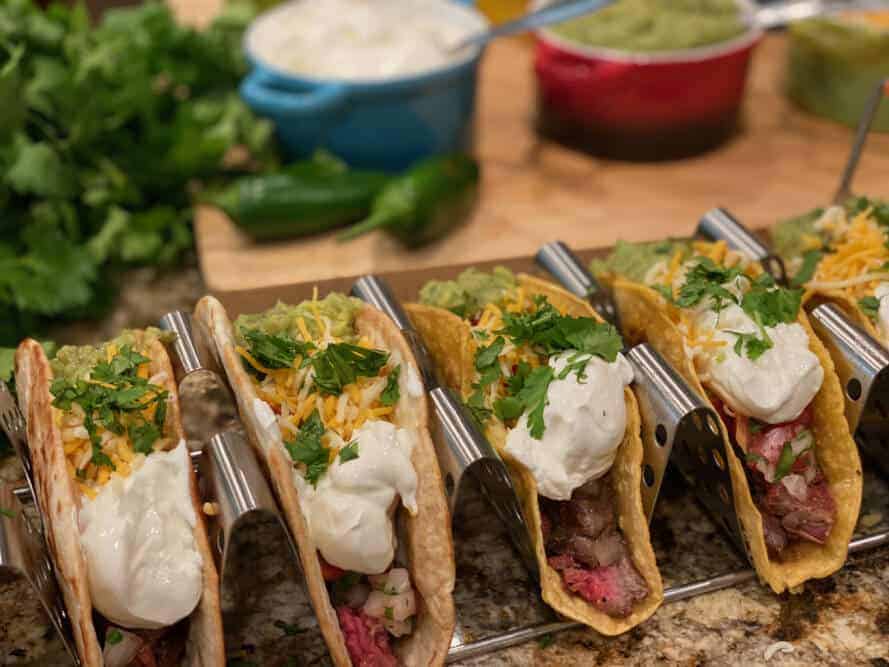 Notes/Comments
I created this marinade for these smoked skirt steak tacos and it was SO good! I could see it being used on chicken, shrimp and even pork as well. Had a nice zing to it with all of the citrus fruits but if you wanted it a little more sweet, just add a little honey or sugar to taste.
If you use this on something else, let me know what you think.
Smoked Skirt Steak Tacos - Carne Asada
Skirt steak is beefy, robust, full of flavor and most important, tender if you cook it right and cut it right. The perfect meat for Taco Tuesday!
Ingredients
2

lbs

skirt steak

1

tsp

coarse kosher salt

¼

cup

Texas style rub

Corn and/or flour tortillas

Pico de Gallo

Sour cream

Guacamole

Cilantro

Onions

Cheese
Steak Marinade
3

oranges

(squeezed by hand (~½ cup))

3

lemons

(squeezed by hand (~⅓ cup))

3

limes

(squeezed by hand (~⅓ cup))

¼

cup

olive oil

¼

cup

Worcestershire sauce

2

tsp

red pepper flakes

2

TBS

Texas style rub

1

tsp

cumin

4-6

garlic cloves

1

jalapeno

(minced)
Instructions
Trim fat and silver skin from skirt steak

Sprinkle 1/2 teaspoon of coarse kosher salt onto top of skirt steak. Place meat into fridge for 4-6 hours to dry brine.

While meat is dry brining, make marinade by squeezing juice from citrus fruits into a small bowl then adding all other marinade ingredients into the juice. Stir to combine.

After dry brining, do not rinse meat. Add the meat into a zip top bag or shallow dish and pour marinade over meat to cover. Place meat into fridge to marinate overnight.

Do not rinse marinate off but rather pat it dry with a paper towel. Discard used marinade.

Apply a coat of

Jeff's Texas style rub

onto top of skirt steak and leave sitting while you go get the smoker ready.

Set up smoker for cooking at 200-225 degrees F over indirect heat. If your smoker uses a water pan, fill it up.

When smoker is ready, place meat onto grates and let it smoke using oak or your favorite wood for about 45-60 minutes or until it reaches an internal temperature of 100-110 degrees F.

Preheat a hot grill, hot griddle, hot pan or the broiler of your oven to high heat about 10 minutes before the meat is finished smoking.

Transfer the meat from the smoker to the grill, pan, etc. to sear it on both sides. When the meat reaches 130 degrees and/or it has reached the correct color, it is finished.

Rest the meat under foil for about 10-15 minutes then slice across the grain for maximum tenderness.

Build tacos using meat on the bottom, then pico, onions, sour cream, guacamole, onions, cheese, cilantro, etc.

Serve immediately.
Notes
Note: Brown the tortillas in a skillet over medium high heat with a light coat of oil in the bottom for best flavor.
Get Jeff's Products!