Z-Grillz Review 2021 Model 600D3E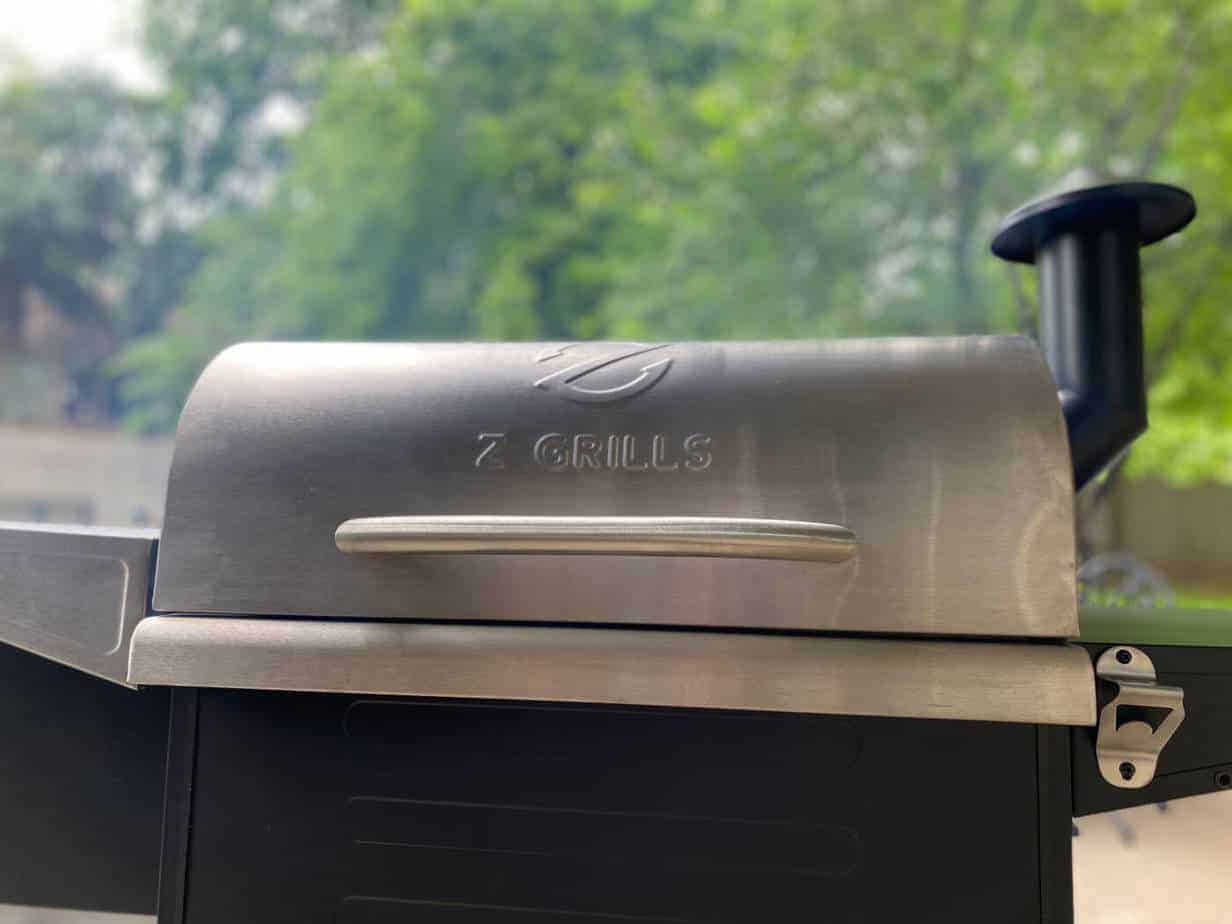 Smoking-Meat.com is supported by its readers. We may earn an affiliate commission at no extra cost to you if you buy through a link on this page.
Read this article without ads
I've been wanting to do a Z-Grillz review for a while and I finally got my hands on a new 2021 model of the 600 series namely the 600D3E. This is a brand of pellet grill that is sold on Amazon and on the Z-Grills website. (possibly other places) and overall they seem to get decent reviews.
This one has the new PID controller and after using it for a couple of months I have to say that I've been more than impressed with the way it cooks and holds temperatures.
The main body of the smoker is very lightweight metal as you would expect from a grill at this price point. The main smoker lid is stainless steel material as well as the hopper lid. The rest of the frame and body is powder coated steel.
Overall, it does not feel flimsy when rolling it across the patio or during use. It sits sturdy and I figure it will last a good while as long as I keep it covered and in the dry when I'm not using it.
Now, let's look at each component:
Assembly
The grill arrived well packaged and was not difficult to put together for one person. The instructions were clear enough and the hardware was satisfactory.
Controller
As usual, there's a special "Smoke" setting which holds about 160°F. After that it starts at 180 and then 225 all the way up to 375 and "High" in increments of 25 degrees.
There's a red LCD readout above the control dial and a power rocker switch below the dial.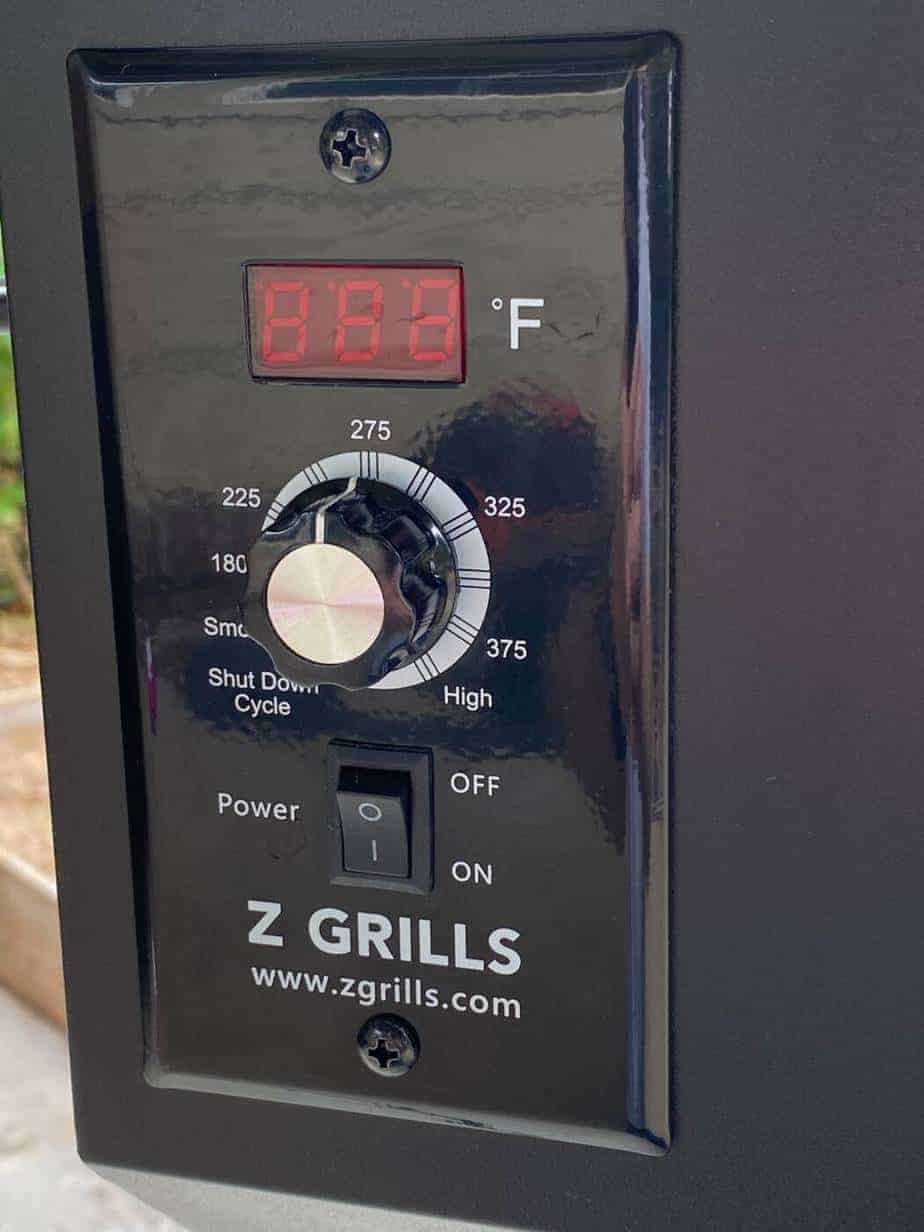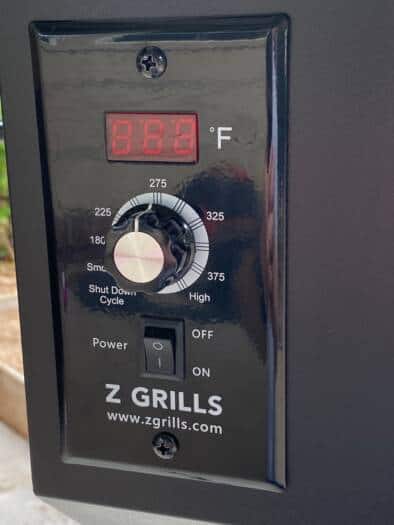 This controller is the new 2021 version and is PID which means it is able to take the readings it is given i.e. temperature and make some pretty good decisions about what to do to maintain the correct temperature. I've had no issues holding the temperature I set within 10 degrees.
As a general rule, you do not want a pellet smoker to hold a constant temperature as it is this "swing" that helps to create smoke and smoke is what we want.
The auger turns and dumps pellets into the burn pot, the pellets smolder and create smoke for a little bit and then burst into flames which help to maintain the heat. Once those pellets burn up, the temperature starts to drop and after a bit, the auger once again turns and drops in more pellets and the cycle continues.
It is this dumping pellets, smoldering, catching fire, cycle that gives you smoke to flavor the food and heat to maintain the temperature that you have set.
The Z-Grills controller seems to handle this cycle just fine within about 10 degrees +/- on the review model that I was sent.
This controller does not have a "P" setting or temperature probe inputs.
Hopper
The container for the pellets is called the hopper and this one holds about 8 lbs, enough for about 7-8 hours under normal smoke cooking conditions.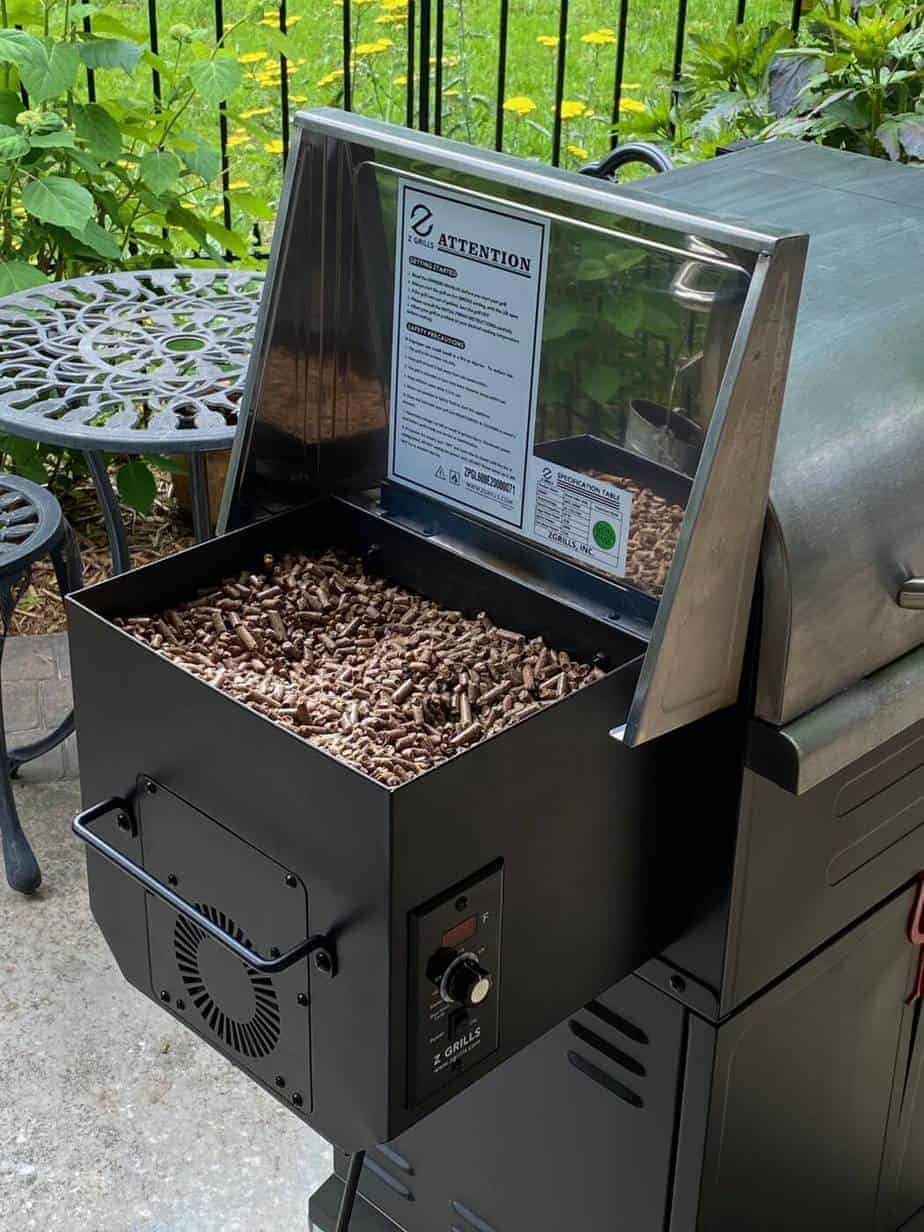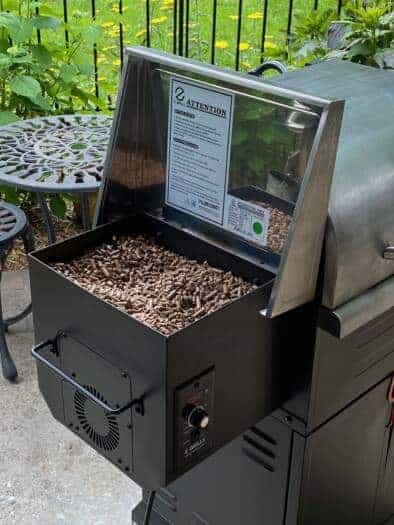 The lid on the hopper is stainless steel and acts as an extra shelf once the hopper is full of pellets. The lid on my review model did not close all the way down which I thought was a mis-adjustment on my end. They sent me a new lid and while it closed better, turns out, you have to leave the hinge screws fairly loose to relieve the bind and force the lid to close properly.
Something they should look into correcting in the future.
I always like to see the ability to dump pellets for easy change-outs but this one did not have that feature. Not a big deal but definitely nice to have.
Burn Pot
I am hesitant to call this a burn pot as it is more of a burn tray than a burn pot. It is not round and deep like most but rather square and shallow.
The burn "tray" is located on the left side of the unit right next to the hopper and even though it is designed a little "differently" it seems to work just fine and gets the job done.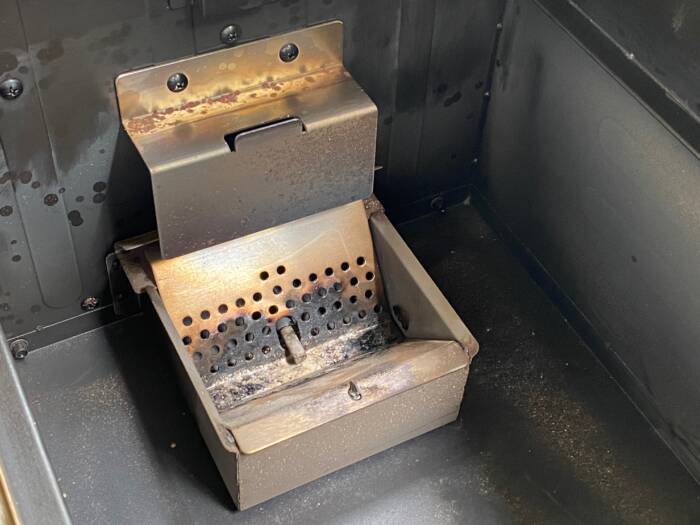 Drip Pan
Directly above the burn "tray" and just below the grates is the drip pan. It is angled slightly downward so the grease will be directed toward the grease catching mechanism and into the grease bucket on the bottom.
On the left side of the drip pan, just above the burn "tray" is a butterfly vent that can be opened to allow the direct heat to come up to the grate for some direct searing action.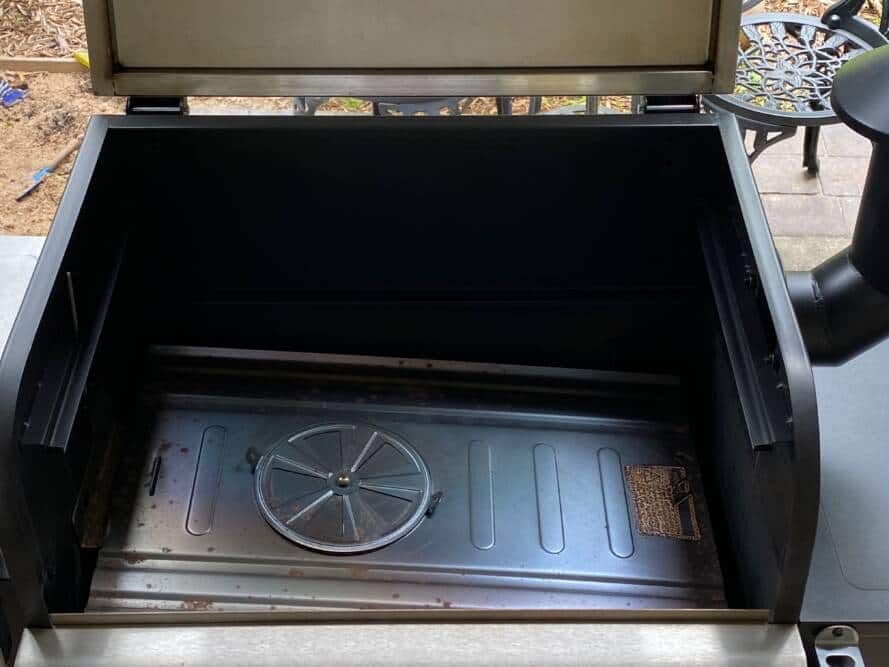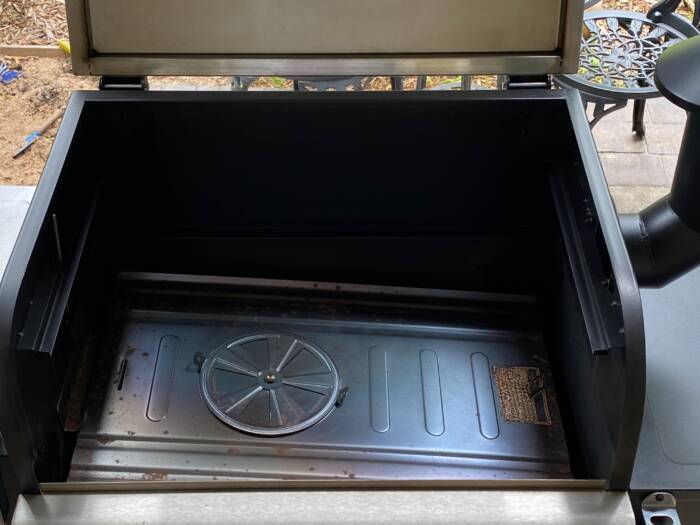 Z-Grills says this can provide heat up to 750°F for searing steaks, chicken, etc..
As always, I recommend wrapping the drip pan in heavy duty aluminum foil to aid in cleanup anytime you're not planning to use the direct searing option.
Grates
Just what you would expect for a pellet grill at this price point. They are wire racks and I'm happy to see that they included upper grates as well to really maximize the space.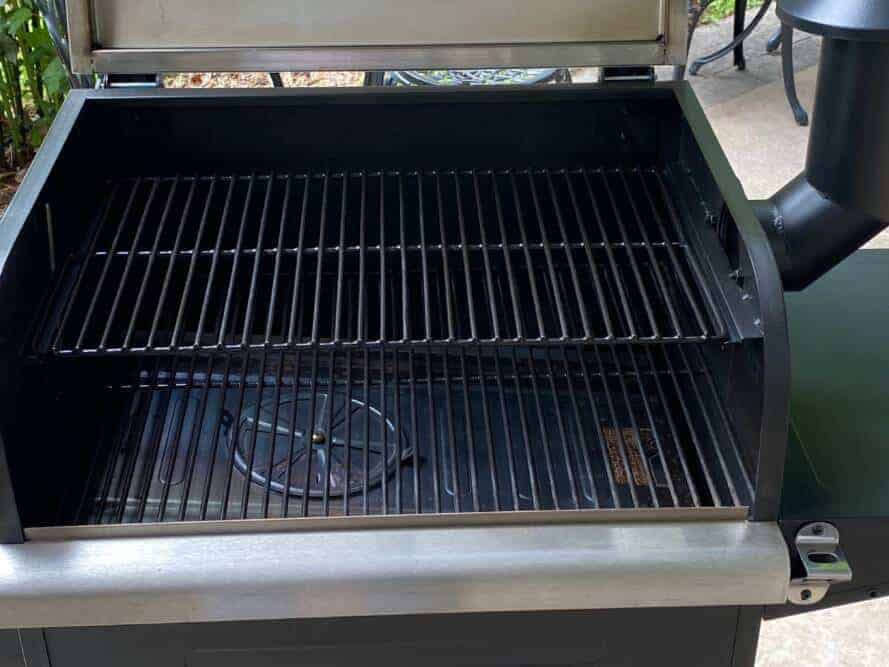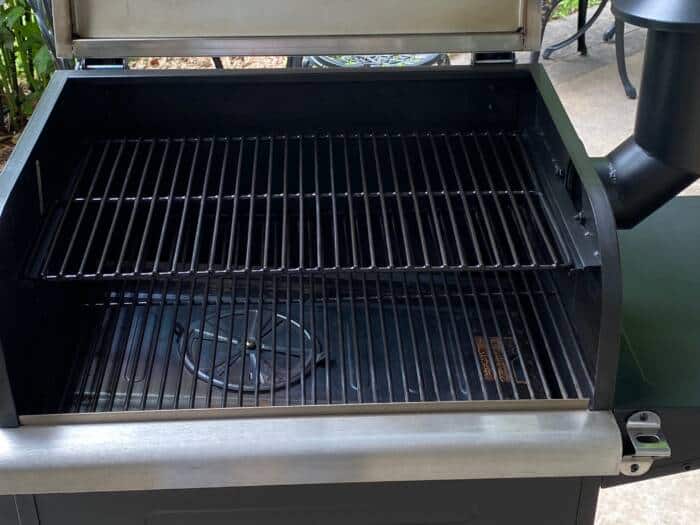 On-Board Storage
Most pellet grills have a lower shelf but this one goes the extra mile and not only encloses the area below the smoker but it has nice doors with magnetic closures.
This is also where the grease bucket is located.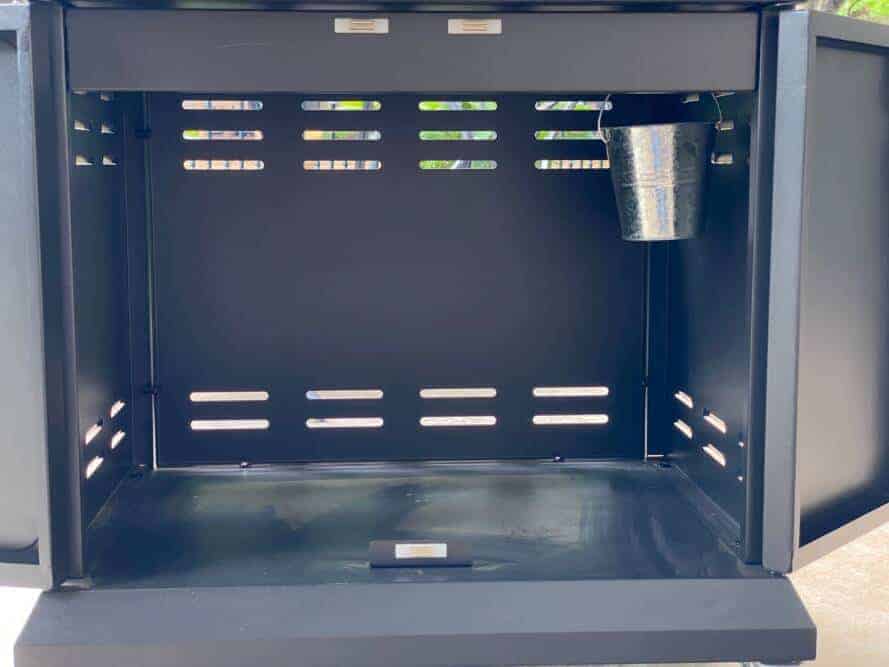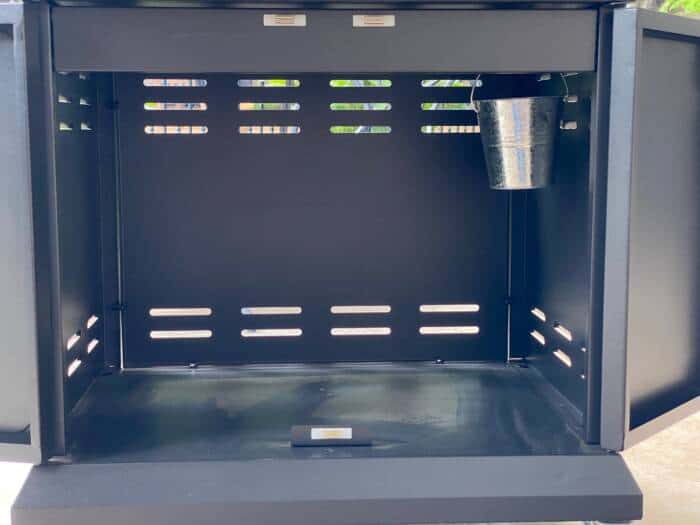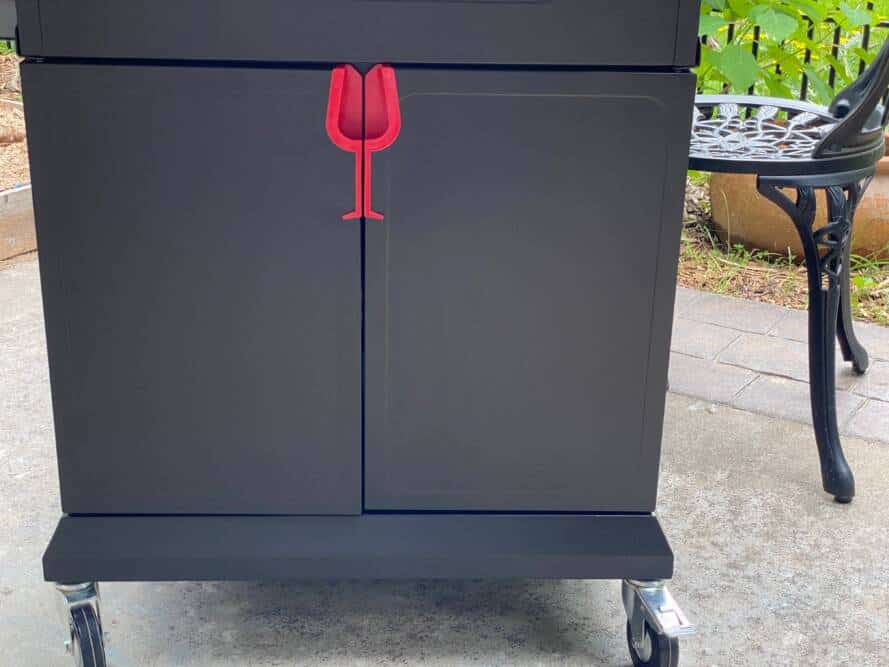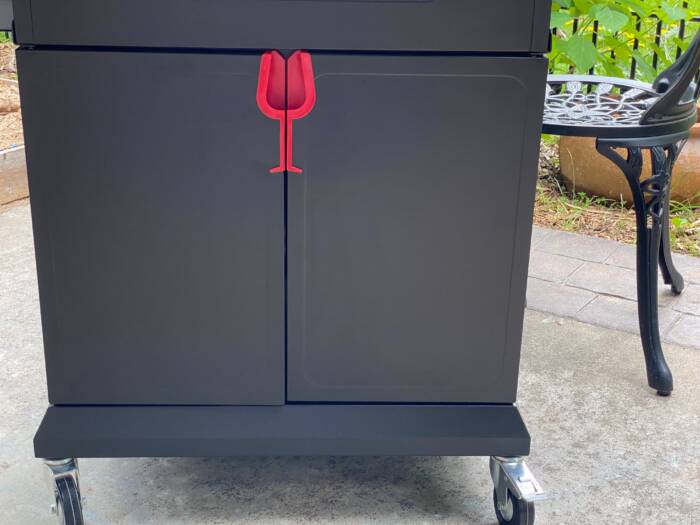 Portability
While the casters on this smoker are designed for the patio and aren't designed to allow you to roll this around your yard, it's pretty lightweight and can easily be taken wherever you want it to go even tailgating if that's your thing.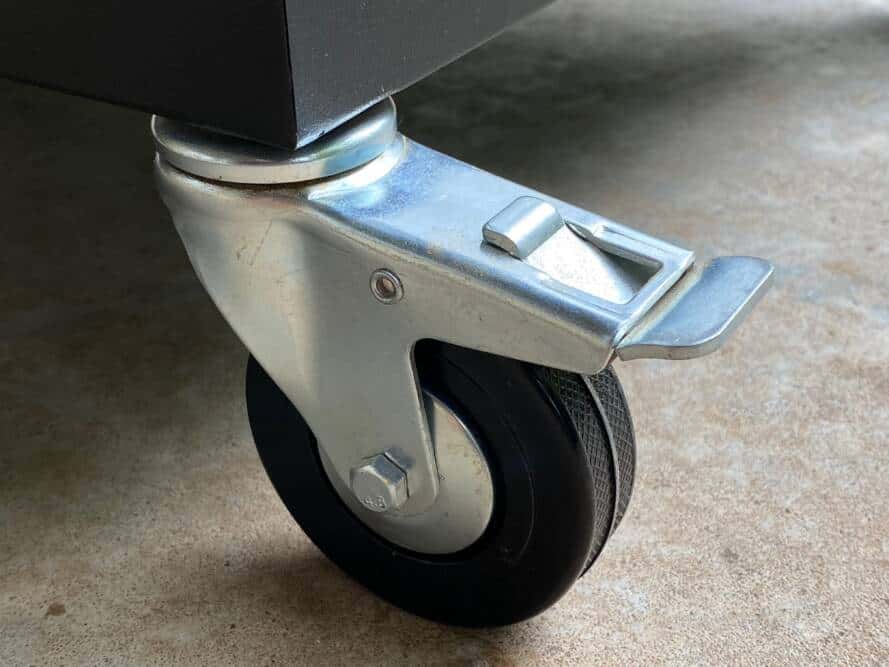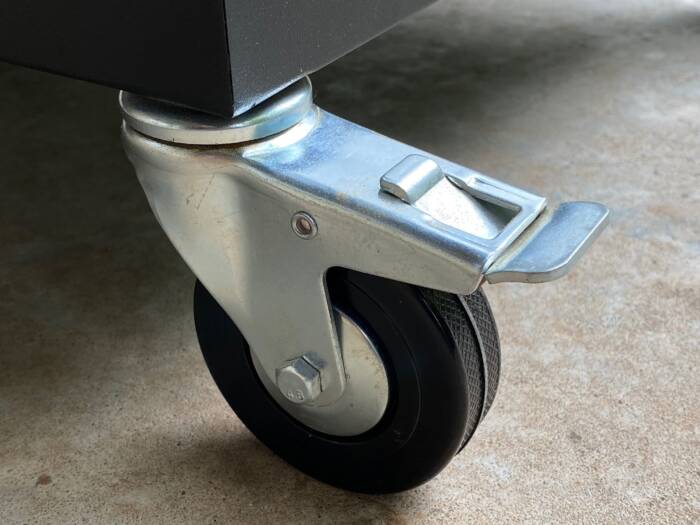 Firing It Up
Like most pellet grills, you open the lid during startup and turn the dial to smoke. In about 8-10 minutes you'll see smoke and hear the pellets burst into flames.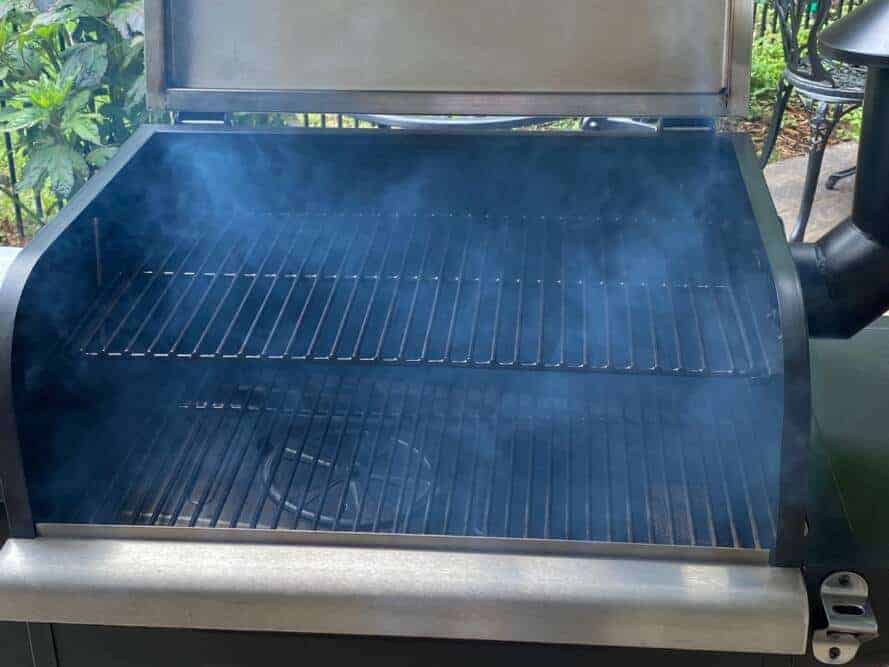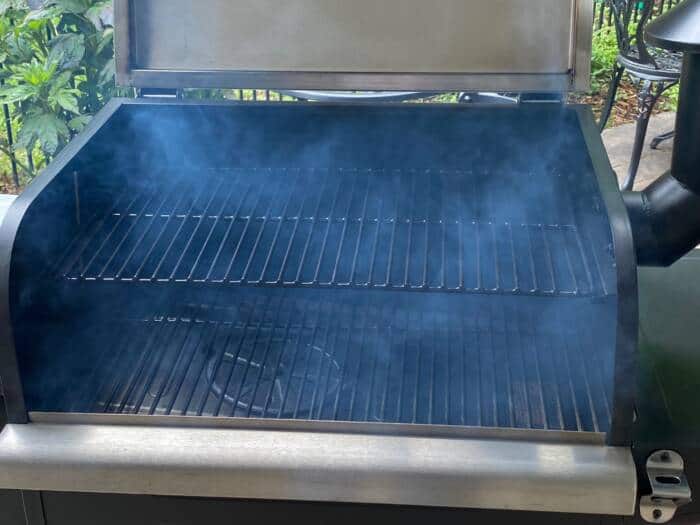 Smoke output was ample and can easily be increased via the use of a smoke tube. See my list of tips for pellet grills for more on this.
Once the pellets are lit, it's ok to close the lid and turn the knob to whatever temperature you wish to maintain.
Overall
In my opinion the 600D3E Z-Grill is a very decent pellet grill and won't set you back an arm and a leg if you want to "stick a toe in the water" where pellet grilling is concerned.
You'll have no trouble producing great tasting smoked food proving that you don't have to spend a lot to get a good smoker.
Keep it covered and in the dry and it should give you several good years of service.
If you have this smoker or one by the same brand, be sure to post in the comments section below and let us know how you like it.
Get Jeff's Products!