Smoked Meatloaf Stuffed with Jalapeño and Cheese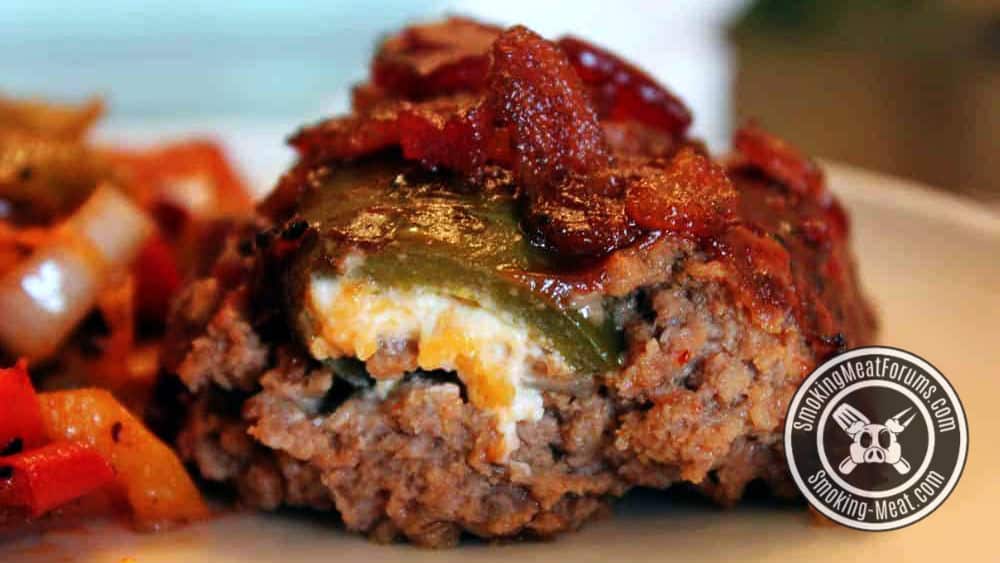 Smoking-Meat.com is supported by its readers. We may earn an affiliate commission at no extra cost to you if you buy through a link on this page.
Read this article without ads
Several years ago, I was contemplating a personal sized meatloaf that included jalapeno, one of my favorite peppers and the idea occurred to me to just use a stuffed pepper (ABT) inside of the muffin sized meatloaves.
This recipe outlines the steps that I took to make this happen and boy is it good!
What You'll Need
A muffin pan (square cutouts instead of round work best)
4 or more jalapeños
8 oz cream cheese
1/4 cup grated cheddar cheese
2 lbs 80/20 ground beef
1 egg
1/4 cup buttermilk
1/2 cup chopped onions
1 lb bacon, fried and crumbled
Prepare the Stuffed Peppers
Start by cutting off the stem end of the pepper, cut them in half lengthwise then remove seeds and veins. There are tools for making this process faster but I just use a really sharp knife and it goes pretty fast.
Tip: if the peppers are really hot ones (take a little bite to see if they are really hot or if they just have a nice zing to them), soak them in sprite for a couple of hours or even all night to remove most of the hotness from them.
Blanch the Peppers (see alternate method below*)
This process comes out of necessity since the jalapeños do not soften as much as they should while inside the meatloaf. By blanching them it pre-softens them and they end up nice and soft when the meatloaf is done.
I failed to do this on my first go around and the peppers, while tasty, were still quite crunchy even after cooking in the meatloaf for more than 3 hours.
To blanch the peppers, just bring a pot of water to boiling then remove it from the heat. Place the cleaned and seeded jalapeños in the super heated water covered with a lid for about 10 minutes or so.
While the peppers are blanching, mix the cream cheese with the grated cheddar and ¼ cup of Jeff's original rub and set aside.
After blanching, stuff the inside of the pepper halves with the cream cheese mixture.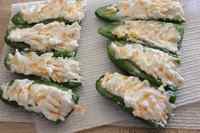 Lay a stuffed jalapeño into the bottom of each of the muffin pan holes and set aside while you mix up the meatloaf.
*Alternate Method to Blanching
Instead of blanching the peppers, just stuff the peppers with the cream cheese mixture and place them on the smoker for a couple of hours before placing them in the muffin pan.
This softens the peppers, and gets a lot of smoke flavor down inside of the meatloaf.
You can find this mini loaf pan on Amazon or at Walmart.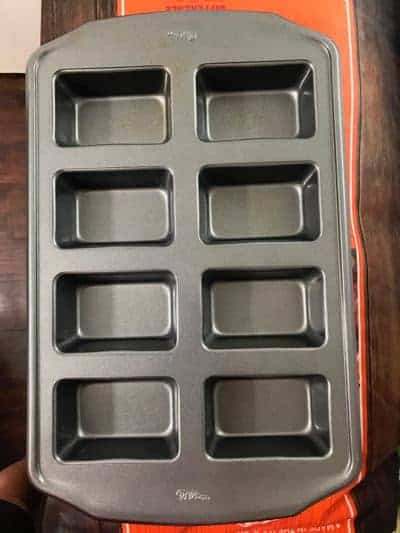 .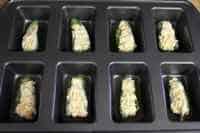 Tip: You will most likely have cream cheese mixture left over so I recommend that you buy extra jalapeños. The extras do not need to be blanched. Cut them in half lengthwise, remove the seeds and veins, then stuff them liberally with the cream cheese mixture. Wrap them with half pieces of bacon and smoke them for 3 hours for a killer appetizer.
Making the Meatloaf
Place the ground beef, onions, buttermilk, egg, ½ cup of Jeff's original barbecue sauce, and 2 TBS of Jeff's original rub into a large bowl and mix just enough to combine the ingredients.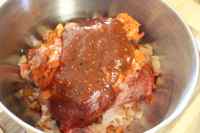 Note: This custom recipe does not use bread crumbs or other fillers, but feel free to use about a 1/4 cup of quick oats or fresh bread crumbs if you like to make the meat go just a little further and/or to add some bulk.
Once mixed, fill each muffin hole with meatloaf mixture right over the top of the stuffed pepper. Just fill level with the top.
At this point I like to place the pan of meatloaf in the fridge to help the meatloaf to firm up a little.. about 30 minutes ought to do it.
I used my Bradley racks to place the meatloaf on. This works great but you can also place them on a cookie sheet or a Weber grill pan or whatever you can find. The more accessible they are to smoke, the better they will taste.
I turned the muffin pan upside down and whacked it down hard on the Bradley rack, most of the mini meat loafs fell out at this point. Another whack or two got the rest of them. You can see the pepper now slightly buried in the meat and looking so pretty!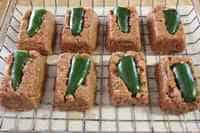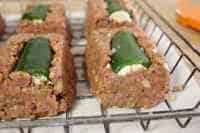 Smoking the Meatloaf
Unlike a lot of meats that we smoke, meatloaf can be smoked a little hotter if you so desire however, I will tell you that smoking them slow allows more time with the smoke and seems to keep them from drying out as bad. I kept mine at about 240°F for the entire time and it took right at 3 hours. I highly recommend placing a pan underneath the meatloaf or just let the juices fall into the water pan.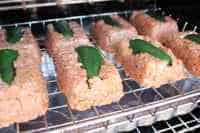 If you have a water pan, use it.. it doesn't necessarily moisten the meat but the steam makes the air's ability to dry out the meat a lot less effective. plus the super heated steam helps to maintain a more regulated temperature inside the smoke chamber.
Open the door to the smoker only when necessary and this is so much more important when the outdoor temperatures are on the low side and especially if there is a wind. I have heard that opening the door increases your cook time by 15 minutes.. I have not tested this but I don' t doubt it a bit.
Use a good robust wood like mesquite, hickory or pecan for best flavor. Feel free to mix in some fruit wood such as cherry or apple if you like and if you are using a charcoal, electric or gas smoker, keep the smoke flowing for the entire time.
Make the Sauce and Fry the Bacon
Mix up a batch of my barbecue sauce while the meatloaf is smoking.
You will also want to fry some bacon or you can place the pieces on a cookie sheet and place it in the oven at 400 degrees for about 12-15 minutes. Once the bacon is nice and crispy, remove it from the oven or frying pan and let it cool.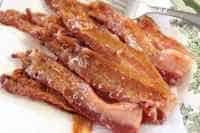 Once cool you can break it up into small bits and pieces.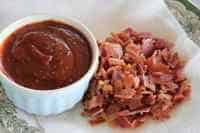 When the meatloaf is about 30 to 45 minutes from being finished or at about 145-150°F if you are monitoring the temperature, quickly open the door of the smoker and brush some of my barbecue sauce onto the tops of the mini meat loafs.
Once sauced, sprinkle the bacon crumbles on the tops of the meat loafs and close the door to let them finish cooking.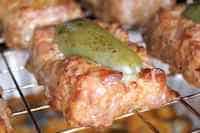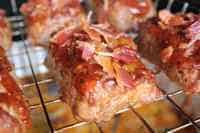 When the meatloaf reaches 160°F it is done to perfection. I recommend monitoring the temperature with a digital probe meat thermometer such as the ThermoWorks Smoke.
I like to remove the meatloaf just shy of 160 say at 155-157°F since I know that the temperature will continue to rise just a few degrees once I remove it from the heat. Cooking meatloaf past 160 just ensures that it will be dryer than it should be so this is important.
Serving the Meatloaf
Meatloaf is great with mashed potatoes, a salad, corn, fried okra, almost any kind of side that you would eat with a hearty home cooked meal like meatloaf.
I chose to do some colorful peppers and onions on the grill seasoned with my original rub and it was outstanding. In fact, I ate an entire bowl of the peppers and onions that were leftover before leaving the table. I could have eaten more but alas.. they were all gone!
---
Making the Peppers and Onions
The peppers and onions are super easy on the grill.. just lay a large sheet of foil on the grill and preheat the grill on high and once it's good and hot, pour a pound of red, yellow and green peppers (sliced) onto the foil with a medium sized vedalia onion sliced up into quarter round pieces.
About 20 minutes over high heat, stirring often, or until they get as "wimpy" as you like them. sprinkle Jeff's original rub onto the veggies generously or to taste once they've been on the heat about 5 minutes. The rub caramelizes on the vegetables and is absolutely out of this world!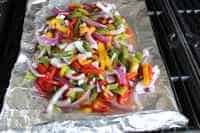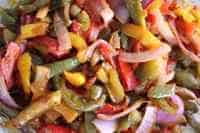 Tip: I recommend 1 lb of peppers + 1 medium onion for every 2 people that are eating. To make your life easy, you can usually buy 1 lb bags of colorful peppers already sliced and ready i n the freezer section of the local grocery store.
---
With the meatloaf and side done, we can serve up our wonderful masterpiece!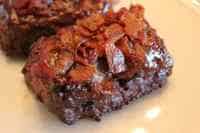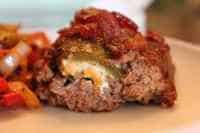 The jalapeño, with the cream cheese, my barbecue sauce and the bacon crumbles on top melds so well with the meatloaf.. I was blown away by how good this was. Smoked meatloaf is great all on it's own but this version just takes it to a whole new level of goodness. You have to try this and I think you will agree.
Smoked Meatloaf Stuffed with Jalapeño
These mini smoked meatloafs feature a cream cheese stuffed jalapeño inside and the bacon crumble finish sets them off perfectly!
Ingredients
4

jalapeños

¼

cup

Jeff's original barbecue sauce

(for topping meatloaf at end of cook time)

1

lb

bacon

(fried and crumbled)
Cream Cheese Mixture
8

oz

cream cheese

¼

cup

grated cheddar cheese

¼

cup

Jeff's original Rub
Meatloaf Mixture
2

lbs

80/20 ground beef

1

egg

¼

cup

buttermilk

½

cup

chopped onions

½

cup

Jeff's original barbecue sauce

2

tbsp

Jeff's original rub
Instructions
Remove the stem from the jalapeños then cut them in half. Remove the seeds and veins then blanch the halves for 10 minutes.

Make the cream cheese filling then fill the blanched jalapeño halves with cream cheese filling.

Place one filled jalapeño half into each section of a mini rectangle muffin pan. (I use a muffin pan by Wilton)

 Make the meatloaf mixture and stuff it into muffin sections on top of the jalapeños.

Place the pan of meatloaf into the fridge to firm up for about 30 minutes.

Turn the Wilton muffin pan upside down and tap on the back to drop meatloafs onto cookie sheet or a pan with a rack.

Set up your smoker for cooking at 240°F (116°C) with indirect heat. If your smoker uses a water pan, fill it up.

Fry or bake the bacon for making the "crumbles".

Top each meatloaf with Jeff's original barbecue sauce and bacon crumbles about 30 minutes before they are done cooking.

Smoke for three hours or until they reach 160°F (71°C) in the center of each one.

Serve with a side of grilled peppers and onions.

Enjoy!
Notes
I always have extra cream cheese mixture so I buy extra jalapeños and make bacon wrapped stuffed jalapeños with the extra jalapeño halves.
You can smoke these while the meatloaf muffins are cooking.
Get Jeff's Products!