This week I am going to show you how to make beef jerky and I am going to share the marinade that I use and a few tips and tricks to help you be successful. If you have never made beef jerky before then you might have the erroneous idea that it is difficult or that you need special equipment to make it but, on the contrary, you can make it with a smoker, your home oven or a dehydrator and with the help I am going to give you in this newsletter, it will be way better than anything you can purchase in the store.. I guarantee it!
I have made multiple (umpteen) batches of this beef jerky recipe to perfect the process and you are the lucky recipients of all of that hard work, time and dedication.
Let's just say, I don't want any more beef jerky for a while!
Jeff's Rub and Sauce – Order Today
"Jeff, Words can't describe how good your rub and sauce are. I just purchased your recipes last week and cooked outside three times already using the rub and sauce. I have never tasted anything that even comes close to this. Thanks so much for sharing this with us!" ~ Steve
If you have benefited from the newsletter and/or the website, purchase the recipes and you'll be glad you did, I promise!!
Amazing, Tasty, Easy to make using ingredients you probably already have and it supports the website and the newsletter.
A wonderful combination!!
Special: Order the recipes for my rub and my sauce and, for a limited time, you get the Complete 28 page, 5 chapter eCourse in PDF format FREE!  
How to Make Beef Jerky
Disclaimer: This beef jerky recipe does not use the traditional cure and therefore must be cooked to 160 degrees F fairly quickly before it is dried and must maintain 140 degrees F or above while it is drying. It also requires refrigeration in order to keep it safe once it is finished drying.
Per the USDA, this is a completely acceptable method and is how I choose to do it personally. I do not store it for more than a few days and this method works for me. If your needs differ from mine or you need extended storage times, you will have to do some research and add the correct amount of cure to this recipe in order to keep it safe for you. I may choose to do a newsletter on cured beef jerky sometime in the future.
Prep Time: 30 minutes | Marinade Time: 24 hours | Cook Time: 6-10 hours
Smoker Temp: 170-180 F | Meat Finish Temp: 160 F
Recommended Wood: Oak, Hickory or Pecan
What You'll Need
3 lbs eye of round or similarly lean beef
Low-sodium soy sauce (you can use regular but I prefer less salty beef jerky)

Bourbon or whiskey (alcohol evaporates but leaves great flavor behind)

Honey
About the Meat
I always use eye of round but you can also use top round, bottom round and possibly others. The eye of round is lean, has a small bit of fat on the top but it is easily trimmed off leaving you with the best meat for beef jerky in my opinion.
The butcher will usually slice this for you if you ask and I usually tell them to cut it at about 1/8 inch thick. If you think about it, you can ask them what number they used on the slicer and you can then give them the the slicing number the next time which is more accurate than giving them a thickness in inches.
Be sure to tell them whether you want it cut with or against the grain. I like it super tender so I have it cut against the grain most of the time.With the grain will make it more chewy if that is the way you like it.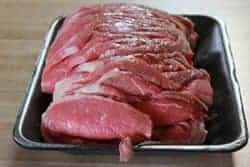 If you want to slice it yourself, use a very sharp knife and try to keep your slice thickness very consistent. Some will tell you to place the meat in the freezer for 30 minutes before slicing and this does help but it's not a substitute for an extremely sharp knife.
Marinating the Meat
Note: you do NOT have to marinate the meat but I highly recommend it.
This is a great way to get some great flavor into the meat and if you follow my instructions, you will not have to season the meat at all after it marinates.
I have played around for several years with using my rub and sauce along with other ingredients to create a marinade that just works.. perfectly.. every time and I think I have finally come up with something that you will really like.
My family and friends (my most honest critics) are telling me to not change a thing with this latest iteration and I have to agree that it is near perfect.
And yes, you can use a different rub, a different sauce and even a different marinade altogether but don't complain to me when it's not as wonderful as you had hoped;-)
Here's the recipe:
Jeff's Beef Jerky Marinade
1 cup (8 oz) low-sodium soy sauce (you can use regular but I prefer less salty beef jerky)
1/2 cup of Jim Beam Bourbon*
1/4 cup raw honey
1/3 cup Jeff's Rub
1/4 cup Jeff's sauce
*you can substitute apple juice for the bourbon if you are so inclined, however, the bourbon does add a lot of flavor and the alcohol has plenty of time to evaporate completely before it is to the eating stage. I highly recommend you follow the recipe to the letter if at all possible.
This recipe makes a little more than 2 cups of marinade and should be plenty to handle about 3 lbs of meat.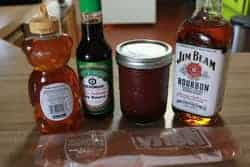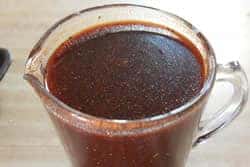 Once the marinade is complete, stir well then add the meat and the marinade into a 1-gallon ziptop bag.
Seal the bag closed and tumble/massage the meat and the marinade gently to make sure all of the meat is in contact with the marinade.
Note: Be sure to press out as much of the air as possible so that the bag and the  marinade stay pressed up close to the meat.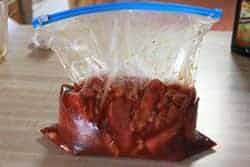 Place the bagged meat/marinade into a bowl to prevent leakage (this is always a great idea) and place the bowl into the fridge for 24 hours.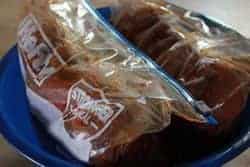 Every few hours or whenever you think about it, take the bag and massage it around a little bit to make sure the marinade is able to affect all of the meat equally.
Once the meat has marinated for 24 hours or so, discard the marinade and place the slices of meat onto Bradley racks (if you have them) or you can even order special jerky racks which are especially made for doing jerky.
You can also just place the meat directly onto the grate of your smoker.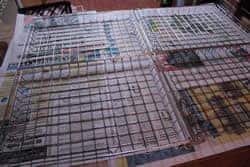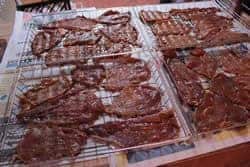 Place the Bradley racks in the smoker and smoke the meat at 180-200 degrees for 2-3 hours or until the meat reaches 160 degrees.
Note: Since we are drying the meat, it is a great idea to keep the environment as non-humid as possible. For this reason, I recommend you leave the water pan/bowl dry so as to not create steam. Some folks even leave the door of the smoker slightly ajar so the humidity can escape.
When the meat reaches it's done temperature, it can be continued with just heat or transferred to a dehydrator as long as you can maintain the meat temperature at or above 140 degrees.
If this cannot be done safely, then simply leave it in the smoker and maintain 170-180 degrees until the meat is dried. Be sure that plenty of air is circulating through the smoker as it is the air that dries the meat.
Check the meat every hour or so until it gets close then you will want to check it every 30 minutes or so until it has the dryness, and texture that you are looking for.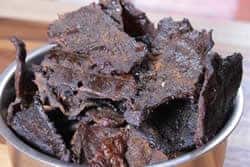 It is difficult to describe beef jerky that is done perfectly other than the fact that you should be able to bend it without it breaking in half.
I like to see some white fibers when I bend "properly done" beef jerky.
My most important tip of the day:  Do not overdry the jerky. It will always be more dry than it seems once it cools so take it out just shy of that point. Once it cools down, it will be more brittle, more dry and more done than you thought it was. Ask me how I know this?!
A Word on Dehydrators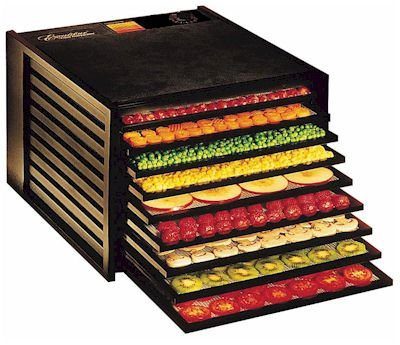 I have the 2900ECB-9 Dehydrator by Excalibur and I love it beyond words. I've had it since 2010 and it still works as good as the day I got it. With a 7-inch fan, adjustable thermostat (95-155 degrees F) and 9 trays, it is wonderful for doing dried fruits as well as jerky. I just can't say enough good things about it.
In addition to beef jerky, I make fruit jerky out of apple sauce and other fruit puree as well.
Once the meat is cooked and smoked to 160 degrees F, I transfer it to the dehydrator and leave it there at 155 degrees, until it is done. With the rather large fan, it dries quickly and safely.
The Recipes for my Rub and Sauce – Order Today!
These recipes have always meant success for many people, and with the success that I am having in using them with beef jerky, I am pumped!
Try them out.. if you don't agree, I'll refund your money just like that!
Here are a few testimonies that clearly speak for themselves:
---
Smoked a Pork Butt last night and applied the mustard and your rub…Just finished it off with your bbq sauce! I have to say that this turned out awesome and much better than I used to make!   thanks for the rub/sauce recipes! ~ Troy
---
Hello Jeff I recently purchased your recipe for rub-n-sauce and just wanted to let you know that its off the chart. well worth the cost. I am cooking for about 50 family and friends at lake Texoma this weekend and cant wait to see everybody's reaction ~ Jack
---
Jeff, You truly are the man. Bought your rib rub and your sakes alive sauce and love them both. Keep up the good work helping people like me learn to cook good BBQ with smoke. ~ Matt
---
Jeff, I was smoking a Boston butt Saturday night for dinner Sunday and decided to try your bbq sauce. I have to say this is hands down the best sauce I've ever had and I've tried a lot of them. Its very easy to make, inexpensive and taste excellent. I will be using this recipe for a long time. ~ Doug
---
I've made tenderloins for years both on the smoker and not, but the use of Jeff's rub and sauce made them amazing.  my family loved them. ~ Kathleen
---
I think the above testimonies say it better than I ever could.
How can you argue with unsolicited testimonies sent in just because folks who purchased the recipes wanted to let me know how good they were?
You deserve the very best and it is completely within your grasp!
Only $18.95 and worth every penny.
Not only do you get the best rub and sauce recipe available, you are supporting this website and helping to make sure the bills get paid so we can keep on doing what we do to teach thousands and thousands of people across the world the art of smoking meat.
Order Recipes | Read Testimonies
What to Expect Once you Order
When you order, you will get:
The recipes for my very own rub and sauce
The "Smoking Basics eCourse" in PDF Format

Ad-free Newsletter
Here's how you get it:
You order the recipes
My automated system sends you a download link in an email with a password
You click on the link and use the password to download the recipes and the free gifts to your computer
If you DON'T get a download email with the link and a password within 10 minutes:
Check your spam/junk folder (sometimes they get caught there)
If you can't find it, email me and let me know you didn't get it
I will send the recipes and login info to you as an attachment in an email
You let me know you got it, we are both happy campers!
Free Smoking Meat Newsletter