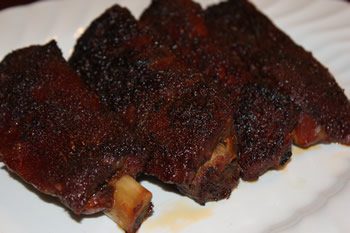 Hello friends and welcome to the August edition of the smoking meat newsletter. I know that many of you are probably not doing a lot of smoking due to the extremely hot weather but if you do get in the mood for something smoked, then something quick and easy like ribs, chicken or even some appetizers are always on the menu.
This month, we are going to cook up some baby back ribs but we are going to do them a little different than what you might be used to and we are going to get a little adventurous with the flavors as well.
But first.. just a quick tidbit of information:
I would like to let you know that the website, newsletter, forum and all facets of this network that I have created over the last 6 years are largely supported by you.
When you purchase my recipes and/or other products, send in donations, click on the amazon links, etc., it ensures that this information will continue to flow your way and I will continue to experiment, learn, create and share my findings with you.
Those of you who have been subscribers of this newsletter for years may already know this, but with more than 100 new subscribers each and every day, there are no doubt a large group of folks who do not know how this works and I feel it is important to let folks know that these things just don't happen without help;-)
To those of you who help make this happen.. I owe you big time!!
Well.. enough of that, I am very, very anxious to share a few things with you about baby back ribs so let's get started.
Now let's get to the meat of the matter.. (I know.. pretty cheesy pun)
Smoked Rib Planks

I was laying in bed a while back and it came to me in a flash, why not cut ribs in such a way so that you end up having more meat and less bone?
Why not brine the individual "planks" as I call them and infuse some flavor into the ribs? Would that even work?
Well, this led to some "playing with food" and what I came up with turned out to be really good.
Here is how to repeat the process at your house:
Purchase the Ribs

Purchase 2 slabs of baby back ribs in the 3-4 pound range. I prefer all natural ribs that are marked as MINIMALLY PROCESSED but if you can't find them this way, any of the processed baby back ribs will work.
Prepare the Ribs

Remove the membrane from the bone side of the ribs, trim a little fat off the meat side if necessary and then proceed to cut them up into individual ribs sort of competition style.
Cut the end bone off of the slab right away staying right next to the bone.
Make 2 cuts on either side of the next rib bone so that it has maximum meat on either side with a bone in the middle. In doing this, you end up with a rib that is 3 inches wide instead of 1 inch wide and while you end up with fewer ribs, you also end up with more meat per rib and the trade-off is so worth it.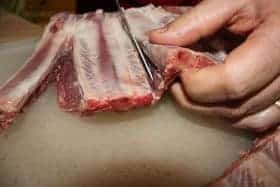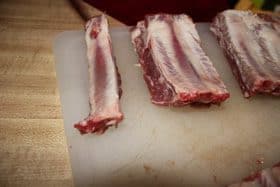 Once all the ribs are cut up, you should end up with about 5 planks per slab of ribs or in our case, 10 rib planks.
Note: For this experiment, I only brined 6 of the planks. The other 4 were not brined and were coated with my special rib rub entirely.
Order Jeff's Rub Recipe and Sauce Recipe
How to Brine Rib Planks

Note: I was not sure what would work best as far as flavors so I made two different brines.. here are the 2 recipes that I came up with:
—————————————
Maple Syrup Brine

1/2 gallon of water
1/2 cup of kosher salt
1/4 cup of Log Cabin syrup
Add salt to water and mix until salt dissolves and water returns to clear. Add syrup and stir until dissolved.
—————————————
Cajun Brine

1/2 gallon of water
1/2 cup of kosher salt
2 TBS of Zatarains Crab boil (liquid)
2 TBS of Worcestershire
5 Cloves of garlic, crushed
Add salt to water and mix until salt dissolves water returns to clear. Add crab boil, worcestershire and crushed garlic cloves to water and stir until well blended.
—————————————
To brine the rib planks you will need 2 medium containers with lids, lay 3-4 rib planks into each container and pour the 1/2 gallon of maple syrup brine over the top of the ribs in one container then pour the Cajun brine over the ribs in the other container.
Add about 10 cubes of ice to each container to help cool the water quickly then close the lids and place the containers in the fridge for about 1.5 hours.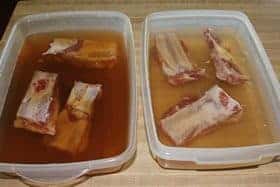 Prepare the Rib Planks for Smoking

Remove the ribs from the brine and rinse them well under cool water. Pat them dry with a paper towel then lay them bone side down in a large pan that will fit on your smoker grate.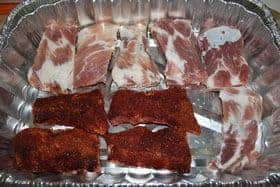 Maple Brined Ribs: I do not recommend putting any rub on these ribs other than a little black pepper perhaps. We will be glazing these when they are done cooking for more flavor and this way the maple flavor can really shine through.
Cajun Brined Ribs: I recommend a light dusting of my rib rub on these rib planks but don't overdo it. Since the ribs have been brined, too much seasoning could make them overly salty. Another option would be to make a batch of my rub with no salt and then you can add the rub without fear of too much saltiness.
Unbrined Rib Planks: Coat generously with Jeff's naked rib rub. To help the rub to stick better, apply a light coating of yellow mustard as a sticking agent.
Smoke the Rib Planks

Place the pan of rib planks on the smoker grate and smoke them at 225-240 degrees F for about 5 hours or until they reach the desired tenderness.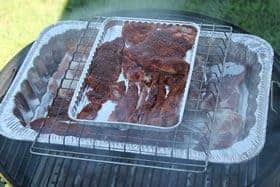 Note: As you can see here, I came up with some small bits and pieces from trimming the leftover bones and such. I placed a rack from my Bradley smoker across the pan then laid the pan of trimmings on the Bradley rack. Sometimes you have to get creative.
Finishing Up the Rib Planks

The unbrined rib planks with my rib rub can be served immediately or wrapped in foil and held in a warm oven for an hour or two in necessary.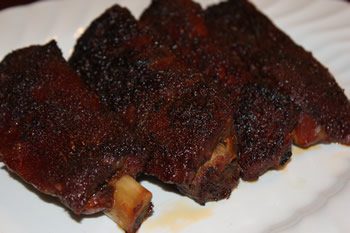 Maple Brined Ribs: About 30 minutes before the ribs are done cooking, use a brush to apply log cabin syrup to the meaty side of the ribs. Wait about 15 minutes and repeat for best results. For an added touch, you could also brush on a coat of real maple syrup to kick up the flavor of the maple.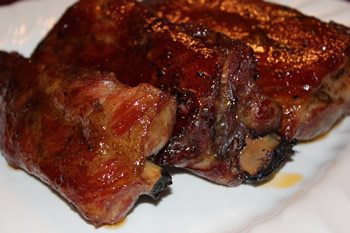 Cajun Brined Ribs: About 30 minutes before the ribs are done cooking, use a brush to apply a generous coat of my barbecue sauce to the meat side of the ribs. The sauce goes really well with the Louisiana flavor of the meat.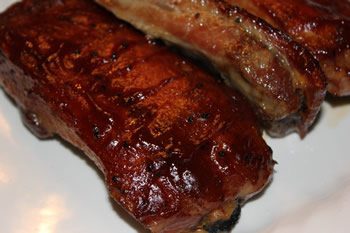 In Summary

As always, I cut up pieces of the meat for everyone to try and I am always interested to get the opinions of my wife and our 3 kids.
This time it was especially interesting since they have all let me know that my rub and sauce is the only way they like ribs and they claim I have them spoiled;-)
I made them all try the maple brined ribs as well as the cajun brined ribs and I of course watched their faces as well as listened to the comments that they made.
My wife, as expected, loudly proclaimed that she still liked the unbrined ones with my rub the best.
My oldest daughter, who is 14, preferred the Cajun ones with barbecue sauce and my 7 year old boy wants more of the maple ones for breakfast tomorrow morning..LOL
My 12 year old daughter just got braces on her teeth and claims she can no longer eat ribs… we'll see if she sneaks and eats some later. The ribs are really tender and I don't think they would be a problem but hey, I am proud of her for trying to follow the doctors orders.
I personally still prefer the unbrined ribs with my rib rub but then I wouldn't mind having some of the maple brined version for breakfast either so we'll see if Abi (my wife) took note of that request as she is normally in charge of breakfast.
Bacon Wrapped Chicken Bites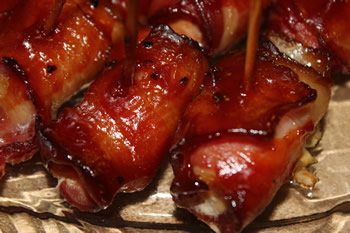 Here is something we do for parties and it's always a big hit. I like to use thigh meat since it tends to not dry out as bad but you can also use breast meat if you prefer. I do recommend that you use a brine if you choose to use chicken breast instead of thigh meat.
Enjoy!!
Ingredients

1 package of boneless, skinless chicken thighs or breasts
1 lb of regular sliced bacon (not thick sliced)
Wood toothpicks
Preparation

Cut chicken into small pieces of about 1" x 1".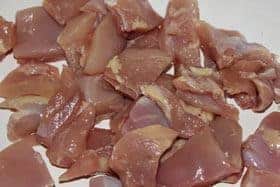 Cut entire package of bacon in half.
Make up a batch of Jeff's naked rib rub then pour about 1/4 cup or more into a plate and roll the chicken pieces in the rub making sure they are coated well. After coating with rub, wrap a half piece of bacon around each piece of chicken and push a toothpick through the bacon and into the chicken to hold everything in place.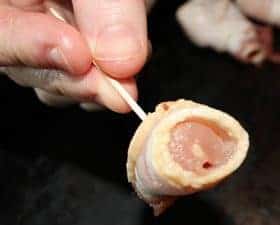 Smoking it

Place the bacon wrapped chicken bites directly on the grate or on a pan with some holes in it so the grease can fall through to a pan below or into the water pan of your smoker. Directly on the grate is best.
Smoke the chicken bites at 225-240 degrees for about 3 hours.
Finishing up

When the chicken/bacon starts to look done, do a quick test on one of the bites with a thermometer to make sure the chicken has reached at least 160 degrees F.
Brush some of my barbecue sauce onto the chicken bites and let the bites stay in the smoker about 30 more minutes for the sauce to caramelize a bit.
Alternative method: for crispier bacon, place the bites on a cookie sheet and place them under your oven broiler for 5 minutes. Remove them from the oven, brush on sauce and place them back under the broiler for about 3 additional minutes to caramelize the sauce.
Serve the bacon wrapped chicken bites hot with the toothpicks intact.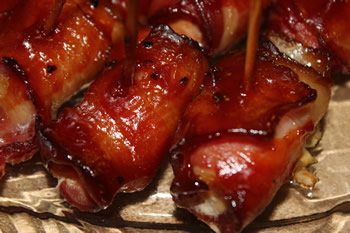 My Recipes

Folks.. I never stop amazing myself at how good my rib rub is on various kinds of meat!
Whether it's ribs, brisket, pork shoulder or even something simple like chicken or chops, every time I use my rub and sauce I am blown away by the flavor all over AGAIN!
I always think to myself, "I sure hope everyone can try this.. it is too good to go through life never having experienced this!"
I am not being dramatic.. just try it and you will join the ranks of those who know if I'm lying then I'm dying! This stuff is Fan-flavor-tastic and you need it in a bad-bad way;-)
Here is a few testimonies from other folks who decided to go for it and are glad that they did. Be sure to send your testimony once you try it and realize that you have just tasted of HEAVEN.

—————————————————
I would like to Thank You for the Rib Rub Recipe, I made this for my family and the results were unanimous, everyone said that the ribs were the BEST they ever tasted, and the meat was very tender and moist. I haven't tried the BBQ sauce recipe yet, but I will in the near future. ~ Jerome
—————————————————
Jeff, You truly are the man. Bought your rib rub and your sakes alive sauce and love them both. Keep up the good work helping people like me learn to cook good BBQ with smoke. ~ Matt
—————————————————
Jeff, I was smoking a Boston butt Saturday night for dinner Sunday and decided to try your bbq sauce. I have to say this is hands down the best sauce I've ever had and I've tried a lot of them. Its very easy to make, inexpensive and taste excellent. I will be using this recipe for a long time. ~ Doug
—————————————————
Just wanted to tell you I finally bought your rub and bbq sauce recipe. They were as you said a big hit. Good job. Thanks ~ Maril
—————————————————
You deserve the very best and is is completely within your grasp! Only $18.95 and worth every penny. Not only do you get the best rub and sauce recipe available, you are supporting this website and helping to make sure the bills get paid so we can keep on doing what we do to teach thousands and thousands of people across the world the art of smoking meat.
Order Recipes | Read More Testimonies
NOTE: My system is automated which means you should get a download email within MINUTES of ordering..check your spam/junk folder first then contact me to get the recipes sent to you as an attachment.
Newsletter Archives

All of our past newsletters are archived at the website for your convenience. If you need to know how to smoke brisket, ribs, meatloaf, pastrami, salmon, etc. then I have probably produced a newsletter about it some point.
See the last 6 years of newsletters here.
Join us on Facebook and Twitter

If you enjoy staying connected with smoking meat, join us as fans at our smoking meat fan page on facebook. We look forward to seeing you there.
Go to http://www.facebook.com/smokingmeat and hit the "Like" button at the top to be a part of this exciting trend.
To follow us on Twitter and get occasional tips and tricks about smoking meat go to http://www.twitter.com/tulsajeff
In Closing

Thank you for being a part of the smoking meat family which includes the newsletter, the forum, the smoking-meat.com website and many other resources that we try to provide to help you and countless others learn this great art.
A HUGE thank you to all of you who support the site with your donations and by purchasing the recipes and other products that we sell.
Until next time.. keep smoking and God Bless.
Jeff Phillips