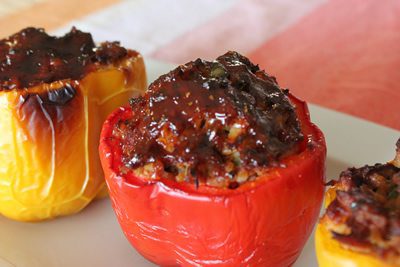 Hello newsletter friends and welcome to the August 9 edition of the smoking meat newsletter. I have a special place in my heart (or maybe it's my stomach..) for stuffed peppers. How well I remember my mother making these for dinner on many occasions and it was always a wonderful thing. The meat inside was so savory and delicious and moist and you could even eat the pepper if you liked them.
I don't think I usually ate the pepper part growing up but I always thought it was cool that I could eat the container if I wanted to.
Now that I'm older and I've discovered that I love bell peppers and all kinds of peppers for that matter, I've decided to try my hand at making them only with a slightly different recipe. My mother always used ground beef mixed with rice, onions, maybe some bread crumbs, etc. and it was really good but my idea was to use leftover smoked meat instead of the usual ground beef.
Many times we'll cook a brisket or pork shoulder and after the meal there are leftovers that just get thrown in the freezer for safe keeping and I am forever trying to honk of new ways to use these leftovers in new and exciting ways.
These stuffed peppers are a result of that quest and I have to say, for my family, it was a clear home run. Everyone loved it.. even my nine year old son loved the stuffing part.
Needless to say.. I am looking very forward to sharing this delicious recipe with you in today's article. Before I get into the main recipe, I will go into all of the details on how to smoke the brisket and the pork shoulder to perfection.
It's All About the Wow!!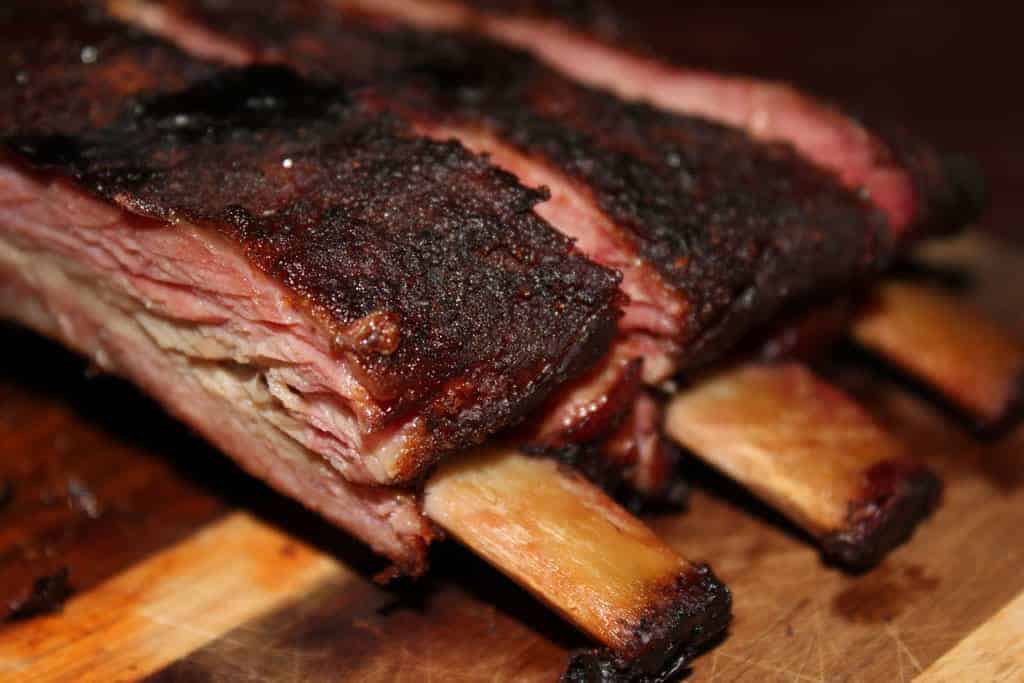 My rub was designed and developed to give ribs, brisket, pork shoulder, poultry, shrimp and most other meats that certain wow factor that is so often missing.. I spent years putting this recipe together but when I got done tweaking it to perfection.. I knew that I had created a legacy of flavor that would live forever. If you don't have my recipes, order today and you'll see exactly what I mean.. nothing short of amazing and what's more, it's good on almost everything!!
Smoking the Brisket and the Pork Butt
This smoked stuffed pepper recipe requires smoked brisket and smoked pork butt. Ideally you would have this in the freezer leftover from another time but in case you don't, I have included instructions below for smoking the brisket and the pork butt at the same time specifically for this recipe.
What to Buy
10-12 lb Brisket
Whole Pork Butt (Boston Butt)
Jeff's rub recipe (this is where the amazing flavor come from)
Regular yellow mustard
How to Prepare the Brisket and the Pork Butt
For this purpose, I I recommend just using my mustard and rub trick to get the seasoning on the meat and into the smoker. Rub regular yellow mustard all over the brisket and the pork shoulder then sprinkle my rub all over the meat until the meat is generously covered. The mustard helps the rub to stick to the meat and amazingly enough, it will not taste like mustard when it's done cooking.
The process is best done by placing the meat down into disposable foil pans. This makes cleanup very fast by catching any rub that falls by the wayside and facilitates carrying the meat out to the smoker as well.
Now wasn't that just too easy!!??
Smoking the Brisket and the Pork Butt
As many of you may know, here in the Midwest it is very dry and a burn ban has been issued. This means that I have to be very careful about using my smokers, especially charcoal. I opted to use my propane smoker for this adventure and for anyone who has never used a gas smoker, let me just tell you that you can definitely get amazing flavor and even a beautiful smoke ring when using this type of smoker.
It's not as fun as using charcoal or wood but when you are busy, or have other restrictions that would cause charcoal or wood to no longer be an option, this gas smoker is the way to go in my opinion.
I happen to have a Great Outdoors Smoky Mountain which I have been using for almost 10 years and other than the fact that the door thermometer no longer works, it smokes as good as the day I bought it.
This smoker has a thick metal box that holds wood chips, chunks or pellets just above the burner and then there is a large water pan directly above that. I recommend using dry wood chips or pellets rather than chunks if you are wanting it to smoke for a while without you having to replace the wood.
Note: A full box of wood chips will smoke for about 2 hours. A full box of pellets will smoke for about 5 hours. Obviously, I prefer pellets;-)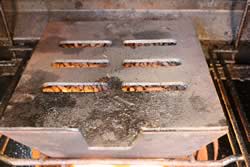 Getting the smoker ready is as simple as filling the water pan then turning on the propane tank and lighting the smoker on the HIGH setting. Notice that I did not put the smoke box in yet. It only takes about 5 minutes before you start seeing lots of smoke so I prefer to be ready to put the food in before placing the smoke box into the smoker.
Once I have made sure that the grates are clean, the water pan is full (about 1 gallon) and I have plenty of propane to last the entire time (a 20-lb tank will last about 30 hours), I place the smoke box full of pellets into the smoker and go get the brisket and the pork butt.
Place the meat directly on the grate for maximum smoke penetration.
Note: I used cherry and maple pellets mixed for the smoke.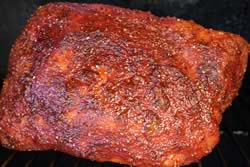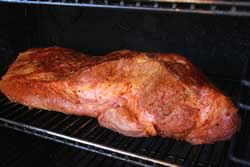 You can plan on the meat being in the smoker for about 12-16 hours depending on the temperature that you maintain in the smoker and the size of the meat. I try to maintain about 225-240 throughout for best results.
I like to keep adding smoke for about 6-8 hours for some really good smoke flavor.
Here's the meat at about 8 hours in.. beautiful mahogany color!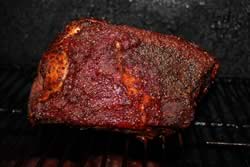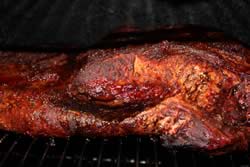 I use a digital probe meat thermometer to keep tabs on the internal temperature of the meat but I usually don't insert the thermometer until the meat has been cooking for about 6-8 hours. It is believed that this is safer since it allows any bacteria that could be on the outside of the meat to be killed before pushing the thermometer into the meat. I'm not sure how serious this really is but I figure why risk it when it's so easy to adopt this method.
With it being so hot, I opted to cook overnight where the temperatures would dip down into the 70's and make it a much more pleasant experience. When doing it this way, I try to get the meat into the smoker just right before dark and I can plan on it being done before it gets too hot the next day.
Once the brisket reaches 195 or so and the pork butt reaches 205, it is done and ready to remove from the smoker. These temperature are not set in stone and a much more accurate reading can be taken by sticking a toothpick into the meat to test the resistance of pushing in/pulling out. My problem with this method is that it causes some of the juices to seep out of the meat. For this reason, I use temperature as my main variable for telling me when it's finished cooking. The temperature method is accurate enough for me and always yields a juicy and tender piece of meat.
Suit yourself on which method you use to check for doneness.
Once the meat is done, I recommend letting it rest for a while if possible. wrap it in foil or place it in a foil pan covered with foil and let it rest in an empty ice chest or the smoker set on low for an hour or two.. the longer the better up to about 3-4 hours. Make sure the temperature of the meat does not fall below 140 degrees during this resting period for safety purposes.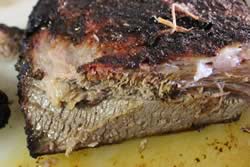 After the meat rests, let it cool off for a few minutes on the cabinet then pull/chop the brisket and pull the pork butt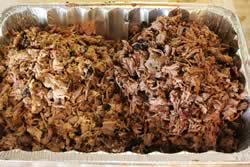 You are now ready to make some of the best smoked stuffed peppers you ever ate!
Smoked Stuffed Peppers
What You'll Need
9 bell peppers (I used red, orange & yellow)
4 jalapenos, seeded and diced
1 medium onion, diced
3 cups cooked white rice
2 1/2 cups pulled pork
2 1/2 cups chopped brisket
1/4 cup Jeff's rub + more to taste
1 cup beef broth
3 eggs, beaten
1 cup Barbecue sauce (optional)
How to Prepare
The first thing I do when I have a recipe like this is to prepare all of the ingredients first. Dice the onions and the jalapenos, cook the rice, saute the jalapenos and the onions with a tablespoon of vegetable oil, and make a batch of my rub if you don't have some already made up.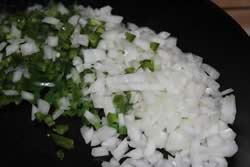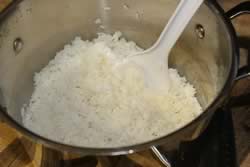 You will also want to cut the tops off of the peppers making sure to leave the stem attached to use for caps. De-seed the peppers and set aside.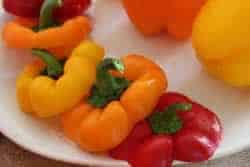 Once everything is ready, add the meat, rice, sauteed onions and jalapenos, beef broth and rub to a large bowl and mix well. (notice I did not add the eggs yet).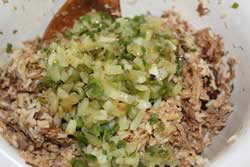 Taste the mixture at this point to see if there is enough seasoning for your liking. This really must be to taste and with my rub, when it's seasoned enough, it's also salty enough.
Note: My rub recipe takes this recipe to a whole new level. You could just use salt and pepper I suppose but then you'd never know how good they really can be with the amazing flavor that my rub adds to this mixture. To me that would be a crying shame but suit yourself;-)
Once the seasoning is right, add the eggs to the mixture and mix very well.
During this time, you will want to blanch the peppers in a large pot for 5 minutes. The smoking process does not have enough time to completely soften the flesh of the peppers and they will end up AL dente without this step.
Add enough water to the pot to cover the peppers and bring it to a boil. Once boiling, add the peppers and leave them in the boiling water for 5 minutes. Pour the water and peppers into a colander and run cool water over them immediately to stop the cooking process.
Set the peppers on a Bradley rack and begin to add the stuffing mixture into the peppers.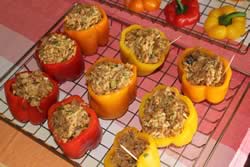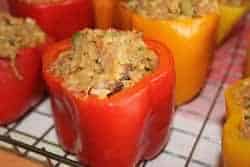 Smoking the Peppers
I once again used the Propane smoker due to the burn ban.. see my instructions in the pork butt and brisket recipe above for getting it ready to use.
Once the smoker is maintaining 225-240 degrees, place the racks of peppers and caps on the grate and let them smoke cook for about an hour and 15 minutes or until they are at the right tenderness and the stuffing inside the pepper has obtained 160 degrees in the center.
Note: the temperature recommendation of 160 degrees is to make sure the egg is safely cooked. Do otherwise at your own risk.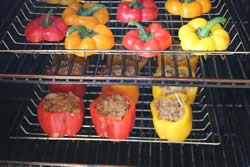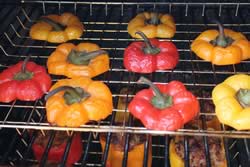 If you like a little tomato based topping on your stuffed peppers, you can brush some of my barbecue sauce onto the tops of the peppers about 30 minutes before they are finished.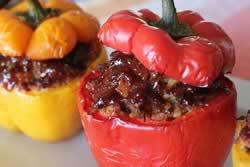 Summary
Prepare meat, onions, jalapenos, bell peppers and rice
Make mixture using recipe above and seasoning with my rub
Stuff peppers and place on Bradley racks
Smoke peppers at 225 for about 75 minutes or until tender and 160 in center
Notes:
I used pecan pellets for flavor and the smoky flavor on the peppers was amazing.
When slicing the tops off of the peppers, don't cut too shallow or the stem will detach from the cap.
Don't overcook the rice as it will finish cooking in the peppers. Cook it just shy of done and it will end up perfect.
I tried these with just pork butt and just brisket in the mixture as well as mixed together. Everyone agreed that the brisket and pork butt together in the mixture was absolutely the best flavor.
Folks.. I never stop amazing myself at how good my rib rub recipe and sauce recipe is on various kinds of meat and using it on country style ribs is nothing short of heavenly!
Whether it is fish, ribs, brisket, pork shoulder, turkey or even ham, chicken or chops, every time I use my rub and sauce I am blown away by the flavor all over AGAIN!
I always think to myself, "I sure hope everyone can try this.. it is too good to go through life never having experienced this!"
I am not being dramatic.. just try it and you will join the ranks of those who know if I'm lying then I'm dying! This stuff is Fan-flavor-tastic and you need it in a bad-bad way;-)
Here is a few recent testimonies from other folks who decided to go for it and are glad that they did. Be sure to send my your testimony once you try it and realize that you have just tasted of HEAVEN.
—————————————————
Did a Ham and using your rub it was as my wife and friends said the best tasting ham they have ever had. We are into our late years so that's saying a lot .Thanks for sharing ~ Jack
—————————————————
Wow! wow! wow! The best rub and sauce I have ever had. Also did the turkey for thanksgiving and it was the best turkey I ever had. I usually only eat dark meat and this turkey was so good I ate only white meat ~ Andy
—————————————————
I purchased the rub and sauce and I have to say that I love it and so has everyone that has tried it, just like you and others said they would. ~ Matt
—————————————————
Jeff I have to tell you that your rub and sauce recipes are the best. I had never smoked a rib or anything until last weekend and by fallowing your directions on your site I was the RIB KING for a day. Thanks a bunch pal, ~ Harold
—————————————————
Let me say that I've been using your Rib Rub for a couple years now. I use it on ribs (obviously), but I also use it on steak, ham, chicken, and everything else I smoke. My family and I absolutely LOVE it! It rocks! ~ Trapper
—————————————————
Jeff, I did a smoked pork roast yesterday and used your recipe both for the pork and for your Smoky Barbecue Sauce. Everyone loved it. My wife said the sauce was the best she had ever tasted and I have to agree. Fantastic. ~ Barry
—————————————————
I have hundreds of these testimonies from folks just like you who were skeptical at first then decided to go for it.. now they are so glad they did!
You deserve the very best and is is completely within your grasp! Only $18.95 and worth every penny. Not only do you get the best rub recipe and sauce recipe available, you are supporting this website and helping to make sure the bills get paid so we can keep on doing what we do to teach thousands and thousands of people across the world the art of smoking meat.
What to Expect Once you Order
My system is automated which means you should get a download email within mere MINUTES of ordering.. check your spam/junk folder first then, if you can't find them, contact me to get the recipes sent to you as an attachment. The download email will allow you to log in and save a copy of my recipe file to the hard drive of your computer. This recipe file is a PDF and contains my very own rub recipe and sauce recipe. Please let me know if you have other questions about these recipes.
My Book is Getting Lots of Love!!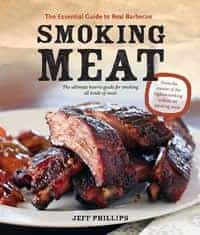 There is no hiding the fact that I am very proud of my book, "Smoking Meat: The Essential Guide to Real Barbecue" and the fact that it is a fantastic looking book.. the best looking one I have ever seen in fact and, while I am partial, I am speaking to the artwork, the binding, the way the cover is put together, etc.
Something that impresses me a lot and I have received a lot of positive comments on is the fact that It is paperback but it looks like a hardcover. The cover is some sort of special process that makes it more durable than a normal paperback and it looks super sharp!
I appreciate everyone who has purchased the book and all of you have taken the time to email me and express your kind words on how much you love the book.. that really means a lot to me.
For all of you who have not ordered the book, I really want you to have this book and I can't tell you how much you will enjoy the recipes that are inside. Some of the recipes are my own and some of them were submitted by folks at the forum but we only included the very best ones and I am already getting emails letting me know that the recipes are simply amazing.
As you can see.. I am like a father with a new baby and all of the time and effort that went into this project are finally being realized in the pages of this book.
Having said that.. folks are buying this book like crazy and Amazon and Barnes & Noble are out of the book again. No one expected this book to sell as well as it has and to have the kind of reception that it has seen. We are on the 2nd printing already and moving toward the 3rd. The books have arrived into the main warehouse and should be available at Amazon, Barnes & Noble, etc. very shortly.
The book can be ordered on almost any book store online including Amazon.com, Barnes & Noble and Books-a-Million and it will ship just as soon as the new ones come in.
I highly recommend that you get your order in today to ensure that you get your book quickly once new books arrive in a few days.
Digital Versions of the Book
Some Testimonies
*********************************************************************
I received your book today!! Haven't been able to put it down. ~ Becky
*********************************************************************
Jeff when I got the email from you I ordered the book from Amazon and 2 days later it was in my hands. All I can say is AWESOME book. ~ Willie
*********************************************************************
Just got my copy of Smoking Meat, purchased from Amazon. I can't seem to put it down. Good Job!! ~ Charles
*********************************************************************
I got your new book last week….it is a beaut. Congratulations and good luck with sales. I am recommending it to all my BBQ buds. ~ Ted
*********************************************************************
Note 1: My (2) recipes that I sell in the newsletter to support the site are not included in the book. I have had several of you ask about this and I thought it might be prudent to make a note on here about that.
In Closing
I so appreciate all of you for being a part of the smoking meat family which includes the newsletter, the forum, the smoking-meat.com website and many other resources that we try to provide to help you and countless others learn this great art.
A HUGE thank you to all of you who support the site by purchasing the recipes and other products that we sell. That is what keeps the wheels turning here at Smoking Meat HQ and it is much appreciated.
By the way, if you shop online, use our Amazon link. It doesn't cost you anything extra and we get a few cents from everything you purchase. I certainly appreciate it. CLICK HERE to shop at Amazon.com.
Until next time.. keep smoking and God Bless.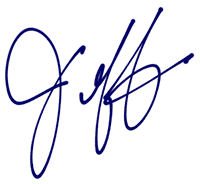 Jeff Phillips