How to Butterfly "Spatchcock" a Chicken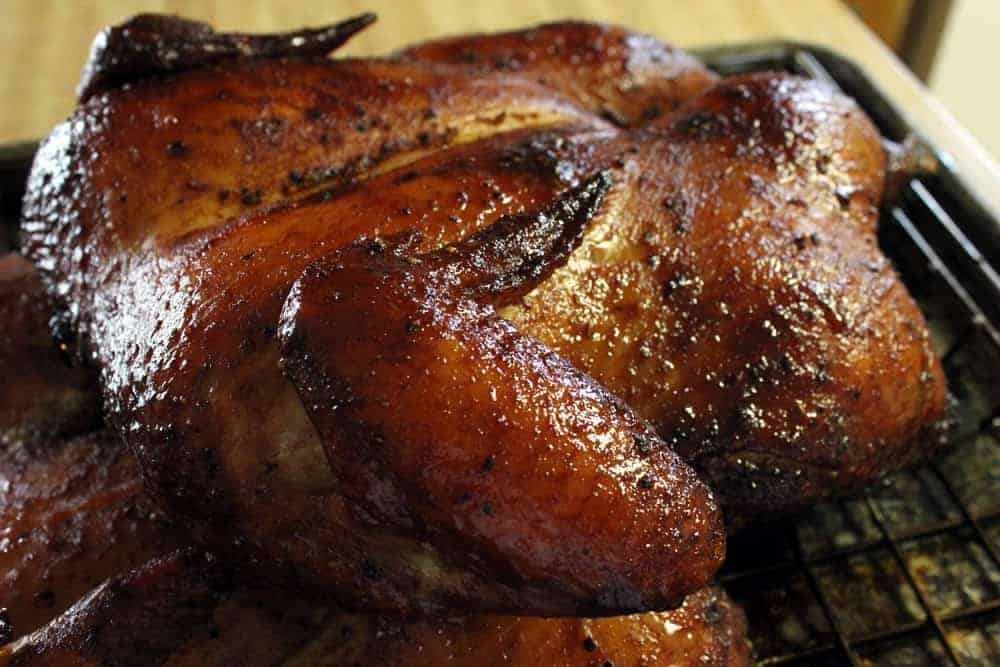 Smoking-Meat.com is supported by its readers. We may earn an affiliate commission at no extra cost to you if you buy through a link on this page.
Read this article without ads
Welcome to this edition of the smoking meat newsletter. I get emails each week from folks asking me to cover a certain topic or procedure or a certain type of meat and I always add those to my list of things to write about. One topic that I've been asked about repeatedly is how to butterfly a chicken and it just so happens that this is a wonderful way to serve whole chicken and there's even a special name given to this procedure.. it's called "spatchcocking" a chicken. Weird name but it just means "butterflying" a chicken or more specifically, removing the backbone so that it can be laid flat on the grate. This decreases the cooking time, cooks the chicken more evenly and makes for a beautiful presentation. It also makes it much easier to cut up into pieces when it's ready to serve.
With this edition, I have showed how to spatchcock the chicken in picture format as well as video. I have also included information on cooking this chicken in the Weber Smoky Mountain 22.5 as well as in the Bradley 4-Rack Digital Smoker.
These smoking units are two of my favorites, are a joy to use and I thought it would be nice to showcase both smokers.
What You'll Need
1 whole chicken (1 chicken per 3-4 eaters)
Pair of Kitchen Shears
How to Remove the Backbone (spatchcock)
Remove the chicken from the package and rinse well under cold water. Place the chicken breast side down with the legs facing away from you.
Using the kitchen shears cut just to one side of the backbone all the way from front to back. Then do the same thing on the other side from front to back. Stay right up next to the backbone cutting through the ribs, skin and meat. It does not have to be perfect;-)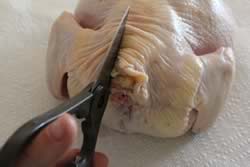 Remove the backbone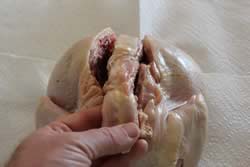 Spread the chicken apart so you can see down into it and you will notice an "x" shaped piece of cartilage just about 3 inches from the front of the chicken.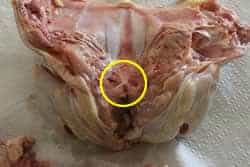 Here is it close up..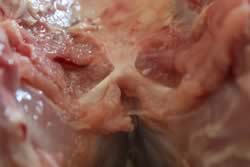 Press a sharp knife down on the center of the "x" using the heel of your hand making a 1/4 inch deep cut. Just press down with even pressure until it "pops" and it will be good.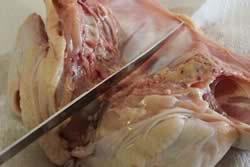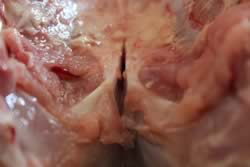 This cut reveals the keel bone which I like to remove. You don't have to but to me it makes it lay flatter on the grate.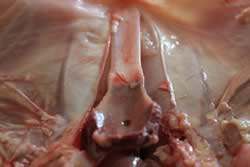 Run your fingers along both sides of the keel bone to break the membrane away from the keel bone and once it is loose enough, simply pull up on it to remove.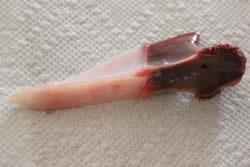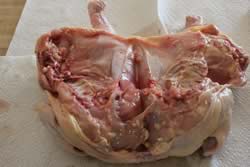 Here's a short video showing the whole process:
Seasoning the Chicken for Smoking
Seasoning up the chicken in this configuration is very easy. The chicken will already be lying spread open so just sprinkle a generous amount of my rub all over it then flip it over and do the same on the skin side.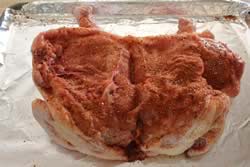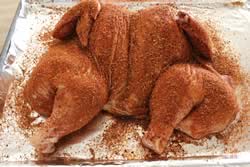 The bird is now ready to go on the smoker. At this point, just leave the bird on the cabinet for a few minutes and go get the smoker ready. If it's going to take more than 20-30 minutes for this operation, you may want to place the chicken in the fridge. You could also get the smoker ready before seasoning the chicken if it's going to take a long time.
I cooked (3) chicken using this method in order to get pictures and take the video. I also wanted to get a couple of samples on the cooking time.
I smoked 1 of the chickens on the Weber Smoky Mountain smoker and the other 2 went into the Bradley Digital 4-rack smoker
How to Smoke the Chicken
I have written instructions for using these (2) smokers at the following links:
– Weber Smokey Mountain Smoker 22.5 Instructions – contains information for sealing up the access door to make the smoker airtight. This gives complete air control thru the vents.
– Bradley Digital 4-rack Smoker Instructions
Place the chicken directly on the grate with skin side up.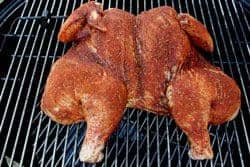 On the weber I did not open the lid for any reason. I let it cook undisturbed for 2 hours. At that time, I lifted the lid, quickly inserted a thermometer into the breast and put the lid back into place. The chicken was already at 152 degrees and was almost done.
This is one of the cool things about spatchcocking a chicken.. it get done faster due to more even and efficient heating. The chicken ended up taking right at 2 hours and 20 minutes to reach 162 at which point I removed it and allowed it to rest for about 15 minutes before carving it.
In the Bradley, it was a different story. I opened the door several times to take pictures and it ended up taking more than 3 hours. It really makes a difference in cook time when you keep the lid/door shut the entire time and when you are peeking at the food.
For this reason, I tell folks to only open the door if you absolutely have to.. add wood, water, baste, etc.. The more you do these things, the more time it will take to get the meat done.
Here's the Weber Chicken and the Bradley. The only difference was that I brushes just a little bit of my sauce mixed with honey on the Bradley chicken about 1 hour before it was finished cooking
Weber Chicken with my rub and smoked with pecan wood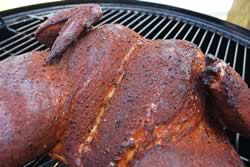 Bradley Chicken w/ my rub and just a little of my sauce mixed with honey (1 part honey to 2 parts sauce) and smoked with cherry wood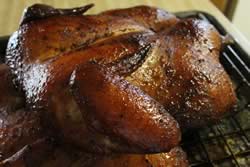 Summary
Rinse chicken in cold water
Place on cutting board breast down and legs facing away from you
Use kitchen shears to remove backbone
Cut through "x" with sharp knife until it "pops" (optional)
Remove keel bone (optional)
Sprinkle my rub all over the inside of the chicken
Flip chicken to skin side up and apply rub all over skin
Prepare smoker for cooking at 225-240 degrees F
Place chicken on smoker grate skin side up
Smoke for 2.5 to 3 hours or until breast reaches 162-165 degrees
Allow chicken to rest slightly covered with foil for 15 minutes before carving
Serve and enjoy
Notes:
You can use any smoker to cook these as long as you maintain between 225-240 degrees and you provide smoke throughout the process.
For faster cooking, let the bird cook undisturbed as much as possible (no peeking)
For ease of handling, you can cut the chickens in half once they are spatchcocked with keel bone removed and laid open.
Feel free to brine these chickens however, I have found that these spatchcock chickens tend to end up very juicy naturally with no brining due to the reduced cooking time and more even and efficient heating.
You can use this spatchcock technique on game hens, turkeys, and almost any poultry.
Order My Recipes
"..Been using your rub recipe for a few months now. It is the best rub I have ever used. I ALMOST feel guilty when folks think its my recipe!.."
I get emails like that almost daily from people who are so glad that they purchased my recipes.
Folks.. I never stop amazing myself at how good my rib rub recipe and sauce recipe is on various kinds of meat and especially chicken!
Whether it is fish, ribs, brisket, pork shoulder, turkey or even ham, chicken or chops, every time I use my rub and sauce I am blown away by the flavor all over AGAIN!
I always think to myself, "I sure hope everyone can try this.. it is too good to go through life never having experienced this!"
I am not being dramatic.. just try it and you will join the ranks of those who know if I'm lying then I'm dying! This stuff is Fan-flavor-tastic and you need it in a bad-bad way;-)
Here is a few recent testimonies from other folks who decided to go for it and are glad that they did. Be sure to send my your testimony once you try it and realize that you have just tasted of HEAVEN.
—————————————————
Did a Ham and using your rub it was as my wife and friends said the best tasting ham they have ever had. We are into our late years so that's saying a lot .Thanks for sharing ~ Jack
—————————————————
Wow! wow! wow! The best rub and sauce I have ever had. Also did the turkey for thanksgiving and it was the best turkey I ever had. I usually only eat dark meat and this turkey was so good I ate only white meat ~ Andy
—————————————————
I purchased the rub and sauce and I have to say that I love it and so has everyone that has tried it, just like you and others said they would. ~ Matt
—————————————————
Jeff I have to tell you that your rub and sauce recipes are the best. I had never smoked a rib or anything until last weekend and by fallowing your directions on your site I was the RIB KING for a day. Thanks a bunch pal, ~ Harold
—————————————————
Let me say that I've been using your Rib Rub for a couple years now. I use it on ribs (obviously), but I also use it on steak, ham, chicken, and everything else I smoke. My family and I absolutely LOVE it! It rocks! ~ Trapper
—————————————————
Jeff, I did a smoked pork roast yesterday and used your recipe both for the pork and for your Smoky Barbecue Sauce. Everyone loved it. My wife said the sauce was the best she had ever tasted and I have to agree. Fantastic. ~ Barry
—————————————————
I have hundreds of these testimonies from folks just like you who were skeptical at first then decided to go for it.. now they are so glad they did!
You deserve the very best and is is completely within your grasp! Only $18.95 and worth every penny. Not only do you get the best rub recipe and sauce recipe available, you are supporting this website and helping to make sure the bills get paid so we can keep on doing what we do to teach thousands and thousands of people across the world the art of smoking meat.
What to Expect Once you Order
My system is automated which means you should get a download email within mere MINUTES of ordering.. check your spam/junk folder first then, if you can't find them, contact me to get the recipes sent to you as an attachment. The download email will allow you to log in and save a copy of my recipe file to the hard drive of your computer. This recipe file is a PDF and contains my very own rub recipe and sauce recipe. Please let me know if you have other questions about these recipes.
Get Jeff's Products!