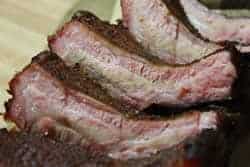 Hello newsletter friends and welcome to this special edition of the smoking meat newsletter where we will take a long, hard look at how to master smoked pork ribs. In this article, we are going to look into the different methods of preparing and smoking ribs to make them turn out super tender, juicy and flavorful beyond words.
Pork Ribs just happen to be my absolute favorite thing to cook in the smoker and over the years, I have learned a few tips and tricks that have helped me to turn out great ribs almost every time I cook them and I am only too happy to share what I have learned.
The Recipes for My Rub and Sauce.. Get a Free Gift when you order;-)

As many of you know, my rub and sauce were created specifically for ribs and while they are extremely good on almost everything, if you are not using my rub and sauce on pork ribs then you are really and truly missing out!
Forget the over-salted, half-flavored stuff from the store and start making your own today using my very own recipes. Easy to make using ingredients that you most likely already have in your pantry and you will not believe how it transforms into something so good.
Special: Order the recipes for my rub and my sauce and, for a limited time, you get the complete 28 page, 5 chapter eCourse in PDF format absolutely FREE.
Order today to support the website and the newsletter and you'll find yourself using it on almost everything!
How to Master Smoked Pork Ribs

Ribs are not hard to master and getting them to that perfect state of tender and juicy is something that anyone can do with a little know-how. There are also a lot of incorrect methods for doing ribs and so it is important to be careful who you listen to when it comes to advice. I use the term "incorrect" very loosely since, I suppose if you like flavorless meat drowning in sauce then it might not be so "incorrect" for you.
Parboiling is the one method that a lot of non-smokers use to get ribs tender and I have had quite a number of folks tell me that this is THE way to make tender ribs. They usually follow this up by telling me to pour a bottle of my favorite sauce over the ribs.
I have to agree that this will yield very tender ribs, and I guess they will be very saucy but let me help you with a much better way;-)
Let's start by showing you how to prepare them.
Prepare the ribs for smoking
Baby backs are a little easier when it comes to preparation as they do not need any trimming. Both spares and baby backs do have a thick membrane on the bone side that should be removed.
For the spares, the first thing to do is to remove the flap of meat on the bone side.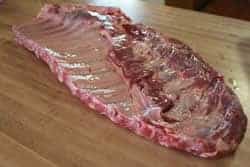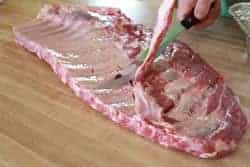 Once the flap is removed, I like to go ahead and remove the brisket bone and "St. Louis" them. If you run your hands over the top side of the spare ribs, you can tell where the main rib bones end. Using a very sharp knife, make a cut along the length of the ribs removing this section leaving you with ribs that closely resemble baby backs in size.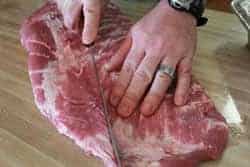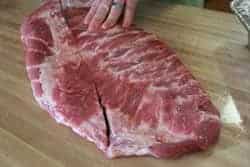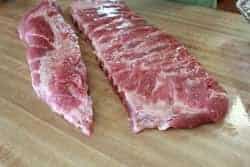 Note: Don't throw the brisket bone away. Coat it with rub and smoke it just like you do the other ribs. Slice it up then freeze it and the next time you do beans or a soup, throw it in for some great smoky flavor.
For baby backs and spare ribs..
Remove the membrane by using a knife or other sharp object. Lift up on the membrane starting at about the 2nd bone from the end and once you have a firm hold on it, pull it clean off.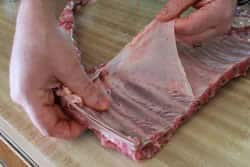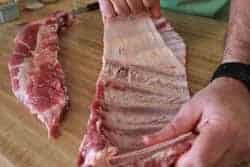 Note: if you have trouble getting a good grip on the membrane, use a paper towel or even some catfish skinning pliers to help you out with this. Once you've done this a few times, you'll be ripping them off in seconds.
Adding some Flavor
A good dry rub goes with ribs like salt goes with fries.. it does not cover up the great flavor of the ribs but compliments them and let's them reach their full potential.
I use my very own rub recipe every time I make ribs whether it's spares or baby backs and it never let's me down. I do recommend using something to help the rub to stick such as mustard, oil, even honey or jam.
In the picture below, I used 2 parts seedless blackberry jam and 1 part dijon mustard mixed together to create a great base for the rub to stick to. Just a thin application is all that is required.
You will also notice that I place the ribs down in a pan before adding the rub. This aids in cleanup and gives me a way to carry the ribs out to the smoker.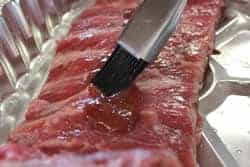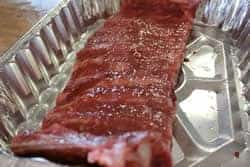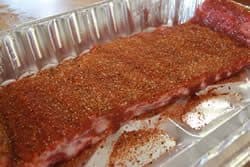 You can also just use straight mustard (yellow or dijon work great) without the jam if you want to.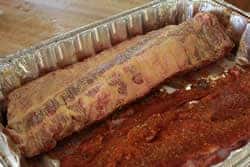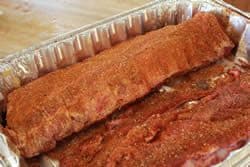 Preparing the Ribs Ahead of Time
I get asked all the time if ribs can be trimmed and rubbed the night before and the answer is yes. I can't say that it creates a better flavor or that they end up more tender but you can definitely do that.
Dealing with Limited Space on the Smoker
When we start thinking about smoking the ribs, unless you have a really big smoker, space could be an issue and there are solutions that work very well at making the most out of limited space.
One thing you can do to help with space is to use rib racks. These can be found at Amazon.com, Lowes, Home Depot, Ace Hardware, just to name a few and they are simply racks that are made to hold 3-5 racks of ribs in a vertical position. This takes up a lot less space and they cook up just fine this way.
Another option requires no racks and involves simply rolling the racks of ribs into a barrel shape. You can put a long wooden skewer through the ribs to hold them that way or you can tie them around the middle with some butcher string (which is what I like to do).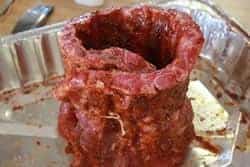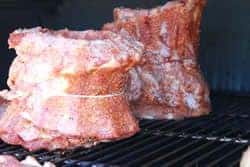 Smoking the Ribs
This is where it seems like folks seem to have the most trouble and I get questions almost daily from folks asking me how to get the ribs to be "fall off the bone" tender. I know that many of you do not want them falling off the bone but there are many of you who DO like them this way, you've had them this way in restaurants and such and you'd like to reproduce this amazing phenomenon at home in your smoker.
I also get asked a lot about how to smoke the ribs so that they end up juicy instead of dry..
The answer to both of these questions is the 3-2-1 method of smoking ribs. If you have not tried this method then you really should. The numbers relate to steps in the process. The following will show the 3-2-1 method for spares followed by the 2-2-1 method for baby backs. Both yield the same results while taking into account that baby backs usually do not require as much cooking time as the spare ribs.
3-2-1 for Spare Ribs
Step 1: Place the ribs on the smoker grate unwrapped and let them smoke for about 3 hours at 225 degrees.
Step 2: Wrap the ribs in foil or better yet, place them into a foil pan and cover with foil over the top. Place about 1/4 inch of apple juice or other liquid in the bottom just before closing them up. Place them back in the smoker and leave them this way for about 2 hours.
Step 3: Remove the foil from around the ribs or simply remove the foil from the top of the foil pan that holds the ribs. (it is fine to leave the ribs in the pan as long as the top is open). Continue to cook the ribs this way for about 1 hour with or without smoke depending on what type of smoker you have.
2-2-1 for Baby Backs
Step 1: Place the ribs on the smoker grate unwrapped and let them smoke for about 2 hours at 225 degrees.
Step 2: Wrap the ribs in foil or better yet, place them into a foil pan and cover with foil over the top. Place about 1/4 inch of apple juice or other liquid in the bottom just before closing them up. Place them back in the smoker and leave them this way for about 2 hours.
Step 3: Remove the foil from around the ribs or simply remove the foil from the top of the foil pan that holds the ribs. (it is fine to leave the ribs in the pan as long as the top is open). Continue to cook the ribs this way for about 1 hour with or without smoke depending on what type of smoker you have.
How to Keep the Ribs from Turning Black in the Smoker
I have to tell you that if the meat you are cooking in your smoker is turing black and you are maintaining 225 degrees then you have 1 of 2 problems or both:
Your smoker thermometer is wrong and needs to be checked and calibrated

You are getting radiant (direct) heat from the fire or coals. Find a way to create a barrier between the heat and the food using a water pan or something similar.
Information on Popular Smokers
Here's some information that I have written on various smokers. I hope to include more very soon.
Note: In colder weather, it is advisable to preheat the smoker at least an hour or more before you are wanting to use it. Keep the door closed as much as possible and even skip basting if necessary to maintain proper smoking temperatures.
Information on Smoking the Ribs
Maintain about 225-240 degrees when smoking ribs and for smokers other than wood smokers, try to keep the smoke going for the entire time or 3 hours minimum.
Saucy Ribs
So you are one of those who likes the ribs to be drowned in sauce.. I prefer to serve the sauce warm and on the side for dipping but if you like them really wet and sticky then just start basting them with sauce when the ribs are about an hour or two from being done depending on how much sauce you want on them.
Baste every 30 minutes or so until the ribs are done cooking.
Hint: my sauce recipe is thick and perfect on ribs for this occasion. Order the recipe HERE
How to Know When the Rib are Done Cooking
It is nearly impossible to try and use a meat thermometer with ribs due to the close proximity of meat to bone. For this reason, you have use visual cues and tenderness to tell you when it's done. Trust me when I say that the ribs are safe to eat temperature wise, long before they are tender so it is very safe to use this method.
First off the visual cue is that the meat should pull back from the bone about 1/4 inch or so. This is more prominent when they are cooked with higher heat but it does happen in the smoker as well and enough so that you can tell it's happening.
Secondly, the ribs will be tender enough so that when you lift up one end of the slab with a pair of tongs, you will get 90 degrees of bend. You can also grasp 2 bones and pull them in opposite direction and see how easily it tears. The more easily it tears, the more tender the ribs are.
Third and my person favorite, when you feel that the ribs are tender enough, slice one off and give it a try. Biting into it it will tell you everything you need to know.
Serving the Ribs
Lay the ribs bone side up and slice them using a very sharp knife right between each bone.
The Recipes for my Rub and Sauce – Order Today!

The really wonderful thing about my rub is that it's good on nearly everything. It not only flavors the meat really well but it also helps to bring out the natural flavors of the meat. As many folks have told me in the past, the rub really shines on chicken breasts and in this smoked chicken cordon bleu, it is heavenly!
The sauce is the icing on the cake anytime you need an excellent barbecue sauce and gives the finished product a final layer of flavor for those who like to have warm sauce to dip the meat in.
Both my rub and my sauce work so well on so many things and I'm thankful that I can call them my own creations. I am also happy that I am able to share them with you folks in a way that benefits the website and the newsletter.
You really have to try it to truly experience the "WOW"! and if you've been teetering on the fence about it, then go ahead and try it out!
I am not being dramatic.. just try it and you will join the ranks of those who know if I'm lying then I'm dying! This stuff is amazing and you need it in a bad way;-)
Here are a few testimonies from other folks who decided to go for it and are glad that they did. Be sure to send me your testimony once you try it and realize that you have just tasted of HEAVEN.
—————————————————
Jeff, I did a smoked pork roast yesterday and used your recipe both for the pork and for your Smoky Barbecue Sauce. Everyone loved it. My wife said the sauce was the best she had ever tasted and I have to agree. Fantastic. ~ Barry
—————————————————
Hello Jeff I recently purchased your recipe for rub-n-sauce and just wanted to let you know that its off the chart. well worth the cost. I am cooking for about 50 family and friends at lake Texoma this weekend and cant wait to see everybody's reaction ~ Jack
—————————————————
Jeff, You truly are the man. Bought your rib rub and your sakes alive sauce and love them both. Keep up the good work helping people like me learn to cook good BBQ with smoke. ~ Matt
—————————————————
Jeff, I was smoking a Boston butt Saturday night for dinner Sunday and decided to try your bbq sauce. I have to say this is hands down the best sauce I've ever had and I've tried a lot of them. Its very easy to make, inexpensive and taste excellent. I will be using this recipe for a long time. ~ Doug
—————————————————
Jeff, Your Rib Rub is to die for, I have used it on all meats including Venison and I have to say you have created a master piece, Thank you for letting us common folk into your smokin life.~ Kevin
—————————————————
You deserve the very best and it is completely within your grasp! Only $18.95 and worth every penny. Not only do you get the best rub and sauce recipe available, you are supporting this website and helping to make sure the bills get paid so we can keep on doing what we do to teach thousands and thousands of people across the world the art of smoking meat.
Order Recipes | Read Testimonies
What to Expect Once you Order the Recipes

Here's how it works:
You order the recipes
My automated system emails you a download link
You click on the link and download the recipes and the free gifts to your computer
If you DON'T get the email with the link within 10 minutes:
Check your spam/junk folder (sometimes they get caught there)
If you can't find it, email me and let me know you didn't get it
I will send the recipes and login info to you as an attachment in an email
You let me know you got it, we are both happy campers!
Leave Comments on the Website

If you scroll to the bottom of ANY page on the smoking-meat.com website, you can leave a comment about that page's content whether it's just normal feedback, asking a question or answering someone else's question. Be sure to take advantage of this aspect of the website. This is a great way to get your questions answered and the information helps everyone. Let me know if you have questions about this part of the website.
Free Smoking Meat Newsletter