Smoked Cornish Hens "Hot Wing Style"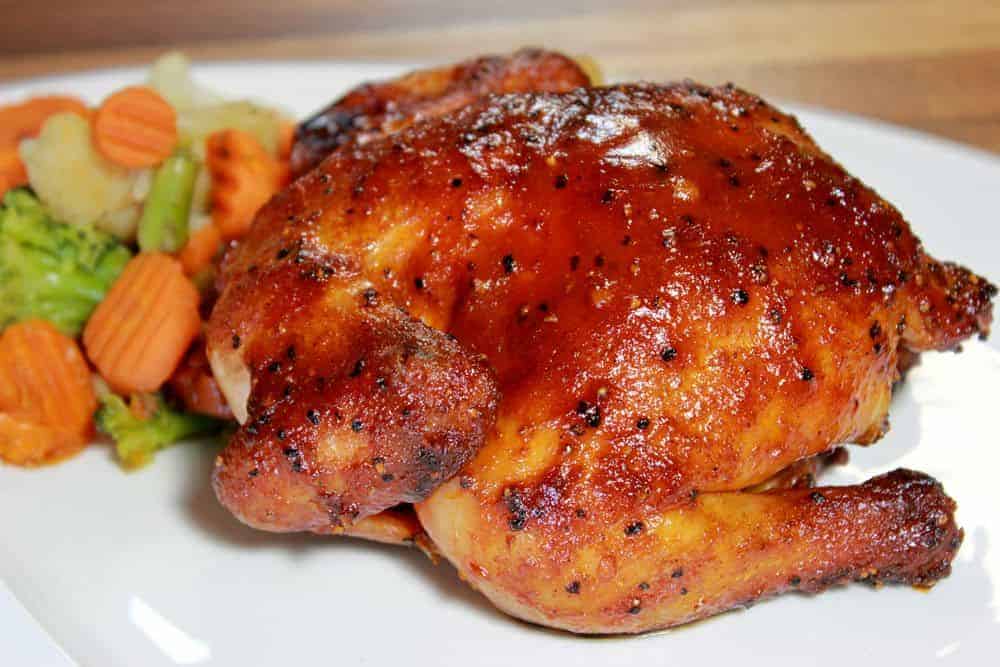 Smoking-Meat.com is supported by its readers. We may earn an affiliate commission at no extra cost to you if you buy through a link on this page.
Read this article without ads
For as long as I can remember, I have been a huge fan of smoked cornish game hens, some folks call them rock hens. At any rate, these are single serving, tender, delicious chickens and there is no end to what you can do with them in terms of making a meal. This week I am going to show you how to make smoked cornish hens with a twist inspired by my intense love for hot wings.
I have featured these before in a newsletter back in 2010 but this week I want to go a different direction and show you how to make these into "hot chickens" as opposed to hot wings. I used my barbecue sauce to make a special "wing sauce" and I am not only basting these but I injected them with the stuff. I also used a light application of the wing sauce on the chicks to help the rub to stick.
It was a family favorite at my house and I am confident that you'll get an equally appropriate reception when you try these for your family and friends.
You will need the recipes for my rub and sauce to create this recipe as it is intended. Be sure to order them right away and if you don't get them in your email within minutes, be sure to let me know so I can get them to you pronto!
What You'll Need
4-6 Cornish hens (about 1 lb each)
Jeff's Barbecue Hot Wing Sauce (recipe below)
1 batch of Jeff's Rub recipe
Large foil pan (optional)
Preliminary Preparations for the Cornish Hens
These are usually frozen if you buy them in the grocery store so you'll need to get them a day or so ahead of when you need them to give them ample time for thawing in the fridge.
Remove the plastic from the outside and rinse them well under cold water.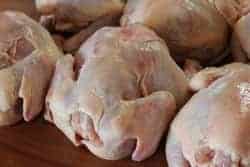 Brining the Birds (optional)
There is no rule that says you have to brine poultry but I highly recommend it since it tends to make it end up a lot more juicy. It is also a great way to get some added flavor into the meat.
Basic Brine Recipe
1 Gallon of water
1 cup of kosher salt
3/4 cup of brown sugar (white sugar will work but brown sugar seems to work better)
To this basic brine recipe you can add other things such as beer, wine, fruit juice, hot sauce, Dr. Pepper, etc. and whatever you add to the brine mixture will end up inside the meat by some miracle of science that I don't understand well enough to explain.
Since we are making these hot wing style, you could even replace about 2 cups of the water with barbecue hot wing sauce (recipe below) into the brine. An alternative to this would be to brine them as usual then inject the wing sauce into them using a flavor injector found at most stores that sell cooking utensils and supplies.
Mix the brine well then place the cornish hens into a plastic container (I use large ziploc bags) and pour the brine over them to cover. Seal or cover the container and place in the fridge for 2-3 hours.
Tip: if you use ziploc bags, once they are sealed, set the bag down into a large pot then place the entire pot into the fridge to prevent a mess in case of leakage. (a lesson I learned the hard way!)
Injecting the Cornish Hens
Regardless of whether you brine the birds or not, I can't begin to tell you how good it is to get some of the wing sauce down into the meat. It is amazing and here's the recipe for the barbecue hot wing sauce:
---
Barbecue Hot Wing Sauce
1/2 cup Jeff's Barbecue Sauce (omit the minced garlic and use fine 

ground

black pepper

instead

of coarse ground at 1/2 the amount called for in the recipe) These changes are to keep the injector from getting plugged up.
1/2 cup Frank's Original Hot Sauce
1/4 lb butter (1 stick), melted
Mix the ingredients well and keep warm to make it easier to inject.
---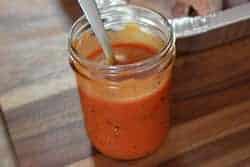 Using a flavor injector, inject about 1 ounce of sauce into each leg, and about 2 ounces into each breast. Add more anywhere you like and don't worry about the sauce that runs out, it just makes it better.
Insert the injector at a 45 degree angle and direct the sauce into the meat in multiple locations by simply moving the needle around inside the meat instead of pulling the needle out each time and making a new spot.
Should you Brine or Inject?
Two different processes but one does not neccessarily negate the other. In this recipe, it is perfectly fine to brine the birds for juiciness, then inject to get the barbecue hot wing sauce into the meat for extra flavor. Both steps are completely optional and you can do one or the other or both at your own will.
Final Preparations for the Cornish Hens
Once the hens are brined, injected, etc. (if you chose to do that) you will want to add some of my original rub  to the outside. I like to add something to help the rub to stick and since we have the barbecued wing sauce, why not use that?!
Apply a light coating of the sauce.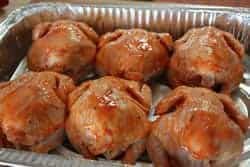 Sprinkle the original rub  onto the top, bottom and sides of the hens trying to get it up under the skin anywhere possible. My rub recipe is not overly salty so feel free to be generous with it.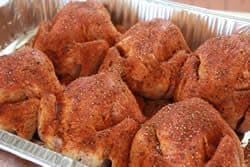 Once the cornish hens are seasoned with my original rub , it is time to get the smoker ready if you have not already done this.
Note: depending on what smoker you are using and how long it takes to get it ready, you may want to get it ready ahead of time or place the hens in the fridge while you do so to prevent them from sitting out for too long. Anything more than about 20 minutes is too long in my opinion.
Get the Smoker Ready
We are going to be looking for about 225°F when smoking this birds. They get done fast and by keeping it low and slow, this gives us more time in the smoke and more smoke flavor.
Information on Popular Smokers
Here's some information that I have written on various smokers. I hope to include more very soon.
Note: In colder weather, it is advisable to preheat the smoker at least an hour or more before you are wanting to use it. Keep the door closed as much as possible and even skip basting if necessary to maintain proper smoking temperatures.
Preheat the smoker at 225°F, fill the water pan if your smoker uses one and once it is holding steady, it is time to place the cornish hens in the smoker.
Smoking the Cornish Hens
Place the hens directly on the grate breast side down.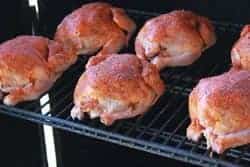 Smoke them for about 2 hours or until they reach 165°F in the thickest part of the breast meat.
Once they have been smoking for about 1 hour, baste them with the barbecue hot wing sauce using a brush but be careful to not brush too much or too hard as you do not want to mess up the flavorful rub layer that we put on at the beginning. Wait about 20 minutes and brush on some more if you want them really saucy. Otherwise, once is probably enough.
When they are finished smoking and have reached 165°F, place them in a foil pan covered with foil and let them rest for about 10 minutes before serving. This allows the juices to redistribute throughout the meat.
Serve with warm sauce on the side for dipping.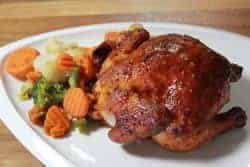 Get Jeff's Products!