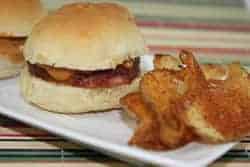 Hello and welcome to this edition of the the smoking meat newsletter!
I was asked to do some smoked pork tenderloins for some close friends' wedding reception a while back and they brought 14 already marinated and seasoned tenderloins.
I smoked them, sliced them and put them on slider buns and I have to say that they were a huge hit among everyone who attended.
The biggest compliment was that they were extremely tender.. I mean filet mignon tender and very tasty!
This, however, got me to thinking that I would like to try these fresh without the commercial marinade or seasoning and see how they turned out if I used my own seasoning and such.
Needless to say, just when I thought they could not get any better, I realized that, yes, they can get a whole lot better.
This newsletter shows you step by step what I did to these little things of beauty to make them not only taste out of this world but they were so tender you did not need a knife to cut them.
I once again put them on sliders with some "special" sauce that I made using my very own barbecue sauce and just one other ingredient.
We also made some homemade potato chips in the fryer and coated them with my own seasoning rub and they were a perfect fit for this anytime meal.
I would like to say that we sat down to a great meal with this but the truth is we did not sit down at all. Everyone was eating the sliders right there at the kitchen bar and grabbing hot, homemade potato chips as fast as they emerged from the fryer and coated with rub.
Good times and good food!
Try the Recipes for My Rub and Sauce.. Get a Free Gift!

When you invest in the recipes for my rub and sauce you are getting a lifetime of customer support. Week after week, month after month, I keep coming back with wonderful recipes and instructions on how to smoke meats, vegetables, sides, etc. and most of them can be seasoned entirely with the rub or basted with the sauce to create that perfect finish. Nothing else required.
To make things even sweeter, order the recipes for my rub and my sauce and, for a limited time, you get the complete 28 page, 5 chapter eCourse in PDF format absolutely FREE.
Start the new year off right with the recipes for my rub and sauce!
Smoked Pork Tenderloin Sliders with Homemade Potato Chips and Special "Slider" Sauce

What You'll Need
(2-4) Fresh pork tenderloins (minimally processed if possible)
1/4 cup of olive oil
(1) batch of Jeff's rub recipe (purchase recipes)
(1) batch of Jeff's sauce recipe
1/2 cup of Hellman's REAL mayonnaise
Small buns (for sliders)
8-12 clean potatoes (unpeeled)
Note: Do not confuse the tenderloin with the loin.. absolutely not the same cut and it just won't turn out the same.
How to Prepare the Pork Tenderloins
Estimated time: 15 minutes
Like a good steak, it does not take a lot to make these really, really good. A little seasoning on the outside is in order and that's all you need.
Start out by placing the tenderloins on a cookie sheet with a little room between them. I purchased (2) packages on sale for 3.95/lb and it ended up being 4 pork tenderloins at about 1.5 lbs each.
Drizzle olive oil on top of all of the pork loins. I like to be generous with this but if you wanted to be really saving with the oil, you could simply pour a little olive oil in a small bowl and brush it on the tenderloins to wet the entire surface.
The oil helps the rub stick to the meat.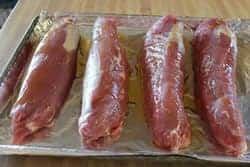 Use a brush to make sure the oil is coating all surface areas of the meat.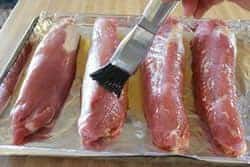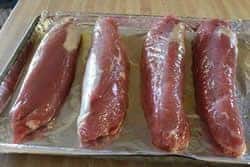 Apply my rub generously to the top and sides of the pork tenderloins.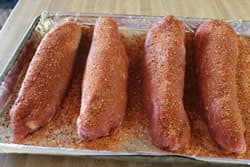 Roll the tenderloins over to the bottom side.
Note: Rolling as opposed to just flipping allows any rub that has fallen by the wayside to stick to the sides of the meat as you roll it.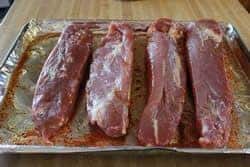 Coat with rub on the side now facing up.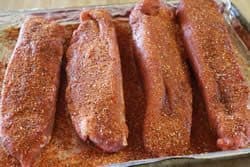 Pork tenderloins are now ready to go on the smoker grate.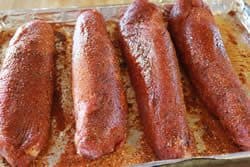 Leave the pork tenderloins for a few minutes while you go make sure the smoker is ready for cooking.
I do recommend getting the smoker ready to go before you start the preparation of the pork tenderloins especially in colder weather.
Getting the Smoker Ready to Cook
Estimated time: 30-60 minutes (depending on what type of smoker you are using)
As I say in almost every newsletter here lately.. all of my recipes are designed to be used in ANY smoker with no regard to whether it is electric, charcoal, gas or wood.
I have written some helpful information on the operation and getting the most out of several popular smokers below however, there is no substitute for experience. Like anything else, you will find that the more you use your smoker, the better you will get at controlling the temperature and making it work for you in the way that it should.
Note: In colder weather, it is advisable to preheat the smoker at least an hour or more before you are wanting to use it. Keep the door closed as much as possible and even skip basting if necessary to maintain proper smoking temperatures.
Smoking the Pork Tenderloins
Estimated time: 2 – 2.5 hours at 225-240 degrees F
I used my reverse flow wood burning smoker by Meadow Creek for these smoked pork tenderloins but any smoker will do as long as you follow the recommended times and temperatures.
I used hickory wood, which is not my all time favorite, but it really worked on these tenderloins to give them that classic hickory smoked flavor that really lets you know that it's there without being obnoxious about it.
Place the pork tenderloins directly on the grate for best results or you can use some Bradley Racks which I love to use to make transport back and forth from the kitchen a breeze.
Keep the temperature steady at about 240 degrees +-15 degrees for best results and to keep the rub from getting too dark.
Use a Digital Probe Meat Thermometer
Be sure to use a digital probe meat thermometer inserted into the thickest part of the tenderloin so that the end of the probe sits in the very center.
Using a thermometer will ensure that these get perfectly done at 145 degrees without going a single degree over.
You can find these on Amazon.com or even at your local store for as little as 15 dollars. If you want one that tells you the temperature wirelessly via a monitor that you carry with you into the house, it will run you about $60 dollars.
I have both types and I have to say that I am very spoiled by not having to run out to the smoker to check the temperature of both the smoker and the meat. I use the Maverick ET-732 and it is a huge time saver for me and so worth the cost in my opinion.
The Maverick ET-732 has (2) probes, one for the smoker temperature and another one for the meat temperature. The sending unit sits on top of the smoker and the receiver stays in your pocket or sits on the table top or counter up to 300 feet away.
Finishing Up the Tenderloins
When the pork tenderloins have reached 145 degrees they are safe and have reached their perfect potential. At this temperature they cool off quick once you take them out of the smoker so there is no need, in my opinion, to take them off earlier than 145 degrees to offset the continuance of the cooking process that sometimes happens when you remove meat from the oven or smoker.
Remove the pork tenderloins from the smoker grate promptly and bring them into the house or onto a nearby cutting board for slicing.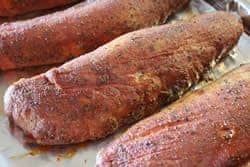 Slice into 1/2 inch pieces and you will get about 10-12 good slices per tenderloin. I tend to cut off the first inch or so of the narrow end and save that for a pot of soup or beans since it will tend to be overcooked due to the smaller diameter.
Really tender and juicy!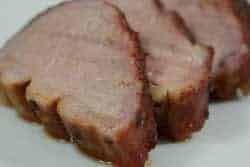 Making the Sliders
Cut slider roll in half.
Place a single piece of smoked pork tenderloin onto the bottom half of the roll, drizzle on some slider sauce (recipe below) and top with the other half of the roll.
Make as many sliders as you need and serve immediately.
If you are making these for a party and want to assemble them ahead of time, let the meat slices cool down first and omit the sauce from the sliders so they won't get soggy.
These do extremely well for taking to parties, luncheons, etc. and they do not have to be hot to be tasty.
Slider Sauce
Our local restaurant here makes a special sauce using equal parts of barbecue sauce and mayonnaise. I decided to try this using my own sauce and boy was that a happy surprise! Totally delicious!
I have been dipping everything from veggies to chips to cheese sticks in it and it is just that good.
I have found that some of the most simple things in life are the best..
Here's the simple recipe:
Mix until well blended and give it a taste.. I think you'll agree that this is indeed a very special sauce. It goes really well with these sliders as you will see.
Making Homemade Potato Chips
I will not go into great detail on these but they are very easy and you can make them in a deep fryer or deep skillet heated to about 400 degrees F.
Wash the potatoes (leave the peeling on if you like them that way) and slice them as thin as you can. Ours were sliced to about 1/16" thick.
Preheat oil to 400 degrees F and once the oil is ready, carefully drop in a handful of the potatoes. About 4-5 minutes or when they are as brown and crispy as you like them, scoop them out with a slotted spoon or wire basket and lay them on paper towels to drain.
Sprinkle my rub on them generously to season.
Note: My rub is low on salt and if you like the chips more salty, you may need to sprinkle on a little extra salt.
Summary for Smoking Pork Tenderloins
This can be served as sliders (as suggested above) or it makes a great main Entree Serve about 3-4 pieces per person with a couple of homestyle sides and a dinner roll. Drizzle the special sauce over the slices of pork.
Regardless of how you choose to serve this, you can depend on it being tender, juicy and really delicious.
Drizzle olive oil on the pork tenderloins to help the rub to stick
Apply my rub to all surfaces of the meat
Prepare smoker for cooking at about 240 degrees F
Place meat directly on grate
Cook/smoke meat for 2 – 2.5 hours or until it reaches 145 degrees
Rest for 10 minutes or so and slice into 1/2 inch slices
Serve immediately as sliders or 3-4 pieces per person with a couple of homestyle sides
The Recipes for my Rub and Sauce – Go for it!

In this newsletter, I use my rub to, not only season the meat to perfection but I also use it on some homemade potato chips and they are out of this world good.
I also mixed my very own barbecue sauce with one other common ingredient to make a special sauce that fits these smoked pork tenderloin sliders like a glove. It was so good that I was dipping the chips in it as well;-)
Both my rub and my sauce work so well on so many things and I'm thankful that I can call them my own creations. I am also happy that I am able to share them with you folks in a way that benefits the website and the newsletter.
You really have to try it to truly experience the "WOW"! and if you've been teetering on the fence about it, then go ahead and try it out!
I am not being dramatic.. just try it and you will join the ranks of those who know if I'm lying then I'm dying! This stuff is amazing and you need it in a bad way;-)
Here are a few testimonies from other folks who decided to go for it and are glad that they did. Be sure to send me your testimony once you try it and realize that you have just tasted of HEAVEN.
—————————————————
Jeff, I did a smoked pork roast yesterday and used your recipe both for the pork and for your Smoky Barbecue Sauce. Everyone loved it. My wife said the sauce was the best she had ever tasted and I have to agree. Fantastic. ~ Barry


—————————————————

Hello Jeff I recently purchased your recipe for rub-n-sauce and just wanted to let you know that its off the chart. well worth the cost. I am cooking for about 50 family and friends at lake Texoma this weekend and cant wait to see everybody's reaction ~ Jack

—————————————————

Jeff, You truly are the man. Bought your rib rub and your sakes alive sauce and love them both. Keep up the good work helping people like me learn to cook good BBQ with smoke. ~ Matt

—————————————————

Jeff, I was smoking a Boston butt Saturday night for dinner Sunday and decided to try your bbq sauce. I have to say this is hands down the best sauce I've ever had and I've tried a lot of them. Its very easy to make, inexpensive and taste excellent. I will be using this recipe for a long time. ~ Doug

—————————————————

Jeff, Your Rib Rub is to die for, I have used it on all meats including Venison and I have to say you have created a master piece, Thank you for letting us common folk into your smokin life.~ Kevin
—————————————————


You deserve the very best and it is completely within your grasp! Only $18.95 and worth every penny. Not only do you get the best rub and sauce recipe available, you are supporting this website and helping to make sure the bills get paid so we can keep on doing what we do to teach thousands and thousands of people across the world the art of smoking meat.
Order Recipes | Read Testimonies
What to Expect Once you Order

Here's how it works:
You order the recipes
My automated system sends you a download link in an email with a password
You click on the link and use the password to download the recipes and the free gifts to your computer
If you DON'T get the email with the link:
Check your spam/junk folder (sometimes they get caught there)
If you can't find it, email me and let me know you didn't get it
I will send the recipes and login info to you as an attachment in an email
You let me know you got it, we are both happy campers!
Free Smoking Meat Newsletter