Hello and welcome to the very first edition of the smoking meat newsletter for 2013 with the hope of many more to come!
I am excited for what this year has to offer those of us who are passionate about smoking meat and cooking outdoors.
I have a notebook full of recipe ideas to try and perfect and you guys will get to be the honorary recipients of those recipes in this process.
I sincerely hope that all of you have had a wonderful holiday season and were able to spend some really valuable time with your family and friends over the past few weeks. I also hope that all of you got new smokers and have them all seasoned up and ready to go;-)
With all of the stress and frustration in our everyday lives these days, you really have to find something that helps to take your mind off things and let's you relax a little. Some folks turn to excessive drinking and perhaps other not so kosher things but I submit to you that there is nothing more relaxing and mind-settling than just sitting around the smoker and cooking something up real nice and slow.
Even on a cold, dreary day, I just sit real close to that hot firebox and think about friends and family, the good things that I have and how delicious the food is going to taste when it's done and I am already starting to feel better about life.
So it's not just a hobby but it's a medicine!
To sum it up, my wife does yoga, I smoke meat and we both get the same result.
In this edition, I have finally perfected my delicious and very tender, smoked chuck roast with potatoes and carrots recipe and if you will follow my instructions to the letter, you will have something that will not only feed the family but it will soothe your soul.
What You'll Need
(2) 2-3 lb chuck roasts
1/2 lb (about 6 slices) bacon
2 lbs of of small pewee potatoes (I used golden and red potatoes mixed)
3/4 cup chopped celery
1 cup chopped onion
1 lb (small bag) of baby carrots
32 oz container of beef broth
Worcestershire sauce
1 batch of Jeff's rub (purchase recipes)
Large foil roasting pan
How to Prepare the Meat
Like most things that are cooked outdoors, the preparation is pretty simple and straight-forward.
Unwrap the chuck roasts and place them down in a foil pan.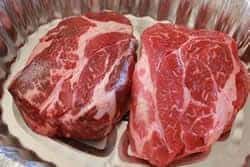 Sprinkle a generous helping of my rub all over the top side of the roasts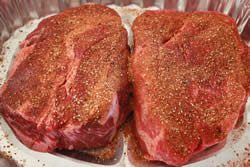 Let the roasts sit in the pan for about 15 minutes to allow the rub to get a "wet" look then flip them over.
Note: this is a great time to go get the smoker ready
Shortcut: use a light coat of yellow mustard to help the rub to stick. If you do this, the roasts can be turned over immediately.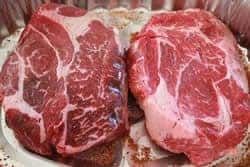 Apply a generous portion of my rub on the bottom side of the chuck roasts and let it sit another 10-15 minutes for maximum adhesion. (skip the waiting if you used mustard or some other sticking agent)
Note: It is perfectly acceptable to apply the rub the night before and wrap the roasts in plastic wrap. I have done it both ways and I prefer to apply the rub right before it goes into the smoker for convenience but either way works well.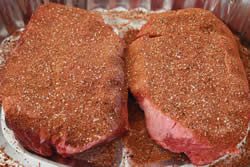 Lay 3-4 pieces of bacon on top of each roast to simulate the fat cap that is on a brisket. The bacon will render fat during the cooking process and help to keep the meat basted and it will add a lot of nice flavor to the end product.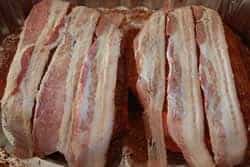 Prepare the Smoker
It does not matter what type of smoker you have, whether it is wood, charcoal, electric or gas, it is simply a heat source with smoke and that is what does the trick.
You can't beat a wood smoker for flavor but many of you either cannot afford a smoker of that size, are not allowed to have one due to where you live or you just have not purchased/acquired one.
Every once in a while I'll have some dingbat email me and say that anything other than a wood smoker is not true meat smoking and that I am just a wanna be. Well, if we are gonna get all REAL up in Heeeeh, then it's not really true smoking according to the original methods unless you do it in the ground over hot coals and covered with leaves and hot rocks.
Way back when, they did not have propane tanks to convert into large wood burning vessels so they used a hole in the ground and the advent of large metal smokers were no doubt new fangled devices and shunned as "not true smoking".
I say that whatever it takes to get your food over a good heat source and some good smoke is good enough for me.
Fooey on the nay sayers!
Some of my most prized meals have been cooked over electric, gas and charcoal devices and I was proud to serve it up too.
Use what you have and hold your head high for a job well done.
If you do need some further information on various smokers and such, then here you go:
Note: In colder weather, it is advisable to preheat the smoker at least an hour or more before you are wanting to use it. Keep the door closed as much as possible and even skip basting if necessary to maintain proper smoking temperatures.
Smoking the Chuck Roasts
Cook the roast directly on the grate, bacon side up, at about 240 degrees using pecan, maple, cherry, oak, mesquite or hickory for best results.
Note: Most any hardwood will work and a good rule of thumb is that if it produces a fruit or a nut, it is usually good for smoking wood. The ornamental varieties of these trees are also good.
You can expect the roasts to take about 6 hours or so to reach 200 degrees.
Question: Why 200 degrees? Chuck roasts, like brisket and pork shoulder are safe to eat way before they get tender. If you want to eat shoe leather then you can remove them at 160 and you're good to go but if you want them tender, well that takes a bit longer.
Shortcut: to reduce the time a little you can place the roasts back into the roasting pan and covered with foil once they reach an internal temperature of about 160 degrees. I prefer to leave them on the grate the entire time with smoke to ensure maximum smokiness.
Making the Smoked Chuck Roast into a Tender Roast with Potatoes and Carrots
Place the roasts into the bottom of a large roasting pan (bacon side up).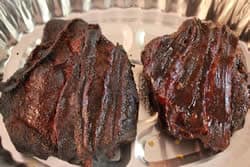 Pour potatoes into bottom of pan followed by onions, celery and carrots.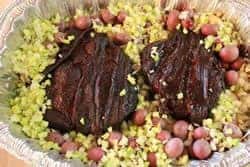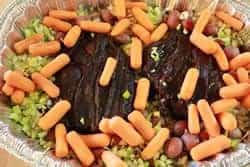 Douse everything in the pan with Worcestershire sauce. I did not measure but I ended up using about 1/3 of a 10 oz bottle.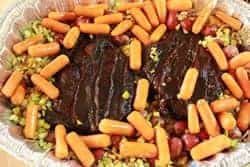 Pour beef broth into pan then fill in with water to cover all vegetables.
Alternative: Use Chianti with the beef broth instead of water. During the long cooking time, less than 5% of alcohol will be remaining after only 2.5 hours of cooking for those concerned with alcohol intake. Since we are going to be cooking this for about 5 hours, my research suggests that all of the alcohol will have cooked out by then.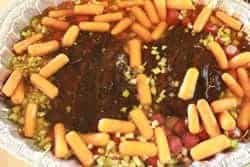 Sprinkle about 1/4 cup of my rub over the entire pan of vegetables (you could technically do this before you add the liquids if you wanted to)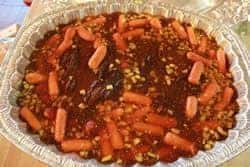 Cover the pan with foil and cook in an oven preheated to 300 degrees F for about 5 hours.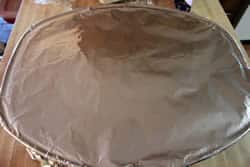 At 3 hours it was tender but not falling apart so back into the oven it went.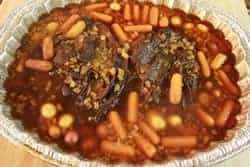 At 5 hours it was finally fall-apart tender just as it would be if you had cooked it entirely in the crock pot or slow cooker for 10-12 hours. The vegetables were also very nice and soft just like I like them.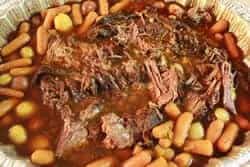 A test plate to make sure it was really as tender as it looked;-)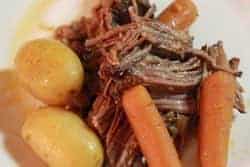 Note: My rub did an excellent job of seasoning this roast however if you want it to really have a kick (not normally what you want in a roast like this) add about 1/4 cup of red pepper flakes when it goes into the oven.
My rub is also fairly low on salt so you may need to add a little salt to taste once it's finished cooking if you like things a little saltier.
Note: to avoid any confusion, I have added this note:
Total cook time was 11 hours (about 6 hours in the smoker + 5 hours in the oven with the broth and the vegetables).
Final Results
We had this recipe for lunch last Sunday and it was a big hit with the entire family. It's a very hearty meal and really goes over especially well when it's cold and damp outside.
Give it a shot and if you get a chance, let me know how it goes!
***Note: you get the Texas style rub recipe free with your order!
If I could give these recipes away, I would do that. I really want you to have them! But, then, this is how I support the newsletter, the website and all of the other stuff that we do here to promote the art of smoking meat.
Read these recent testimonies:
"Love the sauce and rub recipes. So far I have used them on beef ribs, pork ribs, and different chicken parts. Can't wait to do a beef brisket. Texas rub is great as well!" ~Peter S.
"I tried the rub on a beef brisket and some beef ribs the other day and our entire family enjoyed it tremendously. I also made a batch of the barbeque sauce that we used on the brisket as well as some chicken. We all agreed it was the best sauce we have had in a while." ~Darwyn B.
"Love the original rib rub and sauce! We have an annual rib fest competition at the lake every 4th of July. I will say we have won a great percent of the time over the past 15 years so we are not novices by any means. However, we didn't win last year and had to step up our game! We used Jeff's rub and sauce (sauce on the side) and it was a landslide win for us this year! Thanks Jeff for the great recipes. I'm looking forward to trying the Texas style rub in the near future!" ~Michelle M.
You see the raving testimonies and you wonder, "Can the recipes really be that good?"
No worries! Make up a batch and if it's not as good as you've heard.. simply ask for a refund. Now that's a bargain and you know it. Let's review:
You decide you don't like the recipes.. you don't pay!
The recipes are absolutely amazing!
Once you order, there'll be no more recipe ads in the email version of the newsletter
Well.. what are you waiting for.. click on the big orange button below to order the recipes now.

I really, really appreciate the support from my newsletter friends and be sure to let me know if you have any questions about this.