Smoked Prime Rib or Standing Rib Roast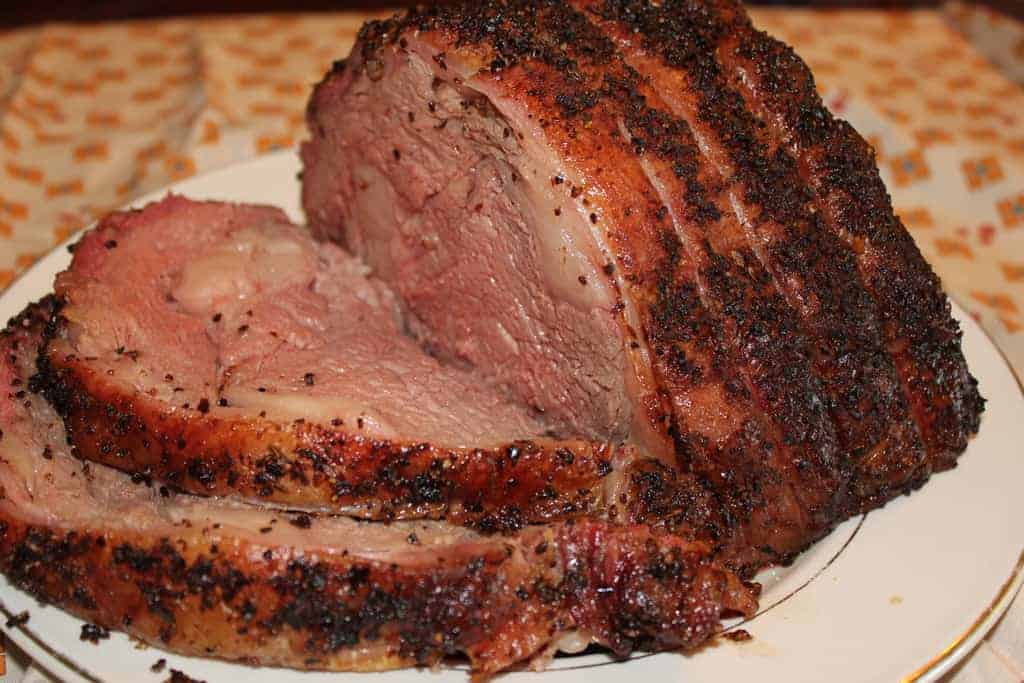 Smoking-Meat.com is supported by its readers. We may earn an affiliate commission at no extra cost to you if you buy through a link on this page.
Read this article without ads
One of the most perfect pieces of meat known to man is the smoked prime rib.. my opinion of course!
The prime rib or what some call a "standing rib roast" which is, as I understand it, ribs #6-12 going from front to rear. The term "prime" has nothing to do with the quality of the meat as it is graded by the USDA but simply implies that it is the rib primal cut.
I don't claim to be an expert when it comes to the cutting or butchering of meat and it's various nomenclatures, I lean heavily on my butcher for these sort of things.
I think normally it is comprised of 7 bones, some of the last few I have purchased have only had 5 and were extremely tasty. My butcher tells me that it is the "best" 5 and based on flavor, I have to agree.
A little preparation is in order before smoking it and here's how it's done:
A cut was made down next to the ribs.. then it's all tied up with butchers twine.
Sometimes I do this myself.. but nowadays I usually just let the butcher do it for me to save time.
The outer layer of meat likes to pull away from the rest of the meat.. if this happens it will not cook evenly and the part that pulls away will end up being overdone. To prevent this from happening, you tie it up with butchers twine about every 3/4 inch or so for the full length of the roast.
The cut is just one that I like to make before the fact… a clean cut right next to the feather bones.. those large bones that are on one side (imagine the knife blade touching the inside edge of all the bones at once). I don't cut all the way through but just down to the end of the bones. Once the prime rib is done cooking, it makes it easy to just untie the roast and make the final cut through the meat to remove the bones leaving you with a nice piece of meat that you can slice into pieces.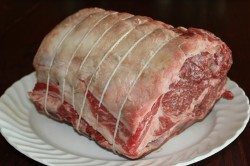 Look at that marbling..Sweeeeeeeet!!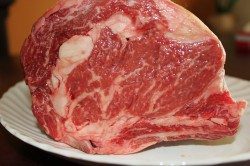 Sprayed with extra virgin olive oil very generously.. all over.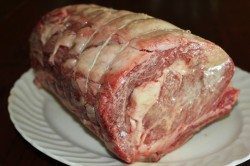 For these pictures which were taken a good while back.. I used Emerils Steak Seasoning. Nowadays, I use my rub and it works even better in my opinion! You have options;-)
Sitting on the Weber grate.. cherry smoke is hard to beat!!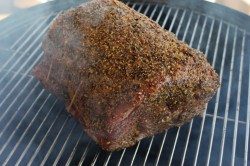 In most case, you will want to remove it at 125-130 and let it creep up to 135 with some foil tented over it.
If you like it more rare, you can take it off the smoker a littler earlier at 120-125 or so. Any more rare than that.. you're on your own;-)
Look at that beautiful coloration!
Man! Does that look juicy or what!!? It was so tender you could cut it with a fork and it melted in our mouths.
I kept the smoke going throughout the entire cooking session. The smoker was maintained at 225 degrees and it took almost exactly 4 hours to reach 125-130 degrees. The top vent was all the way open and I used (1) cherry split at a time approximately 3? x 12? in size.
Other wood such as pecan, hickory and even some oak would work very well also.
Summary
Make a single cut across the inside edge of the bones but don't cut it completely off. leave it barely connected at the bottom edge (have your butcher do this)
Tie the meat up at 3/4 inch intervals using butchers twine
Spray the meat with olive oil (or brush it on)
Apply Jeff's Rib rub liberally to the outside of the meat
Smoke the meat at 225 degrees for 4-6 hours or until the meat reaches 125-130 degrees in the center.
I recommend cherry wood smoke throughout the entire cooking period
Remove from smoker and tent foil over the meat for about 15 minutes to let the juices disperse.
Remove twine, slice and serve immediately
Get Jeff's Products!