Smoked Pork Sirloin Roast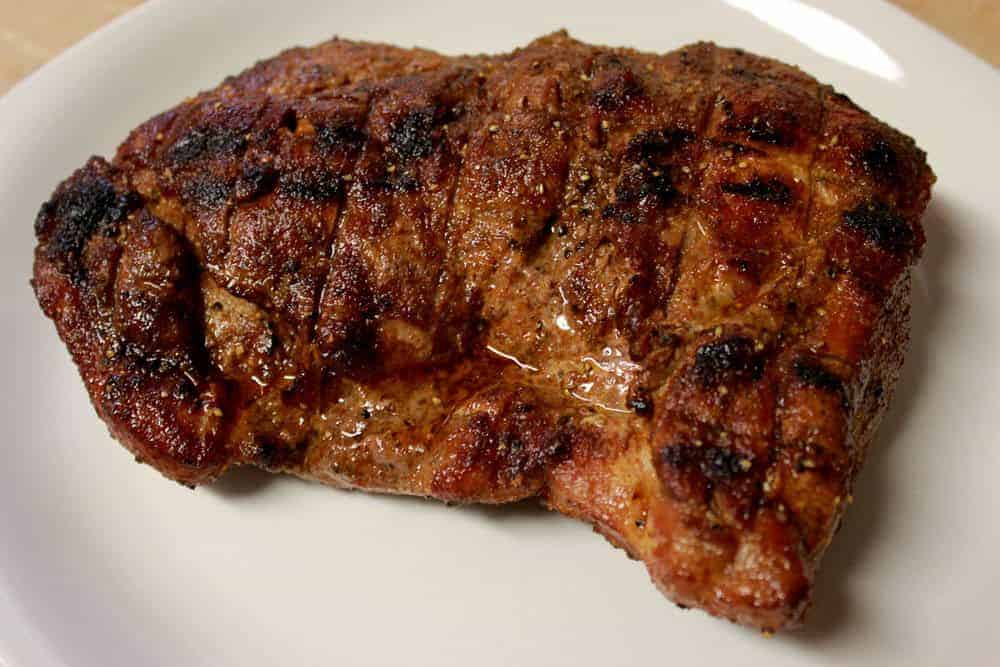 Smoking-Meat.com is supported by its readers. We may earn an affiliate commission at no extra cost to you if you buy through a link on this page.
Read this article without ads
With this recipe, I want to show you how to smoke a pork sirloin roast. This piece of meat is one of my favorite pork roasts and even tops cooking a whole loin in my opinion. It always turns out tender and juicy and it has an air of "fancy" to it that you don't usually get off of the smoker.
This cut is usually boneless, cooks in just a couple of hours and is an entree fit for a king that won't break the bank.
Here's what you'll need
Pork sirloin roast
Extra Virgin Olive Oil
Brining the Pork Sirloin Roast for Smoking
When I purchase a pork sirloin roast, it is usually two pieces stacked on top of each other and held together with a net. I tend to remove the net and treat them as separate pieces.
For me this allows me to get more seasoning on the pork and I feel that the brining works better this way.
I have not been a big proponent for brining pork and beef, not because I don't think it will work, but because I've never really considered it necessary for most of the cuts that we tend to cook in our smokers.
Having said that, the leaner cuts can actually benefit quite a bit from the added moisture and flavor that brining provides so I did decide to brine this pork roast just to show you that it can be done and that it is actually a good thing to do on leaner cuts of meat and not just poultry.
Brine Recipe
To brine the roast, simply make your brine using the basic recipe below:
1 Gallon of water
1 cup of kosher salt
1 cup light brown sugar (dark will also work but it does have more molasses and I tend to prefer the light brown for my brines).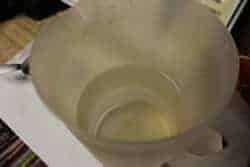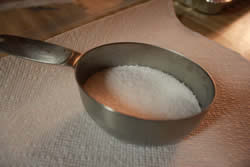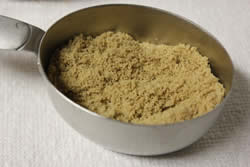 Adding Other Flavors
You can add anything else to this you like in terms of flavors such as fruit juices, hot sauces, other meat sauces, spices and herbs, wines and beers, melted butter, oils, buttermilk, and the list goes on and on only limited by your imagination.
Anything you put in the brine will end up inside the meat adding flavor through and through. If you do it the way I instruct and using my ratios of salt and water, it will not end up overly salty either.
Anything you add that is not easily soluble in water will need to be added to a little bit of the water, simmered to help it melt and/or release it's flavors into the water.
The brown sugar will actually mix fine into cold water so I don't worry about heating that but things like herbs and many spices tend to release their oils best when simmered for a few minutes in hot water.
To accomplish this, I usually remove about a quart of the water and use that to simmer my herbs, spices and any other ingredients that might benefit from this. Once it has simmered for about 15 minutes, let it cool down before adding it back into the remaining 3 quarts of cold water.
To speed up this process you can remove and discard another quart of the plain cold water before you add the salt and/or other ingredients and replace with a quart equivalent of ice. Just fill with ice until it reaches the gallon line and you know that you have about the right amount of water/liquid.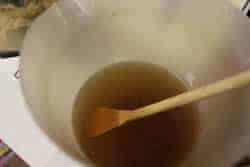 Brine and Meat Together
Place the meat down in a large zip top bag or other plastic/glass container and cover with the cold brine until the meat is completely submerged.
Zip closed and put the bag down in a bowl to prevent accidents. Place in the fridge and keep refrigerated throughout the entire brining process.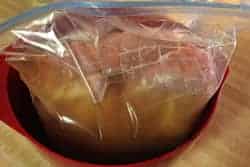 Brine for 12-16 hours for best results.
When the brining process is finished, rinse the meat really well under cold water and pat dry with a paper towel.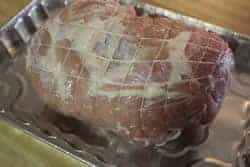 Seasoning the Meat
As most of you know, I love to use different condiments, oils, etc. to help the rub to stick better. I just can't stand for that good stuff to fall off and things like mustard, oil, and even mayonnaise can do a great job of becoming a sticking agent for the dry rub.
For this pork sirloin roast, I like to use olive oil. Just douse the oil all over the meat and use your hands to make sure you have complete coverage.
Note: Remember I told you that the roast all tied up was actually two pieces stacked up. I removed the net and treated them separately after the brining process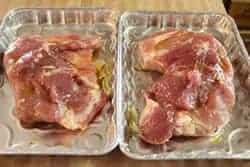 Sprinkle my Jeff's original rub generously onto the meat until you can just barely see the meat.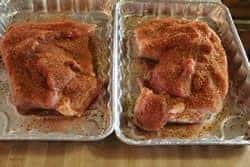 Repeat this process on the other side of the roast making sure to hit the sides and edges with both oil and rub.
When you are satisfied that it is well covered, lay the meat aside and go get the smoker ready for cooking at 225°F (107°C).
Get the Smoker Ready
I get a lot of requests for recipes for various types and brands of smokers and I need to explain that ALL of my recipes are for ALL smokers.
A smoker is simply a heat source with the addition of smoke. It does not matter if you use wood, charcoal propane or electric.. as long as you are running it at the recommended temperature and watching for the recommended finish temperature of the meat, it will work.
Most smoking is done to temperature rather than time which is one of the many things that makes it different than oven cooking indoors.
Having said all of that, I am in the process of putting together articles and how-to information for various smokers to help with the specifics of each one.
You will want to set up your particular smoker to cook at about 225°F (107°C) but a range of 225-240 will work just fine.
I like to use fruit wood for lean, delicate roasts such as the pork sirloin roast but you can use almost any smoking wood and it will turn out good. I chose to use apple and I kept the smoke going for the entire time the meat was cooking.
Smoking the Pork Sirloin Roast
Place the roast(s) directly on the grate for maximum smoke flavor. If you have the option, you can place a pan under the roasts to catch the drippings and to keep the smoker clean(er).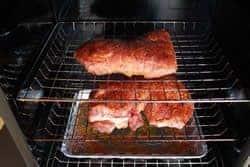 You can expect this pork sirloin roast to take about 2 hours to reach 145°F (63°C). I would remove it from the smoker at about 140 since we know that it will raise another 5 degrees or so and possibly a little more even after you take it out of the heat.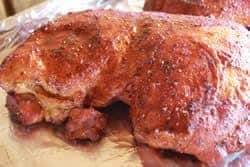 *****************************************************************************************
Olive/Rub Baste
Mix together and continue to mix while using.
For extra flavor and to keep the outside of the meat moist, baste the top of the meat every hour or so with this mixture.
Be sure to brush on a little right before serving.
*****************************************************************************************
Option to Finish on the Grill
I also have another optional way to finish this using your grill to put a nice sear on it at the end of the process.
If you want to finish on the grill, then you will need to preheat your grill to very high heat a while before the pork roast is finished cooking. It will need to be up to temperature by the time the pork roast reaches about 135°F (57°C).
Remove the 135 degree roast from the smoker and immediately place it on the hot grate of your grill for a few minutes on each side to get some nice grill marks and to sear the outside.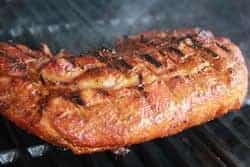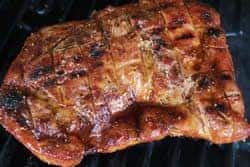 Leave the thermometer probe in the meat during this transition so you can make sure that it reaches about 140 degrees before you remove it. This will also allow you to make sure you don't overcook it.
This cut of pork will quickly dry out if you cook if it cooks past 145°F (63°C). This is why we remove it early knowing that it will continue to cook for a few minutes.
Once I'ts Done Smoking/Cooking
Tent foil over the pork sirloin roast for about 20 minutes after your remove it from the smoker or grill to let it rest. During this time the juices will redistribute throughout the meat and it will end up more juicy.
When it's ready to eat, slice about 1/2 to 3/4 inches thick and serve immediately.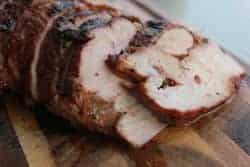 Get Jeff's Products!