These smoked chicken thighs are stuffed with lots of white cheddar and jalapeños, seasoned with Jeff's original rub* and wrapped in bacon to hold it all together.
Helpful Information
Prep Time: 10 min
Brine Time: 4 hours
Cook Time: 1.5 to 2 hours
Smoker Temp: 250°F
Meat Finish Temp: 165°F
Recommended Wood: Apple
What You'll Need
8-12 chicken thighs, skinless and boneless
Buttermilk brine (recipe below)
Jeff's original rub (Purchase formula here | Purchase bottled rub)
White cheddar, cut into 2″ sticks
Jalapeños, diced (fresh or pickled work great)
Bacon, thin sliced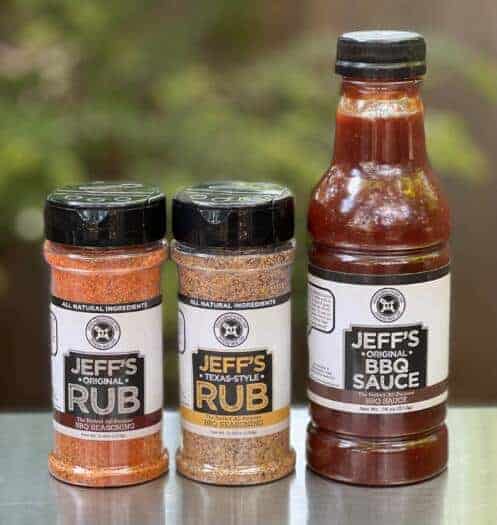 Please note that my rubs and barbecue sauce are now available in 2 formats– you can
purchase the formulas
and make them yourself OR you can
buy them already made
, in a bottle, ready to use.
Step 1: Brining with Buttermilk
Soaking chicken in buttermilk is a great way to tenderize chicken and it adds some nice flavor to the meat as well.
In this version of bacon wrapped chicken thighs, I decided to combine the brining process into the buttermilk soak.
Remove the boneless chicken thighs from the package, trim off the extra fat with a pair of kitchen shears then place them in a medium sized bowl.
(As you can see, I got in a hurry and forgot to trim the fat before the soak. I took care of this afterwards.)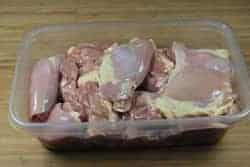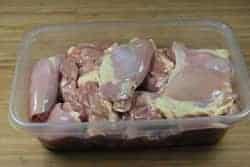 In a gallon sized pitcher, combine ½ gallon of buttermilk with ½ cup of coarse kosher salt. Stir for about 2 minutes to make sure the salt is dissolved.
Pour enough buttermilk brine over the meat to cover, put a lid on it and place the bowl in the fridge for about 3-4 hours.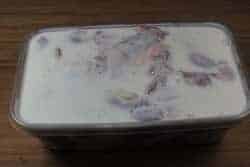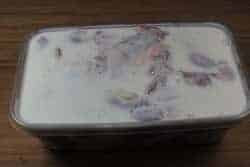 After 3-4 hours, remove the chicken from the fridge and take the thigh meat out of the buttermilk, rinsing each piece well to remove any residual salt.
Discard the buttermilk brine.
Step 2: Season the Meat
There are 2 ways to season the meat:
The Better Way
Place the brined chicken thighs into a lidded container one layer at a time. Add Jeff's original rub* to the first layer then add the 2nd layer of thighs and apply rub to those and so on.
*Purchase formula here | Purchase bottled rub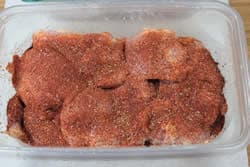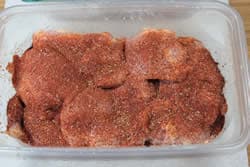 Place the chicken back into the fridge for about 2 hours.
Here's what they look like when they come out of the fridge. The rub mixes with the meat juices and creates a sort of marinade. Because the rub is low in salt, it does not make them too salty even though they've been brined in buttermilk.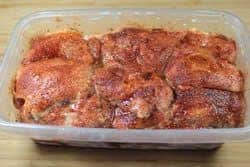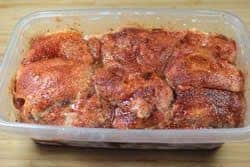 The Quick Way
The buttermilk brine tenderized them and gave them a lot of flavor so if you have to do the faster version of the seasoning process, it's ok.
Lay them out flat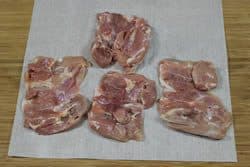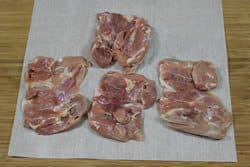 Season the inside liberally with Jeff's original rub*.
*Purchase formula here | Purchase bottled rub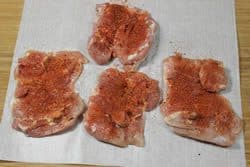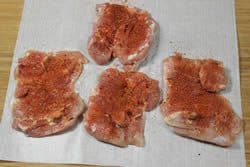 Let them sit for about 5-7 minutes or until the rub starts looking "wet".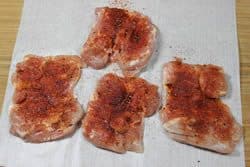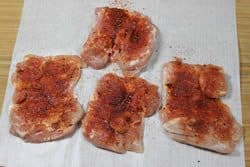 The chicken thighs are now ready to stuff with cheese and jalapeños.
Step 3: Add Cheese and Jalapeños
Cut a block of white cheddar cheese into ½ inch strips that are about 2 inches long.
You can also buy cheese sticks that already about the right size in diameter. Just cut them in half and they are perfect.
Add a teaspoon of diced jalapeño on top of the cheese.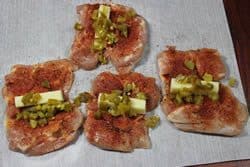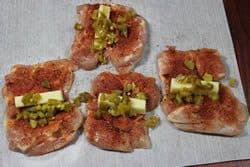 Fold the chicken thighs back over to finish the stuffing process.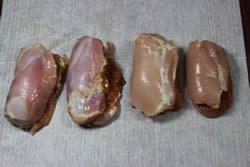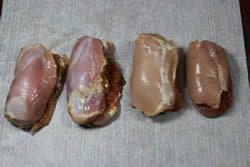 Step 4: Wrap with Bacon
Stretch the bacon to make sure it is as long and thin as possible. This will help it to cook up faster and to have a better bite through.
Note: the bacon is not the main attraction in the recipe. It does a great job of holding the chicken thighs together and not letting the stuffing fall out during the cooking process.
It doesn't taste bad either so that's a plus ;-)
Wrap a single piece of bacon around the chicken thigh starting at one end and going around it a couple of times to finish at the other end.
Pull the bacon tight as you wrap.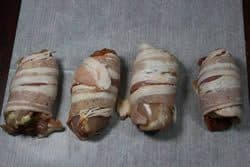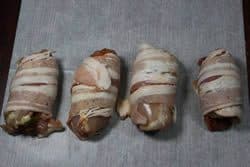 Now use a 2nd piece of bacon to wrap around the ends of the stuffed chicken thighs. This will keep the hot bubbly cheese from running out freely.
Some will ooze out but most of it will stay in.
Stretch the bacon to make it longer and thinner.
Pull it tight as you wrap to make sure it holds well.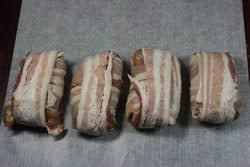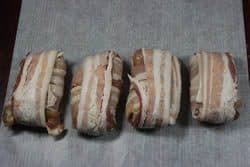 Give the outside of the chicken thighs another sprinkle of Jeff's original rub* to finish them up.
Step 5: Into the Smoker
Set up your smoker for cooking at about 250°F if possible.
I recommend apple wood or a fruit wood if you have it. If not, any good smoking wood will work great.
Once the smoker is preheated and ready, place the chicken thighs on the rack or you can use a Bradley rack or other wire mesh cooling rack for easy transporting to and from the smoker.
Tip: set the bradley rack or something similar on top of a disposable pan to keep the bacon grease and cheese from dripping down into your smoker.
Let the chicken thighs cook for about 1.5 hours or until they reach around 165°F in the center.
Step 6: Finished
The cheese is just oozing out a little from under the bacon and they are delicious and ready to serve. Serve to your guests right away while they are still piping hot.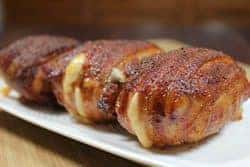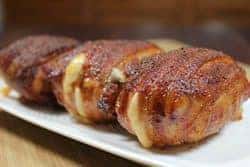 Order Jeff's Rubs and Barbecue Sauce TODAY!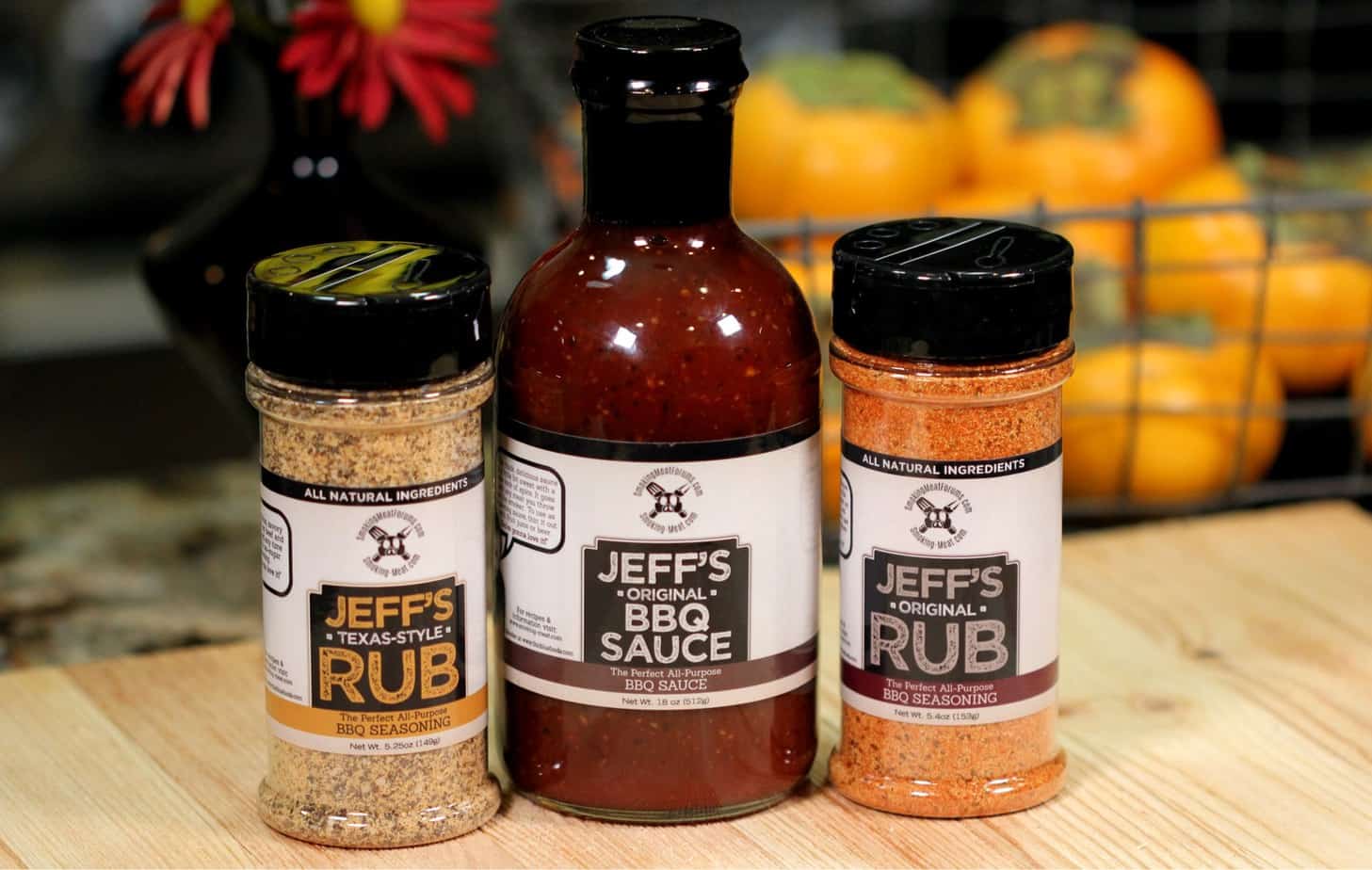 ✅ If you haven't ordered my rubs or sauce yet you can do that HERE. They are the best thing you've ever tasted and it's a great way to support what we do!
We ship blazingly fast and orders over $50 ship free!
You can also order the formulas for my rubs and sauce and make these yourself at home. Grab those HERE and download immediately.
Jeff's Smoking Meat Books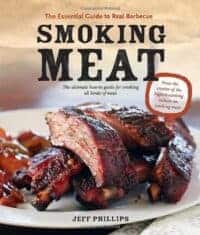 Smoking Meat: The Essential Guide to Real Barbecue – The book is full of recipes and contains tons of helpful information as well. Some have even said that "no smoker should be without this book"!
With more than 1000 reviews on Amazon.com and a rating of 4.7 out of 5 stars, it comes highly recommended and is a Bestseller in Barbecuing & Grilling books on Amazon.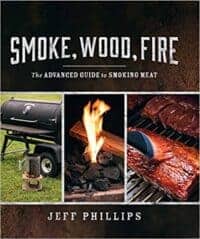 Smoke, Wood, Fire: The Advanced Guide to Smoking Meat – Unlike the first book, this book does not focus on recipes but rather uses every square inch of every page teaching you how to smoke meat. What my first book touched on, this second book takes it into much greater detail with lots of pictures.
It also includes a complete, step-by-step tutorial for making your own smoked "streaky" bacon using a 100 year old brine recipe.
Get Almost Anything at Amazon
If you enjoy the newsletter and would like to do something helpful, then..
The next time you decide to order something at Amazon.com, use THIS LINK to get there and we'll get a small commission off of what you purchase.
Thank you in advance for using our special link: http://www.smoking-meat.com/amazon
---
Printable Recipe
Print Recipe
Cheesy Bacon Wrapped Chicken Thighs
These smoked chicken thighs are stuffed with lots of white cheddar and jalapeños, seasoned with Jeff's original rub and wrapped in bacon to hold it all together.
Ingredients
8-12

chicken thighs

((, skinless and boneless))

Buttermilk brine

(((recipe below)))

Jeff's original rub

(((purchase recipes here)))

White cheddar

((, cut into 2" sticks))

Jalapeños

((, diced (fresh or pickled work great)))

Bacon

((, thin sliced))
Instructions
Make buttermilk brine by combining ½ gallon buttermilk with ½ cup coarse kosher salt. Stir for 2 minutes or until dissolved.

Place chicken into brine-safe lidded container.

Pour buttermilk brine over chicken to cover.

Place container with chicken into fridge for 4 hours during brining.

Rinse chicken well to remove any residual salt and discard brine.

Lay chicken thighs flat on cutting board.

Season liberally with Jeff's original rub.

Place ½ white cheddar cheese stick and 1 teaspoon of diced jalapeño onto chicken thigh

Fold chicken thigh over.

Wrap stretched piece of bacon around chicken thigh to hold it closed.

Wrap another piece of bacon from end to end to keep the cheese from coming out once it melts.

Smoke chicken thighs for about 1.5 hours at 250°F using apple or other smoking wood.

Serve immediately.