Asparagus Stuffed Smoked Chicken Breasts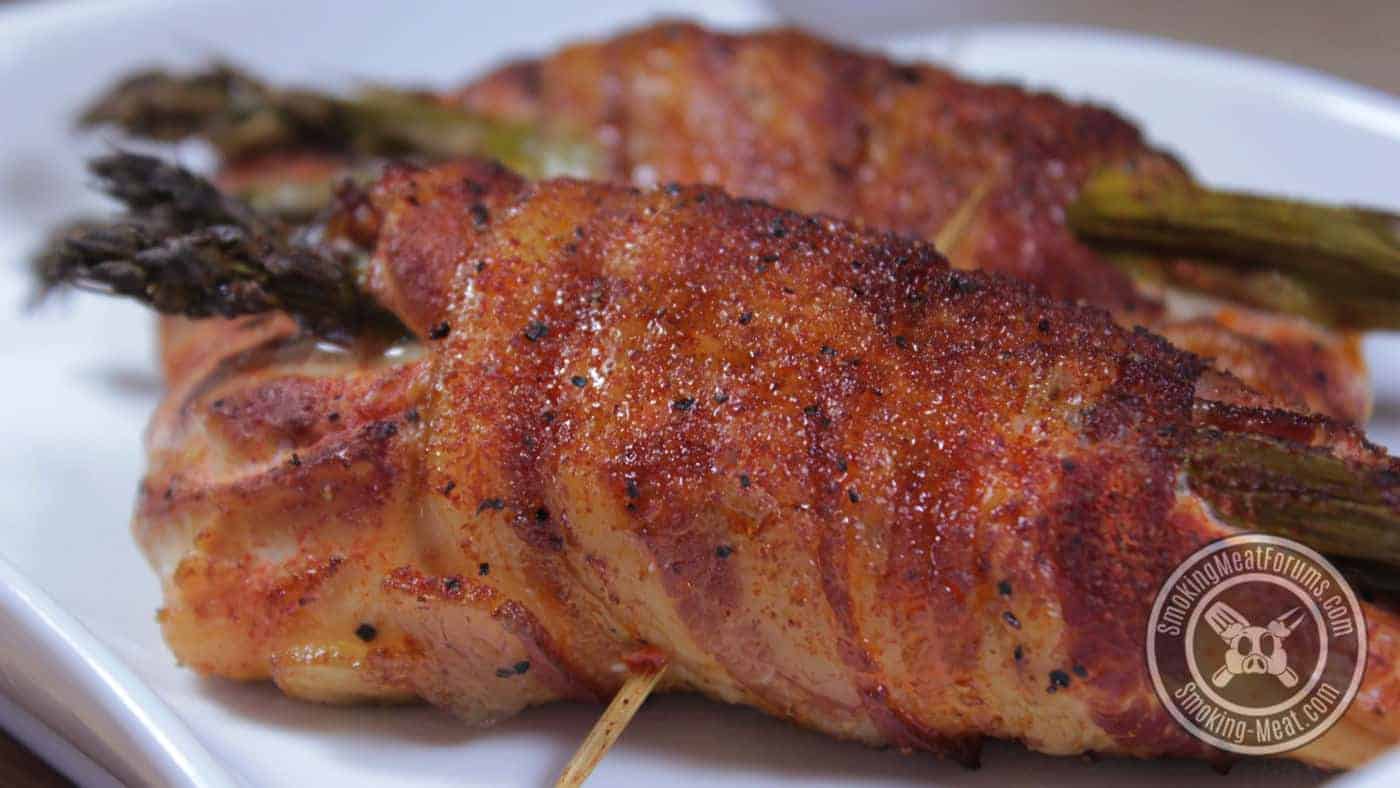 I did an article a few years ago on smoked chicken breasts wrapped in bacon and it received such raving reviews that I thought it was high time to do it again but with some sort of twist to make it different and maybe even better.
I love asparagus and at my house, it is the vegetable of choice for the smoker or grill so I felt that it would be a lovely way to spruce up the chicken breast by stuffing a couple thin stalks of asparagus inside of the smoked chicken breast and to tie it up with the smoker's duct tape.. we call it bacon.
A slice of provolone or some other cheese would also be good right on top of the asparagus or perhaps added right on top of each chicken breast about 10 minutes before it's done cooking.
Give this recipe a go and I think you'll come to the same conclusion that I did.. it's a very good thing!
Helpful Information
Prep Time: 15 minutes
Cook Time: 1.5 hours
Smoker Temp: 225°F
Meat Finish Temp: 165°F
Recommended Wood: Hickory and Apple
What You'll Need
4-6 boneless, skinless chicken breasts
8-12 stalks of asparagus (the thinner stalks are more tender)
4-6 slices of bacon (thin sliced seems to crisp up better in the smoker)
Toothpicks (optional)
Prepare Chicken Breasts for Seasoning
Remove the chicken breasts from the package and give them a good rinse. I know folks nowadays are saying, "no need to rinse" but I still like to rinse off the meat and I clean the sink real well with bleach when I'm finished. Seems like a great idea to me.
Lay the chicken breasts on a flat surface and pat them dry with a paper towel.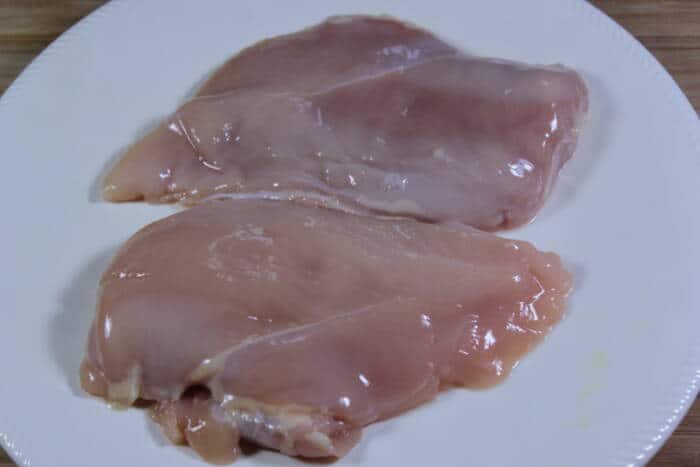 Season Them Up
I normally brine chicken but in this recipe, I chose to simply apply some of my Jeff's original rub and let them sit overnight in the fridge. The small amount of salt in the rub does a great job of dry brining the chicken and adding a lot of flavor to the inside as well as the outside.
Season the top side of the meat and wait for them to get that wet look before you flip them over..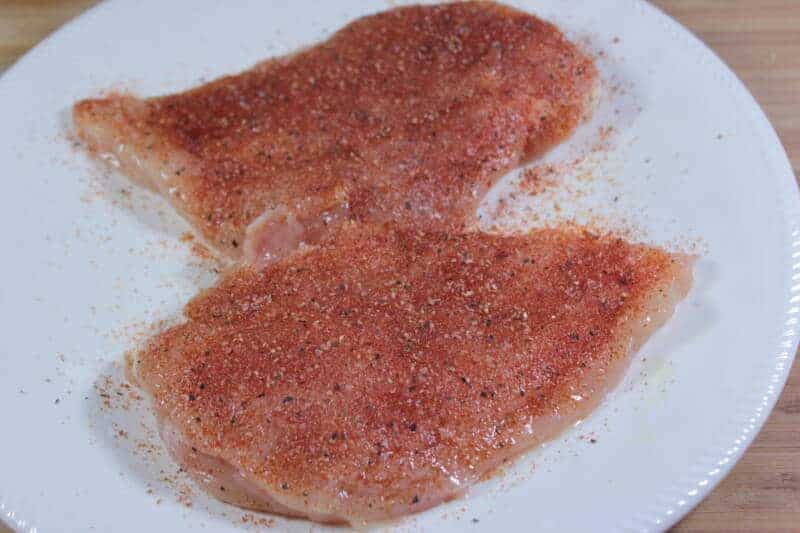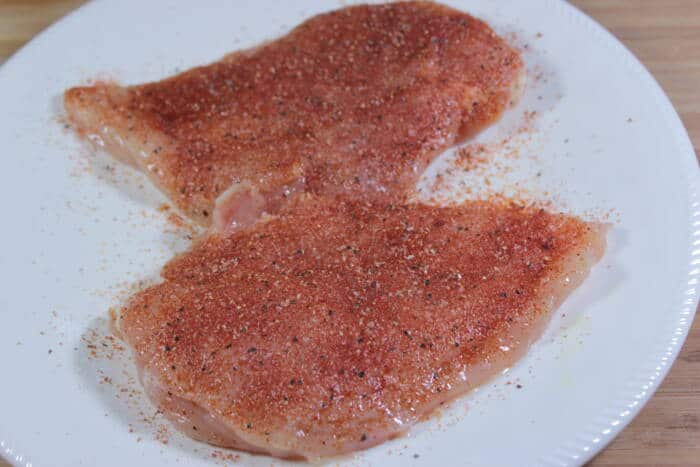 Note: Once you flip them over, they can be seasoned on the bottom side before you put the asparagus into place or you can wait until they are wrapped up to season them again. I chose to wait but either way is perfectly fine.
Stuff Chicken Breasts and Wrap in Bacon
They call it "stuffing the chicken" but really there is no stuffing going on. You simply lay the asparagus onto the chicken, cut off the ends of the stalks if they are too long and then fold the chicken over the top.
Very simple!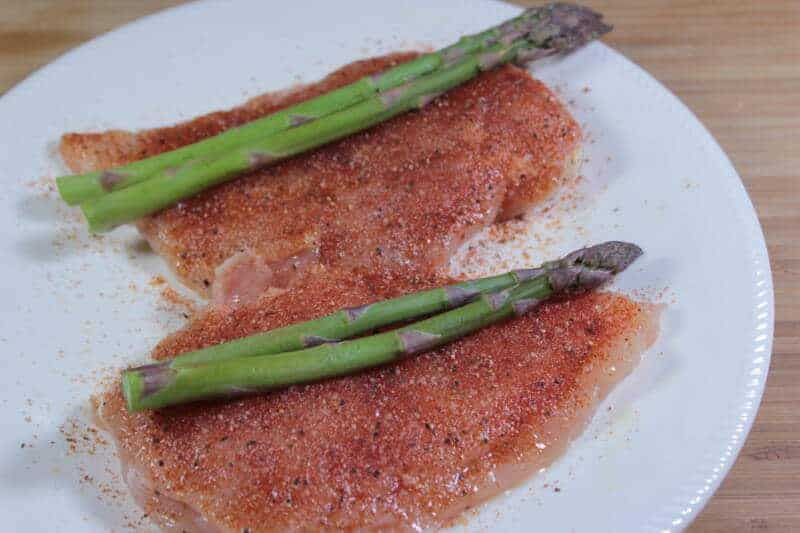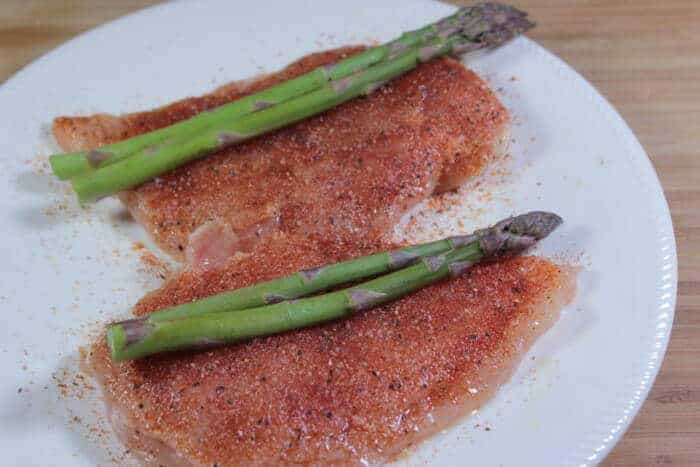 Note: I was trying to steer away from making this look like a cordon bleu so I did not add cheese but technically, you could add some provolone, or your favorite cheese right on top of the asparagus before wrapping it up and it would be delicious.
Hold the chicken in it's folded up position while you wrap it in a long strip of thin bacon.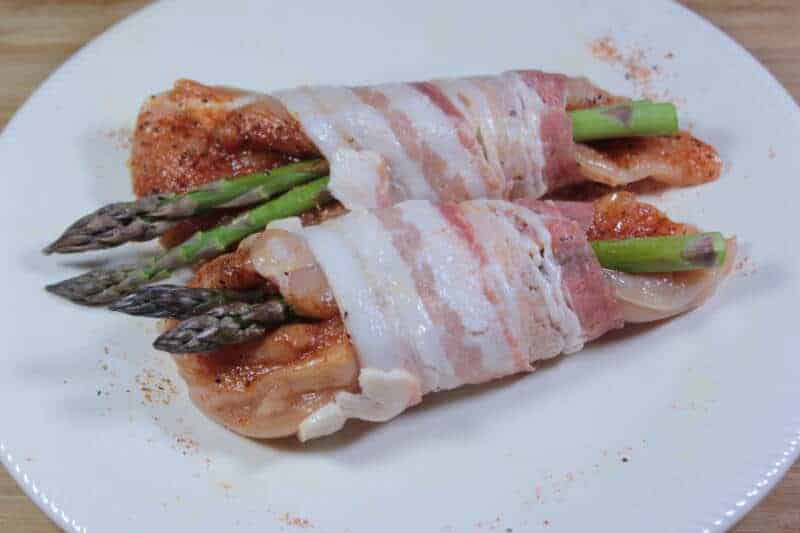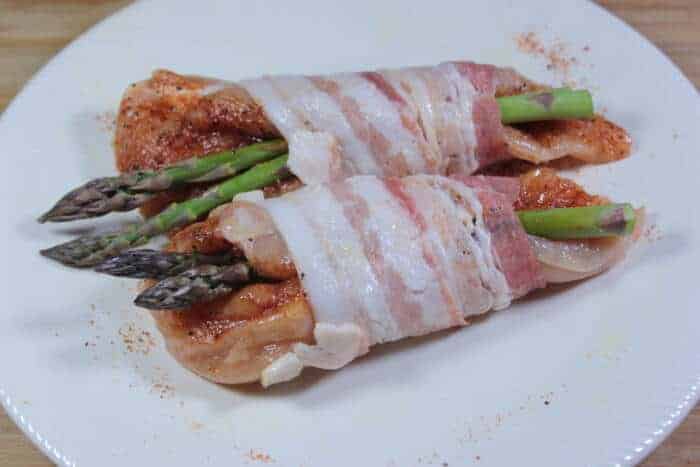 Secure the end with a toothpick and you are good to go.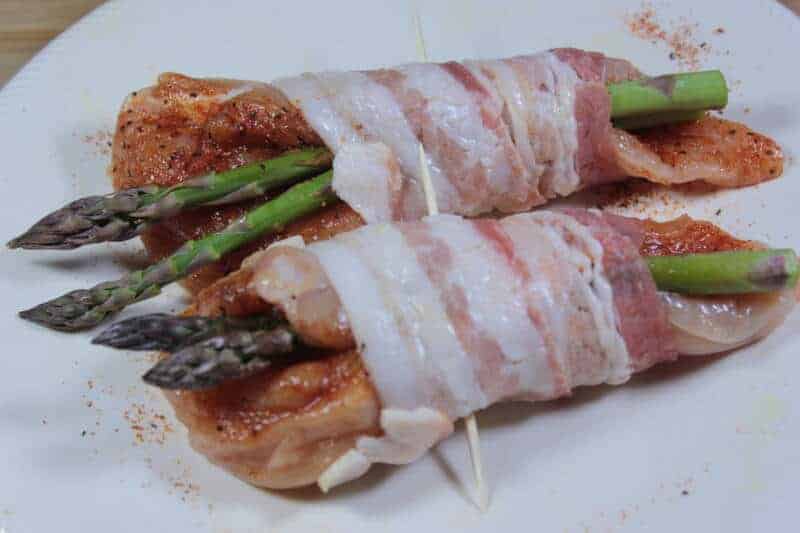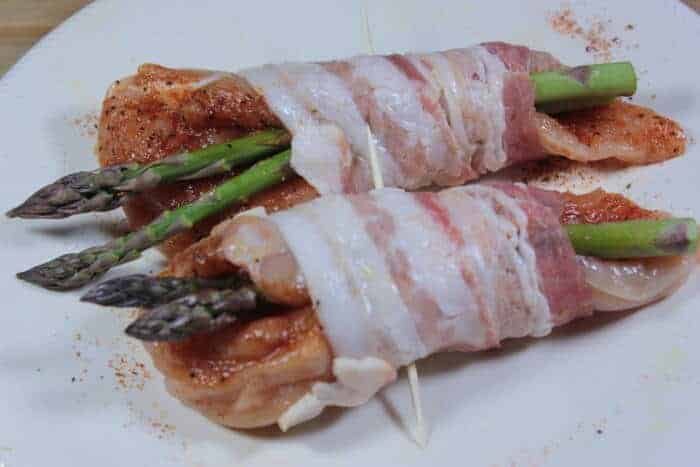 Add More Seasoning to the Outside
At this point, I like to apply a good healthy dose of my original rub to the outside, right over the bacon and all.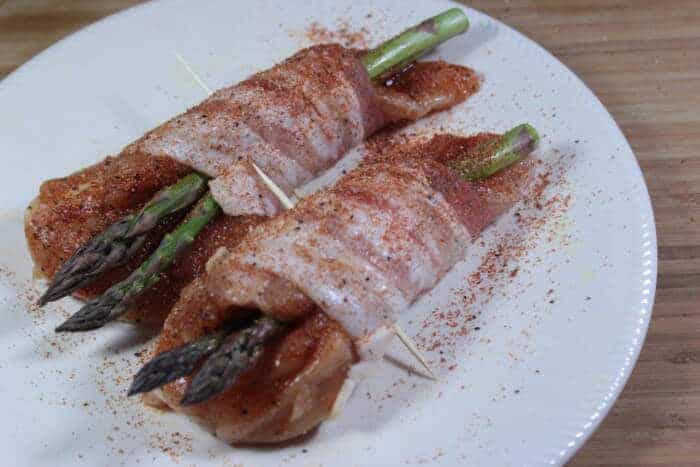 Hold Overnight in Fridge
Place the asparagus stuffed, bacon wrapped chicken breasts into a lidded container and place in the fridge for 3-4 hours or overnight if you have time.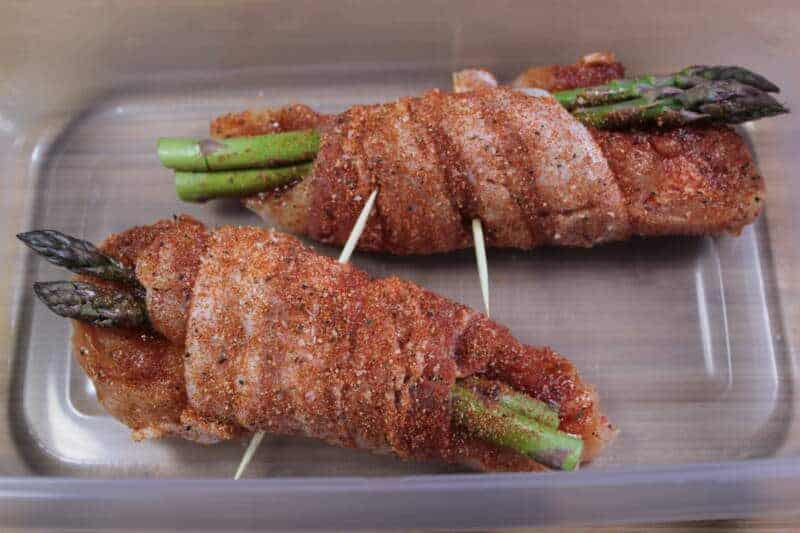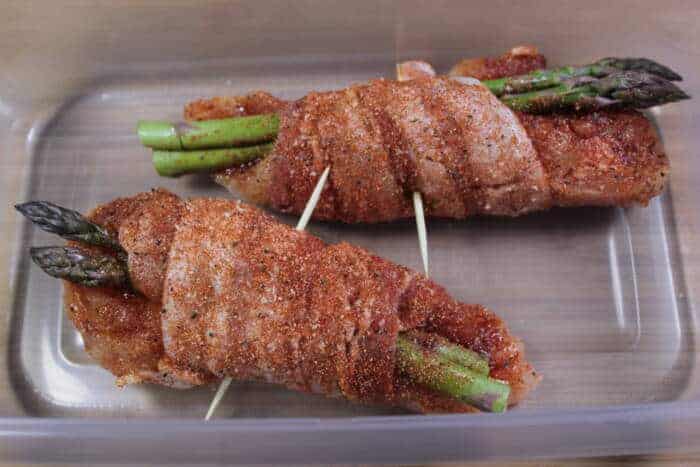 After the holding time, remove the chicken breasts from the fridge and place them on a pan/rack for easy transport out to the smoker.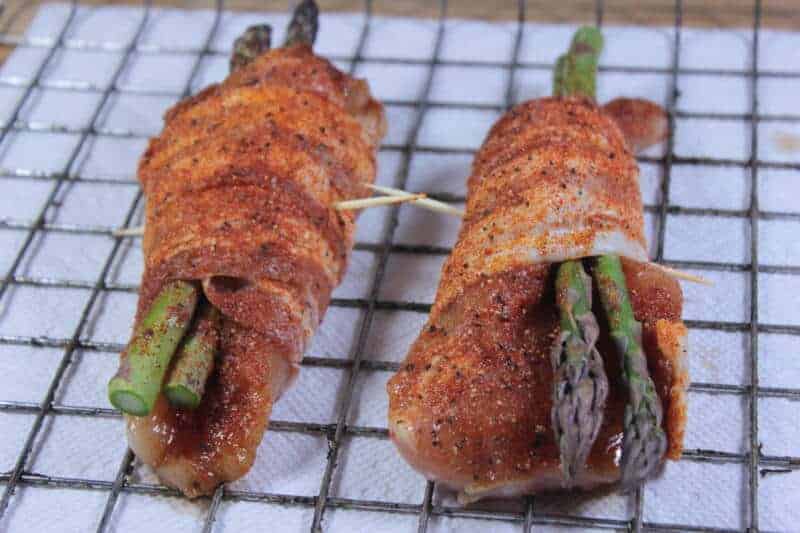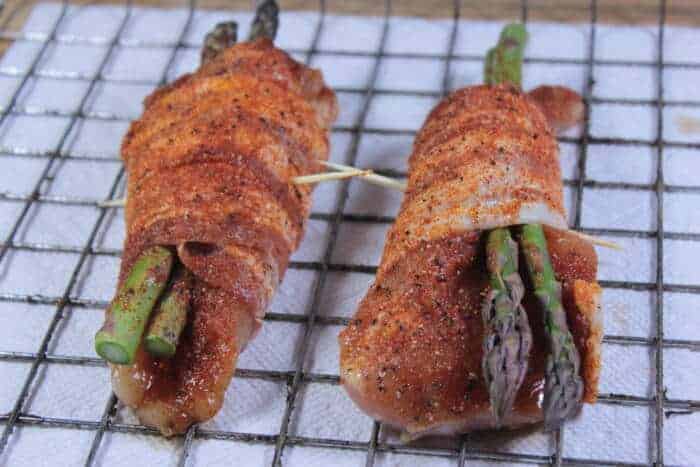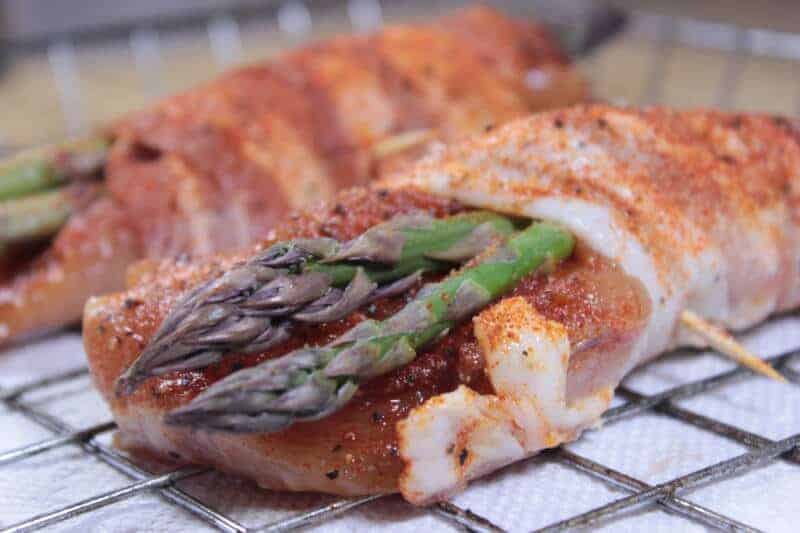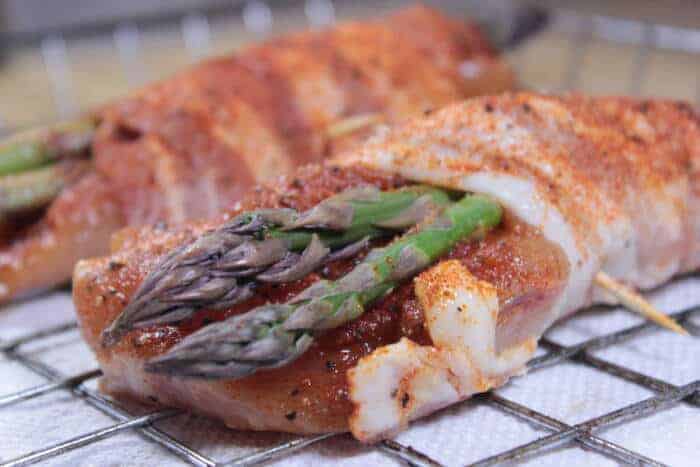 Get Smoker Ready
Get your smoker going and preheated to 225°F. Make sure you have enough smoking wood for about 1 hour of smoke and you are ready to go.
I used a hickory/apple mix on these and it was delicious but you can use whatever smoking wood you have available and it will still be very good.
If your smoker has a water pan, use it. The water pan does a great job of creating a moist environment inside of the smoker which keeps the natural drying effect of heated air at bay.
The water pan also acts as a nice barrier between the heat and the meat creating an indirect method of cooking.
Once your smoker is holding steady at the prescribed temperature, you are ready to cook.
Smoke Chicken Breasts
Place the chicken breasts on a pan/rack or directly on the smoker grate.
Keep the smoke going for at least an hour but it is also perfectly fine to keep it going the entire time the chicken is cooking in the smoker.
When the chicken reaches 165°F in the thickest part of the breast, it is finished and should be removed immediately from the smoker.
Total cook time was about 1.5 hours for me but time will vary depending on meat thickness, how many times you open the door, raise the lid, and the temperature of the meat when it went into the smoker.
I use a digital remote meat thermometer that stays in one of the chicken breasts the entire time so I know exactly when it reaches temperature.
Once the temperature reaches 165°F , I use my trusty Thermapen to check all of the others to make sure they are also up to temp before removing them from the smoker.
If some of them are done, and some are not, I only remove the ones that are done and let the others continue until they also reach their safe temperature of 165°F.
Serve Smoked Chicken Breasts
Serve the asparagus stuffed chicken breasts right away with a vegetable or side of your choice.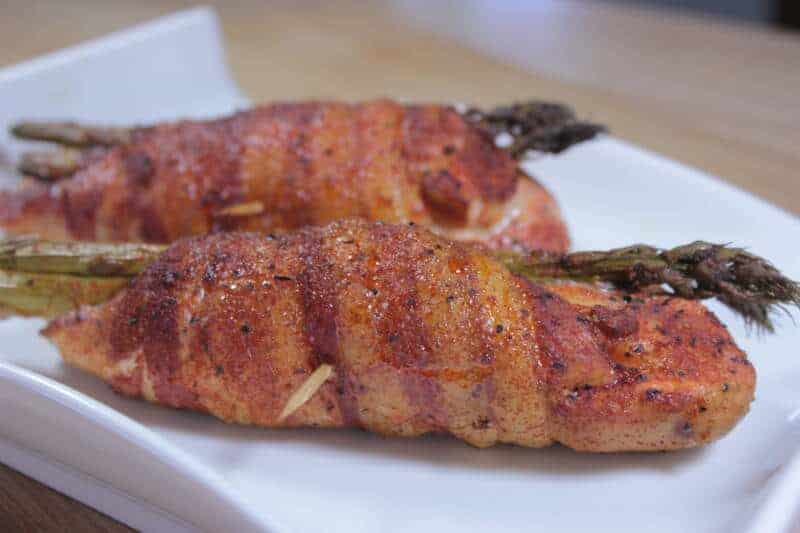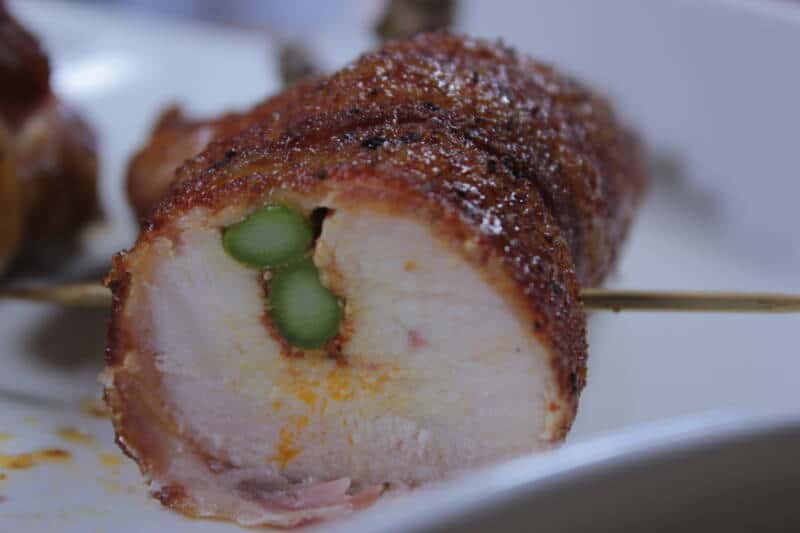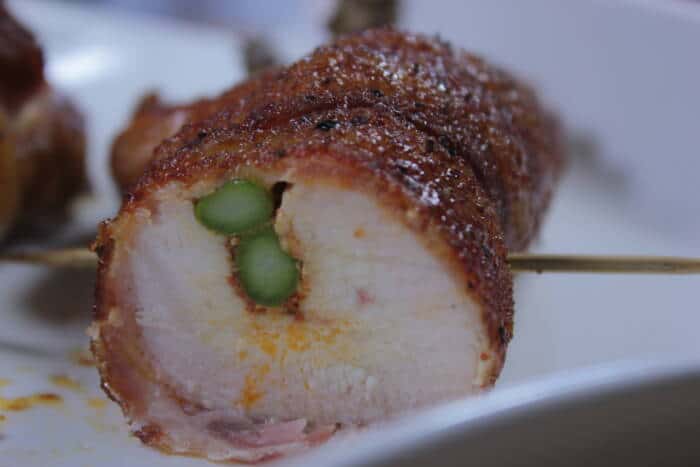 Print
Asparagus Stuffed Smoked Chicken Breasts
Smoked chicken breasts are a well-known favorite of a lot of folks. Add some delicious asparagus, my original rub to season it and wrap it up in bacon to hold everything together and you have a meal that everyone will not only like, but rave about.
Author:
Prep Time:

15 minutes

Cook Time:

1 hour 30 minutes

Total Time:

1 hour 45 minutes

Yield:

4

-6

1

x
Category:

Entree

Cuisine:

Hot Smoking
4

–

6

boneless ((, skinless chicken breasts))

8

–

12

stalks of asparagus (((the thinner stalks are more tender)))

4

–

6

slices of bacon (((thin sliced seems to crisp up better in the smoker)))
Toothpicks (((optional)))
Instructions
Prepare Chicken Breasts for Smoking
Remove chicken from package and give them a good rinse
Pat them dry and lay them on a flat surface such as a cutting board or plate
Apply a light coat of Jeff's original rub on the top side
Flip them over and lay (2) stalks of asparagus on the chicken
Fold the chicken over the top of the asparagus
Hold chicken in place while you wrap a long piece of thin sliced bacon around it
Insert a toothpick through the bacon and chicken to keep everything in place
Sprinkle more of my rub onto the outside of the bacon wrapped chicken breast
Place prepared chicken breasts into a lidded container and into the fridge overnight or at least 4 hours
Smoking the Asparagus Stuffed Chicken Breasts
Set up smoker with indirect heat
Preheat to 225°F
When smoker is holding a steady temperature place chicken breasts directly on the grate
Smoke for about 1.5 hours or until they reach 165°F in the thickest part
Apply hickory/apple or your favorite wood smoke for at least 1 hour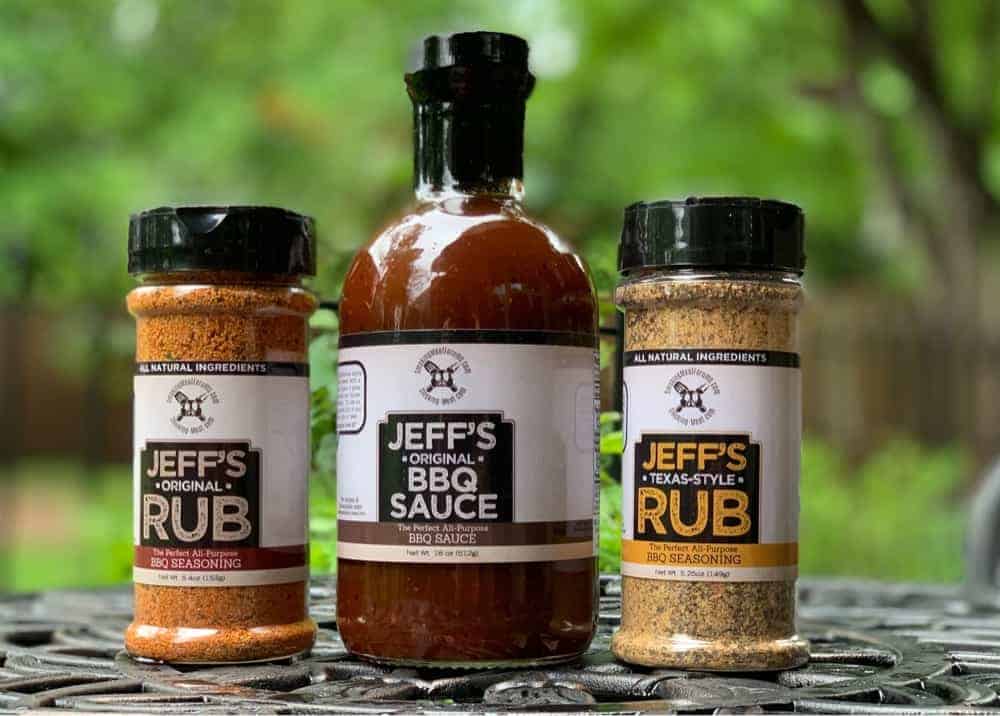 Order Jeff's Rubs and Barbecue Sauce TODAY!
✅ My rubs and sauce will be the best thing you've ever tasted and it's a great way to support what we do!
Note: You can also order the formulas for my rubs and sauce and make these yourself at home. Grab those HERE and download immediately.