Propane Smokers – Good or Bad?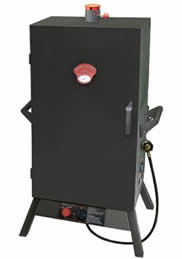 Smoking-Meat.com is supported by its readers. We may earn an affiliate commission at no extra cost to you if you buy through a link on this page.
Read this article without ads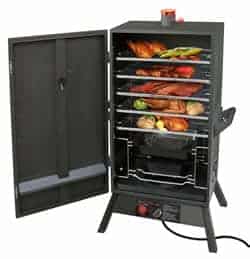 Propane smokers Vs. Wood has been a source of contention for many barbecue enthusiasts as long as I can remember. Some feel you just cannot get the same flavor using gas as you can with wood.
I try to think of myself as a fairly level headed guy and with that in mind I went to the local department store and bought a Great Outdoors Smoky Mountain gas smoker nicknamed the "Big Block". You think I am crazy? Well, I was tired of just taking everyone's word for it and had to find out for myself what the truth really was in this matter.
The propane smoker was easy to put together and it also came with a video which I watched to get the full experience. I did make a few minor modifications in that I did not use the smoker box that came with the unit. Instead I took a large coffee can and cut it down to where it would fit under the water pan.
The thin walled coffee can allowed the wood to start smoking within just a minute or so of putting it in and thus I did not lose any time waiting for the thick cast iron smoker box(which took half of forever and then some).
I have since smoked turkeys, cornish hens, pork shoulders, too many briskets to count and more than my share of spare ribs and I have to say that I have been able to accurately duplicate the wood flavor in my propane smoker. I have had seasoned experts eat my barbecue and become raving fans.
I even had some people from south Texas… barbecue connisseurs, tell me it was the best they had ever eaten. Did I tell them it was smoked in a propane smoker? No. Of course not. It would have hurt their pride but I know and that's what counts.
I know… I know… gas smokers make it too easy and the true spirit of barbecue comes from tending the fire and using real wood logs or hardwood lump charcoal but for the guy who likes to smoke a slab of ribs once in a while and he just enjoys gettin it done so the family and neighbors can rave… propane may be the way to go.
To sum it all up… I think the true spirit of barbecue is deep rooted in time spent outdoors with family and friends. Whether it is cooking over a camp fire, in a wood smoker, or in a Big Block propane smoker it is time well spent and the food will be tasty.
If you enjoyed this article consider reading my take on the wood smoker or the electric meat smoker as well.
Get Jeff's Products!