We did this smoked beef tenderloin for Christmas but it's a great meal for anytime.While it does not have the fat of say a ribeye, it is still super tender and full of great beefy flavor.
The Texas style rub (Purchase formula here | Purchase bottled rub) and the smoke did not overpower the meat at all and I highly recommend it!
Get ready to have the best meal in town!
Helpful Information
Prep Time: 15 minutes
Dry Brine Time: 12 hours (overnight)
Cook Time: 2 hours
Smoker Temp: 225°F (107 °C)
Meat Finish Temp: 130°F (54°C)
Recommended Wood: Oak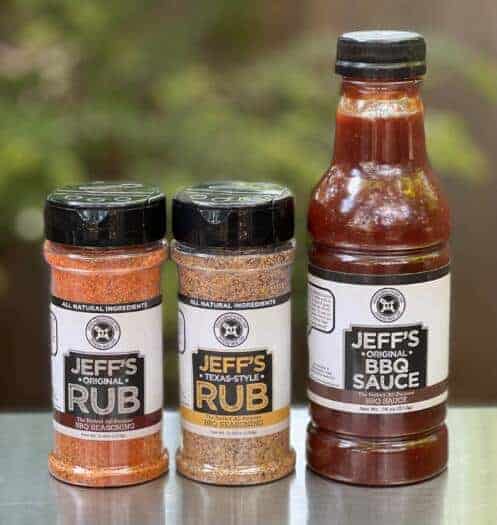 Please note that my rubs and barbecue sauce are now available in 2 formats– you can
purchase the formulas
and make them yourself OR you can
buy them already made
, in a bottle, ready to use.
Step 1: Dry Brine
Place the beef tenderloin on a pan, preferably with a rack if possible.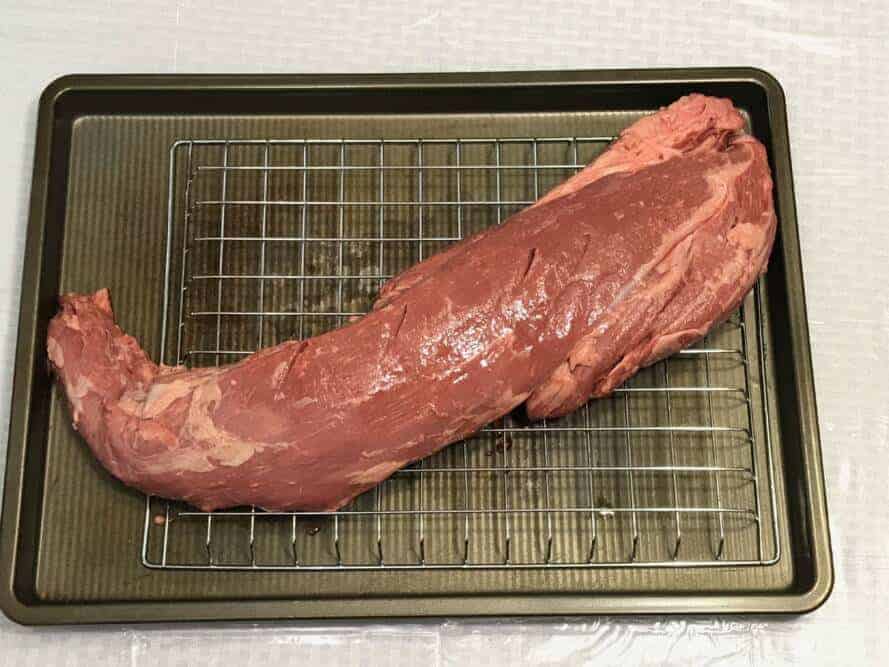 To dry brine the meat, use about ½ tsp of coarse kosher salt per pound of meat. Apply the salt to the top of the meat then place it in the fridge for about 12 hours or overnight for best results.
The salt pulls moisture to the surface which in turn dissolves the salt and that salty mixture is then reabsorbed back into the meat.
Learn more about dry brining and/or brining in general.
Here's a visual of the salt coverage I used. At this point in the process, you can see how the salt was already pulling moisture to the surface and the salt was already beginning to be dissolved.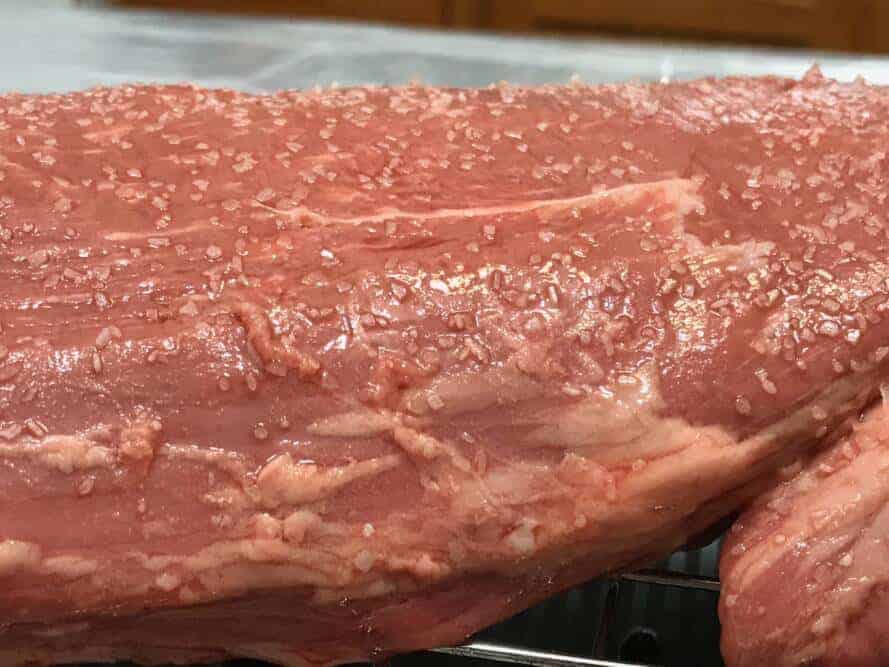 When the meat is finished brining, DO NOT RINSE.
You can now prepare the beef tenderloin for smoking.
Step 2: Tie It Up
If you look closely at the picture of the tenderloin, you will notice that it has one end that tapers down to a smaller size, this is called the tail. It is best to tuck this part under the meat and tie it up. Otherwise, this smaller portion will cook faster than the rest and end up dry and inedible.
Any clean cotton string will work if you don't have butcher's twine. Tuck the tail under then tie it up tightly using a piece of string that is about 12 inches in length.
If you are not familiar with the butcher's knot, you can use a basic square knot. It's always helpful to have someone put their finger on the string once you pull it tight while you finish tying it off.
Continue to place strings around the meat and tie it off about every 2 inches as this will make it more round and therefore will cook more evenly. If you do not tie it up, it will end up being less round, more oval and will cook less evenly.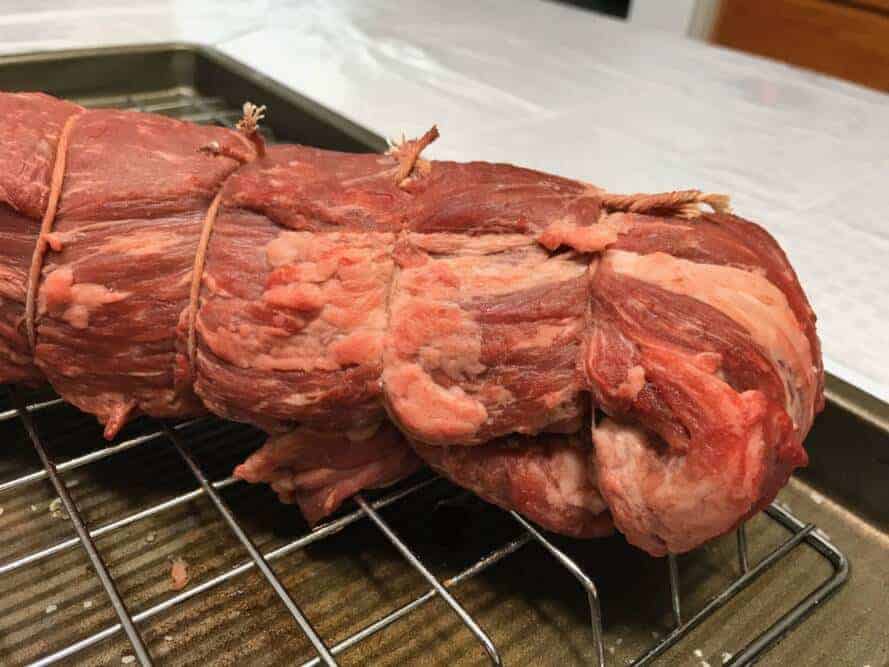 Don't forget to cut off the extra string AND don't forget to remove the string when it's finished cooking.
Step 3: Season
Dry brining is a great thing to do but it does not take the place of using a good low-salt seasoning. If you  are looking for a good low-salt seasoning that's amazing on beef as well as pork, chicken, seafood, etc. then look no further than than my Texas style rub (Purchase formula here | Purchase bottled rub).
Season the entire beef tenderloin by brushing on a little vegetable or olive oil then sprinkling the Texas style rub (Purchase formula here | Purchase bottled rub) on to the meat. Be generous with it.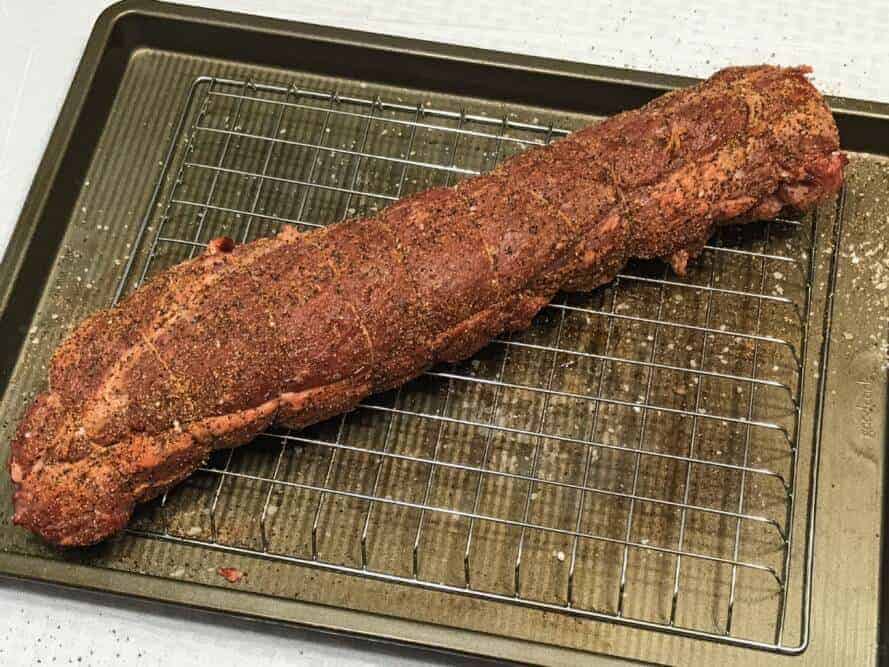 Step 4: Smoke
Fire up the smoker using indirect heat. You'll want to set it up for cooking at about 225°F (107 °C) for best results. If your smoker uses a water pan, fill it up.
I used oak for smoke which is amazing on beef but if you don't have any oak, you can use hickory, pecan, maple, etc. whatever smoking wood you have and it will work just fine.
Pellet smokers cook a little different and I recommend starting these out on the special "smoke" setting. After you place the meat on the smoker, let it cook at this setting for about 45 minutes then turn it up to 225°F (107 °C) to finish.
Here's 9 of my best tips for smoking on a pellet smoker/grill
Once the smoker is ready, place the pan/rack with the meat onto the smoker grate and let it begin to cook.
You can also just place it directly on the smoker grate if you prefer.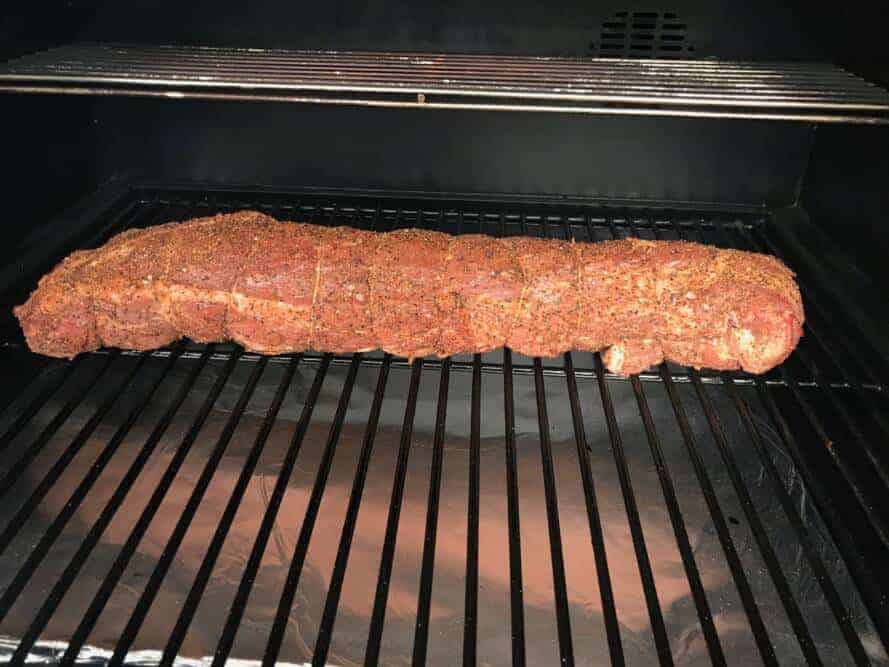 At 225°F (107°C), you can expect it to take about 2 hours but this will depend upon several things:
the thickness of the meat
weather conditions
how often you open the lid
The temperature of the meat when it goes on the smoker
This means you'll want to use a meat thermometer to monitor the temperature of the beef tenderloin so you'll know once it reaches medium rare or the level of done that you like.
My favorite meat thermometer is the ThermoWorks Smoke.. you can read my complete review here.
I recommend removing it at about 130°F (54°C) which is a good medium rare.
Does that look good or what!!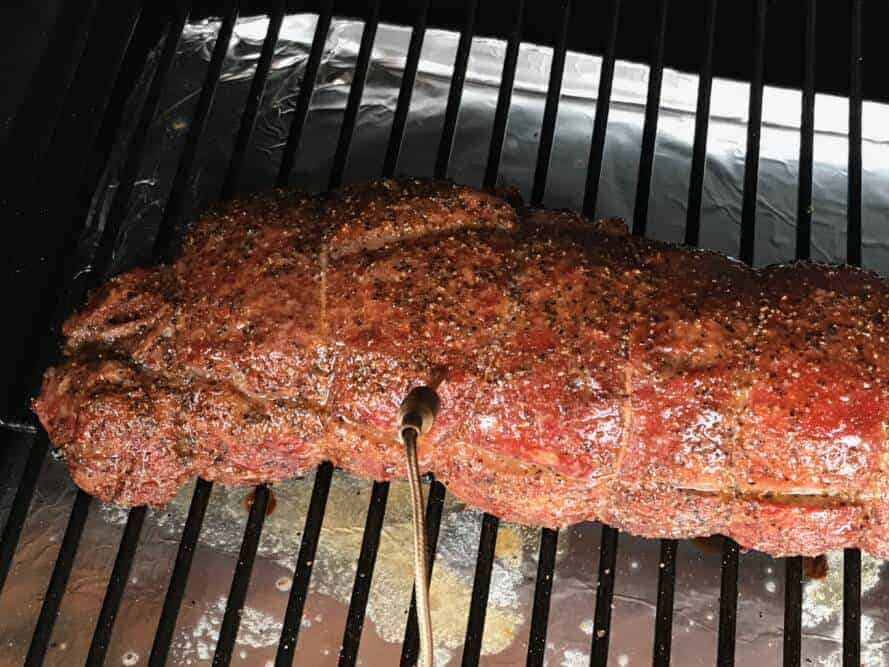 Step 5: Rest a While
When it's finished, bring it in and lay a piece of foil over the top for about 15 minutes to let it rest. During this time, the juices will redistribute throughout the meat.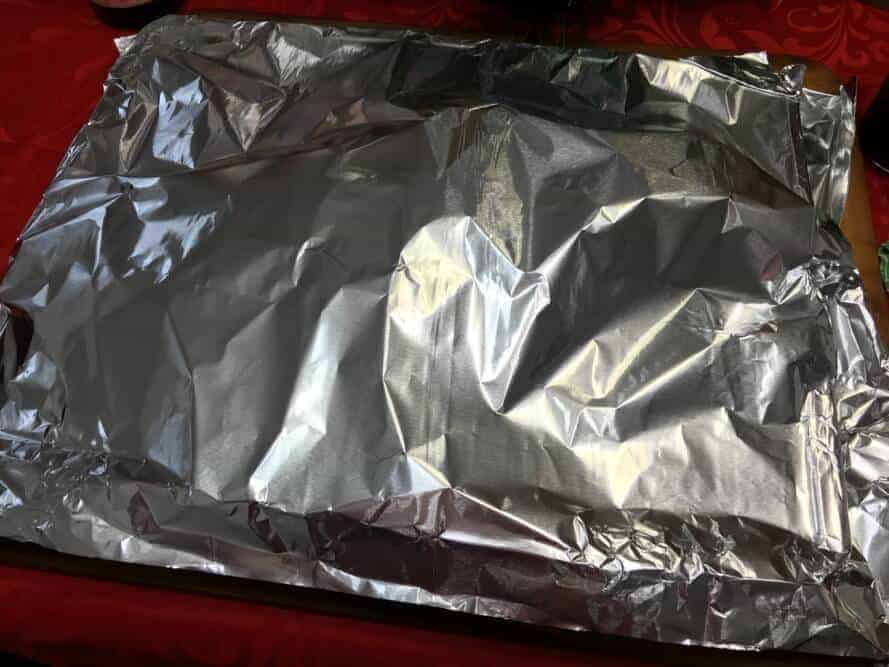 Step 6: Slice and Serve
Using a very sharp knife, slice into steaks that are about ¾ inch thick and serve immediately with plenty of other tasty side dishes.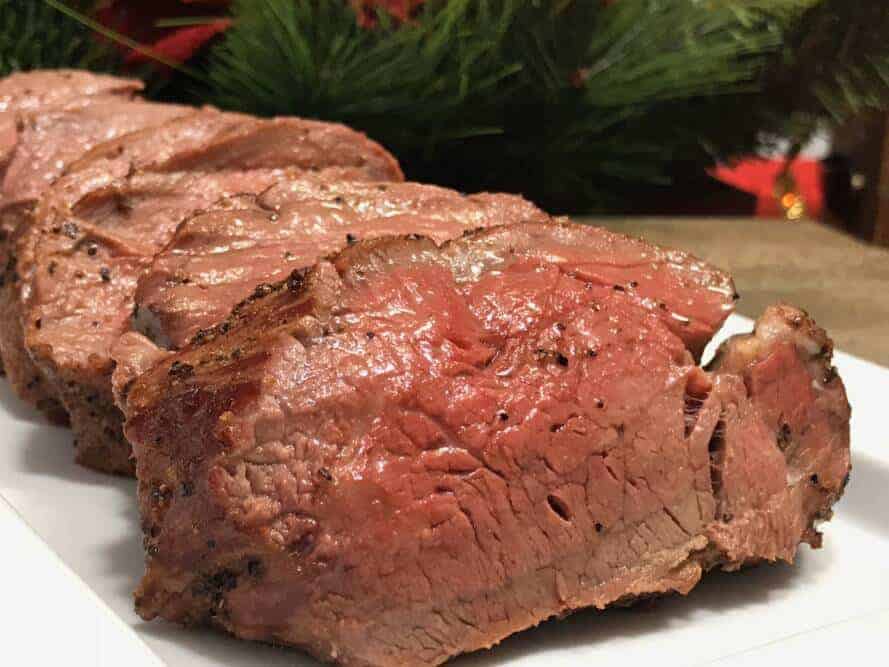 Comments
I'm sure you're wondering if you can sear this when it gets finished or if it even needs it. I don't usually sear large beef roasts such as this but I certainly have done it and you can definitely do it if you want to.
If you plan to sear it, you might want to remove it from the heat at about 110- 115°F (43-46°C) and have a really hot griddle, pan or grill ready to go so you can go straight from smoker to sear.
Another option is to smoke it, then slice it then sear the individual steaks but I feel like if you're going to go that route, you might as well, slice it ahead of time and just cook them as steaks from the git-go. This gives you more seasoning on each slice and the ability to cook the steaks to order if necessary. Not a bad option at all.
Order Jeff's Rubs and Barbecue Sauce TODAY!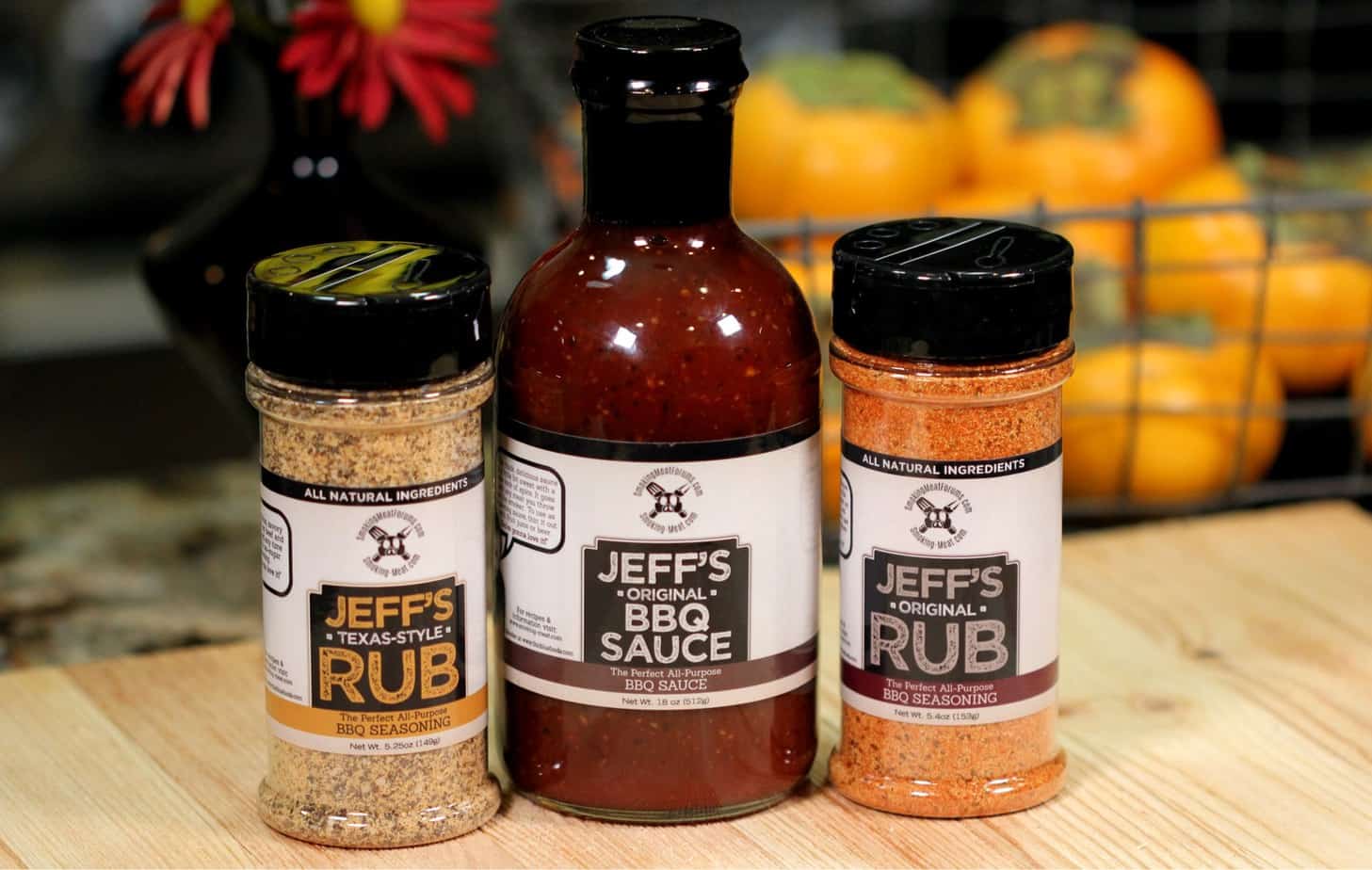 ✅ If you haven't ordered my rubs or sauce yet you can do that HERE. They are the best thing you've ever tasted and it's a great way to support what we do!
We ship blazingly fast and orders over $50 ship free!
You can also order the formulas for my rubs and sauce and make these yourself at home. Grab those HERE and download immediately.
Jeff's Smoking Meat Books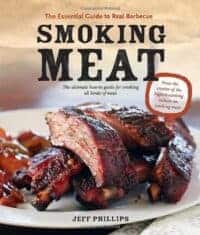 Smoking Meat: The Essential Guide to Real Barbecue – The book is full of recipes and contains tons of helpful information as well. Some have even said that "no smoker should be without this book"!
With more than 1000 reviews on Amazon.com and a rating of 4.7 out of 5 stars, it comes highly recommended and is a Bestseller in Barbecuing & Grilling books on Amazon.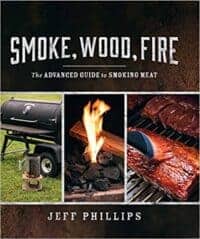 Smoke, Wood, Fire: The Advanced Guide to Smoking Meat – Unlike the first book, this book does not focus on recipes but rather uses every square inch of every page teaching you how to smoke meat. What my first book touched on, this second book takes it into much greater detail with lots of pictures.
It also includes a complete, step-by-step tutorial for making your own smoked "streaky" bacon using a 100 year old brine recipe.
Get Almost Anything at Amazon
If you enjoy the newsletter and would like to do something helpful, then..
The next time you decide to order something at Amazon.com, use THIS LINK to get there and we'll get a small commission off of what you purchase.
Thank you in advance for using our special link: http://www.smoking-meat.com/amazon
---
Printable Recipe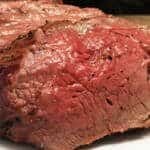 Print Recipe
Smoked Beef Tenderloin
We did this smoked beef tenderloin for Christmas but it's a great meal for anytime.While it does not have the fat of say a ribeye, it is still super tender and full of great beefy flavor.
Ingredients
1

whole

Beef tenderloin

(about 4 lbs average)

1

TBS

Coarse kosher salt

1

TBS

Vegetable or olive oil

¼

cup

Jeff's Texas style rub
Instructions
Lay beef tenderloin on a pan with a rack and sprinkle about 2-3 teaspoons of coarse kosher salt evenly on the top of the meat

Place the meat into the fridge overnight (about 12 hours)

Tuck the tail of the tenderloin under the remaining meat and tie it up. Continue to tie up the entire beef tenderloin about every 2 inches.

Season all sides of the tenderloin with Jeff's Texas style rub

Setup smoker for cooking at about 225°F (107°C) using indirect heat. If your smoker uses a water pan, fill it up.

Cook the meat for about 2 hours or until it reaches 130°F (54°C) or your desired level of done.

When the meat is finished cooking, place a piece of foil over the meat for about 15 minutes to allow it to rest.

Slice into ¾ inch steaks and serve immediately.