I know that smoking meat is all about low and slow and especially for things like smoked pulled pork but what happens when you just don't have the 12-16 hours required to smoke a pulled pork?
Do you just give up and go to your local barbecue restaurant?
Absolutely not!
If you are severely limited on time and you really want to make some smoked pulled pork, let me tell you that it can be done and it can be done very successfully. In this newsletter I am going to show you how to put together some hot and fast bourbon smoked pulled pork in record time.
This version of smoked pulled pork does require that you have a smoker that will maintain hotter than usual smoking temperatures but even if you don't you can do a slightly altered version of the hot and fast smoked pulled pork by using your smoker as hot as it will go for about 3 hours then finishing it in your oven preheated to the correct temperature.
Folks, I am talking about amazing, delicious, smoked pulled pork in under 8 hours!
When you have the time to do it up right then grab a drink and a chair and let that baby go low and slow but when you are under the gun, this is your method for pulled pork.
Try the Recipes for My Rub and Sauce..

Many of you have my very own rub recipe and sauce recipe and I highly recommend that you always use the recipes for my rub and sauce anytime you smoke up some pulled pork but if you don't have them, then do yourself a huge favor and get them today. They will add a massive amount of flavor to anything you cook and will boost your cooking to a level of success that is unmatched by anything else!
Order Recipes Read Raving Customer Reviews

Note: This ad will not show up in future newsletters once your purchase the recipes.
Hot and Fast Bourbon Smoked Pulled Pork

Many, if not most of you, are not going to be able to maintain a high enough temperature in your smoker to get this smoked pulled pork done in less than 8 hours. For that reason, I will prescribe the smoker to oven method when you need to get some pulled pork done in a hurry. The rest of you who can run 325 F in your smokers can finish the entire process in your smoker.
Important Information
Prep Time: 15 minutes
Cook Time: 8 hours
Smoker Temp: 225 F for 3 hours then 325 F for 5 hours (approx.)
Meat Finish Temp: 205 F
What You'll Need
7-8 lb pork butt (Boston butt)
2-3 tablespoons spicy brown mustard
1-2 cups bourbon and/or apple juice
1 Large foil pan
Heavy duty foil
Jeff's rub and sauce (purchase recipes here)
Preparing the Pork Butt
Start by placing the pork butt into a foil pan.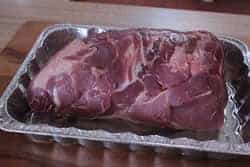 You can use regular yellow mustard if you prefer, but the spicy brown mustard is what I used on this one.
Don't even worry about measuring. Just squirt mustard all over the top as pictured.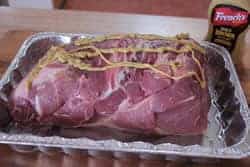 Spread the mustard onto the top and sides of the meat. You don't have to worry so much about the bottom since it will be sitting in a pan of juice later.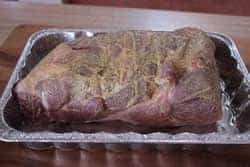 Place a cup or two of rub in a cheese shaker or other container with large holes. Sprinkle a heavy coating of my rub (purchase recipe here) onto the top and sides of the pork butt. The mustard will help it to stick and there is really no need to massage it in. Make sure it gets into every little nook and cranny for best results.
My rub forms this beautiful mahogany crust on the outside of the meat and not only does it taste amazing, it looks amazing when it's all mixed into the meat later.
Be very generous with the rub! It is low on sodium and high on flavor.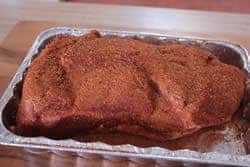 Leave the pork butt sitting on the cabinet for a few minutes while you go get the smoker ready.
Preparing the Smoker
For this hot and fast method of cooking and smoking pulled pork, it is ideal if you have a smoker such as a pellet smoker that can maintain about 325 degrees while it smokes but most of us don't have this.
For this reason, if you are one of those who do good to cook at 225 degrees, that is fine. We will simply smoke the meat for about 3 hours then transfer it to a 325 degree oven covered with foil.
Set up your smoker or grill for indirect cooking at 225 degrees F with hickory wood if you have it. Any good smoking wood will work and some really good ones for pork are apple, cherry, pecan or oak.
I used my trusty Meadowcreek reverse flow wood smoker for this one.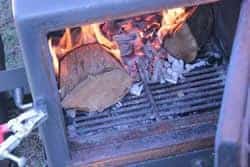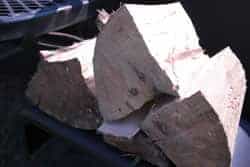 Smoking the Pork Butt
Place the pan with the seasoned pork butt in it on the grate of your smoker. Maintain 225 degrees F for about 3 hours making sure to keep the smoke going real good the entire time.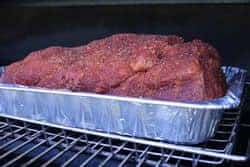 Into the Oven (if necessary)
Once the pork butt has smoke cooked for 3 hours, it is time for the hot and fast part.
By this time, the pork will have reached around 140 degrees as seen on my black thermapen.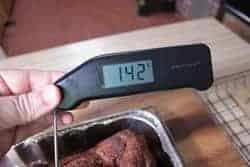 Pour about 1 to 2 cups of bourbon, apple juice or a 50:50 mix depending on how much bourbon flavor you want into the bottom of the pan. Pour on some extra rub (purchase recipe here) for good measure. 1/4 cup or so on the pork and about 1/2 cup down in the liquid.
Using all bourbon, you will be able to taste that delicious bourbon flavor all the way through the smoked pulled pork when it gets finished. It just sort of steams the flavor into the meat and together with the rub, makes for some excellent pulled pork.
Note: If you want to tone it down some, dilute with apple juice. If you don't want to use any bourbon at all, then just use straight apple juice.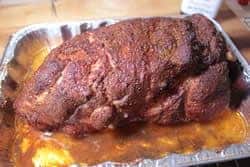 Cover the pan with heavy duty foil and seal it real good around the edges.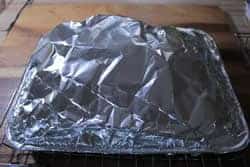 Place the pan with the pulled pork into the oven preheated to 325 degrees.
Note: I recommend (based on past experience) placing the pan onto a cookie sheet in case any of the liquid bubbles or leaks out.
Continue cooking the pulled pork until it reaches 205 degrees in the center.
At this point, the bone will pull out of the meat with little to no effort.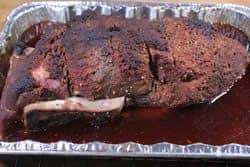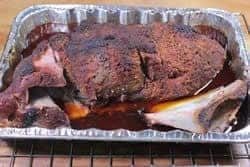 Pulling the Pork
The first thing I do, once I remove the bone, is to pull the meat apart into it's natural sections. These natural sections are usually separated by pockets of fat.
If I am careful, I am able to separate out most of the fat lickety split!
The way I grade good smoked pulled pork is by how well it was pulled and how much of the fat still remains in the meat. I can tell when someone knows what they are doing by simply observing this.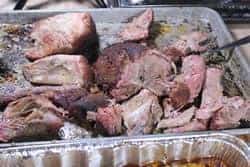 Once the fat is discarded and the meat is left, simply place the pieces into a large bowl and stir it around. If you cooked it to 205 F, it will just fall apart into perfect pulled pork.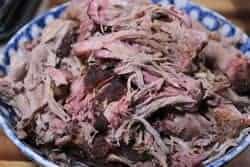 If you took it out of the heat early, you might have to use some bear claws to pull it.
Serving the Pulled Pork
Smoked pulled pork is excellent served as:
Pulled pork sandwiches
Pulled pork nachos
Pulled pork tacos
Pulled pork pizza
Summary
Place pork in a foil pan
Apply mustard and rub to top and bottom of pork butt
Smoke pork butt at 225 F using hickory for 3 hours in smoker
Add bourbon and/or apple juice to pan and cover with foil.
Cook pork butt in 325 F oven for about 5 hours or 205 F in center of meat.
Remove bone and separate meat from fat
Pull pork into shreds and pieces and serve.
Disclaimer
I do not wish to receive emails from smoking purists criticizing me for using and/or recommending the use of an oven in the process of smoking meat. I am NOT a purist and as such, subscribe to the idea that there is more than one way to skin a cat.
Disclaiming the Disclaimer
I do not skin cats even though there are multiple ways to do so.
Try Jeff's Recipes for Rub and Sauce

You and I both know that there are a lot of rub and sauce recipes out there and I recommend you try as many different ones as you can but I have a couple of recipes that I personally and painstakingly came up with over the course of about 6 years that I'd love for you to try.
I sell these recipes to help cover the cost of producing the newsletter, to provide hosting for the website, the research and development of new recipes, the service charges for automating the newsletter to more than 200k subscribers, and everything else that we do here to promote the learning of how to smoke meat.
You will find that my rub recipe and sauce recipe are extremely unique, better than anything you ever tasted and if your tastebuds don't go incredibly nuts over them, I'll buy them back.
I am very confident that you'll love them and you'll not only end up with a couple of wonderful recipes, you'll feel really good that you helped to support what we do here at smoking-meat.com in teaching the wonderful art of smoking meat.
Almost every review that I get at the online store is 5 stars and if that don't make you want to see what all the fuss is about then I don't know what will.
Here's one of those reviews that just came in recently from Charlene:
---
"Tried the rub on Pork Country Style Ribs and it was a raving success. I received so many compliments it was embarrassing. Definitely will be using it again and again"
---
And here's an excellent review from Jeremy:
---
"Smoked pork butt, ribs and chicken, delicious rub, sauce is over the top!"
---
I receive raving reviews just like these every single day via email and many more are posted at the online store for you to read.
Give the recipes a shot, support the website and impress your friends and family with the amazing flavor of these recipes. I will owe you a debt of gratitude for allowing me to continue do what I love to do.
Order Recipes Read Raving Customer Reviews

Note: This ad will not show up in future newsletters once your purchase the recipes. Let us know if you are having problems with this.
Other Resources

Smoking Meat Forums - 52 thousand passionate, raving fans all gathered in one place to talk about smoking meat. It's free and if you have not checked it out then you are missing what could be one of the best experiences you've had in a while. No junk, spam or creepy stalkers, just good people talking about smoked food!
The Smoking Meat Book - My book has more than 80 reviews on Amazon and an average rating of 4.8 out of 5 stars. That's pretty amazing and it makes me proud to have had the privilege to author it. I have put together more smoking meat information than you can shake a stick at plus a really good collection of some of the best smoking meat recipes anywhere. It's been selling like crazy for over a year now and you need to order your own copy today.
Smoking Meat Newsletter Archive - I like to mention this once in a while since some folks still do not know that it exists. We archive every copy of the newsletter on the website just a week or two after it goes out and we've been doing this for 9 years now. We now have more than 160 newsletters archived for your reading and learning pleasure.
Amazon.com Orders

If you enjoy the newsletter and would like to do something helpful, then..
The next time you decide to order something at Amazon.com, use THIS LINK to get there and we'll get a small commission off of what you purchase.
Thank you in advance for using our special link: http://www.smoking-meat.com/amazon
Free Smoking Meat Newsletter