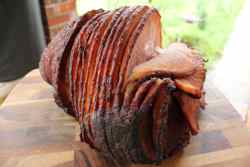 Hello friends and welcome to this edition of the smoking meat newsletter! Easter is just around the corner and I'm looking forward to showing you how to smoke up some traditional Easter fare as well as some not so traditional fare.
This week, I am going to show you how to double smoke a store bought ham and really give it that smoky flavor that it is so perfect for. Your friends and family will be amazed at the flavor and especially when you add some of my rub to the outside as well.
Ham is the most requested recipe that I get around Easter and as you will see.. it is extremely easy but you're not required to let everyone else know how easy it is;-)
In my next newsletter just before Easter, I plan to show you some rack of lamb made into lamb chops and perhaps even some smoked eggs. Who knows what else I might think of to throw into the mix. Smoked rabbit perhaps? I have mixed feeling about doing rabbit around Easter due to the "cute factor" that surrounds kids and rabbits although I think it definitely falls into the Easter theme.
Enjoy the newsletter and please let me know if you try this recipe and find it as amazing as I do!
My Rub on Double Smoked Ham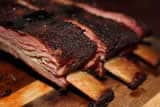 My rub recipe as well as the sauce recipe was initially designed and developed to give pork ribs that certain wow factor that is so often missing.. I spent years putting this recipe together but when I got done tweaking it to perfection.. I knew that I had created a legacy of flavor that would live forever.
Order today and you'll see exactly what I mean.. nothing short of amazing and what's more, both recipes are good on almost everything and especially double smoked ham.
When you purchase the recipes, you are doing your part to promote smoking meat, the website, the forum and this newsletter and I thank you!
My Previous Newsletter: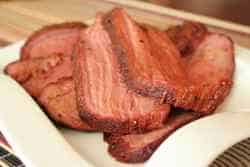 Smoked tri-tip is one of my most favorite things to smoke when I can find it and it always pleases my family and guests. It only requires about 2 hours and is perfect for breakfast, lunch or dinner so try it out and then let me know how it goes!
Missed a Newsletter somehow? Check out the Archive
Double Smoked Ham

For those of you who do not know what I mean by double smoked ham.. let me explain. When you buy a ham in the store these days, usually it is already cured, smoked and cooked. You'd be surprised at how much flavor you can add by applying a little of my rub on the outside and by placing the ham back in the smoker for about 3 hours and putting some real wood smoke to it. It transforms regular old ham which is pretty good into something that family and friends will rave about.. I promise!
What to Buy

I highly recommend a spiral sliced ham with only natural juices if possible. The fact that it is spiral sliced means that more seasoning and more smoke can get down in the ham and that's a very good thing.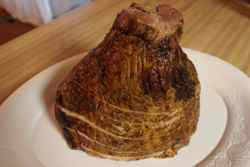 How to Prepare the Ham

This is so simple you will wonder why I even bother showing you pictures..
Unwrap the ham, throw away the glaze if it comes with any since you probably won't need it. You can use it if you like but I don't find that it is necessary.
Lay the unwrapped ham on it's side on a cutting board and apply a light coat of yellow mustard all over the ham. I prefer mustard since it makes such a nice crust but you can also use slightly warmed jelly, honey, olive oil, almost anything that will create a moist, sticky surface for the rub to stick to.
Last year I did a ham like this and used pineapple preserves all over the ham before I applied the rub and it was delicious so feel free to use your imagination a little here.
Once you have a moist, sticky surface all over the ham, apply a generous coating of my rub all over the ham. Top, bottom and all around.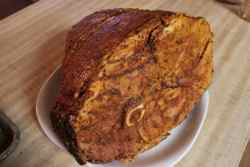 The ham is now ready to smoke.. see what I mean when I said it was really easy?
Smoking the Ham

Prepare the smoker for about 225-240 and once it has reached that temperature the ham can be placed directly on the rack either with the large flat side down or on it's side. Leave the ham in the smoker for about 3 hours or until it reaches a good eating temperature.
I like to use a good heavy duty smoke for ham such as hickory, mesquite or a mix of one of these with some fruit wood to really bring out the wonderful smoky flavor.
I recommend applying smoke for the full 3 hours.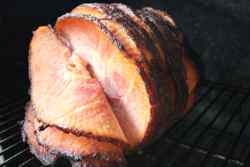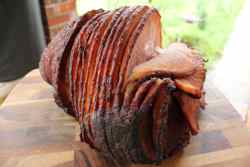 Summary

Remove packaging and discard glaze
Apply yellow mustard all over the ham
Pour on some of my rub and massage it in
Place ham on smoker on preheated smoker grate
Smoke for about 3 hours
Slice and eat immediately or keep warm until meal time
Notes

If you happen to purchase a ham that has been cured but not cooked, cook it until it reaches about 165 degrees adding smoke the entire time.
After removing all of the meat from a spiral sliced ham you will be left with a bone. Keep the bone in the freezer until the next time you make a pot of beans. The smoky ham adds something really wonderful to those beans.
For another layer of flavor and a nice sheen for presentation, mix equal parts of honey and my barbecue sauce and brush it onto the ham about 30 minutes before it is done cooking.
Folks.. I never stop amazing myself at how good my rib rub recipe and sauce recipe is on various kinds of meat and tri-tip is no exception!
Whether it is fish, ribs, brisket, pork shoulder, turkey or even ham, chicken or chops, every time I use my rub and sauce I am blown away by the flavor all over AGAIN!
I always think to myself, "I sure hope everyone can try this.. it is too good to go through life never having experienced this!"
I am not being dramatic.. just try it and you will join the ranks of those who know if I'm lying then I'm dying! This stuff is Fan-flavor-tastic and you need it in a bad-bad way;-)
Here is a few recent testimonies from other folks who decided to go for it and are glad that they did. Be sure to send my your testimony once you try it and realize that you have just tasted of HEAVEN.
—————————————————
Did a Ham and using your rub it was as my wife and friends said the best tasting ham they have ever had. We are into our late years so that's saying a lot .Thanks for sharing ~ Jack
—————————————————
Wow! wow! wow! The best rub and sauce I have ever had. Also did the turkey for thanksgiving and it was the best turkey I ever had. I usually only eat dark meat and this turkey was so good I ate only white meat ~ Andy
—————————————————
I purchased the rub and sauce and I have to say that I love it and so has everyone that has tried it, just like you and others said they would. ~ Matt
—————————————————
Jeff I have to tell you that your rub and sauce recipes are the best. I had never smoked a rib or anything until last weekend and by fallowing your directions on your site I was the RIB KING for a day. Thanks a bunch pal, ~ Harold
—————————————————
Let me say that I've been using your Rib Rub for a couple years now. I use it on ribs (obviously), but I also use it on steak, ham, chicken, and everything else I smoke. My family and I absolutely LOVE it! It rocks! ~ Trapper
—————————————————
Jeff, I did a smoked pork roast yesterday and used your recipe both for the pork and for your Smoky Barbecue Sauce. Everyone loved it. My wife said the sauce was the best she had ever tasted and I have to agree. Fantastic. ~ Barry
—————————————————
You deserve the very best and is is completely within your grasp! Only $18.95 and worth every penny. Not only do you get the best rub recipe and sauce recipe available, you are supporting this website and helping to make sure the bills get paid so we can keep on doing what we do to teach thousands and thousands of people across the world the art of smoking meat.
What to Expect Once you Order

My system is automated which means you should get a download email within mere MINUTES of ordering.. check your spam/junk folder first then, if you can't find them, contact me to get the recipes sent to you as an attachment. The download email will allow you to log in and save a copy of my recipe file to the hard drive of your computer. This recipe file is a PDF and contains my very own rub recipe and sauce recipe. Please let me know if you have other questions about these recipes.
The Book Has Gone to Print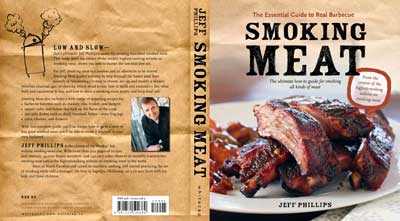 After several years of hard work, waiting and then more hard work, the book that I have been putting together has finally gone to print and will be in all major book stores including Barnes and Noble and Books-a-Million as well as online at Amazon.com and most other online sites that sell books. I am extremely happy with the reception that it has received so far and I am looking forward to it's release in early May. The book "Smoking Meat: The Essential Guide to Real Barbecue" is available for pre-sell at Amazon.com if anyone is interested in going ahead and making the purchase. Otherwise, I will let everyone know once it is officially available for shipping or pickup at a local store.
We're Having a Get Together!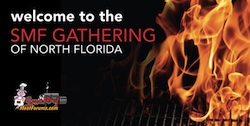 On April 13th through the 15th, we are hosting a get together in Quincy, Florida for folks from all over the United States. We don't compete or do anything real stressful.. we simply hang out around the smokers, drink plenty of cold beverages, play horseshoes and other great games of skill and we eat like nobody's business.
I will be there enjoying the food and the fun and I look forward to meeting some of you.
If you are interested in coming please RSVP via Facebook at http://www.facebook.com/events/314082528652076/ and we'll send out invites to as many of you as we can. We do have somewhat limited space but we'll do our best to accommodate at least several hundred of you. (see below if you don't use Facebook)
All of the RV spots are already taken but we have plenty of room left for tents and there is a KOA campground close by as well as hotel accommodations less than 15 minutes away.
We are having some special on-site training sessions as well including:
Cheese making
Sausage making
Curing
All of the details are on Facebook so if you are interested, get over there and let us know you'd like to come and we'll try to get you an invite with directions, contact numbers, etc..
If you don't do Facebook, you can read the thread at the forum about it and just send me an email to let me know you'd like to come.
That forum thread is at http://www.smokingmeatforums.com/t/112689/official-smf-n-fl-gathering-april-13th-14th-and-15th-2012
We are asking for $10 a person to help cover the supplies but if your pockets are bare and don't have it, don't fret and definitely don't let that stop you from letting us know you'd like to come. We'll let you chop some wood or something to make up the difference;-)
I look forward to seeing you there!
In Closing

Thank you for being a part of the smoking meat family which includes the newsletter, the forum, the smoking-meat.com website and many other resources that we try to provide to help you and countless others learn this great art.
A HUGE thank you to all of you who support the site by purchasing the recipes and other products that we sell. That is what keeps the wheels turning here at Smoking Meat HQ and it is much appreciated.
By the way, if you shop online, use our Amazon link. It doesn't cost you anything extra and we get a few cents from everything you purchase. I certainly appreciate it. CLICK HERE to shop at Amazon.com.
Until next time.. keep smoking and God Bless.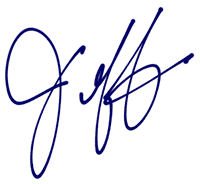 Jeff Phillips