Smoked bacon wrapped hot links, sausages, brats and hotdogs with a stick for holding them is a great addition to your Memorial Day celebrations. Great for adults and kids alike and they are so quick and easy, you'll wonder why you haven't done it before now.
Helpful Information
Prep Time: 20 minutes
Cook Time: 2-3 hours
Smoker Temp: 240°F
Meat Finish Temp: N/A
Recommended Wood: Hickory
What You'll Need
A good selection of hot links, smoked sausage, brats, hotdogs, etc.
Yellow mustard
Bacon, original or thin sliced (thinner is better)
Long wood skewers
Get the Recipes for Jeff's Rub and Sauce
---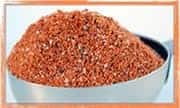 My rub
recipe can make something as basic as a hot link, sausage, brat or even a hotdog, taste a whole lot better. My barbecue sauce brushed on before serving is the icing on the cake!
I promise you'll love my dry rub/seasoning recipe and my barbecue sauce recipe or you don't pay!
Reasons to buy: Support the newsletter and the website | Own "the recipes" | Get the email newsletter 100% AD FREE from now on | Includes the Texas style rub recipe

---
Step 1: Insert Handles (long wood skewer)
No need to soak the wood skewers when you are using them in the lower temperatures of the smoker.
While holding the sausage, hot link, hotdog, etc., run the skewer lengthwise through the center stopping just before it comes out the other end.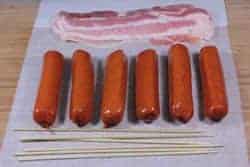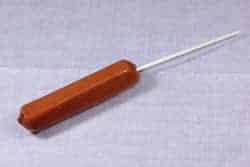 Step 2: Roll in Rub
Put some mustard and Jeff's rub (purchase recipes here) into (2) separate plates.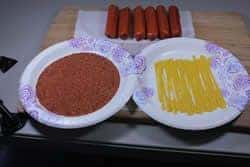 Roll the hot links in mustard..
..then in the rub making sure to coat well.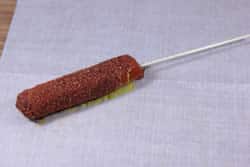 Step 3: Wrap with Bacon
Lay a strip of bacon onto the work space then place the rub coated hot link perpendicular onto the bacon about 2 inches from one of the ends.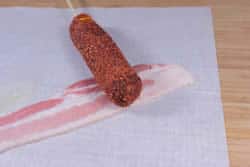 Flip the end of the bacon over the top of the hot link to get it started.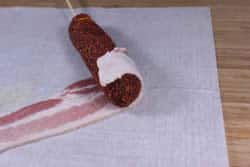 Roll the hot link to wrap the bacon around itself. Allow the bacon to overlap a bit with each round and keep it tight while it wraps.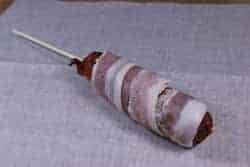 Perform the same task on all of the hot links, sausages, brats, or hotdogs.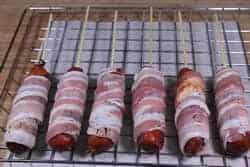 Step 4: Smoke for 2-3 hours
Setup your smoker for cooking with indirect heat at about 240°F for 2-3 hours.
I used my favorite propane smoker, the Landmann Great Outdoors Smoky Mountain for this cook.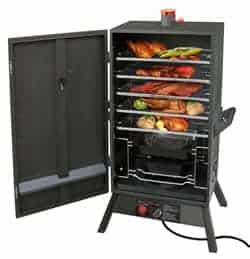 I used cherry wood for smoke which is really great on these but you can use your favorite wood or whatever smoking wood you have available.
Most things will be perfectly smoked in about 2 hours but we want the bacon to crisp up as well. Leaving it in the smoker for an extra hour will help or you can place them on a hot grill for a few minutes after a 2-hour smoking process.
I used the Bradley rack to make them easy to move back and forth from the kitchen to the smoker.
About 30 minutes before they are finished, paint them generously with my barbecue sauce.
When the bacon is firm to crisp, remove the smoked bacon wrapped hot links from the smoker and serve immediately.
Get the Digital Recipes for Jeff's Rub and Sauce
***Note: you get the Texas style rub recipe free with your order!
If I could give these recipes away, I would do that. I really want you to have them! But, then, this is how I support the newsletter, the website and all of the other stuff that we do here to promote the art of smoking meat.
Read these recent testimonies:
"Love the sauce and rub recipes. So far I have used them on beef ribs, pork ribs, and different chicken parts. Can't wait to do a beef brisket. Texas rub is great as well!" ~Peter S.
"I tried the rub on a beef brisket and some beef ribs the other day and our entire family enjoyed it tremendously. I also made a batch of the barbeque sauce that we used on the brisket as well as some chicken. We all agreed it was the best sauce we have had in a while." ~Darwyn B.
"Love the original rib rub and sauce! We have an annual rib fest competition at the lake every 4th of July. I will say we have won a great percent of the time over the past 15 years so we are not novices by any means. However, we didn't win last year and had to step up our game! We used Jeff's rub and sauce (sauce on the side) and it was a landslide win for us this year! Thanks Jeff for the great recipes. I'm looking forward to trying the Texas style rub in the near future!" ~Michelle M.
You see the raving testimonies and you wonder, "Can the recipes really be that good?"
No worries! Make up a batch and if it's not as good as you've heard.. simply ask for a refund. Now that's a bargain and you know it. Let's review:
You decide you don't like the recipes.. you don't pay!
The recipes are absolutely amazing!
Once you order, there'll be no more recipe ads in the email version of the newsletter
Well.. what are you waiting for.. click on the big orange button below to order the recipes now.

I really, really appreciate the support from my newsletter friends and be sure to let me know if you have any questions about this.
Smoking Meat Questions
How long do I add smoke?
Obviously this refers to a charcoal, electric or gas smoker where you have to add wood chips, chunks, splits or pellets in order to create smoke. I usually recommend adding smoke for at least half of the estimated cook time. There is nothing wrong with adding smoke for the entire time to replicate the wood smoker experience but make sure the smoke is nice and thin.
Do I have to use the water pan in my smoker?
ALWAYS use the water pan unless you are drying meat/making jerky.
The water pan serves three main purposes:
It adds humidity to the air inside the smoker thereby reducing the natural drying effect of heated air.

It creates a barrier between the fire and the meat to support the indirect method of cooking required for smoking meat

The steam created by the water helps to maintain a more stable, low and slow temperature that is perfect for smoking meat.
Most smaller backyard smokers will come with a water pan and I highly recommend that you use it.
I just bought a new charcoal smoker. How much charcoal and how much wood should I use?
This type of thing is sometimes confusing for newbies but just remember that in small to medium charcoal smokers, the charcoal is strictly for creating the heat. The wood chunks, wood chips or a packet of wood chips are placed on top of the coals for smoke.
Use a charcoal chimney and place 2-4 lbs of lump charcoal (depending on smoker size and how well it holds heat) into the firebox or charcoal pan.
Place 4-6 wood chunks, a packet of wood chips or a stick of wood on top of the coals to create smoke.
Do I need to soak the wood chips/chunks?
Many folks soak the wood chips and chunks and if you do that and get great results, then by all means, don't let me hinder great results. I personally do NOT soak my wood chips, chunks, pellets, or any wood that I use and see no reason to do so.
Can I place ribs vertically in a rack to conserve space?
Absolutely and there is no negative results from cooking them this way.
We are doing hamburgers and hotdogs this Monday, can I smoke them?
Yes and they are delicious this way. There is no better way to do large quantities of burgers and dogs in my opinion.
Burger and dogs can both be smoked cooked from start to finish in about an hour at 240°F.
Please note: if the burgers are extra thick, they will take longer.
We ordered the recipes for your rub and sauce, but did not receive it. Why?
My automated system sends an email to you just as soon as you purchase the recipes. This email contains a blue download link so that you can download the recipes to your computer or device.
Sometimes the download email is caught by a spam filter in your email system. Be sure to check your spam or junk folder to see if they are there.
If you can't find them, be sure to let me know right away so I can send them to you manually.
My question is not addressed here. What is the best way to get an answer?
Great question! I do try to answer a lot of the questions that come in but as I've mentioned earlier, I just can't do it all by myself so that's where the forum comes in handy.
If you have a pressing question even if it's on Memorial Day and you have the meat already on the smoker, the SmokingMeatForums.com is the place to get a really fast answer.
With more than 78,000 members and a staff of more than 30, we are the number one place to go for your outdoor cooking questions.
If you are not a member, go ahead and sign up now for free so you'll be ready for anything.
http://www.smokingmeatforums.com
Jeff's Smoking Meat Book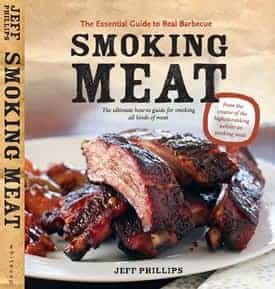 The book is full of recipes and contains tons of helpful information as well. Some have even said that "no smoker should be without this book"!
With more than 800 reviews on Amazon.com and a rating of 4.7 out of 5 stars, it comes highly recommended.
It is a Bestseller in Barbecueing & Grilling books on Amazon.
Amazon | Barnes & Noble | German Edition
Digital versions available via Nook | iTunes | Kindle
Get Almost Anything at Amazon
If you enjoy the newsletter and would like to do something helpful, then..
The next time you decide to order something at Amazon.com, use THIS LINK to get there and we'll get a small commission off of what you purchase.
Thank you in advance for using our special link: http://www.smoking-meat.com/amazon
Printable Recipe
Print
Smoked Bacon Wrapped Hot Links – Memorial Day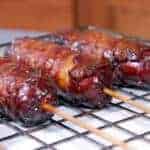 Smoked bacon wrapped hot links, sausages, brats and hotdogs with a stick for holding them is a great addition to your Memorial Day celebrations.
Author:
Prep Time:

25 mins

Cook Time:

2 hours

Total Time:

2 hours 25 mins

Yield:

10

Category:

Entree

Cuisine:

Hot Smoking
Ingredients
A good selection of hot links, smoked sausage, brats, hotdogs, etc.
Yellow mustard
Jeff's original rub recipe
Bacon, original or thin sliced (thinner is better)
Long wood skewers
Instructions
Step 1: Insert Handles (long wood skewer)
1 Comment on this article. Feel free to join this conversation.