I have received a number of emails over the last few months from readers asking me to take a stab at the smoked swineapple and to give instructions for making one.
If you have not heard about this or seen one of these it is simply a pineapple peeled and cored out, stuffed with pork, wrapped in bacon and smoked long enough to cook the meat (if required) and crisp up the bacon.
Here's my take on the recipe and instructions for what some folks are calling the "Amazing Swineapple".
Get the Recipes for Jeff's Rub and Sauce
---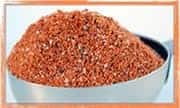 As with all pork, my original rub makes the rib meat more than it could ever be by itself and compliments this swineapple in a way that must be experienced to truly understand. It just works!
I also used my original sauce on the inside and my original rub on the bacon-wrapped outside for some mean layers of flavor.
I promise you'll love my dry rub/seasoning recipe and my barbecue sauce recipe or you don't pay!
Reasons to buy: Support the newsletter and the website | Own "the recipes" | Get the email newsletter 100% AD FREE from now on | Includes the Texas style rub recipe | Immediate download + email download

Helpful Information
Prep Time: 45 minutes
Cook Time: 3-5 hours
Smoker Temp: 240°F
Meat Finish Temp: 150°F
Recommended Wood: Cherry or Apple
What You'll Need
1-2 ripe pineapples
1-2 lbs of pork country style ribs or pork ribs (cooked tender and bones removed)
1 lb of bacon
Prepare Pork for Stuffing Inside Pineapple
The options are wide open here with the only requirement being you use pork of some kind. This could be ham, de-boned ribs, country style ribs, pulled pork.. you get the idea.
I chose to use country style ribs made from pork butt in mine.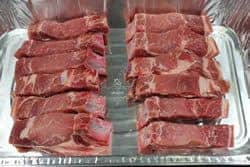 I also chose to precook the meat for safety purposes. I have seen a lot of these made with raw meat but cooking it first is safer and it means that the swineapple is in the smoker for less time.. just enough to crisp the bacon and get some smoke flavor.
My pork country style ribs had some bone here and there so I found all of it and cut it out. fortunately for me, most of it was on the ends.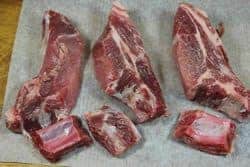 Note: If you purchase boneless country style ribs, it very well may be pork loin meat instead of pork butt and for that reason, it will not be as tender and it can end up a little dry.
Lay all of the country style ribs into a foil pan and coat it with regular yellow mustard to help the rub to stick really well.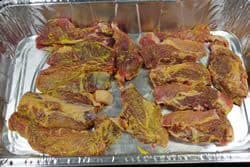 Apply my original rub (purchase recipes here) generously to all sides of the meat then place the meat into the smoker at 225-240°F for about 4 hours or until it reaches 175-180°F.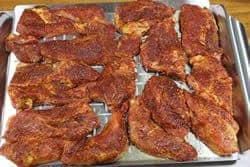 If you are cooking lean meat like pork loin, it only needs to go to 145°F.
Pork ribs like baby backs should be cooked as usual using the 2-2-1 or the 3-2-1 method to make them really tender so you can just pull the bones right out.
Once the meat is done cooking, it is ready to stuff into the pineapple.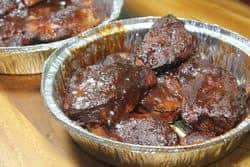 Prep Pineapple for Stuffing
While the meat is cooking, get the pineapple ready.
This includes removing the top, peeling the pineapple, removing the eyes and hollowing out the inside of the pineapple like a mug.
I would be lying if I said this was quick and easy, it takes a bit (or perhaps I am just slow) and I think if you get in a hurry you risk splitting the pineapple.
I opted to leave the bottom intact. I have seen folks hollow out the pineapples like a tube but in my opinion, it makes more sense to only hollow out the insides and leave the bottom in place to keep things from falling out.
This is more difficult but it is worth it in the end.
First remove the top. Slice about ¾ of an inch below the top and set that aside. We'll be using it again.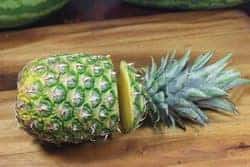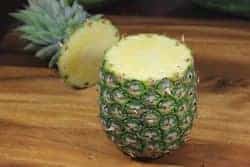 Using a very sharp knife, cut the peel from the pineapple along the sides.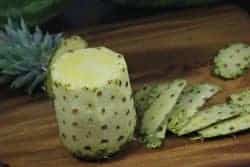 Remove the eyes either by cutting them out one by one or by using the spiral method shown below: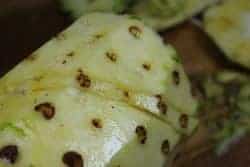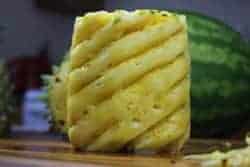 Now hollow out the inside of the pineapple using a sharp knife and some patience.
I used a sharp knife to cut around the perimeter to the depth I wanted. I then carefully whittled out the fruit piece by piece until the entire insides were removed with only a ¾ inch wall around the sides and a ¾ floor on the bottom.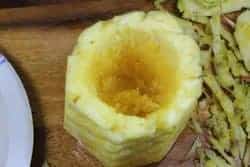 Once the pineapple is hollowed out, it's ready to stuff.
Stuff the Pineapple
Place as much of the meat as possible into the hollow of the pineapple.
Be careful of stuffing to much so it does not try to split.
Drizzle some of my barbecue sauce (purchase recipes here) down into the meat for extra flavor.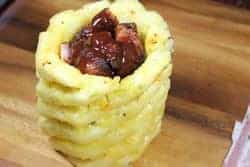 Add some of the crushed pineapple on top of the meat if you like.
Place the top of the pineapple back into position on top of the stuffed pineapple.
 Secure Top and Wrap Bacon Around Stuffed Pineapple
Note: some folks use a bacon weave but I opted to just wrap. Both methods work great.
Use 3-4 long wooden skewers to secure the top to the rest of the ensemble.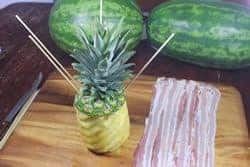 You can then cut the sticks off. I like to leave ½ inch of the stick above the pineapple so I'll have something to grab when I'm ready to pull them out.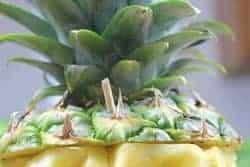 Bacon can be stretched up to nearly twice it's length (if you are careful) and this is perfect for wrapping pineapple since you will most likely need about 16 inches of bacon to make it all the way around the pineapple with a little overlap.
Measure the circumference of your pineapple just to make sure.
Lay down about 6 strips of stretched bacon slightly overlapping on the sides.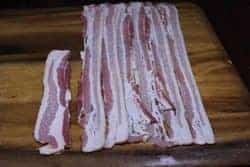 Lay the pineapple onto the bacon and bring the bacon over the top of the pineapple trying to cover it completely.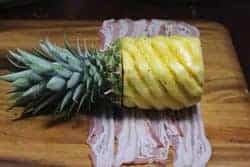 Now roll the pineapple to finish the wrapping process.
Secure the ends of the bacon with small toothpicks.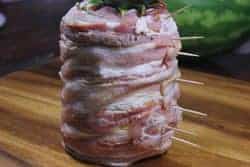 Sprinkle Jeff's original rub (purchase recipes here) all over the outside of the pineapple.
Set the finished pineapple up onto a Weber grill pan or a cookie sheet and it is ready for the smoker.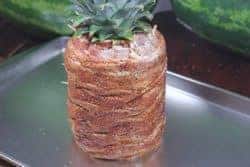 Smoke Swineapple
Set up your smoker for indirect cooking at about 240°F and place the pan with the pineapple into the smoker.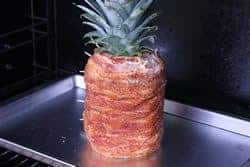 Keep the smoker going for about 3 hours or until the bacon starts to crisp.
When the smoked swineapple is finished remove it from the smoker and admire your artwork.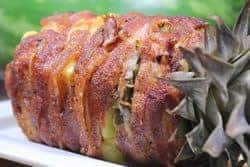 How to Serve the Swineapple
Remove the skewers holding on the top and the toothpicks that held the bacon in place.
Remove the top, slice and serve immediately.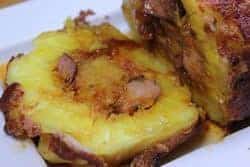 Get the Digital Recipes for Jeff's Rub and Sauce
Limited Time Website Deal!
Save 20% on Jeff's Rub Recipes and Sauce Recipe
Use coupon code GIVEJOY during checkout
***Note: you get the Texas style rub recipe free with your order!
If I could give these recipes away, I would do that. I really want you to have them! But, then, this is how I support the newsletter, the website and all of the other stuff that we do here to promote the art of smoking meat.
Read these recent testimonies:
"Love the sauce and rub recipes. So far I have used them on beef ribs, pork ribs, and different chicken parts. Can't wait to do a beef brisket. Texas rub is great as well!" ~Peter S.
"I tried the rub on a beef brisket and some beef ribs the other day and our entire family enjoyed it tremendously. I also made a batch of the barbeque sauce that we used on the brisket as well as some chicken. We all agreed it was the best sauce we have had in a while." ~Darwyn B.
"Love the original rib rub and sauce! We have an annual rib fest competition at the lake every 4th of July. I will say we have won a great percent of the time over the past 15 years so we are not novices by any means. However, we didn't win last year and had to step up our game! We used Jeff's rub and sauce (sauce on the side) and it was a landslide win for us this year! Thanks Jeff for the great recipes. I'm looking forward to trying the Texas style rub in the near future!" ~Michelle M.
You see the raving testimonies and you wonder, "Can the recipes really be that good?"
No worries! Make up a batch and if it's not as good as you've heard.. simply ask for a refund. Now that's a bargain and you know it. Let's review:
You decide you don't like the recipes.. you don't pay!
The recipes are absolutely amazing!
Once you order, there'll be no more recipe ads in the email version of the newsletter
Well.. what are you waiting for.. click on the big orange button below to order the recipes now.
Limited Time Website Deal!
Save 20% on Jeff's Rub Recipes and Sauce Recipe
Use coupon code GIVEJOY during checkout

I really, really appreciate the support from my newsletter friends and be sure to let me know if you have any questions about this.
Jeff's Smoking Meat Book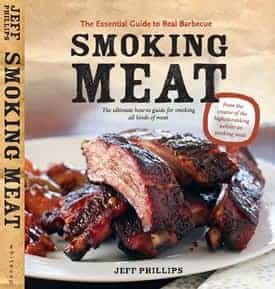 The book is full of recipes and contains tons of helpful information as well. Some have even said that "no smoker should be without this book"!
With more than 800 reviews on Amazon.com and a rating of 4.7 out of 5 stars, it comes highly recommended.
It is a Bestseller in Barbecueing & Grilling books on Amazon.
Amazon | Barnes & Noble | German Edition
Digital versions available via Nook | iTunes | Kindle
Get Almost Anything at Amazon
If you enjoy the newsletter and would like to do something helpful, then..
The next time you decide to order something at Amazon.com, use THIS LINK to get there and we'll get a small commission off of what you purchase.
Thank you in advance for using our special link: http://www.smoking-meat.com/amazon
Printable Recipe
Print
The Amazing Smoked Swineapple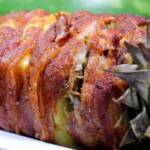 A ripe pineapple peeled and cored out, stuffed with delicious boneless pork ribs, wrapped in bacon and smoked until bacon is crisp and the pork is done.
Author:

Jeff Phillips

Prep Time:

30 mins

Cook Time:

4 hours

Total Time:

4 hours 30 mins

Yield:

4-6

Category:

Entree

Cuisine:

Hot Smoking
Ingredients
1-2 ripe pineapples
2 lbs of pork country style ribs or pork ribs (cooked tender and bones removed)
1 lb of bacon
Jeff's original rub recipe
Instructions
Cut top from pineapple.
Remove skin and eyes.
Core out inside leaving about ¾ inch wall on sides and bottom.
Fill with smoked country style ribs or baby back rib meat seasoned with rub.
Replace top and secure with long toothpicks.
Make a bacon weave large enough to wrap completely around pineapple.
Wrap in bacon weave -or-
Wrap stretched bacon around the pineapple.
Smoke at 240°F for about 4 hours or until bacon is crisp.