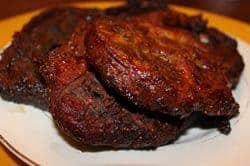 Hello friends and welcome to the September edition of the smoking meat newsletter. I have been asked several times over the last few weeks about smoking pork steaks and I realized that I have never written a newsletter about these wonderful pieces of meat.
This month I am going to show you exactly how to smoke up a batch of these for your family and/or friends using my rub and just a few hours of time on your hands.
Let's get right into this before I get any hungrier;-)
Pecan/Cherry Smoked Pork Steaks

Ingredients:

6-8 Pork Steaks (may be labeled as pork blade steaks)
1/2 cup Canola oil (substitute yellow mustard if desired)
1 batch of Jeff's Naked Rib Rub (see "My Recipes" Below)
Purchasing the Pork Steaks

When I went to the local grocery store the other night to pick out some pork steaks, I noticed that they were labeled pork blade steaks. It does not matter if they are labeled a little different than just "Pork Steak" as long as they have plenty of fat marbling and it looks like they were cut from the pork butt (some of the pieces have bone in them). The meat has a lot of fat marbling in it which makes it a perfect candidate for slow smoking. The steaks are usually cut at about 1/2 to 3/4 inches thick and should run anywhere from $0.99 – $1.59 per lb in most places across the United States.
This is basically the same meat as the country style rib just cut into steaks instead of into logs.
Preparing the Pork Steaks

You won't need to fuss too much over these.. they are quick and easy and something that want take long to prepare or cook. I like to use my own rub on these and they just taste like something that you shouldn't be able to afford.. really, really good!!
Put all of the steaks in a large zip-top bag or maybe use a couple of large bags if you are doing quite a few of them. Pour some canola oil into the bag along with 1 heaping TBS of my rub per steak. I did 6 steaks so I did 6 heaping TBS of the rub and then threw in another one for good measure.. I just couldn't help myself!!
They smelled so good at the moment that I wanted to just grab one and eat it right then and there but I resisted the urge and just did a good shake down on the bag to get the oil and rub all over the steaks. Roll the bag(s) end over end and side over side a few times to coat everything real good and then put the bag in the fridge for a couple of hours to let that rub and oil turn into a gooey mess of absolute goodness on the surface of those steaks.
Almost Ready to Smoke

Remove the steaks from the fridge and lay the steaks out flat on a large platter or cutting board and sprinkle a little more rub on both sides of the steaks if you like.
(I did some of these a while back and omitted this step and more than one person at the table said they would like to have had more rub on the steaks.)
My rub gets nice and gooey on the meat when it sits for a few minutes and creates a really nice bark that is like candy when it's finished. You might find yourself just eating the outsides if you're not careful.
Set the steaks aside and go get the smoker ready.
Preparing the Smoker

The steaks are very forgiving and if you want to cook them fast you can do that, I will caution you that this could burn the rub and so I don't recommend rushing them. For best results, prepare the smoker for cooking at around 225-240 degrees and use a wood that is fruity but has a good solid flavor. I recommend cherry or even a mix of pecan and cherry would be perfect.
Once the smoker is up to temperature.. you're good to go. Go get them steaks!
Smoking the Pork Steaks

I recommend placing the steaks right on the grate if at all possible for at least the first half of the cooking time. keep the smoke going steady for a couple of hours as well and then you can stop applying smoke if you are using a gas, electric or charcoal smoker.
At 225 degrees you can expect the steaks, depending on the thickness, to take about 3-4 hours to reach 165 degrees. They are tender enough to eat at this point however if you want to really take them to that fork tender state of deliciousness then you might consider wrapping them in foil or put them in an aluminum foil pan with foil over the top and let them cook for an additional hour once they reach 160-165 degrees F.
Serving the Pork Steaks

Serve up the steaks just as soon as they get finished to your liking and give folks a little of my warmed sauce on the side for those who like to dip.
Enjoy the moment!!
My Recipes

Folks.. I never stop amazing myself at how good my rib rub and barbecue sauce recipes are on various kinds of meat.
Whether it is ribs, brisket, pork shoulder or even something simple like chicken or chops, every time I use my rub and sauce I am blown away by the flavor all over AGAIN!
I always think to myself, "I sure hope everyone can try this.. it is too good to go through life never having experienced this!"
I am not being dramatic.. just try it and you will join the ranks of those who know if I'm lying then I'm dying! This stuff is Fan-flavor-tastic and you need it in a bad-bad way;-)
Here are a few testimonies from other folks who decided to go for it and are glad that they did. Be sure to send me your testimony once you try it and realize that you have just tasted of HEAVEN.
—————————————————
hey Jeff, I bought your recipes the rub and sauce and they are the best, I can't stop eating the sauce it is by far the best sauce I ever had,again thank you very much for sharing it with me.
—————————————————
I received your rub recipe on Thursday, and had family coming for the weekend. On Friday, I made up a batch and Saturday was the six hour smoke over lump mesquite charcoal. Everyone raved about the ribs. My wife who has never liked spareribs as well as other members of the family who are not big on meat, absolutely loved them. My wife ate the rest for dinner the following night. The entire clan was very impressed. My 10 year old niece, who is a rib fanatic and eats ribs every chance she gets when eating out, exclaimed they were the best in the world. They were truly amazing. I can't wait to try the rub on beef.
—————————————————
When I first saw the rub ingredients, I didn't think it could live up to its reputation. Boy, was I wrong. This is great stuff and the proportions were perfect. I can't wait to try the sauce!
—————————————————
Jeff, Your rub and sauce recipes are great. Cant wait to
try them on everything!
—————————————————
For quite some time now, when I bring my own smoked barbecued baby back ribs to potlucks, or serve them in my home to guests, I frequently hear "These are the best ribs I have ever eaten!", or something similar. But I have now purchased your recipes, and this past holiday weekend, invited guests over for a BBQ, using your recipes. I could tell that these racks of ribs were going to be different than my own after I first checked on them in the smoker. Plain and simple, they even looked a lot better than my own. Your rub recipe gives them such a professional appearance! While I agreed that you don't really need to cover ribs with sauce before eating these ribs, I couldn't wait to taste them after I smothered them in your BBQ sauce. I was pretty satisfied with my own BBQ sauce recipe, so I have to admit I was a bit skeptical about changing sauce recipes! But I have to say, the ribs I made this weekend with your recipes, blew my own recipes out of the water! My guests were equally impressed! My husband was also very skeptical about my "buying a recipe." He always raves about my ribs anyway, so in his way of thinking, "How can you improve something that is already perfect?" Well, he has changed his tune after eating the ribs made with your recipes. They were simply outstanding! Thank you so much for sharing these recipes!
—————————————————
I must say your rib rub is the best! LOVE IT!
—————————————————

You deserve the very best and it is completely within your grasp! Only $18.95 and worth every penny. Not only do you get the best rub and sauce recipe available, you are supporting this website and helping to make sure the bills get paid so we can keep on doing what we do to teach thousands and thousands of people across the world the art of smoking meat.
Order Recipes | Read More Testimonies
NOTE: My system is automated which means you should get a download email within MINUTES of ordering..check your spam/junk folder first then contact me to get the recipes sent to you as an attachment.
Newsletter Archives

All of our past newsletters are archived at the website for your convenience. If you need to know how to smoke brisket, ribs, meatloaf, pastrami, etc. then I have probably produced a newsletter about it some point.
See the last 6 years of newsletters here.
Join us on Facebook and Twitter

If you enjoy staying connected with smoking meat, join us as fans at our smoking meat fan page on facebook. We look forward to seeing you there.
Go to http://www.facebook.com/smokingmeat and hit the "Like" button at the top to be a part of this exciting trend.
To follow us on Twitter and get occasional tips and tricks about smoking meat go to http://www.twitter.com/tulsajeff
In Closing

---
Thank you for being a part of the smoking meat family which includes the newsletter, the forum, the smoking-meat.com website and many other resources that we try to provide to help you and countless others learn this great art.
A HUGE thank you to all of you who support the site with your donations and by purchasing the recipes and other products that we sell.
Until next time.. keep smoking and God Bless.
Jeff Phillips