Most of us have heard of Alabama white sauce.. which is a really tasty sauce created with mayonnaise, black pepper and any number of other ingredients. The variations are endless and it's most often used on chicken but I've also seen it used on pork and seafood.
In this recipe, I use a very basic Alabama white sauce recipe on smoked chicken drumsticks. This particular variation was sent to me by a reader a few years ago. It is simple and delicious.. just the way I like it.
Helpful Information
Prep Time: 15 minutes
Cook Time: 2 hours
Smoker Temp: 225/275°F
Meat Finish Temp: 180°F
Recommended Wood: Maple, Hickory, Cherry Blend (pellets)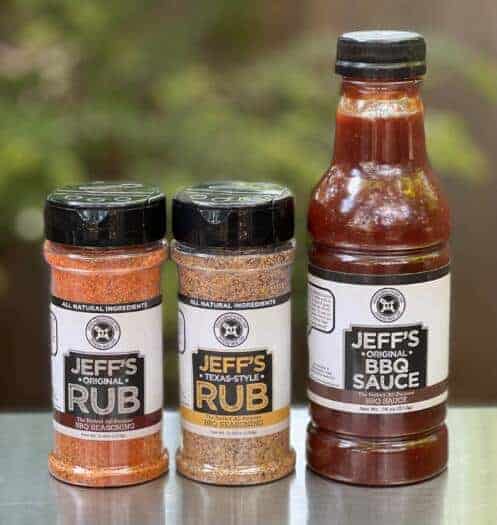 Please note that my rubs and barbecue sauce are now available in 2 formats– you can
purchase the formulas
and make them yourself OR you can
buy them already made
, in a bottle, ready to use.
Prep the Chicken
Rinse the chicken under cold water and pat it dry with paper towels.
Place the chicken in a pan and into the fridge uncovered to dry for several hours to help the skin to end up with a better, more edible texture.
Make the Alabama White Sauce
Alabama White Sauce
2 cups of mayonnaise
1/2 cup apple cider vinegar
1/4 cup fine ground black pepper
1 teaspoon cayenne pepper
Place all of the ingredients into a bowl and whisk until smooth.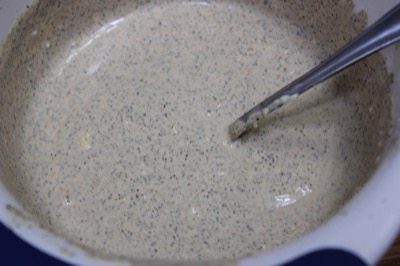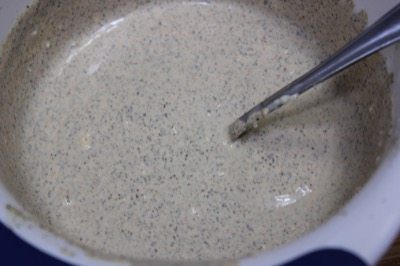 This recipe makes enough for about 12-18 chicken legs with a little left over for dipping.
This Alabama white sauce recipe can also be found HERE.
Sauce and Rub the Chicken
It is best if the chicken legs are in a pan to help contain the mess.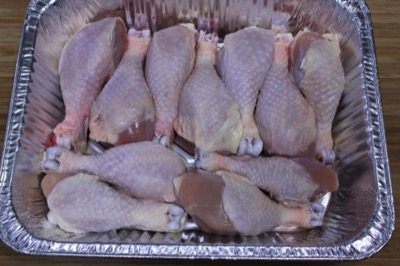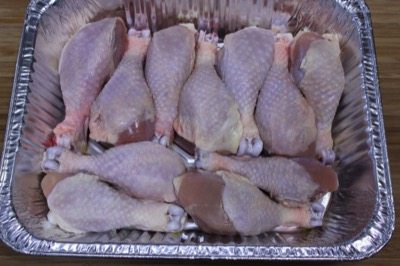 Brush some of the Alabama white sauce onto the chicken.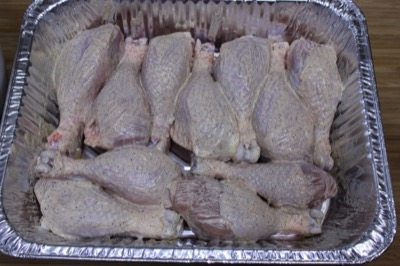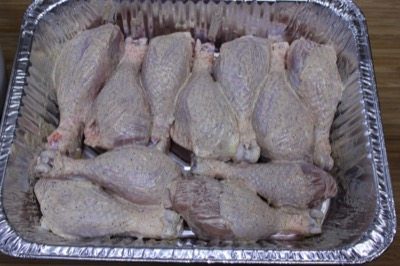 Coat it generously with my original rub (Purchase formula here | Purchase bottled rub).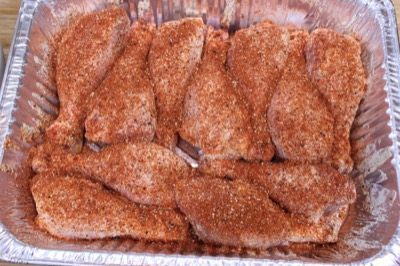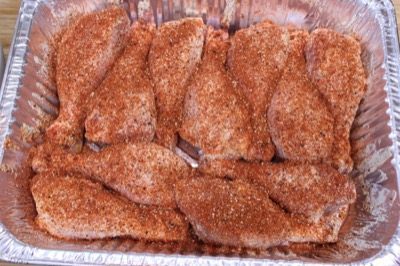 Turn the chicken pieces over and do the same thing on the other side with the sauce and the original rub (Purchase formula here | Purchase bottled rub).
It is ok to add the sauce and rub the night before so it's ready to go onto the smoker the next morning.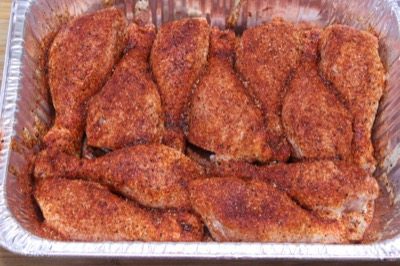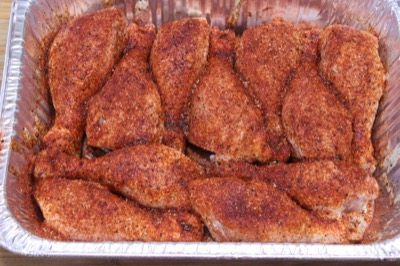 Setup the Smoker
About the Smoker
I used the Camp Chef Woodwind for this recipe and it was a wonderful choice! I have used a few other brands of pellet smokers and, in general, they all work similarly but the Woodwind by Camp Chef has added a few features that many of the others are missing.
An ash cup on the bottom of the unit to catch the ashes and make cleanup easy.
A chute that opens so you can dump the hopper when you want to replace the pellets with a different flavor.
A 2nd cooking shelf comes standard.
The ability to pull a lever

from the outside of the unit

which moves the heat deflector to the side and allows the flames to come up through the grates to the meat you are cooking!
Available propane powered SearBox (grill) or SideKick (griddle) attaches to the right side of the unit. This allows you to sear steaks, chicken, etc. once they are done cooking. You could also just use it to cook steaks or other meats at very high heat. This is a one of a kind feature that is going to be very handy!
3 year warranty and free shipping ain't a bad feature either!
In case you can't tell, I really like this machine and I think if you are in the market for a smoker that is easy to use, introduces a ton of smoke flavor to your food and has the ability to cook from 160°F all the way up to about 500°F, with smoke, then this might be something you need to look at very closely.
Read my official review for this product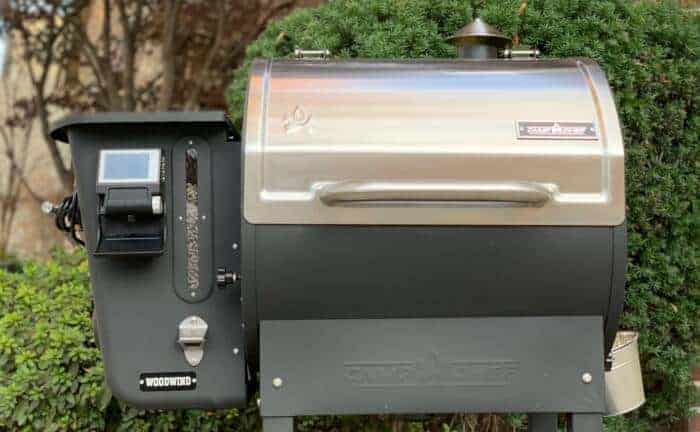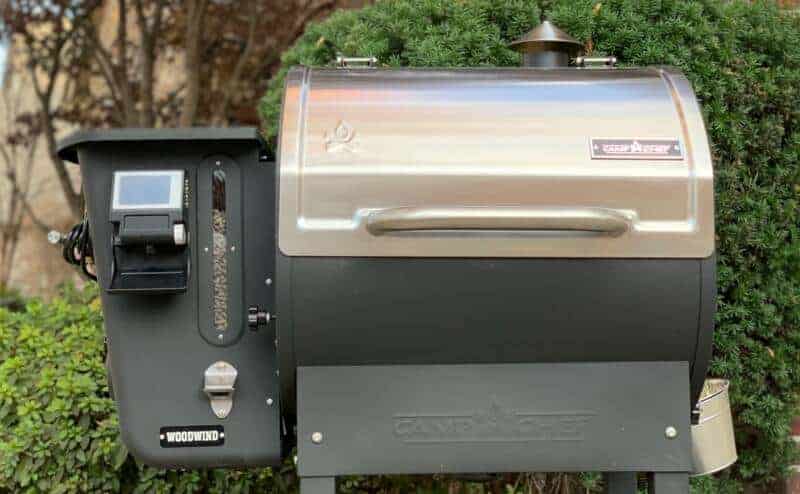 Regardless of what smoker you use, set it up for cooking at about 225-240°F for at least the first 30 minutes. After this, if you have the ability to crank up the heat, you can finish the chicken at about 275-300°F to try and get a good bite thru on the chicken skin.
It is best to keep the heat on the dry side so, if your smoker has a water pan or you normally add a water pan, leave it dry this time.
The heat should be indirect.
Smoke the Chicken
Once the smoker is ready to go, place the chicken directly on the smoker grate. Be sure to leave a little space between the pieces to give the heat and smoke plenty of access.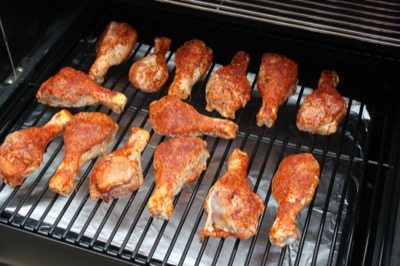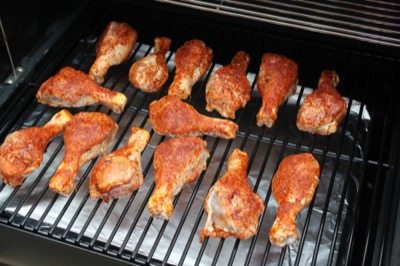 Let the chicken cook with smoke for about 30 minutes at 225-240°F.
After 30 minutes, brush the chicken generously with the Alabama white sauce and continue to cook. You can crank up the heat to 275-300 at this time if you have the capability.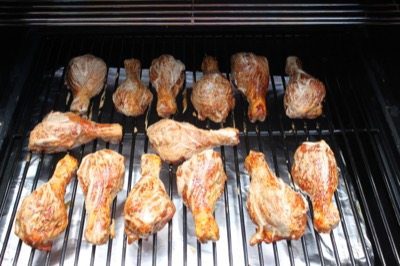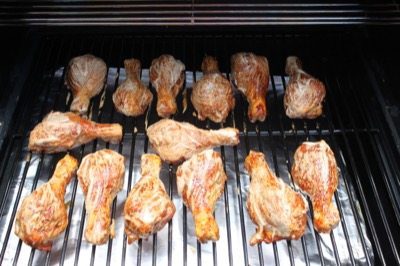 Brush the chicken with the Alabama white sauce every 15 minutes until the chicken is finished cooking. Because you are opening the door or lid more often, the cooking time will probably be longer than usual.
Chicken drumsticks and thighs are safe to eat at 165°F but have a better texture and are more tender if you let them cook until they reach an internal temperature of 180°F.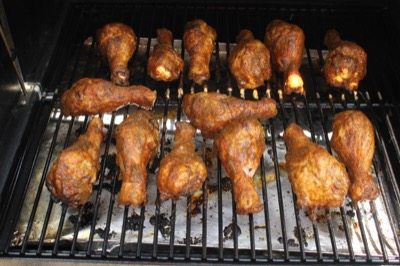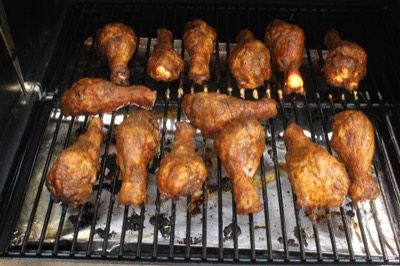 Continue to add smoke throughout the cooking process if possible.
Finish and Serve
When the smoked chicken drumsticks have reached 180°F as determined by an accurate digital meat thermometer such as the Thermapen, they can be removed from the smoker grate and placed into a pan.
Read my review on the Thermapen Mk4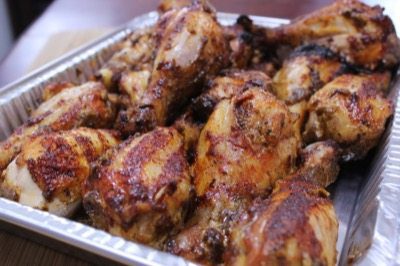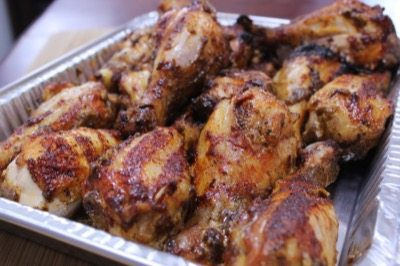 Serve and eat right away.
Notes
I recommend removing about half of the Alabama white sauce into a separate container for dipping later. This leaves you plenty for brushing on the chicken while it cooks and you don't have to worry about cross contamination.
You'll notice that as you brush the chicken, some of the original rub (Purchase formula here | Purchase bottled rub) is transferred into the white sauce. This is ok and just adds to the amazing flavor.
Order Jeff's Rubs and Barbecue Sauce TODAY!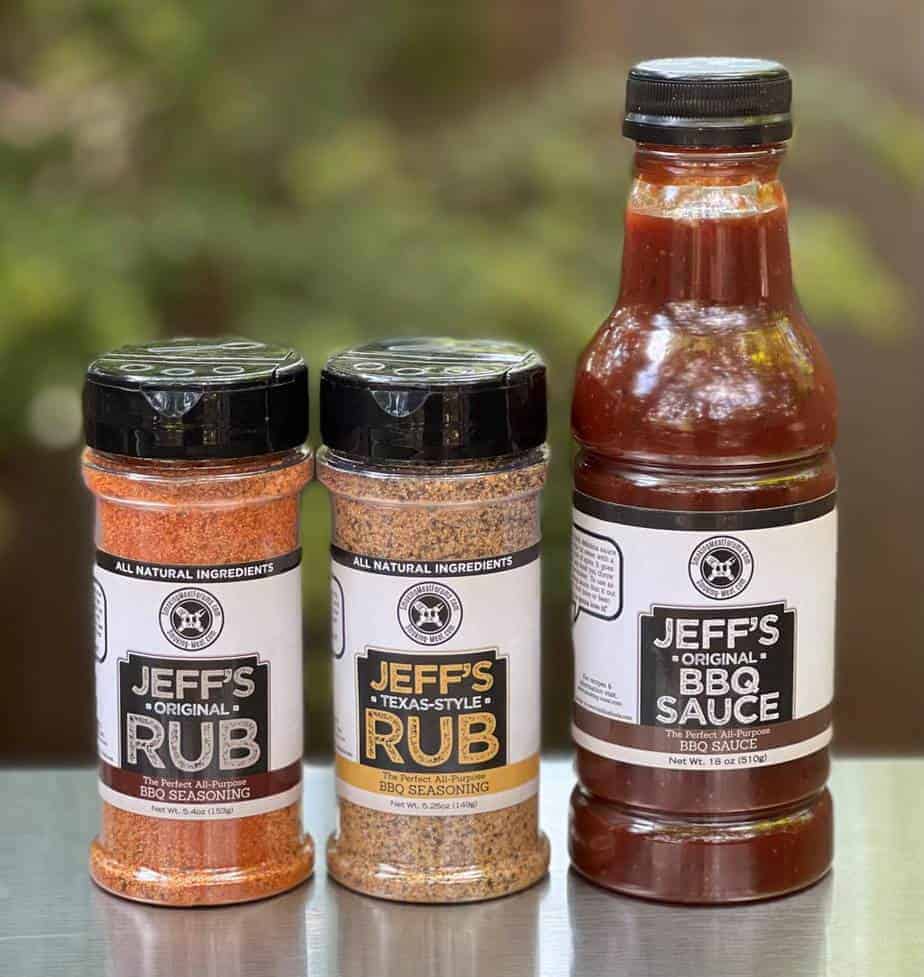 ✅ If you haven't ordered my rubs or sauce yet you can do that HERE. They are the best thing you've ever tasted and it's a great way to support what we do!
We ship blazingly fast and orders over $50 ship free!
You can also order the formulas for my rubs and sauce and make these yourself at home. Grab those HERE and download immediately.
Jeff's Smoking Meat Books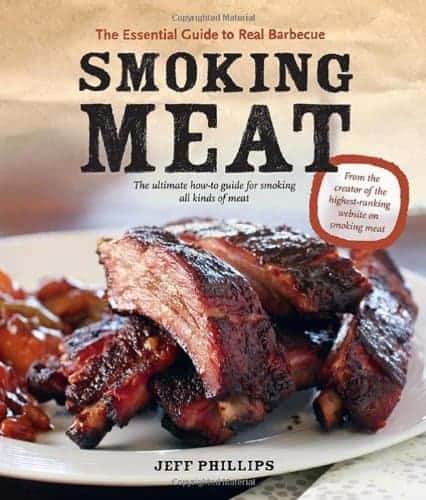 Smoking Meat: The Essential Guide to Real Barbecue – The book is full of recipes and contains tons of helpful information as well. Some have even said that "no smoker should be without this book"!
With more than 1000 reviews on Amazon.com and a rating of 4.7 out of 5 stars, it comes highly recommended and is a Bestseller in Barbecuing & Grilling books on Amazon.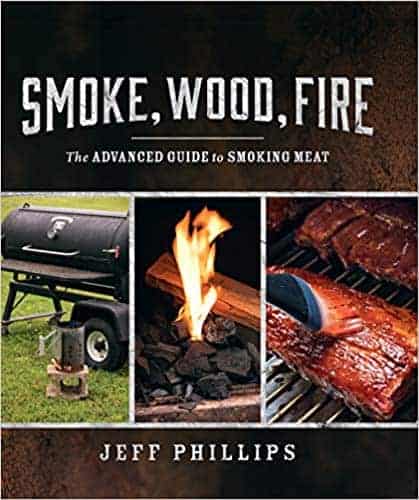 Smoke, Wood, Fire: The Advanced Guide to Smoking Meat – Unlike the first book, this book does not focus on recipes but rather uses every square inch of every page teaching you how to smoke meat. What my first book touched on, this second book takes it into much greater detail with lots of pictures.
It also includes a complete, step-by-step tutorial for making your own smoked "streaky" bacon using a 100 year old brine recipe.
Amazon | Barnes & Noble
Get Almost Anything at Amazon
If you enjoy the newsletter and would like to do something helpful, then..
The next time you decide to order something at Amazon.com, use THIS LINK to get there and we'll get a small commission off of what you purchase.
Thank you in advance for using our special link: http://www.smoking-meat.com/amazon
---
Printable Recipe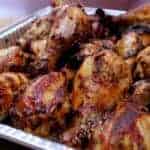 Print Recipe
Alabama White Sauce on Smoked Chicken Drumsticks
In this recipe, I use a very basic Alabama white sauce recipe on smoked chicken drumsticks. This particular variation was sent to me by a reader a few years ago. It is simple and delicious.. just the way I like it.
Ingredients
12-18

chicken drumsticks

((thighs also work well))

Alabama white sauce

((recipe below))

Jeff's Original rub recipe
Instructions
Rinse chicken drumsticks with cold water and pat dry with a paper towel.

Place chicken on a wire rack or sheet pan and place in fridge for several hours to help dry the skin. This helps to ensure a better texture in the finished skin.

While the chicken is drying, mix up the Alabama white sauce using 2 cups of mayonnaise, 1/2 cup of apple cider vinegar, 1/4 cup of finely ground black pepper and 1 teaspoon of cayenne pepper. Mix until smooth and refrigerate until needed.

Once you are ready to season the chicken, brush some of the Alabama white sauce onto the chicken then coat the outside of the chicken with Jeff's original rub. This can be done the night before or 8-10 hours in advance if desired.

Setup your smoker for cooking at 225-240°F using indirect heat. If your smoker has a water pan, leave it dry if possible to reduce humidity and help the chicken skin to end up with a better texture.

Place the chicken on the smoker grate and let it smoke with a mix of maple, cherry and hickory or whatever smoking wood you have available. Leave the chicken alone for about 30 minutes.

After 30 minutes you can crank the heat up to about 275°F if your smoker is capable of higher heat otherwise, maintain normal smoking temperatures.

We will also begin brushing the Alabama white sauce on the chicken every 15 minutes until it is finished cooking.

When the chicken reaches 180°F as measured by an accurate meat thermometer, it is finished and should be removed from the smoker.

Serve immediately with more white sauce for dipping.