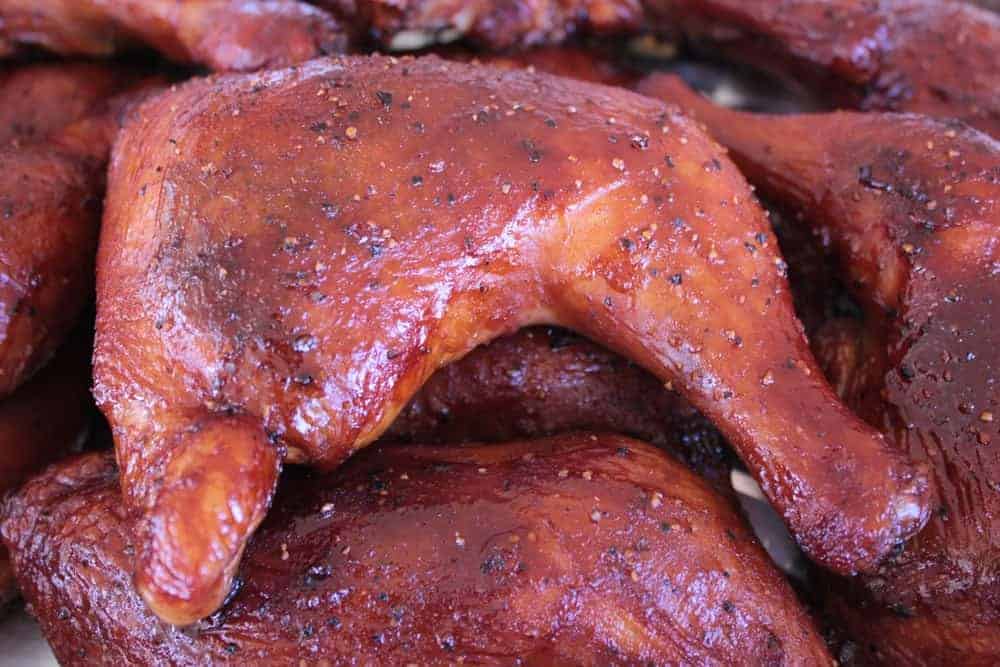 Hello friends and welcome to this edition of the smoking meat newsletter. One of the things I really enjoy doing on the smoker are smoked chicken quarters and I have to say that I find myself doing these fairly often and especially if my wife has any say-so in the menu.
It just so happens that they are quick, easy, and very tasty and I am happy to show you my fool proof method for making these turn out great every time.
I highly recommend brining these as I do with most poultry and I will, of course, walk you through that process in the article below.
These were no ordinary chicken quarters though and with this batch, I decided to try something a little different in getting the rub up under the skin and it worked like a charm.
I also used my own sauce recipe to make a beer barbecue glaze which I applied a couple of times during the smoking/cooking process and it was a winner as well.
If you did not get the previous newsletter on smoking a stuffed salmon, you can read it HERE.
~ Get the Recipes for Jeff's Rub and Sauce ~
---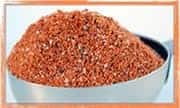 I promise you'll love my dry rub/seasoning recipe and my barbecue sauce recipe or you don't pay!
Reasons to buy: Support the newsletter and the website | Own "the recipes" | Get the email newsletter 100% AD FREE from now on | Includes the Texas style rub recipe

---
Smoked Chicken Quarters
Brine Time: 2 hours | Prep Time: 20 minutes | Cook Time: 2.5 hours | Smoker Temp: 225 F – 240 F | Meat Finish Temp: 165 F | Recommended Wood: Pecan or Cherry
What You'll Need
10 lbs of chicken quarters, about 13 pieces
1/3 can of beer (the cheap stuff is fine)
1/2 stick butter (4 TBS)
Brine (recipe below)

Turkey baster

Foil pan (optional but keeps the work area a lot cleaner)
​​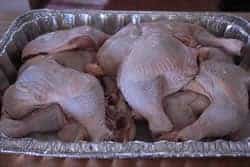 I highly recommend brining the chicken pieces and while you don't have to do this, it will make the chicken more juicy and it adds some flavor to the chicken meat itself.
If you choose to brine, here's how to do it. Otherwise, skip on down to the preparation instructions below.
How to Brine the Chicken Quarters
Mix up your brine following the basic recipe below.
Place the chicken in a large Ziploc bag or a lidded plastic or glass container.
Pour the brine over the chicken and place it in the fridge for 2 hours.
Once it's done brining, rinse the chicken really good under cold water.
Basic Brine Recipe
1 gallon water
1 cup of kosher salt
3/4 cup of brown sugar (dark brown is best but light will work)
I like to use the basic recipe but if you want to add fruit juice, beer, wine, hot sauce, Zesty Italian dressing to the mix you can certainly do that. One of the really nice thing about brines are that whatever you put into the brine, will end up inside the meat.
Using a 1 gallon pitcher, pour kosher salt into water and stir until it is dissolved and water returns to clear. Then add brown sugar and stir until dissolved.
Read more about brining HERE
Preparing the Chicken Quarters for Smoking
Once the chicken is done brining you will, of course, want to add some seasoning to it, and my rub recipe is just the ticket.
Mix my rub with melted butter using the recipe below:
I ran the rub through a coffee grinder to make it more smooth but you do not have to do that. It's nice but not entirely necessary. The turkey baster has a nice large opening and will suck up the rub/butter mixture just like it is.
Use the microwave to heat the butter for about 30 seconds before adding the rub.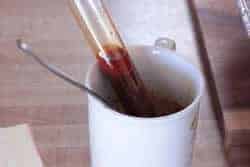 Once you have some mixture in the baster, inject a little under the skin of each chicken quarter at the leg section and at the thigh section.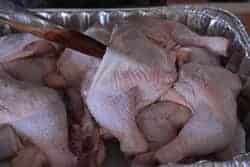 Once all of the chicken quarters are injected with the rub/butter mixture, they are ready to smoke.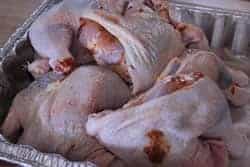 Prepare the smoker to cook at about 240 degrees
These can be smoke cooked on any smoker whether it is electric, gas, charcoal or wood. If you need more information on various smokers, please see my smoker instructions page where you can find instructions for several different smokers. Even if they are not exactly what you have, you can garner some good information from reading them.
Once the smoker is perking along at your goal temperature and ready to go, place the chicken quarters directly on the smoker grate with about 1 inch between each piece so the smoke can have good access to the meat.
You can expect these to take about 2.5 to 3 hours under normal circumstances and I recommend keeping them in the smoke the entire time if you are using something other than wood fired smoker.
Beer Barbecue Sauce Glaze
Here's the fun part!
Make up a batch of my sauce (purchase the recipe here if you don't have it) then mix about 1 cup of sauce to 1/2 cup of beer to thin down the sauce and make a sort of glaze out of it. You can make it as thin as you like by altering the amount of beer that you add.
My sauce is naturally pretty thick and it works well just like it is if you want sticky chicken quarters but the idea for these is to just glaze them a little throughout the process.
Apply the sauce/glaze when the chicken reaches about 135 degrees then again at about 150 degrees internal.
Finishing the Smoked Chicken Quarters
You can let them continue to smoke cook at 240 degrees if you like but I like to turn up the heat to about 265 if possible when the chicken reaches about 150 degrees internal.
This increase in heat will help to crisp up the skin and puts a nice finish on the glazed skin. It also helps it to get done a little faster and chicken can always handle high heat just fine.
The only reason for cooking these slow is to give them ample time in the smoke.
Use an instant read digital thermometer such as the Thermapen or use a digital probe meat thermometer that stays in the chicken while it cooks such as the Maverick ET-732 to monitor the temperature of the chicken. It is done when it reaches 165 degrees in the thickest part of the leg or thigh.
Let them rest for about 10 minutes after they finish and before serving them.
Voila!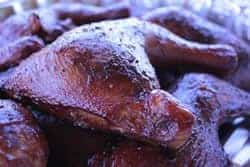 Order Jeff's Rub Recipe and Sauce Recipe
***Note: you get the Texas style rub recipe free with your order!
If I could give these recipes away, I would do that. I really want you to have them! But, then, this is how I support the newsletter, the website and all of the other stuff that we do here to promote the art of smoking meat.
Read these recent testimonies:
Love the sauce and rub  

07/31/14

Love the sauce and rub recipes. So far I have used them on beef ribs, pork ribs, and different chicken parts. Can't wait to do a beef brisket.
Texas rub is great as well! ~Peter S.
I tried the rub on a beef  

08/15/14

..I tried the rub on a beef brisket and some beef ribs the other day and our entire family enjoyed it tremendously. I also made a batch of the barbeque sauce that we used on the brisket as well as some chicken. We all agreed it was the best sauce we have had in a while. ~Darwyn B.
Love the original rib rub  07/31/14

 Love the original rib rub and sauce! We have an annual rib fest competition at the lake every 4th of July. I will say we have won a great percent of the time over the past 15 years so we are not novices by any means. However, we didn't win last year and had to step up our game! We used

Jeff's rub

and sauce (sauce on the side) and it was a landslide win for us this year! Thanks Jeff for the great recipes. I'm looking forward to trying the Texas style rub in the near future! ~Michelle M.
You see the raving testimonies and you wonder, "Can the recipes really be that good?"
No worries! Make up a batch and if it's not as good as you've heard.. simply ask for a refund. Now that's a bargain and you know it. Let's review:
You decide you don't like the recipes.. you don't pay!
The recipes are absolutely amazing!
Once you order, there'll be no more recipe ads in the email version of the newsletter
Well.. what are you waiting for.. click on the big orange button below to order the recipes now.

I really, really appreciate the support from my newsletter friends and be sure to let me know if you have any questions about this.
Smoking Meat: The Essential Guide to Real Barbecue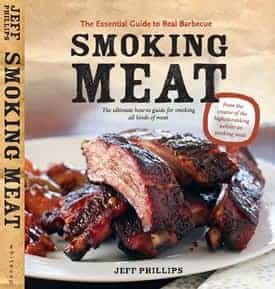 Get your summer of outdoor cooking started on the right path. The book is full of recipes and contains tons of helpful information as well. Some have even said that "no smoker should be without this book"!
With more than 450 reviews on Amazon.com and a rating of 4.7 out of 5 stars, it comes highly recommended.
It is also listed as a #1 Bestseller in Barbecueing & Grilling books on Amazon.
Amazon | Barnes & Noble (in stock at most stores)
Digital versions available via Nook | iTunes | Kindle
Note: For my German readers, the book is available under the title "American Smoker" and translated into German at Amazon.de
Amazon.com Orders
If you enjoy the newsletter and would like to help out, you can do so without sending me a dime.
The next time you decide to order something at Amazon.com, use THIS LINK to get there and we'll get a small commission off of what you purchase.
Thank you in advance for using our special link: http://www.smoking-meat.com/amazon
The Ultimate Barbecue Magazine: StoryQue
I write for this digital magazine and I consider myself a friend to the guy who publishes it but that is not the reason I like it so much. It is packed full of great articles, recipes, stories, pictures that will make you drool and so much more. If you are the least bit interested in any form of outdoor cooking, you will absolutely be crazy about this magazine.
You should check it out if you get a chance!