Smoked Ham for Thanksgiving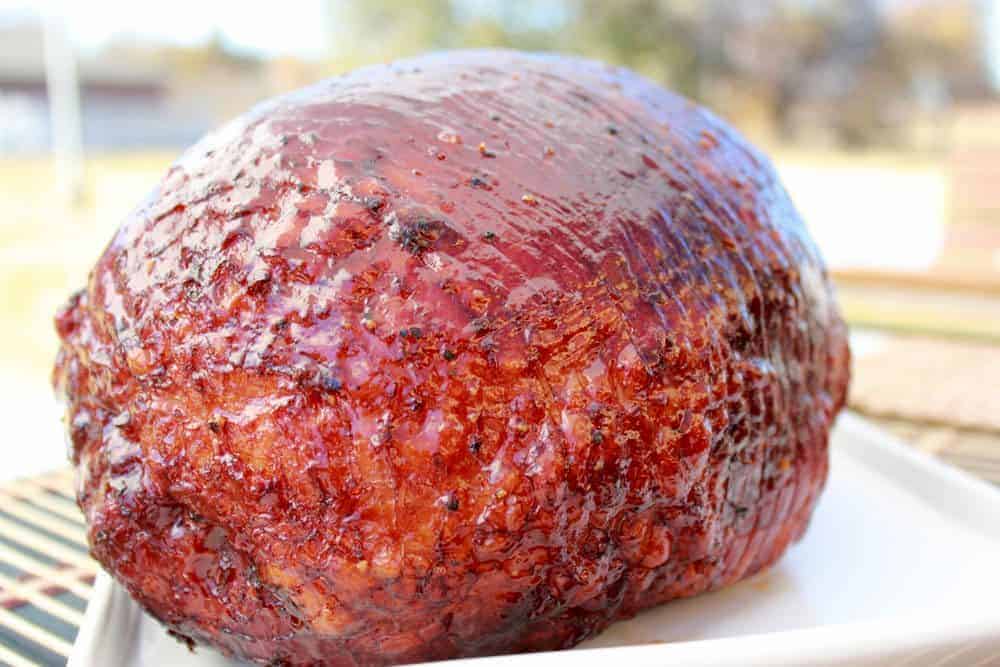 Smoking-Meat.com is supported by its readers. We may earn an affiliate commission at no extra cost to you if you buy through a link on this page.
Read this article without ads
Last week I sent out a newsletter with complete instructions for smoking a turkey breast on Thanksgiving but no Thanksgiving is really complete without a smoked ham on the table.
What a lot of folks don't realize is that the hams you buy in the store that are already smoked and ready to heat and eat are good but they can be better with a little help from your own smoker.
I am not sure what the factory process is for smoking the turkeys of if that is done chemically but I do know that there is a vast world of difference when you take that ham and smoke it in your own smoker for about 3 hours.
In this newsletter, I am going to show you the easy steps to how to take an ordinary ham and make it something that will rival the turkey and all of the other dishes at the Thanksgiving table.
Here's what you'll need
*I prefer the spiral sliced hams since this allows the seasoning as well as the smoke to get down in the ham better. I used an non-sliced ham this time to try a different brand but most of the time, the spiral sliced is a no-brainer.
How to Prepare the Ham for Smoking
Remove wrapping, net, etc. and discard the glaze that sometimes comes attached to the meat.. you won't need any of this.
Lay the ham down in a pan or on a platter to help keep the surroundings a little cleaner.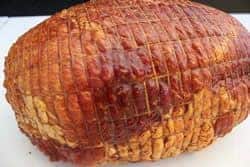 Apply a light coat of regular yellow mustard to the ham.
Pour on about 1/4 cup of my rub and massage it all over the ham. The rub will mix with the mustard creating a really nice paste that will be super flavorful once the ham is finished cooking. It will also help to create a nice crust on th outside edge of the ham which is highly desirable for many.
Add as much rub as you like.. if you get done massaging it in and you think it needs a little more feel free to apply to your heart's content.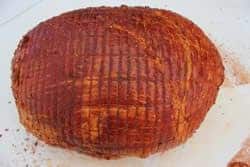 My rub is low on salt and high on flavor so you don't have to be afraid to use too much.
Once the ham is ready, lay it aside and go get the smoker ready.
Get the Smoker Ready
You can smoke the ham in ANY smoker whether it's electric, charcoal, gas or wood. As long as you have heat and good smoke.. it will work. Rather than trying to tell everyone how to smoke these in every individual type of smoker, I am in the process of writing instructions for popular smoker models.
The following list should give you an idea:
This ham was cooked at the same time as the turkey breast that I wrote about in the last newsletter in the GOSM propane smoker.
I lit the gas burner, and turned it on high to let it heat up the metal and the inside of the smoker. I usually leave it on high for about 20 minutes to let the metal come up to temperature. I then adjust the temperature of the smoker to maintain about 240 degrees.
Anywhere between 225-240 is ok for smoking the ham.
I filled up the wood chip box with pecan pellets and put this in just before I placed the ham in the smoker. It takes about 5 minutes before I'll see smoke so I try to time it so that I have time to put the meat on the grate and get a picture or two before the smoke really gets going.
This smoker has a water pan so I filled it up with hot water. My suggestion has always been to use the water pan anytime one is available.
The water pan..
Does a great job of keeping the air moist thereby reducing the drying effect
Helps to regulate the temperature of the smoker
Creates a nice barrier between the heat and the food in the smoker
Once the smoker is ready and maintaining about 240 degrees, I placed the wood chip box in the smoker and placed the ham directly on the grate.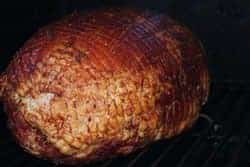 Smoking the Ham
Leave the ham directly on the grate for about 3 hours for medium sized hams. If the ham is really big or really small you might want to adjust your time a little to compensate but I usually try to buy ones that are in the 8-12 lb range.
If you have a digital probe meat thermometer you can insert it and the ham is finished when it reaches about 145 degrees.
Glazing the ham (optional)
1/2 cup Jeff's sauce
1/4 cup honey
1/4 cup peach nectar (sold in most grocery stores)*
Mix the ingredients above together and you will have a really nice glaze that you can brush onto the ham a couple of times while it cooks. I usually brush it on at about 2 hours then again about 30 minutes later.
*adjust according to how thick you want the glaze to be.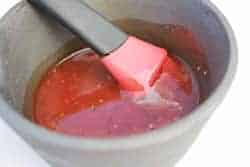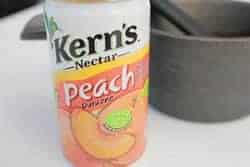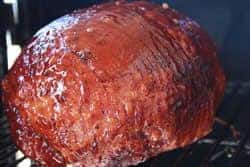 Need to travel with the ham?
If you are traveling, just wrap the ham in foil, then in a thick towel and place it down in an empty ice chest to keep it warm. Fill in any remaining space with more towels, pillows, blankets, etc. to further insulate the box and keep the ham hot for up to 4 hours.
Leftover ham?
Use the leftover ham in beans, soup, etc. and you might find yourself smoking hams for this specific purpose from now on. My wife made a pot of navy beans with some of the leftover ham from this cook and the smoky goodness is amazing!
Smoking a Whole Turkey
I have written several newsletters on smoking the Thanksgiving turkey over the last few years and 2 of these in particular have received lots of positive feedback.
The Cranberry Brined Turkey
One of these is the Cranberry brined turkey that I did and wrote about in the 2010 Thanksgiving newsletter.
I substituted cranberry juice in place of the water when I brined the turkey that year and the bird turned pink. What was really wonderful was the flavor and cranberry goes so well with the holiday meal and folks just loved it. I still get emails from folks trying it and it gets nothing but great reviews.
Read this newsletter HERE
The Buttermilk Brined Turkey
In 2011, I decided to use a buttermilk based brine for the turkey to try and add some extra tenderness as well as flavor to the TG turkey.
This was a glowing success as well and might have even topped the cranberry bird by a few degrees.
The turkey did not taste like buttermilk when it was all said and done but it was super tender, flavorful and many of you have repeated this on multiple occasions since then and let me know that your family and friends said that was the best turkey they had ever eaten.
See this newsletter HERE
Both of these newsletters have tons of tips and help on smoking a whole turkey and I think you will find them very useful.
Spatchcocking the Turkey
If you want the turkey to get done a lot faster and cook more evenly, consider cutting out the backbone and laying the turkey open like a book. I have not done a tuturial or pictures on this procedure for turkeys but I have done this for a whole chicken.
Looking at the pictures for how this is done on a chicken should give you a good idea for how to perform the same operation on the turkey.
It is really easy, you just need kitchen shears. Place the turkey breast side down and cut out the backbone by making a complete cut from front to back on each side of the spine. You will cut through the ribs in the process.
Once the backbone is removed, flip it to breast side up and press down in the center to "snap" the sternum and make it lay open flat.
Cook smoke the turkey skin side up until you reach an internal temperature of 165 in the thickest part of the breast and thigh.
Order Jeff's Recipes
If you ever wanted to try my rub and sauce recipes, there is no better time than on Thanksgiving. They go so well with the turkey and the ham it's almost as if it was designed that way
I started out more than 8 years ago selling my very own rub recipe and sauce recipe to support the website, forum and newsletter and I am still doing that today.
Folks love the recipes and most of them become raving fans due to how good it is and how well it works on so many things.
Tasting is believing and I invite you to prove me wrong.. try the recipes and if it's not the best rub you ever ate simply ask me to refund your money and I'll do it right away.
I have received hundreds and hundreds of testimonies on the recipes over the years completely unsolicited and if that don't speak volumes then nothing will. Here's a few for you to read:
—————————————————
Did a Ham and using your rub it was as my wife and friends said the best tasting ham they have ever had. We are into our late years so that's saying a lot .Thanks for sharing ~ Jack
—————————————————
Wow! wow! wow! The best rub and sauce I have ever had. Also did the turkey for thanksgiving and it was the best turkey I ever had. I usually only eat dark meat and this turkey was so good I ate only white meat ~ Andy
—————————————————
I purchased the rub and sauce and I have to say that I love it and so has everyone that has tried it, just like you and others said they would. ~ Matt
—————————————————
Jeff I have to tell you that your rub and sauce recipes are the best. I had never smoked a rib or anything until last weekend and by fallowing your directions on your site I was the RIB KING for a day. Thanks a bunch pal, ~ Harold
—————————————————
Let me say that I've been using your Rib Rub for a couple years now. I use it on ribs (obviously), but I also use it on steak, ham, chicken, and everything else I smoke. My family and I absolutely LOVE it! It rocks! ~ Trapper
—————————————————
Jeff, I did a smoked pork roast yesterday and used your recipe both for the pork and for your Smoky Barbecue Sauce. Everyone loved it. My wife said the sauce was the best she had ever tasted and I have to agree. Fantastic. ~ Barry
—————————————————
You deserve the very best and is is completely within your grasp! Only $18.95 and worth every penny. Not only do you get the best rub recipe and sauce recipe available, you are supporting this website and helping to make sure the bills get paid so we can keep on doing what we do to teach thousands and thousands of people across the world the art of smoking meat.
For a limited time, get the Complete 5-chapter eCourse on How to Smoke Meat in PDF format completely FREE when you order the recipes below.
What to Expect Once you Order
Here's how it works:
You order the recipes
My automated system emails you a download link
You click on the link and download the recipes to your computer
If you DON'T get the email with the link:
Check your spam/junk folder (sometimes they get caught there)
If you can't find it, email me and let me know you didn't get it
I will send the recipes to you as an attachment in an email
You let me know you got it, we are both happy campers!
Smoking Meat Resources
Note: All off-site links will open a new window or tab. When you are done, simply close the window or tab and you'll be right back here.
Get Jeff's Products!