Smoke Ribs Fast on the Pit Barrel Cooker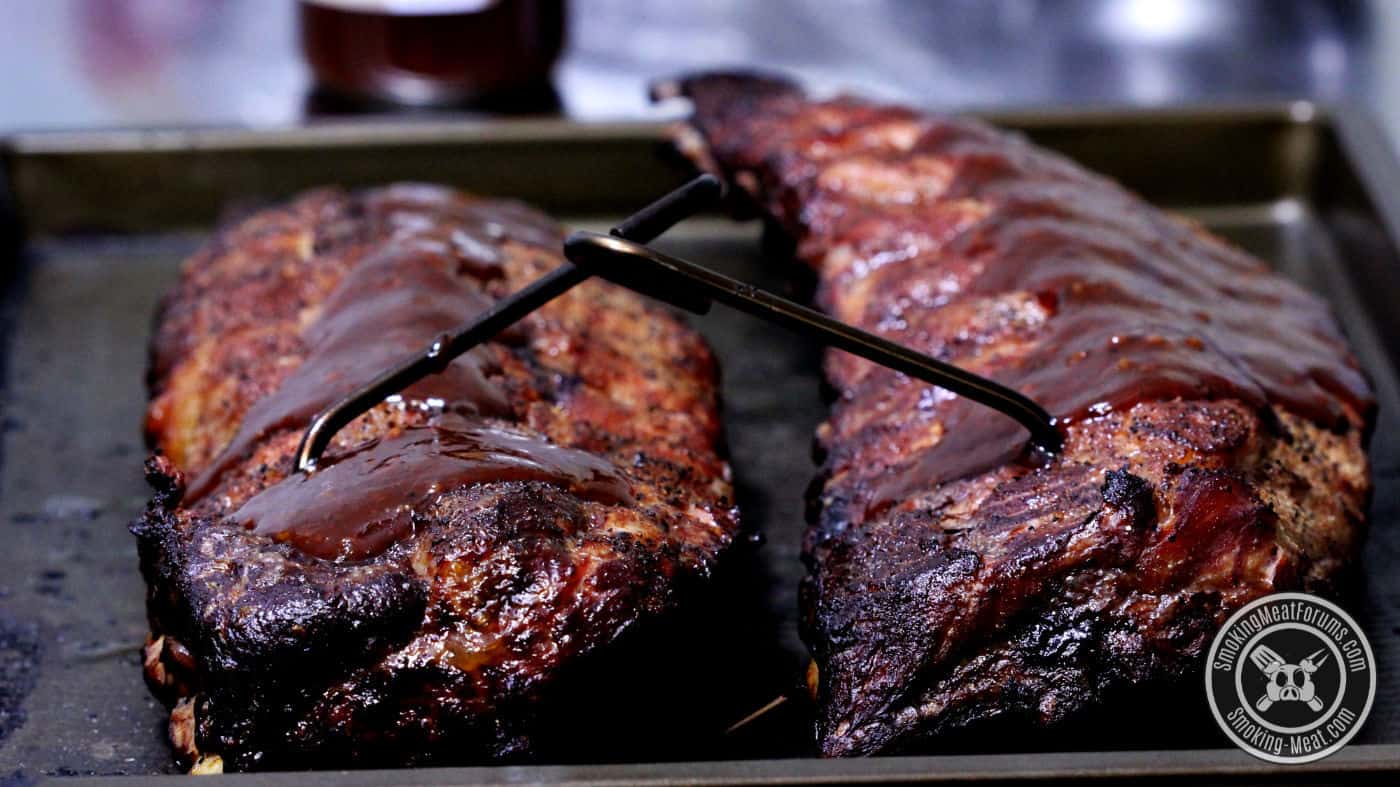 Smoking-Meat.com is supported by its readers. We may earn an affiliate commission at no extra cost to you if you buy through a link on this page.
Read this article without ads
In this recipe post, we'll be learning how to smoke ribs on the Pit Barrel Cooker.
But, of course, you can follow the same recipe and cook them on your stick burner, electric smoker, or even the pellet smoker and turn out drool worthy ribs!
A while back, the Pit Barrel Cooker company sent me one of their cookers to try out and after having used it a few times, I'm nothing short of impressed. I started out with some Texas style pork ribs which turned our fantastic!
I also cooked a Thanksgiving turkey in the barrel and it was a raving success.. if you want to take a look at that recipe you can see it HERE.
[cp_popup display="inline" style_id="55533″ step_id = "1"][/cp_popup]
You can also check out my review on the Pit Barrel Cooker if you want to.
I used baby backs for the ribs but you can also use St. Louis Style Spare Ribs which are just spare ribs that have been trimmed and squared up.
Of course, I used my Texas style rub, because, why not!
I'm dying to show these to you so let's get started!
Helpful Information
Prep Time: 10 minutes
Dry Brine Time: 2 hours (better yet, overnight)
Cook Time: ~3 hours
Smoker Temp: 275-300°F*
Meat Finish Temp: 195°F
Recommended Wood: Mesquite, Hickory, Pecan
*If you are using a pellet smoker, I recommend keeping it set to no higher than 225°F (107°C) since this type of smoker creates more smoke at lower temps.
Here's 9 of my best pellet smoking tips for you folks with the pellet smokers/grills
What You'll Need
2 racks of baby back pork ribs (St. Louis style spare ribs will also work great)
2 TBS Kosher salt (Morton's blue box)
Step 1: Skin (Membrane) Removal
To remove the skin, just place them bone side up on a cutting board and pry up on the outside layer of skin with a knife or even just your finger. Once you have something you can grab onto, use a paper towel for better grip or you can use catfish skinning pliers to grasp it and pull it clean off.
Step 2: Dry Brine
Those who follow my recipes and emails know that I like to dry brine meat.. well, of course! It's the neatest thing since sliced bread and the results I am getting are too good to continue only with steaks and chops.
These ribs are no exception.
Adding salt to the outside and letting them sit in the fridge that way for a couple of hours makes a huge difference in the flavor and tenderness of the finished product.
Leave them overnight for even better results.
So what is dry brining?
It's merely sprinkling kosher salt on meat and leaving it for anywhere from 2 hours to overnight or longer.
During this time the salt draws moisture to the surface where the salt and moisture combine into a salty slurry.
The salty mixture is then absorbed back into the meat making it more flavorful.
This process also locks in some of the moisture so it doesn't lose as much moisture during the cooking process.
This is very much science and physics but you don't have to understand all of that or even believe it right off the bat. You'll be able to taste the difference and that's all that matters!
The recommended application is ½ teaspoon per pound of meat but I usually don't measure precisely. I just add it till it looks right.
On these 2 racks of ribs, I used about 2 TBS of coarse kosher salt.
Some of it falls by the wayside and they were NOT very salty when it was all said and done.
Only the top or meaty side of the ribs is all that is needed.
Here's the ribs just a minute or two after the salt has been applied.
See how the salt is already drawing moisture to the surface and how it's affecting the salt granules?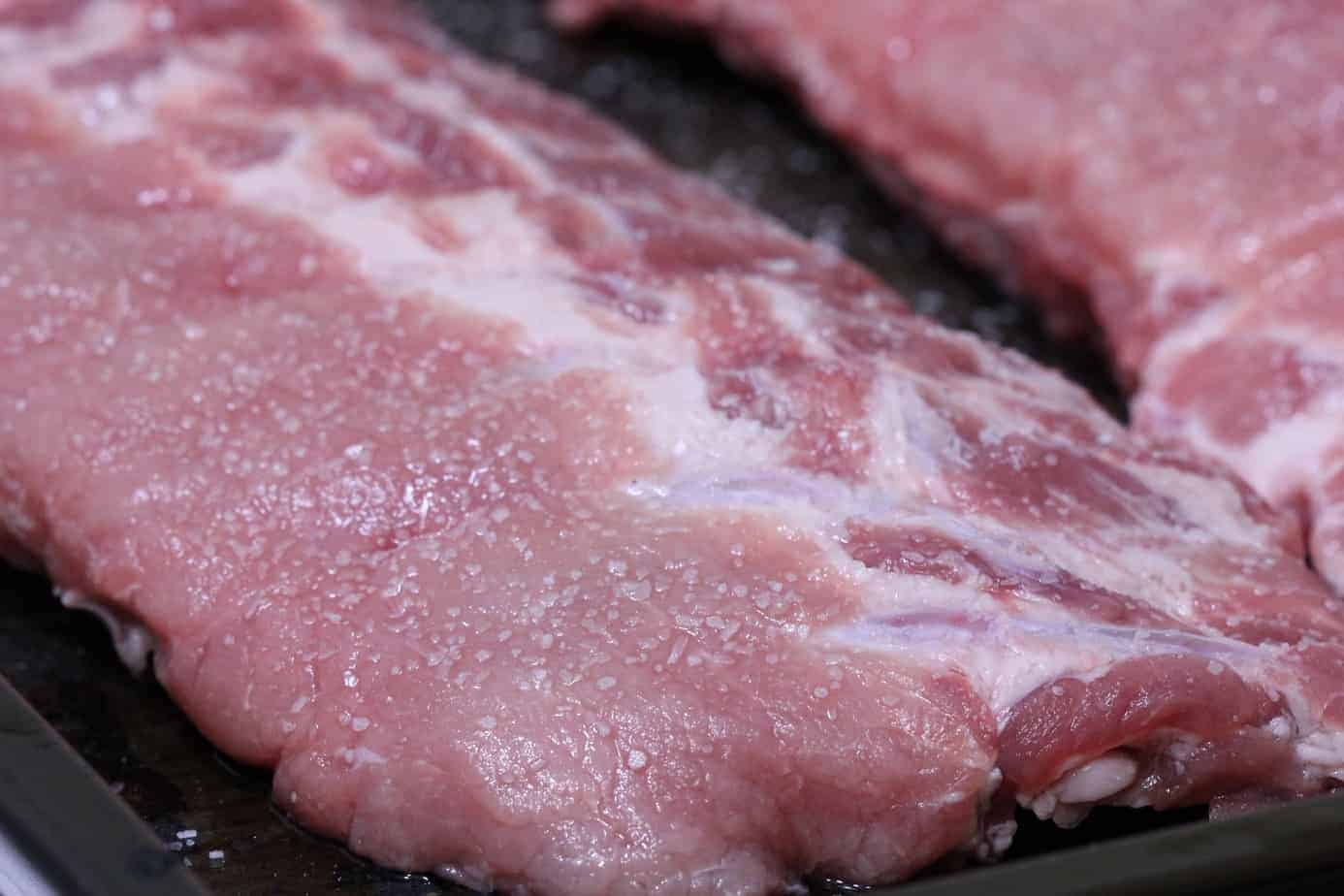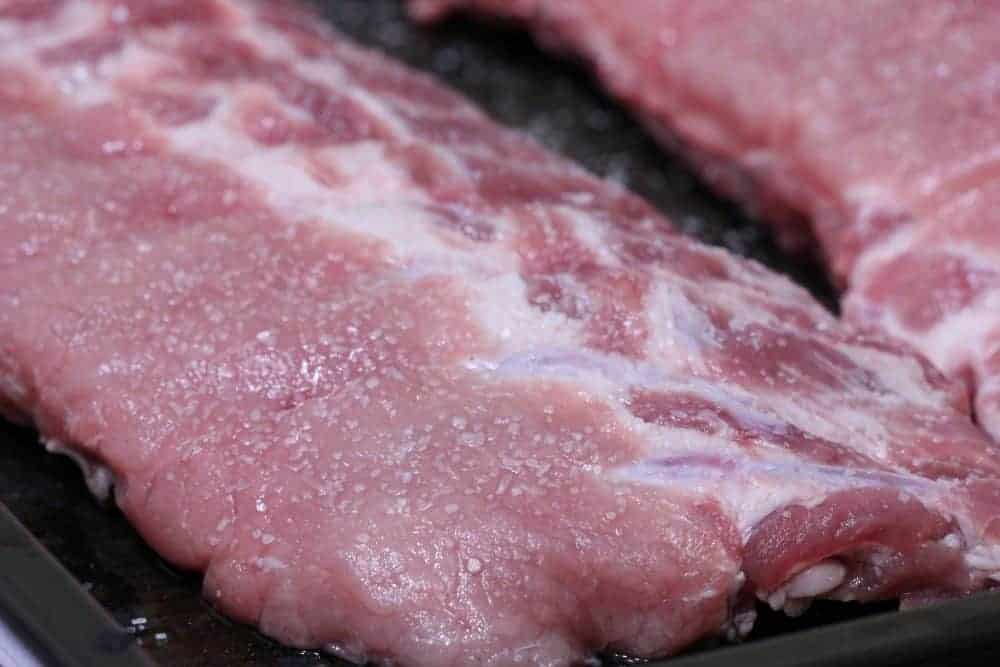 Place the ribs in the fridge uncovered to let the salt work on the meat. Leave them at least 2 hours but overnight is even better in my opinion.
No need to rinse after the dry brining process is finished.
Step 3: Season with Texas Style Rub
I sometimes add mustard or some other condiment or oil to help the rub to stick but the ribs already looked moist on the outside when I pulled them out of the fridge so I just applied the Texas style rub right then and there.
I used about 2 TBS of rub per rack of ribs.
Some of you may be very interested to know that the Texas style rub does not use sugar or sweetener of any kind.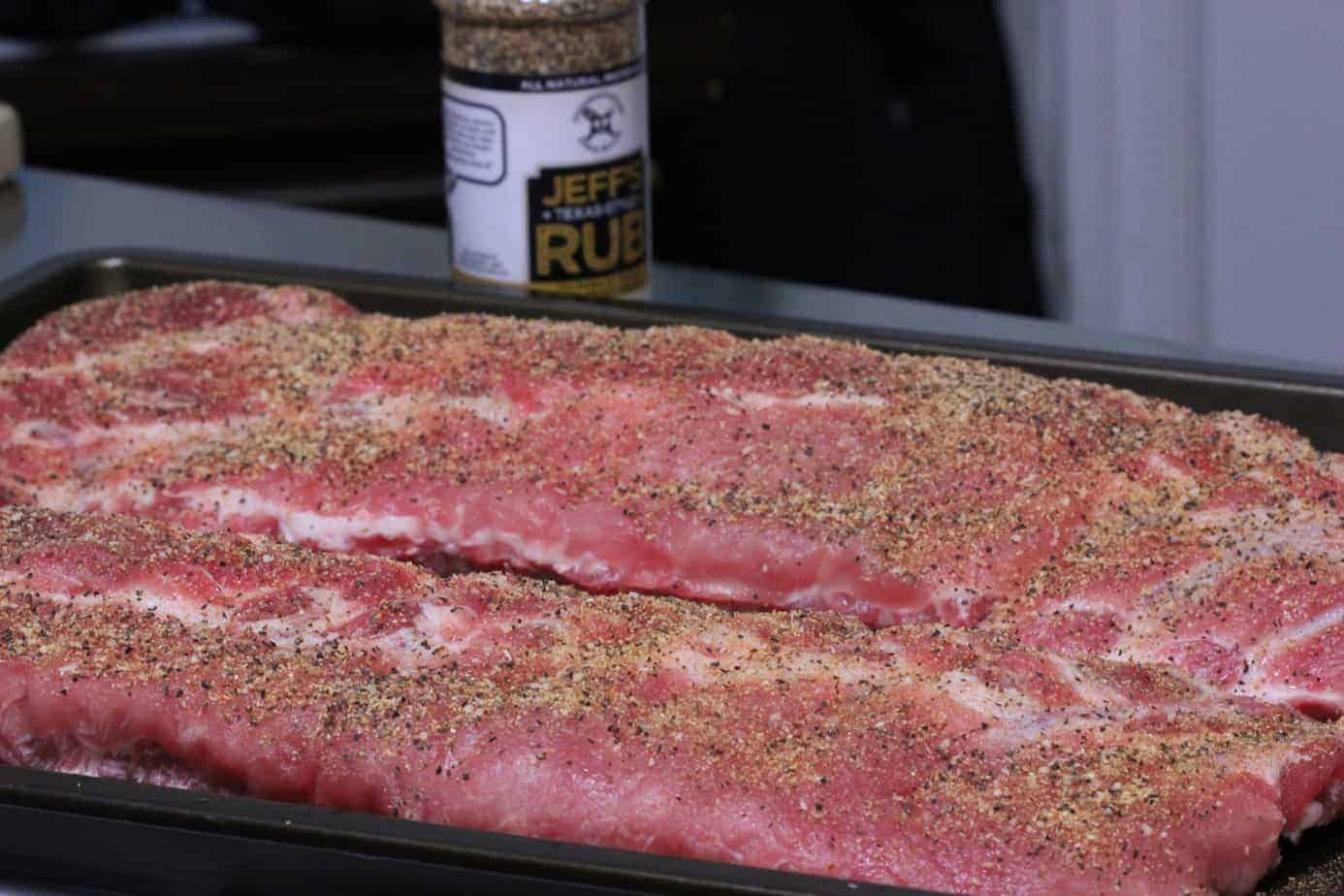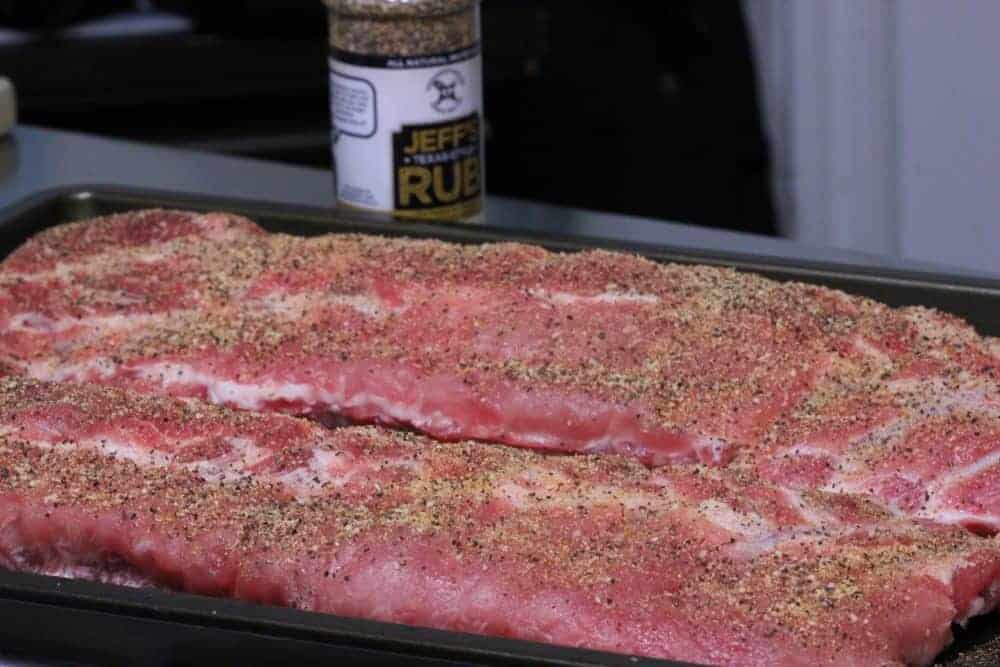 Insert a Pit Barrel Cooker hook into each rack of ribs. I go through the meat between the 2nd and 3rd bone.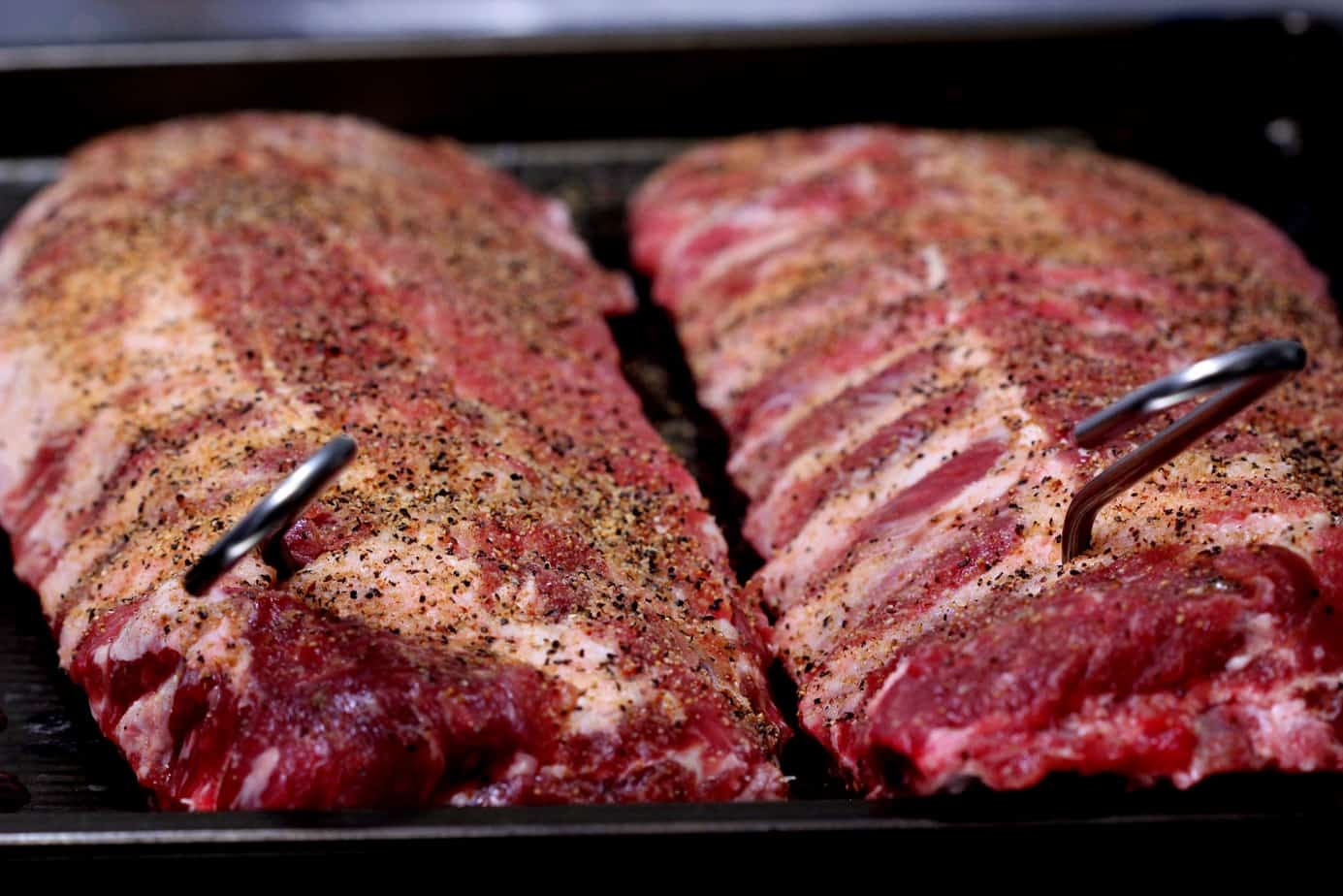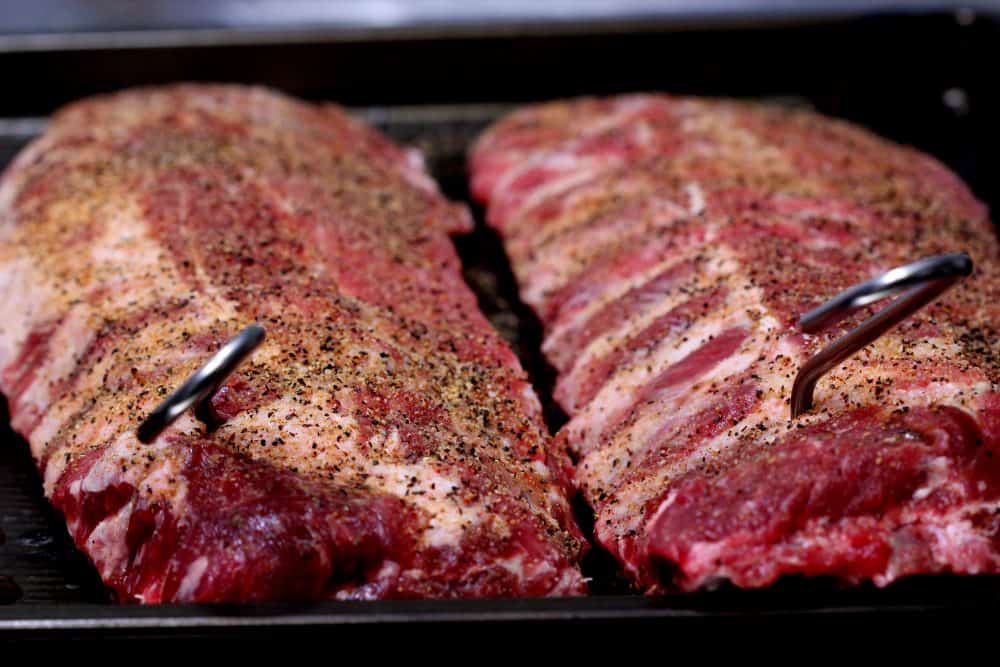 Leave the ribs sitting there while you go get the smoker ready.
Step 4: Set up Smoker
I am using the Pit Barrel Cooker (PBC) for these but you can certainly cook these in any smoker, on the grill or even in the oven if you don't have a smoker or a grill yet.
For the (PBC) we are going to fill the charcoal basket level to the top with charcoal briquettes then remove 40 of them and place them into a charcoal chimney.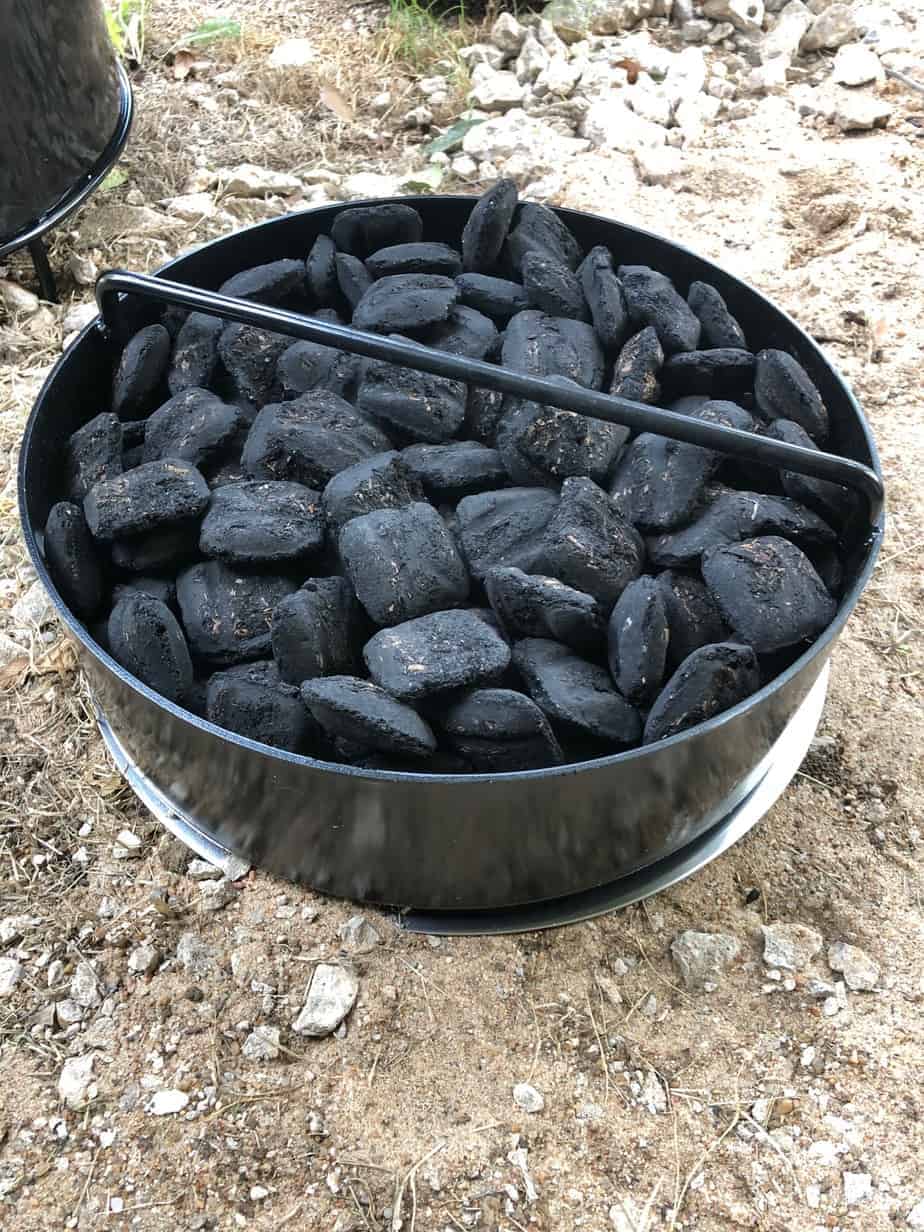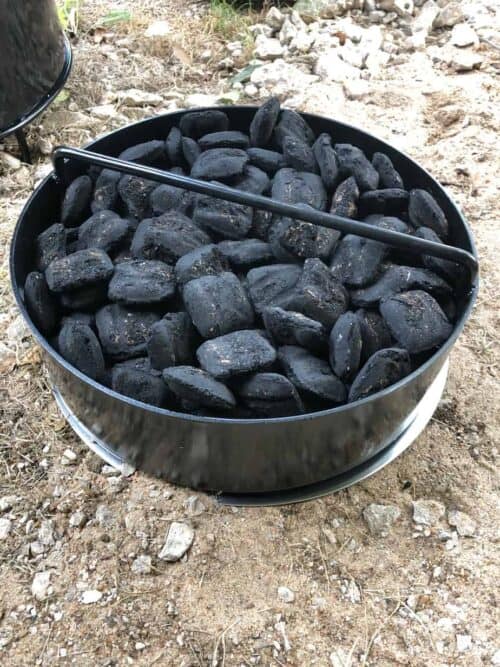 Light the charcoal chimney following the instructions on THIS PAGE.
While the charcoal is getting ready, lower the charcoal basket of unlit charcoal down into the barrel.
Once the charcoal is ready, pour it into the top of the charcoal basket and spread it out a little for more even heating.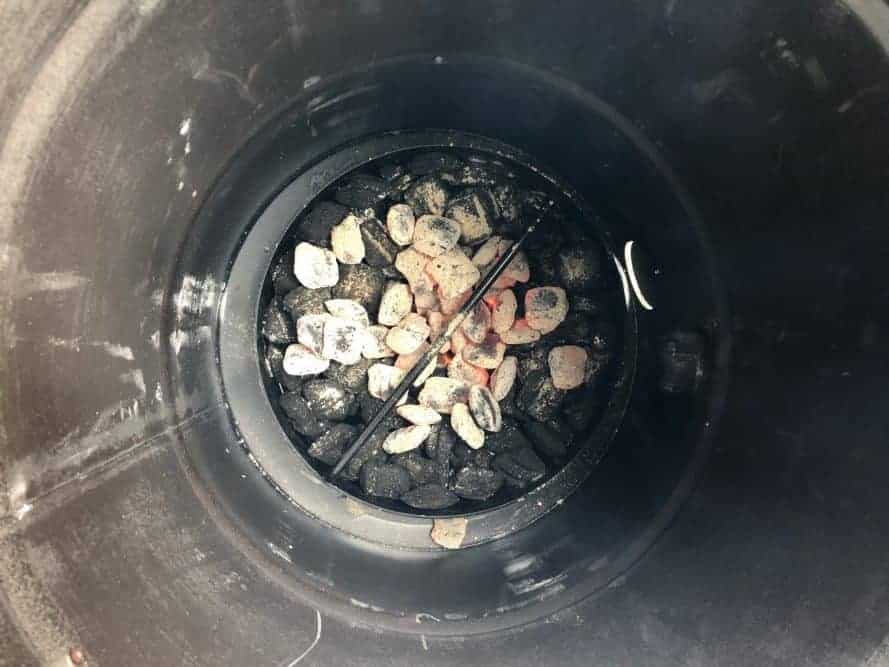 Drop 3-4 chunks of wood on top of the lit charcoal for some extra smoke. I used several chunks of mesquite. You can also use hickory, pecan or almost any other smoking wood.
Place the lid on top and put the steel hanging rods into place in the PBC.
The PBC is ready to cook– Go get them ribs!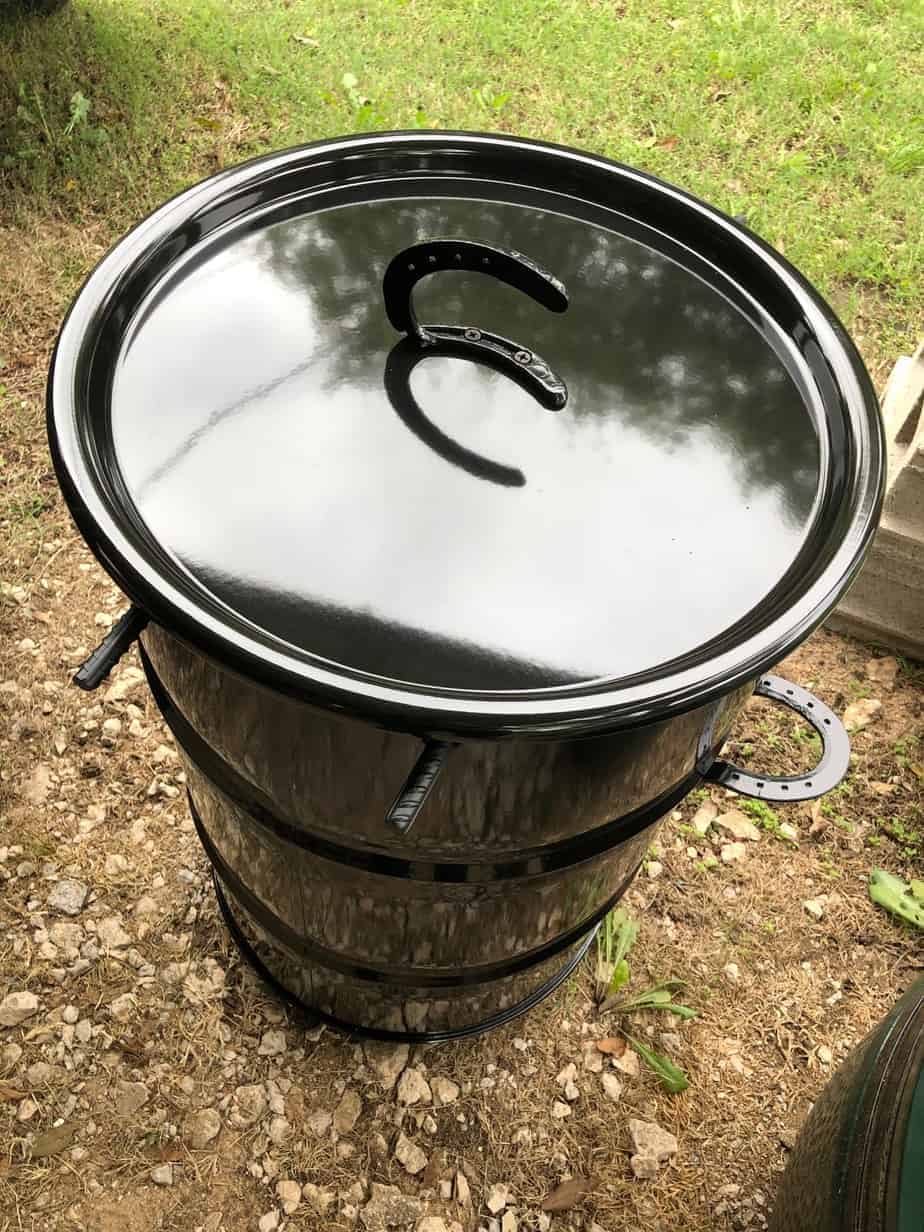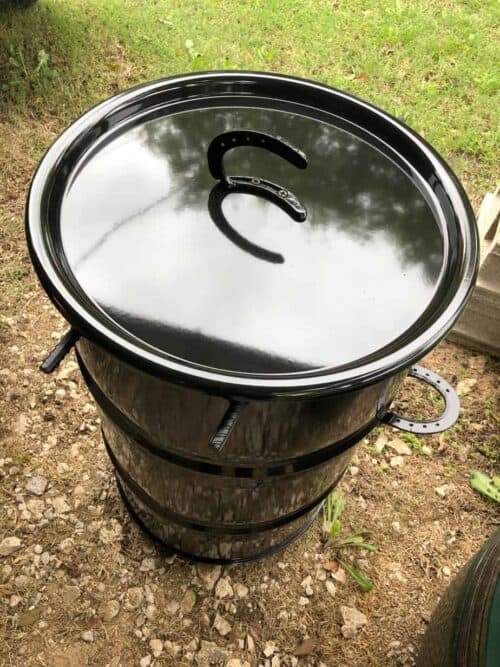 Step 5: Smoke Time
Hang the hooks in the ribs on the steel rods. These 2 racks will not take up much space and you can hang up to 8 racks at a time in the PBC. Enough for a crowd!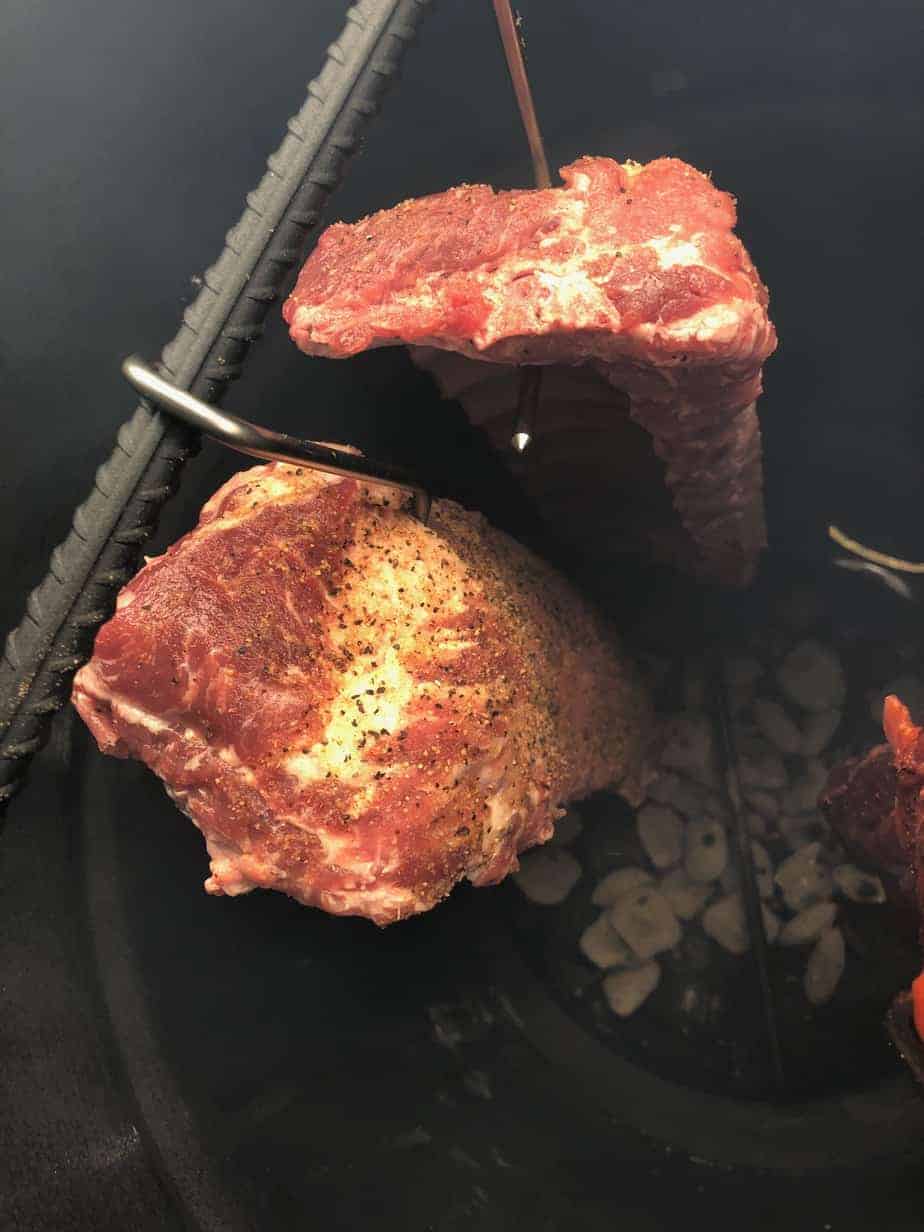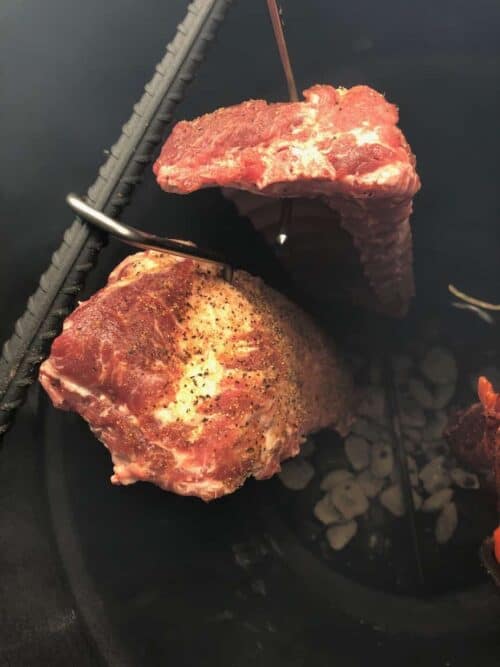 Replace the lid and leave them alone for at least 1.5 to 2 hours.
At the end of 2 hours mine had reached around 190°F per my handy dandy Thermapen as measured right between the bones in multiple places.
You can tell that the ribs get a little darker on the ends since they are just inches away from the fire. If this is bothersome, you could just cut the ribs in half.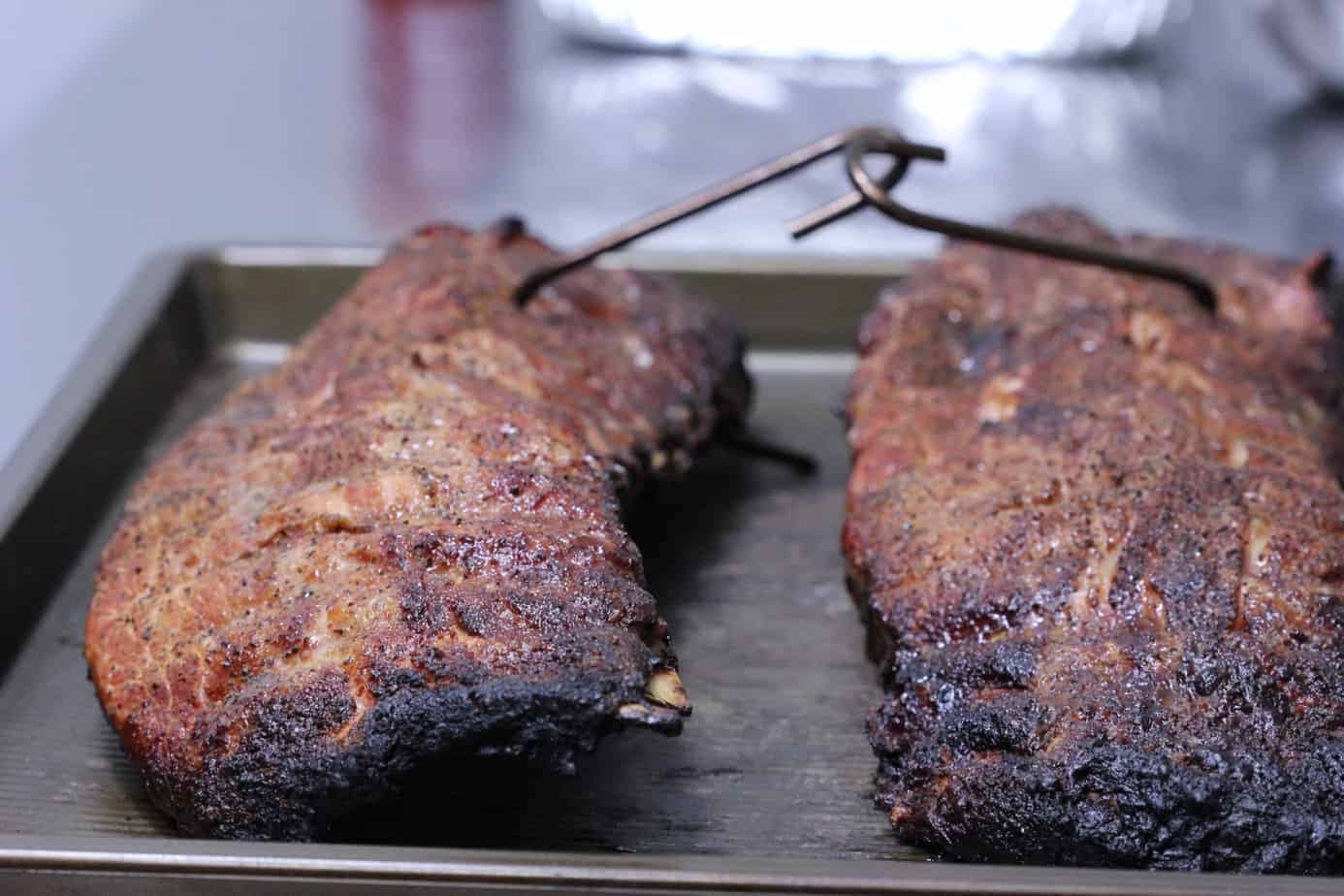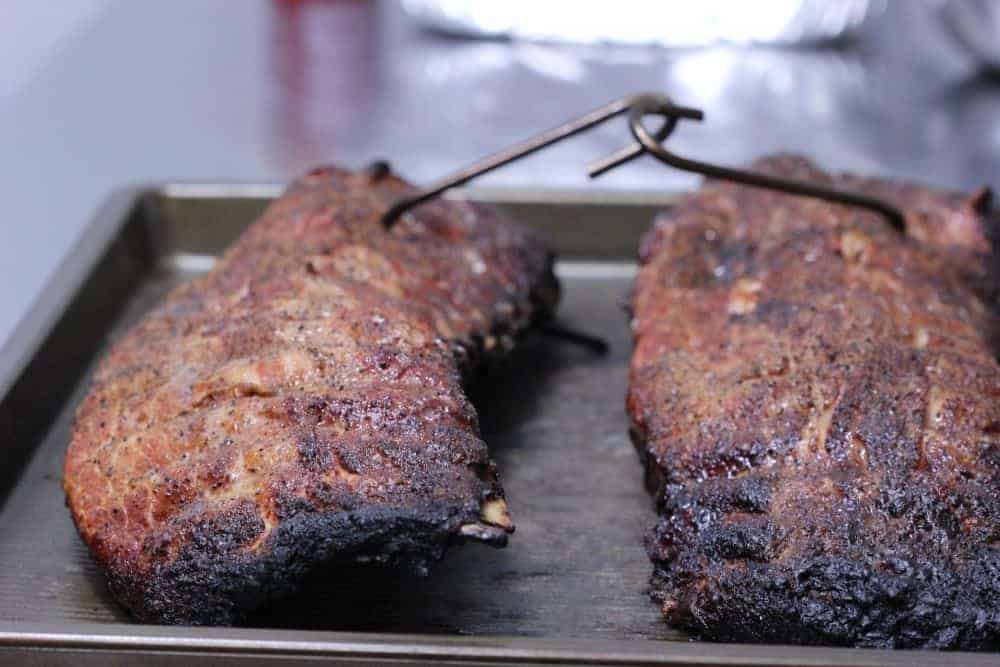 I decided to sauce them a little. This is completely optional and you can easily skip it if you prefer.
If you aren't going to sauce them, just leave them in the cooker until they reach 195°F as measured with a thermometer right between the bones.
Step 6: Sauce (if desired)
I don't like to overdo it but sometimes a little glaze of flavor is what the doctor ordered and in this higher heat environment I knew it would caramelize perfectly.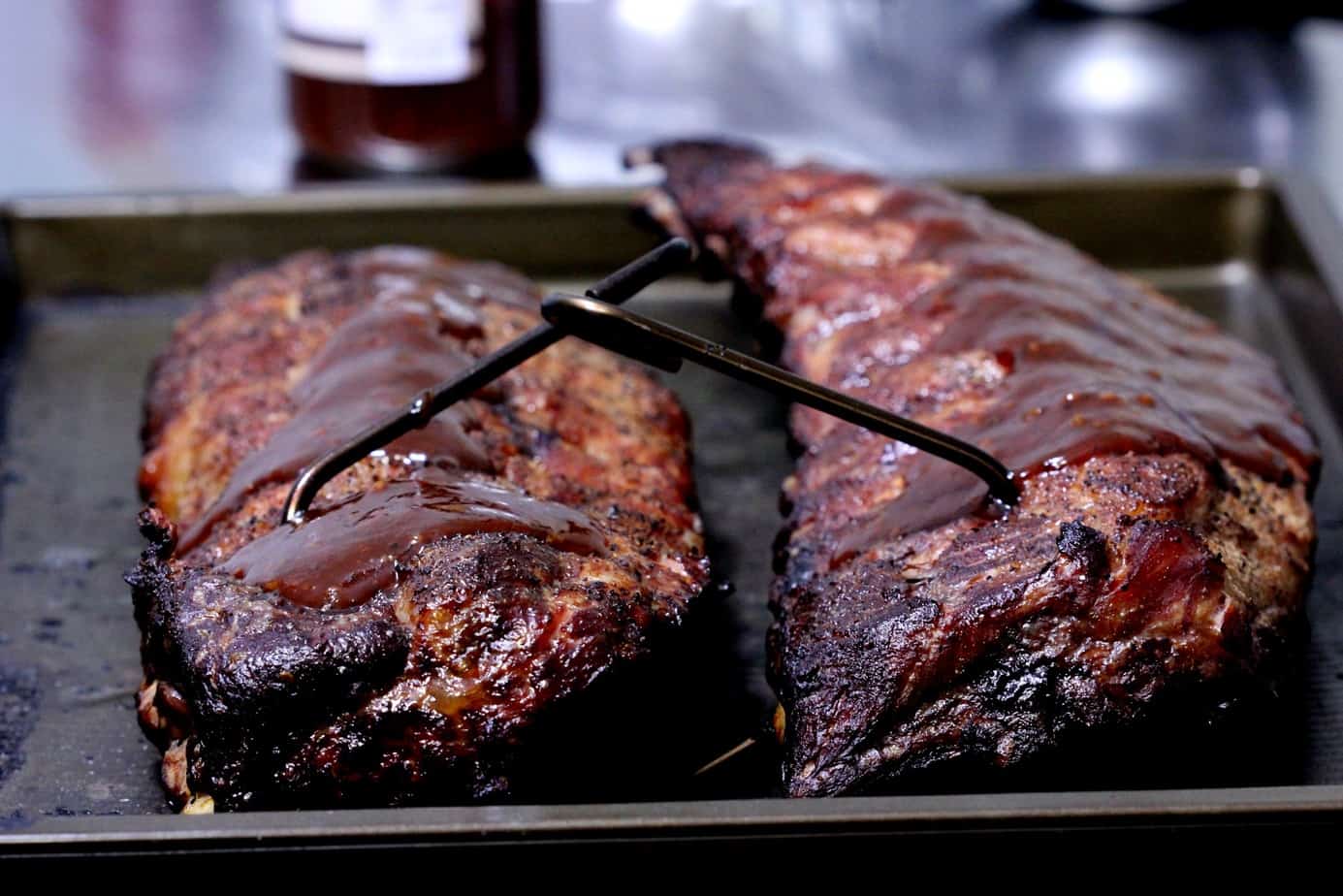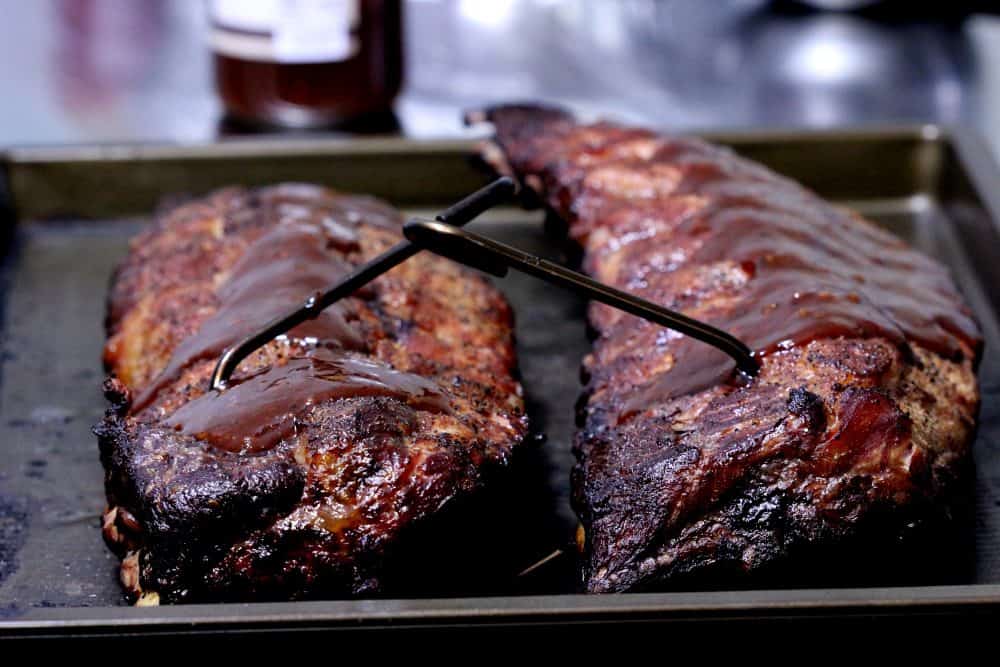 On the PBC, the manual states that you can crack the lid open a little for extra heat for things like caramelizing or for crisping up poultry skin.
I did this for a few minutes after saucing and hanging them back in the cooker.
Step 7: Rest and Slice
The ribs look perfect!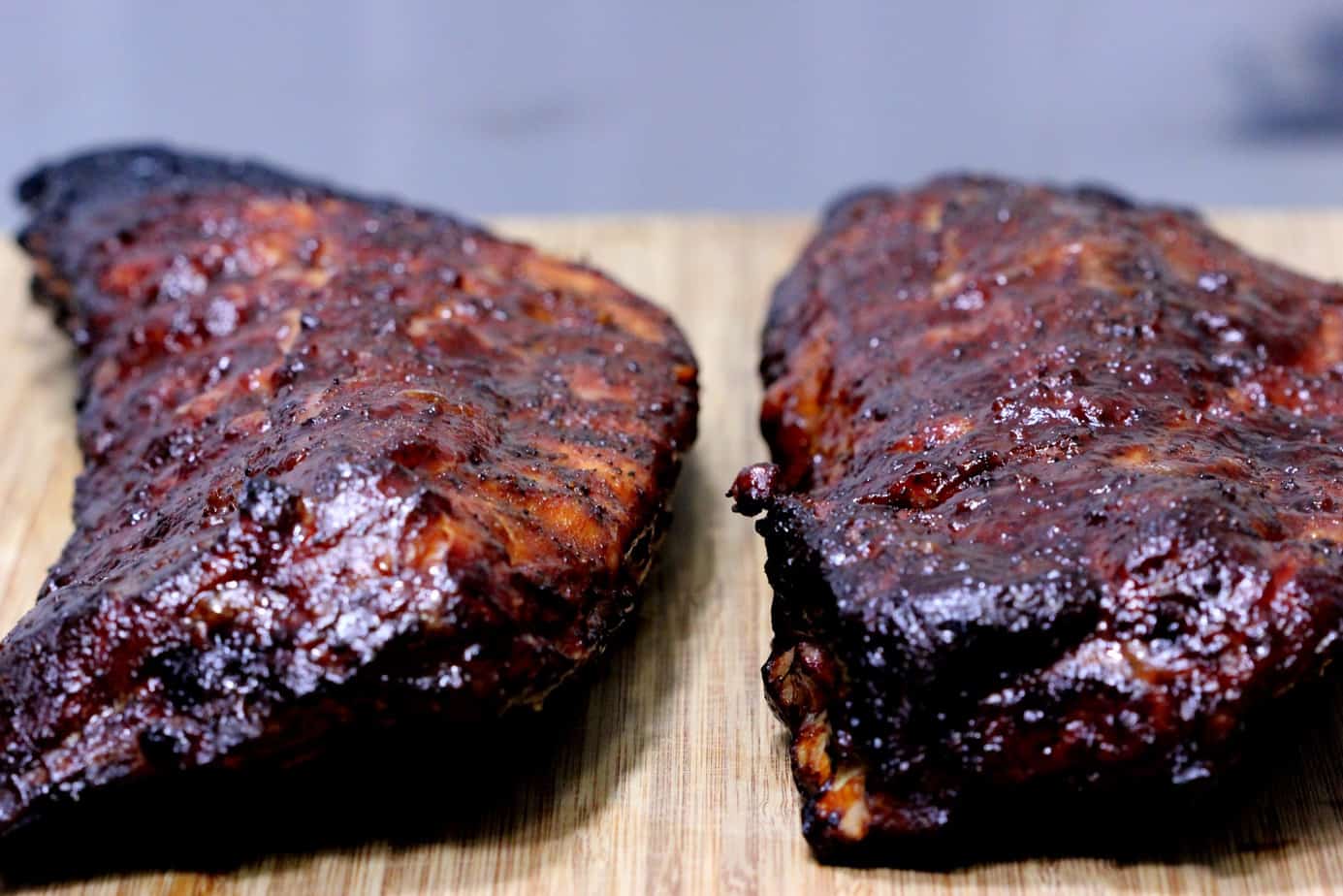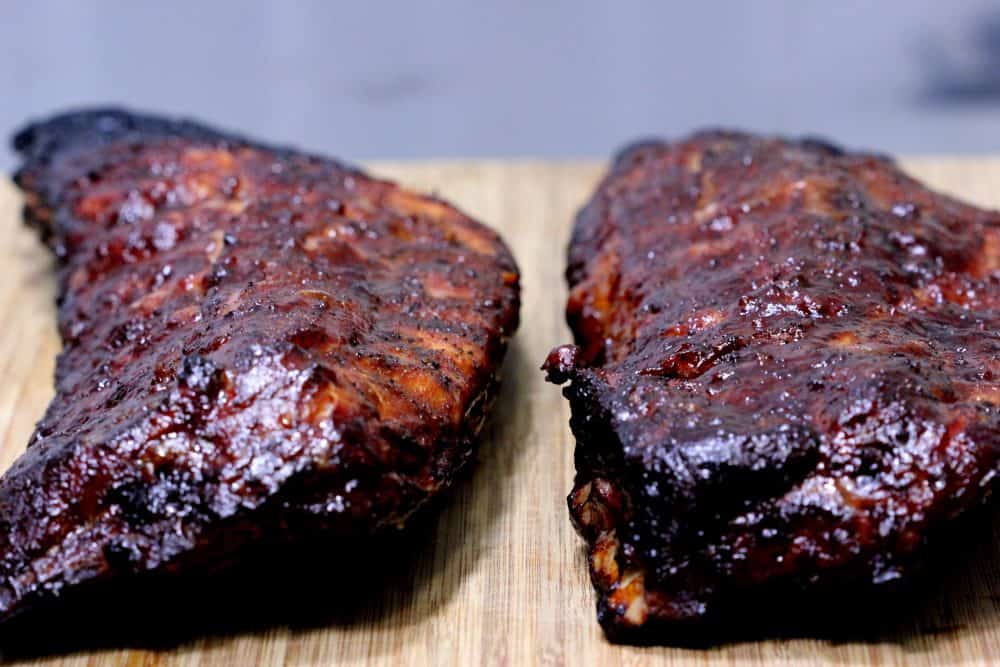 After resting them for about 10 minutes or so, slice them up right between the bones.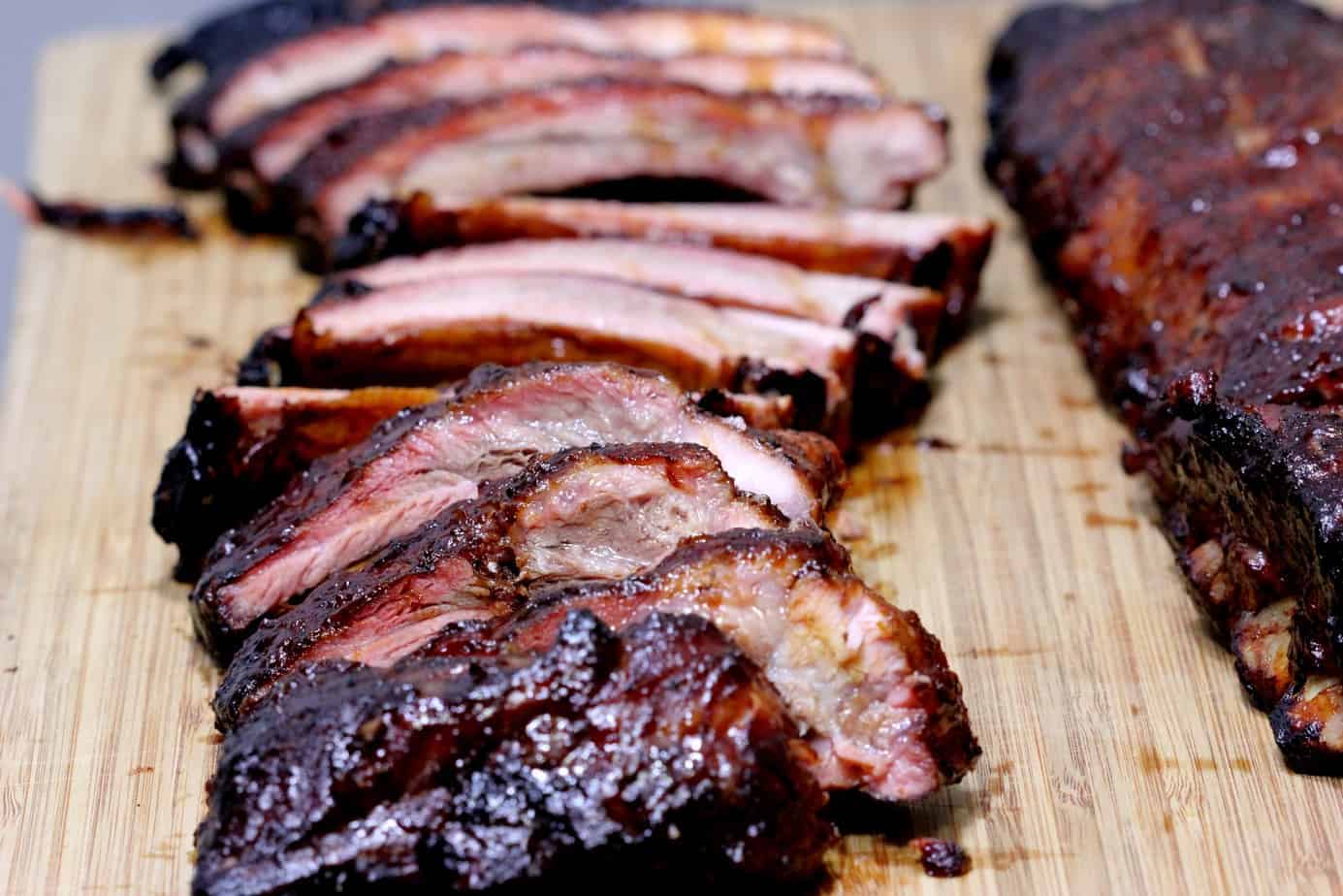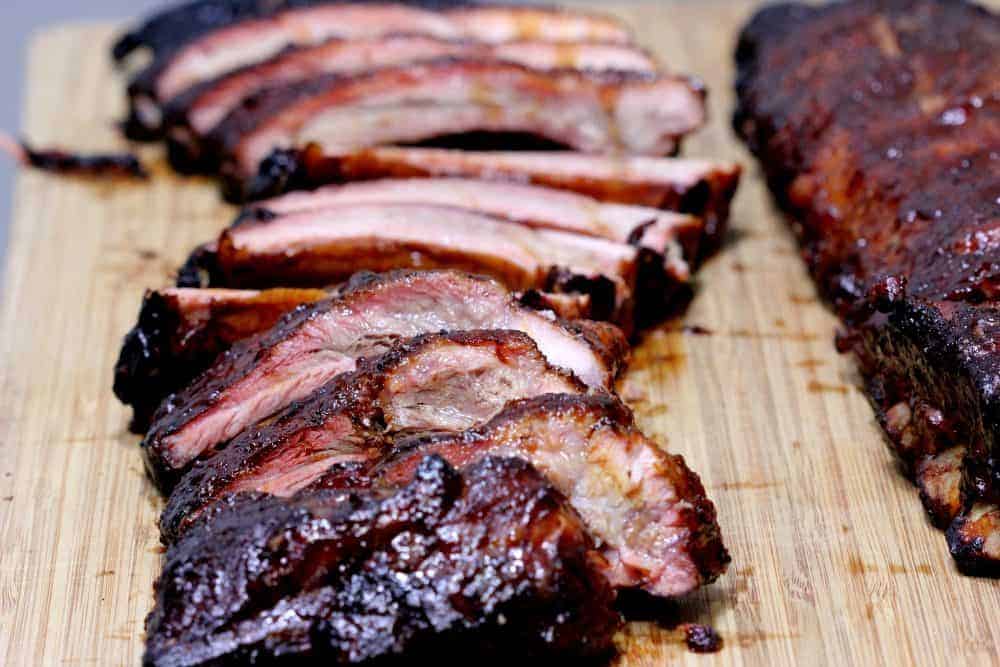 Step 8: Serve and Enjoy
Serve the ribs to your guests and enjoy some of the best ribs you've ever had– homemade!
What if you want to use a traditional smoker and cook them at 225-240°F?
No problem!
Use the same preparation method but it will take them about 6 hours to cook.
When they reach 195°F (91°C) they are tender and ready to eat.
Here's a few other fan favorite pork rib recipes:
Smoked Christmas Ribs on the Pit Barrel Cooker
Instructions
Remove skin on bone side of the ribs if desired

Sprinkle about 1 to 1.5 teaspoons of kosher salt on the meaty side of each rack of ribs

Place the ribs in the fridge for at least 2 hours but overnight is also good.

Set up the

Pit Barrel Cooker

according to manufacturers instruction and when it's ready, hang the racks() of ribs and replace the lid.

Check the temperature of the ribs after about 2 hours and when they reach 190 °F, apply about ¼ cup of sauce all over (if desired)

The ribs are finished cooking when they reach 195 °F internal temperature and can be removed from the cooker.

Rest for about 10 minutes then slice between the bones and serve.
Get Jeff's Products!